I admit it. I'm obsessive when it comes to labeling my Rubbermaid containers.  For me, my reusable containers just seem to have a way of disappearing, kind of like socks out of the dryer.  The containers leave the house, never to be seen again. Whether they get sent home full of leftovers with friends or family, thrown out by accident (seriously…how does that happen?), or they go MIA at X-Man's school, a full set of containers never seems to last me more than 6 months.
People (aka..my better half) make fun of me for my container obsession.  I can't help it though…losing containers bugs me, lol.  I use them because they are supposed to be just that – reusable! But, if they don't come home, how can you reuse them? I'm sure you can feel my pain!  Bet it happens to you too.
After months of losing numerous containers I finally decided to get smart…and label them all. Guess what? It works! I'm no longer losing containers at the speed of light.
Rubbermaid containers aren't the only things that need labeling around the house.  How about luggage?  Hands up.  How many of you have a large black luggage bag that goes here, there, and everywhere with you? My hand is up! I own one of those.  Ever try to find your own black luggage bag from baggage claim at the airport? It can be next to impossible at times.  It seems EVERYONE owns black luggage.
Introducing the latest attachment to my luggage bag – the SWAGGERTAG!  I'm happier than a woodpecker in a lumber yard now that I have one of these great little identification tags clipped to my luggage!
Designed by entrepreneur, Karen Walker, SwaggerTags are fun, colourful, durable, and fully customizable identification tags for just about any personal items you wish to tag.  They are great for luggage, hockey bags, knapsacks, purses, and even things like bikes, strollers, and camping gear!
From their website, a little bit about the award-winning SwaggerTags:
Top 12 Finalist in Canada's 2014 Mompreneur of the Year Award(and only repeat Finalist)

2013 Top Choice of the Year Award from Creative Toy Magazine

Second Place & Top 10 Finalist in Canada's 2013 Mompreneur of the Year Award

2012 Top Product of the Year Award from Creative Child Magazine
Each SwaggerTag comes with 1 SwaggerTag unit, 2 Protectors, 1 ID Circle, 1 Circle Template and 3 Cable Ties. They come in a variety of great colours.  I received SwaggerTags in

Gekco Green, Dolphin Blue, Hot Pink, Mustang Purple, Dragon Red and Spider Grey: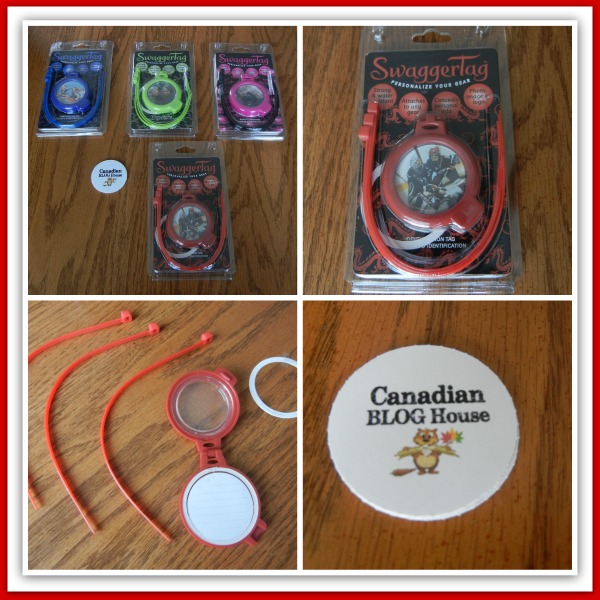 I was super excited to open my package and find that Karen had already made me some custom ID circles with my logo on them…all ready to be inserted into my new SwaggerTags!  These are great for any business wanting to custom brand their SwaggerTag, the SwaggerTag website offers several customer branding options to suit your needs.
SwaggerTags come with easy-to-follow instructions which are printed on the back of each package: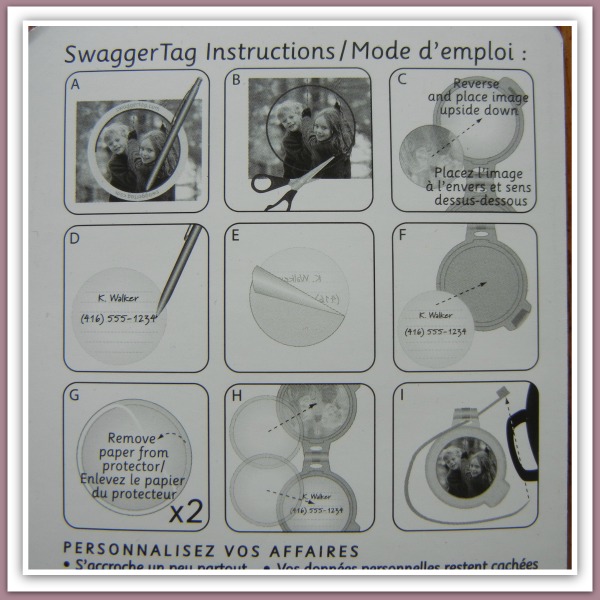 As you can see, from start to finish, it is easy to install your own SwaggerTag. They open easily, snap together, and hold your information securely.  Attaching them to your gear with the zip ties is effortless.  I put this one on my purse simply because I want to use this one as a mini advertisement. I cut off the long end of the zip tie and love how it looks on my purse.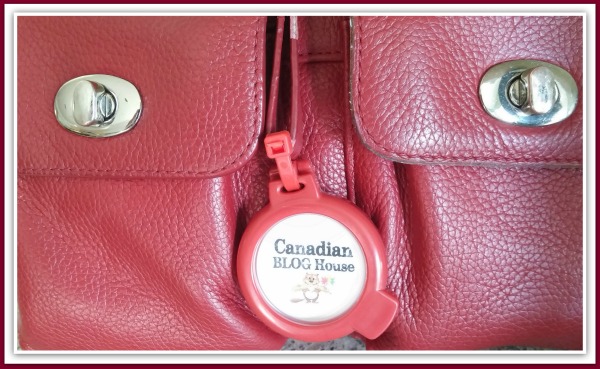 SwaggerTags are " 

water, weather and impact resistant, with strong attachment points and ties to ensure they will stay with your gear."  

 Of course mine came with the customized circles, however, if you aren't sure what you want to place in the window of your SwaggerTag, you can find all sorts of great printable options on the SwaggerTag website.  I happen to like the flag printables.  I may just have to print one of those Canadian Flags for one of my SwaggerTags! 
Of course, one of the key features of SwaggerTags is the fact that each SwaggerTag comes with an ID Circle which allows you to fill in your personal details, like your address and phone number,  so that someone can contact you if they find your missing gear. What I love about SwaggerTags is that, unlike many other luggage tags (or those awful paper tags provided at airports), SwaggerTags DO NOT display your personal information out in the open for all to see.  Your information stays discretely closed inside the SwaggerTag itself.
Upon browsing through the SwaggerTag website, I noticed a few more items of interest that I think are worth noting.  SwaggerTags

"are

 

manufactured with food-grade materials. They are bisphenol-free and contain no paints."

 SwaggerTags offer a  SwaggerTag Refurbish Kit, which includes everything you need to update your swagger (for when you change your address, etc).  There's no need to replace the entire SwaggerTag when you move.  I love this idea because it's easier on the environment!
Summer is just around the corner and soon kids will be heading off to summer camp.  There's no better time to scoop up some of these great SwaggerTags and make sure all your kids' camp gear gets SwaggerTagged…and returns safely home with them!
SwaggerTags can be purchased online or at a retailer near you.  For Ottawa residents like me, SwaggerTags can be purchased at local retailers including Kiddie Kobbler on St. Laurent, and ReadiSetGo in The Glebe.
SwaggerTag owner, Karen Walker, has generously offered up a 6-pack of SwaggerTags to one lucky Canadian Blog House reader!
Here's how you can enter for your chance to WIN:
Disclosure:  Canadian Blog House received the above-mentioned SwaggerTags in exchange for this review.  All opinions are my own.