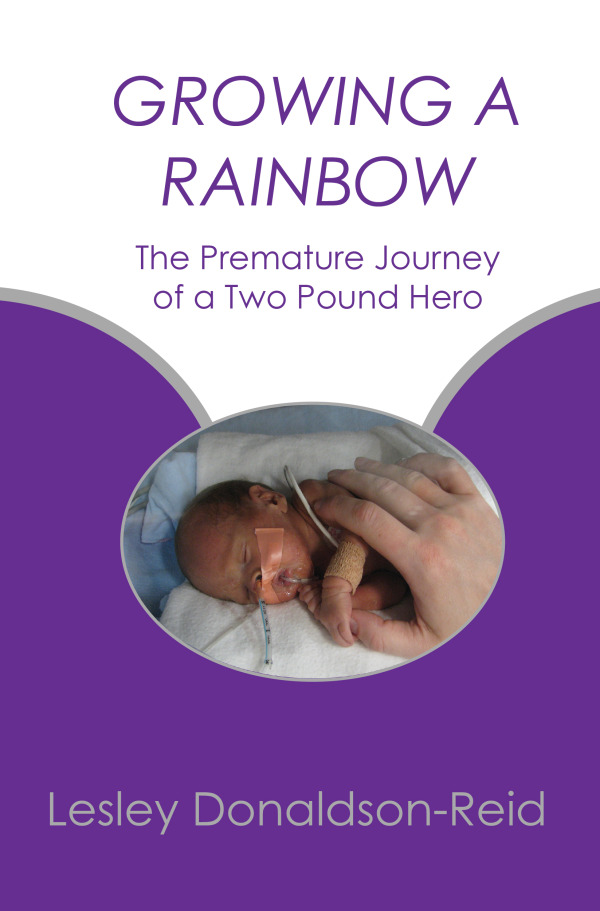 Someone needs to get Lesley Donaldson-Reid a cape. A cape of the "Super Hero" variety.
Lesley's first published book, Growing A Rainbow ~ The Premature Journey Of A Two Pound Hero, published by Aquhorthies Publishing, chronicles the story of Lesley and her husband's life-changing journey raising their special needs son Torran, who was born 3 months premature, weighing in at only 2 pounds at birth. Growing A Rainbow is both heartbreaking and inspiring, all rolled into one fascinating story.
Growing A Rainbow ~ The Premature Journey Of A Two Pound Hero is set to be published on November 17th – World Prematurity Awareness Day.
For those who are parents to their own premature children (babies born under 37 weeks of pregnancy), Growing A Rainbow, is a wonderful resource of information, support and understanding.  No one understands what it is like to give birth to a premature baby, and raise this child, unless you have experienced it yourself.  No one. Your emotions run the gamut from extreme fear in those first few weeks wondering if your child will survive, to extreme happiness and excitement when you finally get to bring that little bundle of love home for the first time.  Then reality sets in and you wonder how you are going to cope with all the special needs your child may have, sometimes for the rest of their lives, as a result of their premature birth.
As someone who has never mothered a child of her own, let alone a premature baby, I wasn't sure how I would react to reading this book. Would I truly understand and empathize with Lesley? Would I feel her pain and fully fathom what it's like to raise a child born so prematurely? The answer, it turned out, was an emphatic YES!
Growing A Rainbow – The Premature Journey Of A Two Pound Hero
Growing A Rainbow ~ The Premature Journey Of A Two Pound Hero led me on a very emotional journey, from cover to cover. Lesley's heart-breaking story of those first few days in hospital captured my interest immediately.  The detailed account of the birth of her son is made even more frightening by the fact that, as a nurse, Lesley knew all too well all about the problems the doctors were facing just trying to keep Torran alive. Lesley's mesmerizing story-telling made me feel that I was right in that delivery room with her.
In some ways, I could clearly relate to the fear and struggles that Lesley and her husband have experienced.  Perhaps that is why I related to this story more than I thought I would.  As a person who was born with a congenital birth defect myself, I have heard many stories about my first few harrowing days of life, and the terrifying fear my parents had for me and my ability to survive.  I was a special needs child as well, leaving my parents to face many life-changing challenges as they raised me.
What surprised me the most about Lesley and her family's journey are some of the statistics she highlighted in her book.  For example, did you know that approximately 1 in 10 Canadian babies are born prematurely? That's a pretty significant number! Growing A Rainbow also illustrates the fact that the problems don't just go away the minute a premature baby is healthy enough to be taken home from hospital.  A child born prematurely can suffer severe health consequences, like Torran, that can affect them for the rest of their lives.  Until I read Growing A Rainbow, I must admit, I never considered all the additional things that put further strain on parents of premature babies: additional medical expenses not covered by provincial medical plans, costs for accommodations in order to stay close to hospital (sometimes for months!), transportation and parking fees, meals, and even the cost of hiring professionals to help with a child's special needs as they grow.
I had the extreme pleasure of meeting Lesley Donaldson-Reid for the first time at the BlissDom Canada social media conference in October.  She is an amazing lady. Torran couldn't have a better Super Hero at his side than Lesley.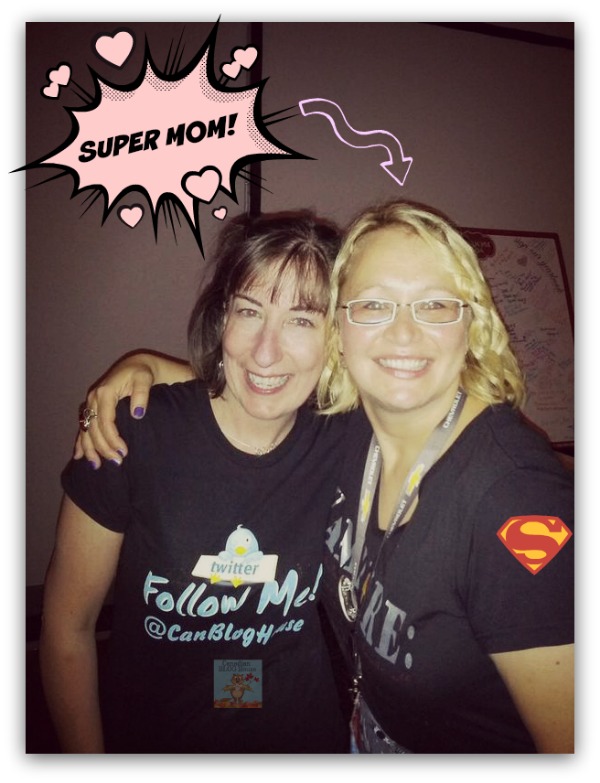 Photo courtesy of Lesley Donaldson-Reid
Lesley's hope for Growing A Rainbow is that "it not only helps families going through the same thing, it helps everyone understand more about the challenges associated with premature birth".
A portion of the proceeds of Growing A Rainbow will be donated to The Canadian Premature Babies Foundation whose work supports families going through exactly what Lesley's family did.
Growing A Rainbow, is a riveting story.  This is a book that should be read by all parents dealing with the challenges of raising a child born prematurely and the further challenges of living life as a special needs child.  If you, or someone you know, is a parent of a premature baby, be sure to order a copy of Growing A Rainbow ~ The Premature Journey Of A Two Pound Hero.  You'll thank me for telling you to.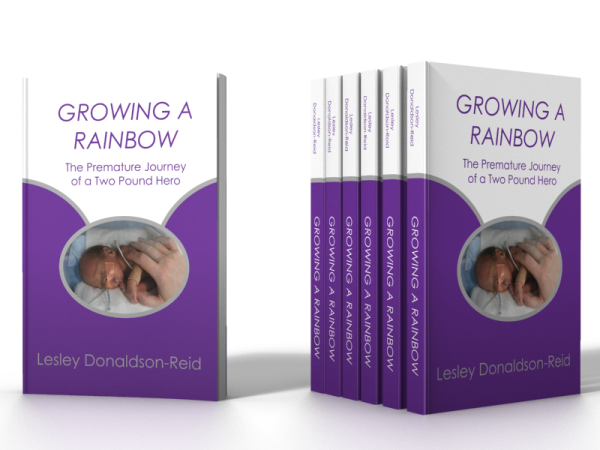 You can order a print copy through the Growing A Rainbow website or at the INSPIRE! Toronto International Book Fair happening in Toronto November 13-16, 2014. You can find Lesley at her blog Real Women Drive Stick or at WriterLesleyDonaldson.com.  You can also find her on Twitter @FanofPreemies or @Bornagainwriter.