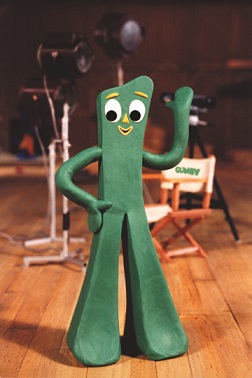 The original clayboy, Gumby, is celebrating his 60th birthday on January 29th!! That's the day that Teletoon Retro will air a special Gumby marathon starting at 6PM ET/PT. Teletoon Retro is bringing back Gumby with newly re-mastered classic episodes from the 50's and 60's.
Personally, I'm not old enough to have watched the original series, nor have I actually watched an old episode of Gumby on tv, so I'm looking forward to checking out this Teletoon Retro Gumby marathon to see what all the hype is about.  My own experience with Gumby goes back to the 1980's when, for a brief period of time, Gumby merchandise became all the rage, thanks to Eddie Murphy's popular Gumby skits on Saturday Night Live. Remember those? I'm Gumby dammit! They were some of my favourite SNL skits!
For those of you who aren't familiar with the original series, it "follows the fun-filled adventures of the everyday hero Gumby, who is full of wonder and awe, and is always leaving a place better than when he found it. With his best pony pal and voice of reason, Pokey, they magically transport to locales near and far, overcoming any obstacle that they meet including the mischievous troublemakers, The Blockheads".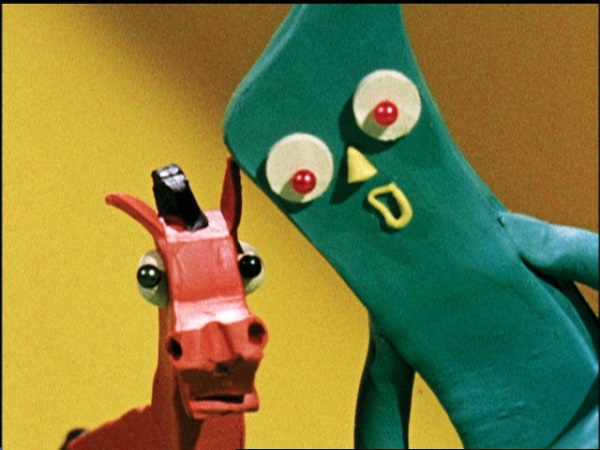 To teach you a little bit more about pop culture icon Gumby, here is some fun Gumby trivia for you:
Gumby was the first stop motion clay animated television series

Gumby's first appearance on television was on the Howdy Doody Show in 1956

Gumby became a stand-alone television series across major networks in 146 countries

Over 200 episodes of Gumby were created
So to help Teletoon Retro celebrate Gumby's 60th birthday, the great folks at Corus Entertainment are giving one lucky Canadian Blog House reader the chance to WIN this fabulous Gumby Prize Pack (ARV $30)!!  I am loving the Gumby backpack and the look of the retro Gumby t-shirt! And that bendable Pokey! I used to have one of those!
Be sure to check out the Gumby marathon on Teletoon Retro on January 29th starting at 6PM ET/PT! Who knows, maybe a whole new generation of Canadian kids is about to fall in love with Gumby all over again!  For all the latest updates on Gumby (and other great Teletoon Retro shows) make sure to follow Teletoon Retro on Facebook.
Here's how you can enter for your chance to WIN the fab Gumby Prize Pack: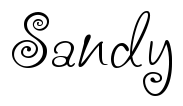 Disclosure:  Canadian Blog House received the above prize pack in exchange for this post. All opinions are our own.