Warning: The following post contains information that will have you scratching your head.
You're already scratching your head right now, aren't you? If you aren't, just Google head lice images.  I guarantee that will get you scratching!
Head lice.  It's a dirty word but someone needs to talk about it, right?
Actually, did you know that head lice aren't so dirty after all?  If given a choice, head lice tend to prefer clean hair. That being said, head lice will make a nice home for themselves on anyone's head, if given the chance, regardless of whether the hair is clean or dirty.  As long as you provide them a great place to hide and lay their eggs, they will gladly settle down on any available head.
One of the things parents of young children dread the most is receiving a note from school warning them that there is an outbreak of head lice at their child's school, or worse yet, informing them that their child has been sent home because the child is infected with head lice.
Head lice are transmitted through direct contact with an infected person's head.  This is precisely why children pass it on to one another so easily.  Children tend to hug each other a lot, or come in contact with each other's heads often, during play.  Head lice are fast, and it only takes a few seconds for them to scurry from one scalp to another.
One of our best defenses against head lice is keeping X-Man's hair super short.  Aside from the fact that he looks super cute with his hair cut short, short hair makes for a much less accommodating home for head lice, simply because they have nowhere to hide.  If they land on his scalp, we can see them immediately and seek treatment right away.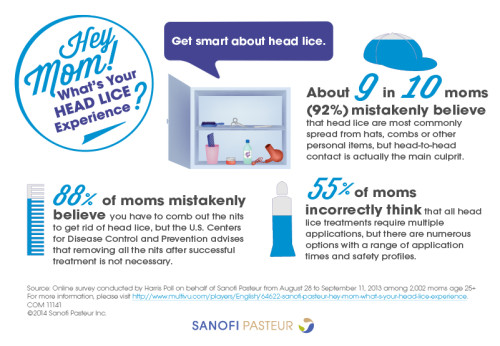 Besides the condemnation you and your child may receive from classmates, and their parents, when they find out your child has head lice, having to deal with the actual medical treatment of head lice is a complete nightmare.  Or is it?
Here is some interesting information gathered as the result of national survey conducted by Harris Poll on behalf of Sanofi Pasteur:
"Although head lice are a common problem in families with school-aged children, a new national survey reveals that despite 60% of moms – including 85% of those who have experienced head lice in their household as an adult – saying they know the facts about head lice, many still appear to be confused when it comes to common myths about head lice. Most moms believe that in order to get rid of an infestation you have to comb out the nits (88% of all moms and 90% of those with experience as an adult) and more than half (55% of all moms and 54% of those with experience as an adult) think that all head lice treatments require multiple applications. Yet, the U.S. Centers for Disease Control and Prevention (CDC) advises that the removal of all nits after successful treatment is not necessary and there are numerous treatment options with a range of application directions and safety profiles.
The online survey was conducted by Harris Poll on behalf of Sanofi Pasteur during back-to-school season, among more than 2,000 U.S. moms aged 25 and older. Moms define the ideal head lice treatment as one that works quickly (78%), is safe (76%) and is easy to use (74%), but how do moms make a choice for their families? While 67% of moms are aware of prescription treatments and 80% are aware of over-the-counter (OTC) treatments, around seven in ten (71%) recognize that not all head lice treatments work the same. Only 32% of moms who used an OTC treatment the last time they or a member of their household had head lice say the infestation was eliminated with just one treatment; the remainder (68%) say they used two or more OTC applications to treat the infestation or report the treatment did not resolve the infestation."
While I've never had to deal with the scourage of head lice (I'm a little superstitious so I'm currently knocking on my wooden table at the moment!), I'm relieved to see that there are prescription alternatives we could use, should the need arise.  Anything that will help get rid of the head lice faster, and eliminate the necessity of having to comb out the nits, would make me, and many other parents, happy.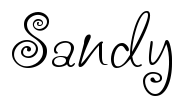 Disclosure:  Canadian Blog House received compensation for this post.  All opinions are my own.