For many Canadians, becoming pregnant and having children is a natural, easy process.  For 1 in 6 Canadians, who suffer from infertility, trying to get pregnant can be an overwhelming, emotionally draining, and exhausting ordeal. The fact that fertility treatments can costs thousands of dollars, makes in vitro fertilization (IVF) out of reach for many infertile couples. For those that do battle infertility, only 15% can afford IVF treatments and other assisted reproductive technologies.
I once worked with a woman who spent a number of years trying so hard to get pregnant.  Nothing they tried worked.  It was heart-wrenching to watch her go through everything they did trying to have a child. Perhaps the outcome for my coworker would have been far different if The Stork had been around back then.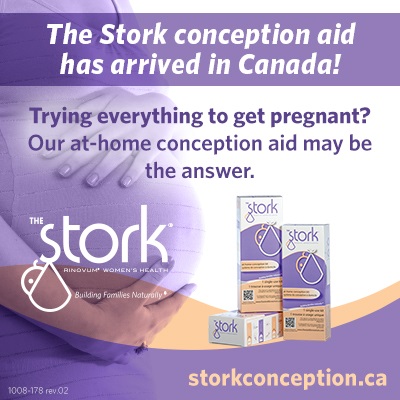 New hope for infertile couples has arrived in Canada.  The Stork by Rinovum Women's Health is an over-the-counter, at-home conception aid that supports a natural and intimate approach to conception.
Combining science and innovation, The Stork takes the well-established cervical cap insemination technology that health care professionals have used for decades and allows couples to perform it easily in the privacy of their homes.
The Stork is an affordable option for couples trying to conceive that bridges the gap between costly clinical treatments and natural intercourse.  Now couples looking for an affordable option will soon be able to pick up The Stork at select pharmacies.
To learn more, visit these links:

To celebrate the launch of The Stork, there will be a #TheStorkCAN Twitter Chat on September 9th at 8:00 PM EST!  Join us on Tuesday night to find out more about this new at-home conception aid. If you, or someone you know, may benefit from this product or information, be sure to tell them, and join us for a great, informative chat that may just change a life…and start one.
Of course it wouldn't be a Twitter Party without prizes!  At #TheStorkCAN Twitter Chat you will have a chance to win 1 of 10, $50 gift cards – so don't miss out! If this is your first Twitter Chat, it is easy to participate on the Twubs Page.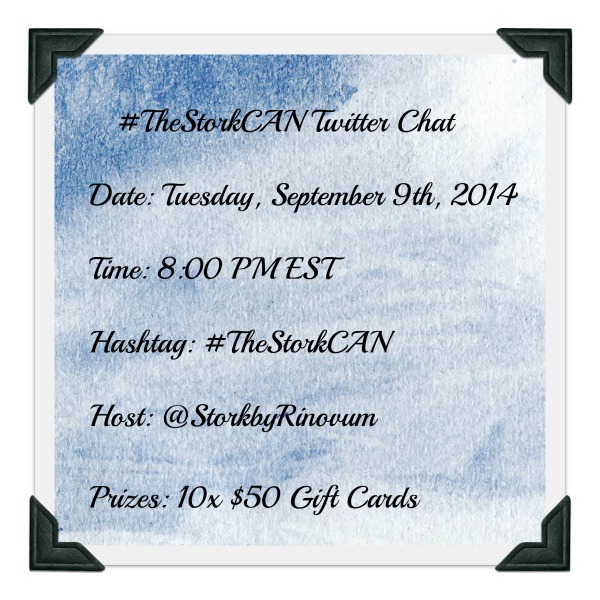 There's no RSVP required, but remember to follow the Host, @StorkbyRinovum and use hashtag #TheStorCAN.
See you there!!