"Oh dear. I notice your dog has a luxating patella."
These words were spoken by Bella's vet the last time I brought her in for her annual examination.
A "luxating patella"? I'd never heard of this term before.
The doctor explained Bella's condition to me, but of course I had to come home and Google it.
From the PetMD website: "Patellar luxation occurs when the dog's kneecap (patella) is dislocated from its normal anatomic position in the groove of the thigh bone (femur). When the kneecap is dislocated from the groove of the thigh bone, it can only be returned to its normal position once the quadriceps muscles in the hind legs of the animal relax and lengthen. It is for this reason that most dogs with the condition will hold up their hind legs for a few minutes.
A dislocated kneecap is one of the most prevalent knee-joint abnormalities in dogs. The condition is most common in toy and miniature dog breeds such as the Yorkshire Terrier, Pomeranian, Pekingese, Chihuahua, and Boston Terrier. Female dogs are 1 1/2 times more likely to acquire the condition."
Apparently, Bella, a miniature poodle, is susceptible to patellar luxation as well.
This diagnosis came as a complete surprise. At 3 1/2 years old, Bella had yet to experience any problems from her luxating patella.
Or had she?
All of a sudden, things started to make sense.
Like Bella's quirky little "John Wayne" walk, as I like to call it (Google that – it's a thing!).
And like the way she yelps when we gently pull her leg back so we can rub her belly.
While Bella has yet to truly be bothered by, or suffer from, her luxating patella, it will likely cause her problems as she ages.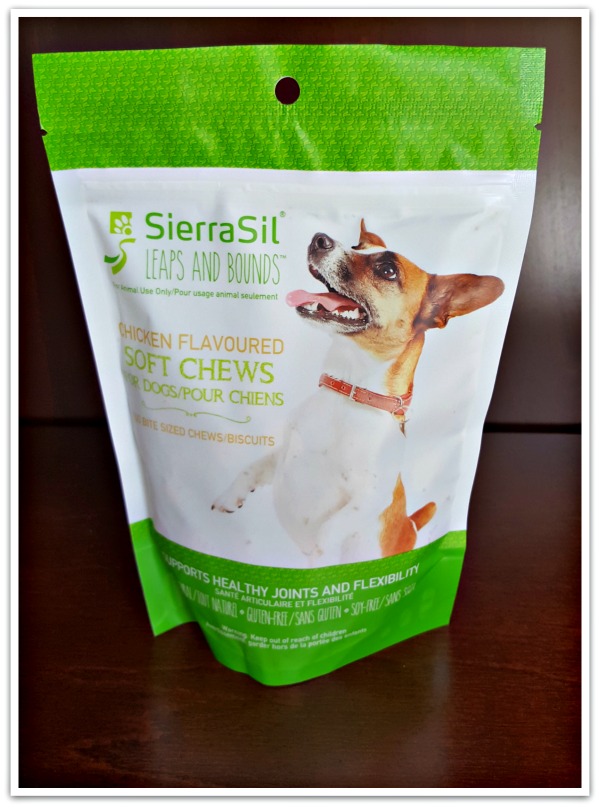 So when SierraSil, the makers of Leaps and Bounds Soft Chews for dogs, asked me if I would like to try Bella on their joint supplements, I (pardon the pun) jumped at the chance to give Leaps And Bounds a try.
SierraSil is a supplement for dogs that helps "improve joint health and mobility for dogs. Dogs, just like humans suffer from many of the same joint ailments including arthritis, and other inflammation related diseases causing pain and stiffness. If you're like many of our customers, you research everything you feed your dog, make sure they get enough exercise and care for them day in and day out because, well, that's what you would do for any of your other family members right? And sometimes, just like with humans, food and exercise just aren't enough, and we need to supplement, supplement with quality of life enhancing ingredients like SierraSil."
While Bella is still pretty young, and does not appear to be having any severe difficulties with her luxating patella at this time, Leaps and Bounds is great as a preventative measure for dogs of any age with a predisposition to a luxating patella or other joint issues. I'm hoping this supplement helps eliminate, or at least minimize, Bella's symptoms before they worsen.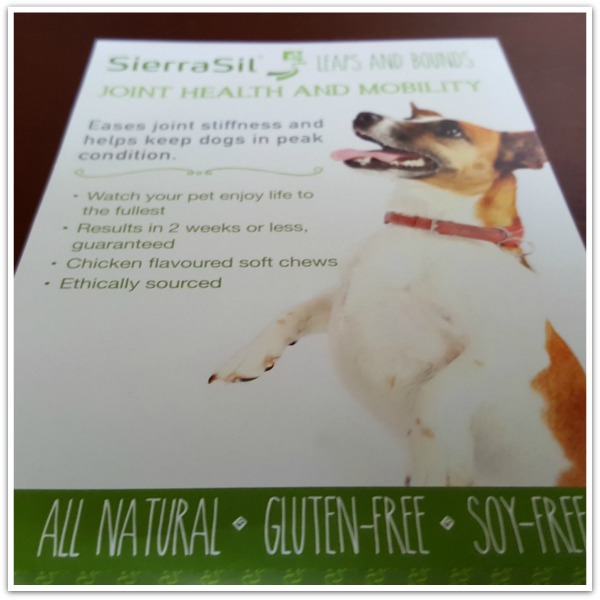 So what exactly is SierraSil?
"Discovered by a gold mine prospector over 20 years ago who saw wildlife grazing on the mineral deposit in the high Sierra Mountains, the mineral known today as SierraSil, has since undergone extensive clinical research studies and been patented as a nutritional supplement for Osteoarthritis. And yes, we have to apologize, the ingredient has been tested on humans! We know from these clinical trials that SierraSil acts as a natural anti-inflammatory by interfering with the enzymes involved in the inflammatory process thereby calming inflammation from a gene suppression level as well as helping to flush out toxins that wreak havoc on our joints and bodies. The results have been consistent in improving mobility and decreasing stiffness in dogs showing signs of aging and experiencing pain and swelling."
Bella has been taking one SierraSil Leaps and Bounds Soft Chew now for just over a week. It's still early days yet, so we don't know for certain if the daily dose of one chew (as recommended for dogs up to 20lbs) is helping Bella in any way. We are providing the SierraSil to Bella in the hope that it will help prevent, or slow down, further discomfort and problems cause by her luxating patella. Only time will tell, but we remain very hopeful that this supplement will be very beneficial for Bella.
Some chronic cases of luxating patella can lead to osteoarthritis, pain is usually involved, and lameness may be more constant and severe. My hope is that this supplement helps to maintain Bella's physical functioning with its anti-inflammatory, and detoxifying properties, and helps keep her condition from worsening.
What we do know? We know that Bella LOVES her SierraSil Leaps And Bounds Soft Chews. She now looks forward to getting her "treat" every day! Bella's a fussy eater…so the SierraSil Leaps And Bounds Soft Chews must taste really good! Here she is disappearing with her chew to enjoy it from the comfort of the carpet!
You can find out more information about SierraSil's Leaps And Bounds Soft Chews on their website. You can also find SierraSil on Facebook and on Twitter.
Disclaimer: I am not a trained veterinarian or animal expert. Before giving your dog SierraSil's Leaps And Bounds, be sure to ask your veterinarian if this product is right for your dog.
Also, please be aware that symptoms of a luxating patella in your dog may be different from Bella's. For example, some dogs with this condition will resort to walking on their front legs in order to avoid using their back legs. If your dog is doing this, don't assume this is just a fun trick your dog does for the camera (we've all seen videos like that). If you suspect your dog may have a luxating patella, please see your vet.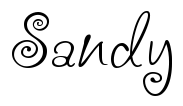 Disclosure: Canadian Blog House was provided with the above product in exchange for this review. All opinions are our own.