I was recently invited to the launch party for Canadian Treehouse TV's "This Is…" TV series at the Corus Entertainment headquarters in downtown Toronto.  This popular kids' tv series is undergoing a big change as former "This Is…" stars, Daniel & Emily have grown up and are now handing over the reigns to newcomers, Isaiah and Scarlett.  Unfortunately, I was unable to travel to Toronto for this event, so instead, I was able to do the next best thing…invite friend and fellow Blogger, Suzanne from MapleMouseMama.com to attend this great event on my behalf! Suzanne was pretty excited to be able to take her kids to this fun Treehouse TV event. Both her kids are big fans of the show, and her daughter Emily has pretty much grown up watching former stars Daniel and Emily on this program.  You can only imagine how excited Emily must have been being able to meet Daniel and Emily in person!  Here's Suzanne's blog about the great time she and her family had at the launch party:
~~~~~~~~~~~~~~~~~~~~~~~~~~~~~~~~~~~~~~~~~~~~~~~~~~~~~~~~~~~~~~~~~~~~~~~~~~~~~~~~~~~~~~~~~~~~~~~~~~~
"Last week, on August 27th, my family and I were invited to attend a launch party for a wonderful Canadian children's television show.  I first have to say a huge thank you to Sandy at Canadian Blog House for extending this invitation to me.  The event was a first for us and wow, were we ever impressed!   The program being celebrated that day is the latest in the "This Is…" TV series shown on Treehouse TV and watched by thousands of children in well over a hundred countries.  The original shows, "This is Daniel Cook" and "This is Emily Yeung"  were hosted by two charming youngsters who are now teenagers and the torch has been passed on to two new comers, Scarlett Dovey and Isaiah Gero-Marsman, both aged seven.  For those of you not familiar with the shows, these precocious performers went on a variety of adventures, all filmed to share with kids their own age.  I watched both Daniel and Emily with my now ten year old daughter (also named Emily) learn to make chocolate, train Seeing Eye dogs, drive in race cars, make goat cheese, hold scorpions and snakes and even visit Disney World!  These adventures were filmed with the enthusiasm of a child and as a parent I appreciated the exposure these shows allowed my child to have.   Daniel and Emily's exploits had every child I know getting interested in more then just watching the fun on TV.  In fact all of the cooking episodes usually lead to my daughter wanting to experiment in the kitchen!  We were fortunate to meet both Daniel and Emily at the party and my Emily was thrilled to get a photo with them.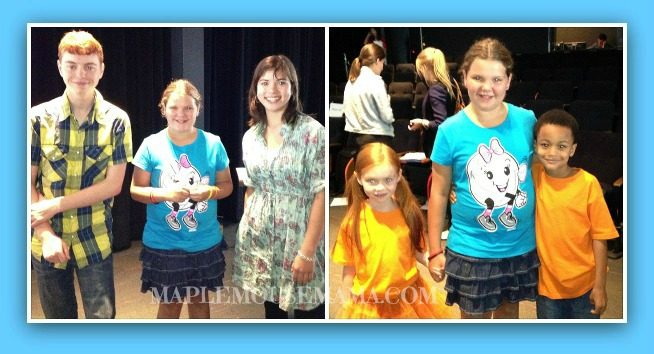 Daniel Cook, Emily and Emily Yeung ~~~ Scarlett Dovey, Emily and Isaiah Gero-Marsman
The latest offering from Sinking Ship Entertainment and Marble Media in the "This Is.." franchise will not disappoint Daniel and Emily fans.  At the launch party we were introduced to Scarlett who, like Daniel, is an energetic redhead and Isaiah, a very confidant young man.  The two new hosts will wear the signature orange t-shirts and jeans, but Scarlett has added a little twist to her ensemble, an orange tutu.  Both Scarlett and Isaiah have siblings and one thing we can look forward to in the new series is the enhanced involvement of the hosts' families.  During the launch we were treated to screenings of a "This is Scarlett" and a "This is Isaiah" episode.   The program continues to entertain while maintaining the child-like innocence of its stars.  I had to laugh out loud when Scarlett asks repeatedly, in both her audition tapes and her episodes, if she will get dirty.  It is not hard to tell she is a girly girl, tutu and all.  I had an opportunity to sit down with Scarlett and when asked what her most favorite show to do so far was, Scarlett answered "Making a tiara."   Scarlett then proceeded to have a little discussion with my daughter about tutus.  Scarlett is entering grade two and shared with us that she loves to make crafts!  She and Emily seemed to have a good time making t-shirts at the Sharpie Tie Dye station, which was part of the activities Corus Entertainment provided the young attendees of the launch party.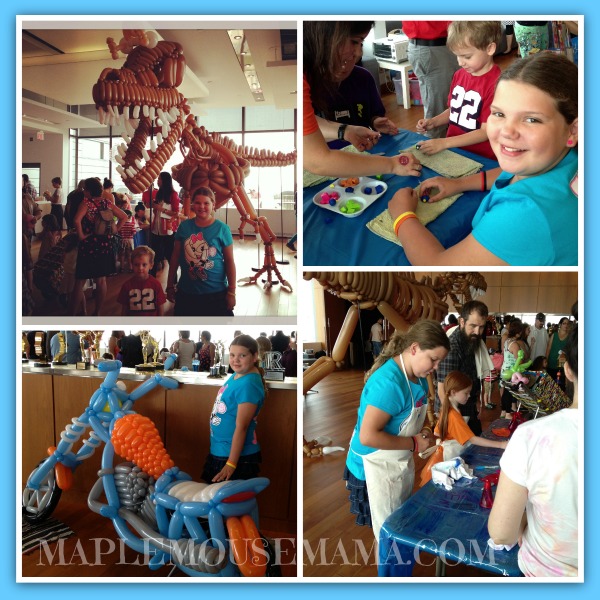 My time with Isaiah was limited, but in our short conversation I was impressed with this young man.  He is confident, funny and bright!  His comments during his episode showed real curiosity, but what most impressed me was how gentle he was with his little sister. One of Isaiah's shows is about his sister's first day of school and he helps her navigate through it.  While not necessarily an adventure, the glimpse of this episode shows a well mannered and helpful big brother.  These are lessons all children need to be reminded of now and then.   When I asked Daniel Cook what his least favorite episode was to film the show's producer, J.J. Johnson, spoke up and answered, "It has be learning ballet. " When Daniel agreed, Isaiah immediately scolded him by saying, "You know, even boys can be ballerinas Daniel."   Isaiah definitely has that adventurous spirit that is perfect for the show.  My assistant Emily was tickled to get a photo holding Scarlett's hand while Isaiah put his arm around her!  Too cute!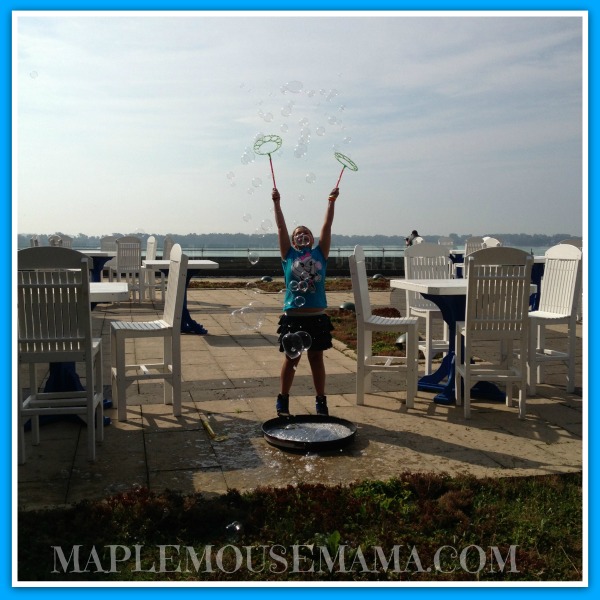 The full episode we viewed of "This is Isaiah" was all about balloon art with Jungle Jack and we, the invited guests to the launch party, were treated to some of Jack's work!  When we entered the 8th floor atrium of the Corus Entertainment building the first thing we saw was this huge dinosaur made of over three hundred balloons!  It was pretty incredible and each child attending that day was able to take home a creation of Jack's.  The fun did not stop there.  To keep their young guests happy Corus brought in 4 Cats Arts Studio and they offered the kids a chance to make spiral paintings and various clay figures.  My two children, Emily and William were having so much fun they did not want to leave!  I can honestly say this was a top notch event.  We were invited to have light refreshments throughout the morning, play with the bubbles on the rooftop patio or just enjoy the view of the Toronto Islands.  While the various media in attendance, myself included, had interviews with the hosts, our families were treated to a Bubble Wonders show preformed by Geoff Atkins.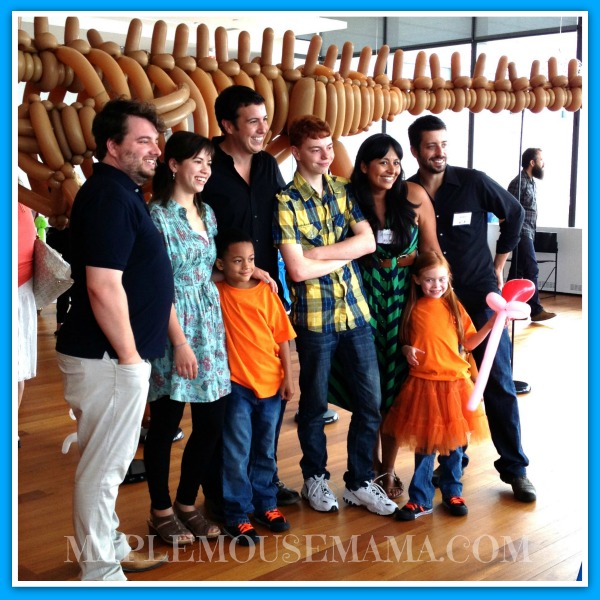 Hosts, Producers & Handlers of the "This Is.." series
The day was exciting and entertaining and we are looking forward to the debut of "This is Scarlett and Isaiah" in late September.  Have a peek at the trailer HERE and share this with your youngsters.  I think that you will be just as impressed as they are."
FT&PD
Suz
**Suzanne Rudge, owner of the blog MapleMouseMama, is a Canadian mama, happily married with two beautiful children, residing in Southern Ontario.  Suzanne blogs about family, lifestyle, Disney and the trials and tribulations of growing up.  Suzanne tackles issues like Food Allergy Awareness like planning a Disney vacation; with passion!!  You can follow Suzanne's dream at www.MapleMouseMama.com, catch her on twitter @MapleMouseMama and follow on Facebook at www.facebook.com/MapleMouseMama.