HMV has our holiday wish list all "wrapped" up this Christmas.  Or, based on our recent HMV CD purchase, should I say all "rapped" up?  That's right, it was time this weekend, to check all that holiday music, and those music accessories, DVDs and CDs off our list!
We ventured into scary territory on Saturday – the shopping mall…a mere week before Christmas! Let me tell you, we were not looking forward to having to fight the holiday crowds.  I like to be prepared at the best of times, but even more so when I know we are going shopping somewhere that is going to be crowded with holiday shoppers.  So, for me, whether it's for groceries, household items, or a little shopping spree for myself, I always go with a list in hand.
So the only thing that made our trek to the mall this weekend more bearable was the fact that, thanks to HMV Canada's new Facebook App, the HMV Holiday Wish List, we were well-organized and ready to shop for all the music and movie lovers on our list.
Here's how we prepared for our trip to an Ottawa HMV store to buy some of today's most popular new and trending CDs and DVDs.  Just-right gifts for everyone on our list: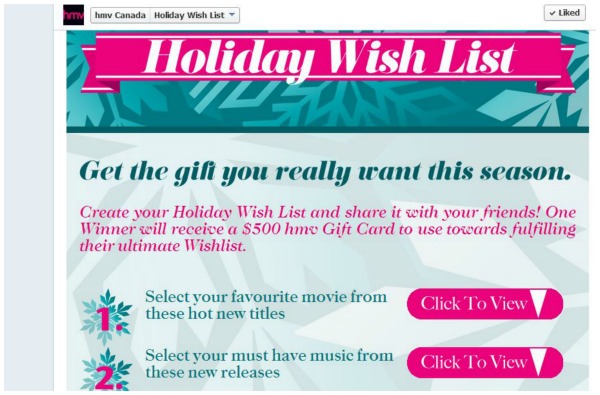 It's so easy to create your own HMV Canada Holiday Wish List using their Facebook App.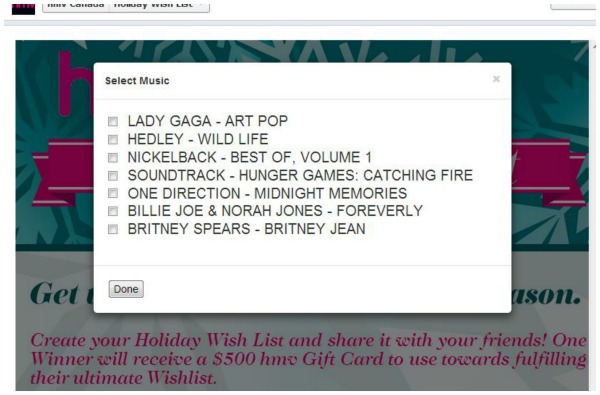 We started by selecting the music we wanted from HMV Canada's music list.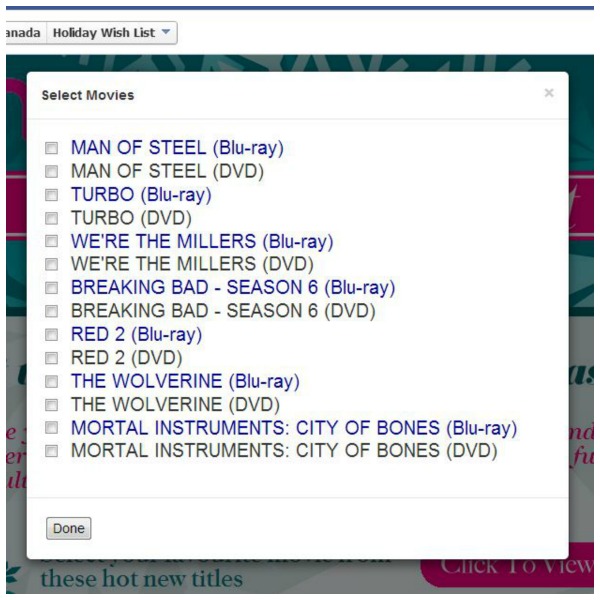 Then we checked off the Blu-Rays and DVDs we needed to put on our HMV Canada Holiday Wish List.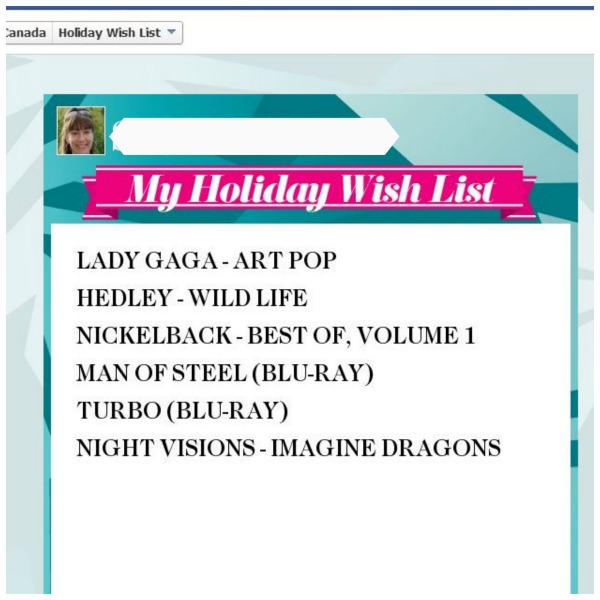 Once we added the items we needed that didn't show up on the automated list, we hit submit and were presented with our very own HMV Holiday Wish List to print! I like how my picture shows up in the top corner of our list.
Here's a little trivia I uncovered about HMV.  Did you know that HMV originated in London, England, in 1921.  I had no idea!  Heck, HMV is over 90 years old!  What about the name HMV.  Do you know what HMV stands for?  His Master's Voice.  As for the origin of the full name, I do not know how that came about.  The first HMV Canada opened its doors in 1988.  This I remember well.  Back in those days, I was a carefree young woman who used to devour CDs, purchasing a new one almost weekly from my fave CD store in the mall – HMV.
So with our HMV Holiday Wish List in hand, we headed off to the HMV in Ottawa that we thought would be the least crowded HMV store right before Christmas – Place d'Orleans.  Looks like we made the right choice.  Even though there were 10 people in line at the cash that morning, and numerous customers wandering the aisles, we still had plenty of room to browse around.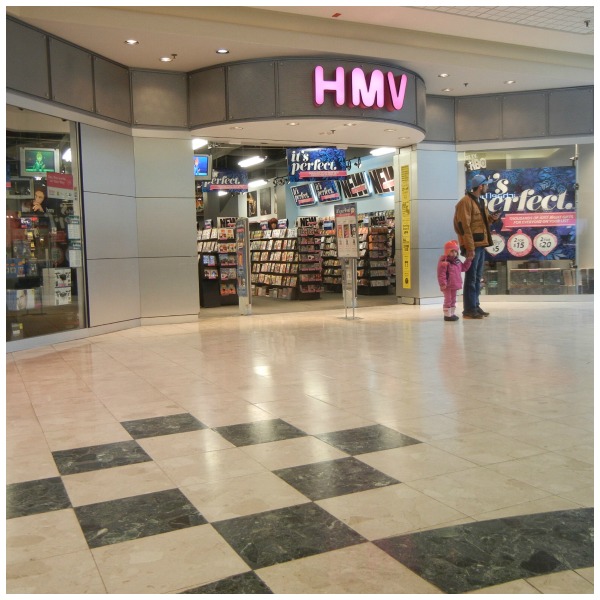 HMV Canada – Place d'Orleans – Ottawa, Canada #HMVHoliday #Shop
It had been awhile since I had last stepped foot in an HMV Canada retail store.  Things have changed quite a bit since that last visit.  For starters, I immediately noticed that the emphasis was no longer just on music CDs, but on all kinds of other entertainment and pop culture products as well.  Shelves were filled with not only CDs, but DVDs, Blu-Rays, video games, MP3's, books and iPods.  I could have browsed in there for an hour, however, my focus was our HMV Holiday Wish List, and all the people we had to buy for.
For starters, we made our way over to the CD section to find a CD that WE had been wanting for awhile now.  Yes, we were starting this holiday shopping with a treat for ourselves, the new CD by Macklemore & Ryan Lewis, called Heist.  I already knew that Santa did not have this CD on his list for us, so we were safe to buy it at HMV that day.  We quickly found the section where this CD is stocked, only to be horribly disappointed when we saw an empty Macklemore and Ryan Lewis slot: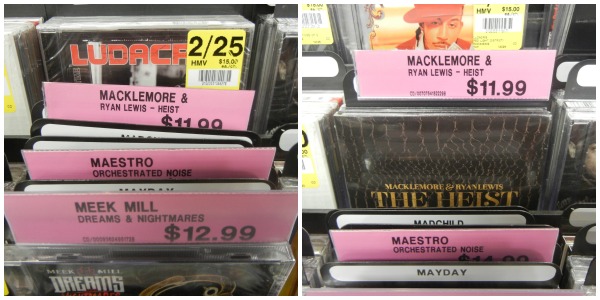 Before and After – Macklemore & Ryan Lewis  #HMVHoliday #Shop
Lucky for us, we were able to find a helpful HMV staff member who quickly assured us that they had more Macklemore and Ryan Lewis, so we could now check that off our list.  He brought one out from the stockroom for us, and stocked up the Macklemore and Ryan Lewis section on the shelf.
Besides being happy that we were able to purchase our Macklemore and Ryan Lewis CD at HMV, we were (Mackle) more than happy to see the price tag on the CD!  Can you believe it? Only $11.99! With prices like that it's super easy to check off all the items on your HMV Holiday Wish List!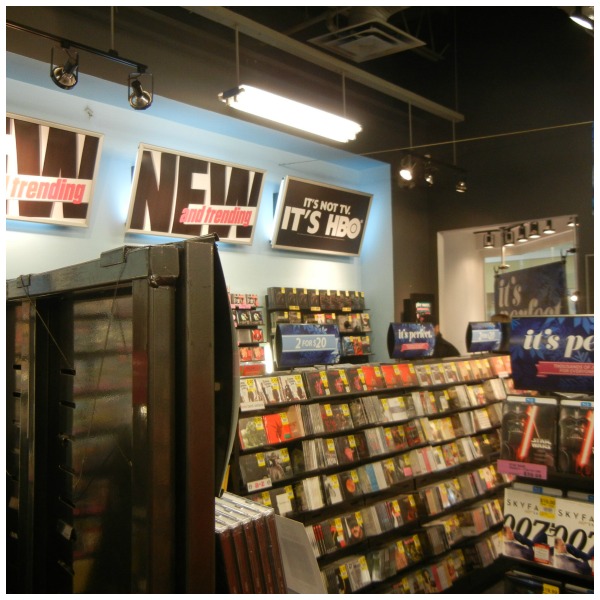 HMV is full of all kinds of great Holiday Music perfect for everyone on your #HMVHoliday Wish List!! 
HMV was well-stocked and ready for all the holiday shoppers.  Everywhere we looked the shelves were full, displays were full and eye-catching, and the in-store advertising and signage made finding the items on our HMV Holiday Wish List easy! We managed to scoop up all the items on our list, but we can't tell you who they are for….it's a Christmas secret! Shhhh!

These signs were all over the store ~ HMV Canada Holiday In-Store Advertising #HMVHoliday #Shop
Make sure to try the HMV Holiday Wish List Facebook App for yourself.  At HMV you'll find something for everyone on that list.  They've got a huge selection of Blu-Rays for the movie fan, a great selection of kids' programs and movies, and for the teen in your life, a new and trending CD or some music and pop culture memorabilia.