Move over Mama! Industria Italian Brasserie has opened in Ottawa, and they are giving away one of your best kept secrets!
Mama always keeps things FRESH in her Italian kitchen. Chef Sergio Mattoscio knows Mama is a smart lady, so when he created the menu for Ottawa's newest eatery, the focus was on everything fresh.
Last night during Industria Italian Brasserie's media night, celebrating the opening of this bold and stylish Italian restaurant in Ottawa's trendy Glebe neighbourhood, Chef Sergio Mattoscio spoke of his desire to provide Ottawa with an Italian restaurant that seeks to replicate an Italian mother's kitchen, with food that is prepared fresh daily, and not frozen. As someone who loves my food made with fresh ingredients, I think Chef Mattoscio is on to something great!
"Sharing, amongst Italians, is not a trend but the most common way to eat and the basis of our meals and gatherings." ~ Chef Sergio Mattoscio
Step through the doors of Industria Italian Brasserie and you are greeted with a beautiful sight. Attention to style and detail can be seen everywhere, from an emphasis on a chic colour scheme of black, reds, greys and whites, to modern furnishings, eye-catching art and decor, and comfortable seating areas (suited to both large groups and couples).  Perhaps one of the most visually stunning sights inside Industria Italian Brasserie are the immense sections of gorgeous glass bubble lighting that adorn the ceilings. You can't help but be impressed by the delicate beauty of these hanging bubbles.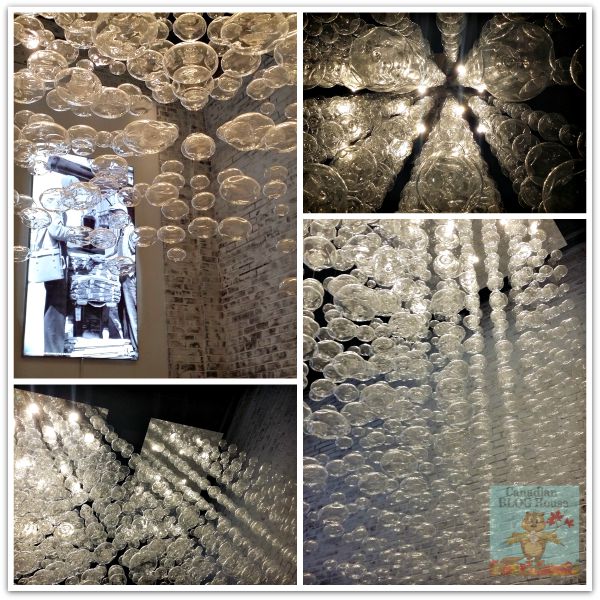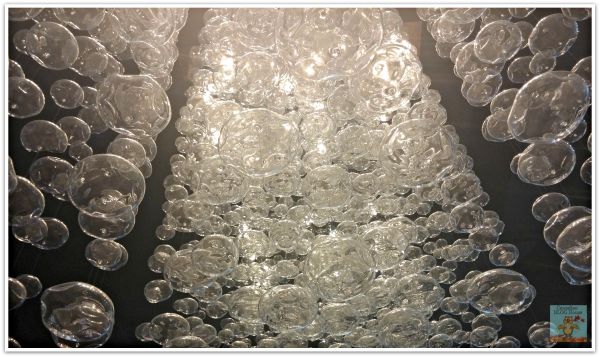 But what about the food? After all, it's really all about the food when it comes to a great restaurant, and from what we experienced last night, the food at Industria Italian Brasserie is sure to please the palates of Ottawa foodies.
It was a hot summer night, and the cold drinks were flowing. I was partial to their special Sangria! So light and refreshing!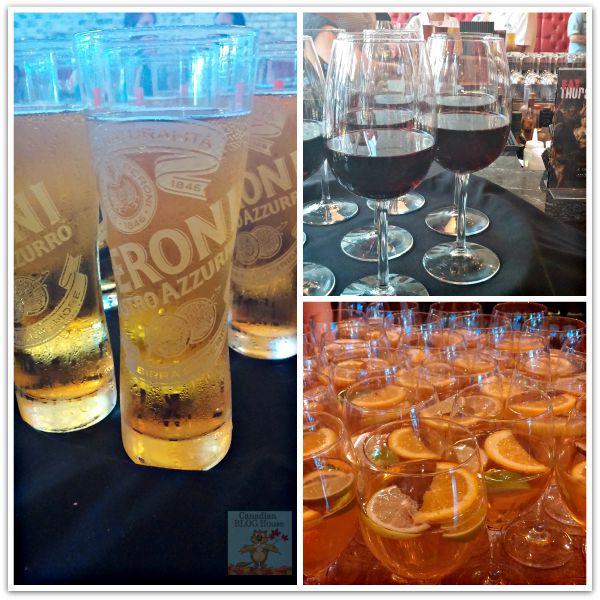 Out came the food, and true to any Italian mother's style, NO ONE was going home hungry! The appetizers were fabulous!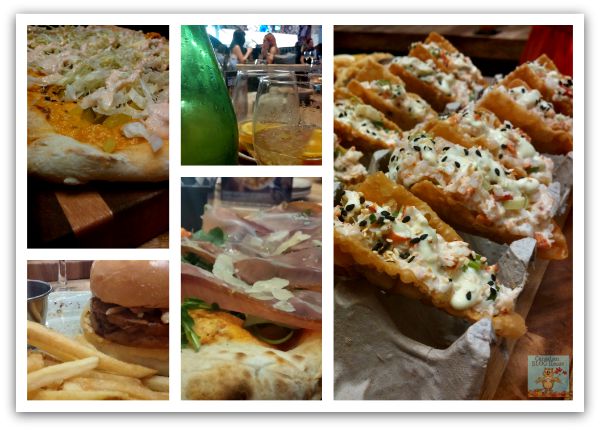 We helped ourselves to Semolina Fried Calamari, Lobster Tacos, huge melt-in-your-mouth meatballs, and Industria pizza. EVERY one of these selections was delicious. My personal faves? The Industria pizza (reminiscent of a Big Mac!), and the Lobster Tacos. The Lobster Tacos, which are served in a very unique egg-carton-like tray, are scrumptious! I could have eaten a whole dinner of Lobster Tacos! In fact, we enjoyed our appetizers so much, we filled up on these delights…and failed to realize that we still had a full dinner to come!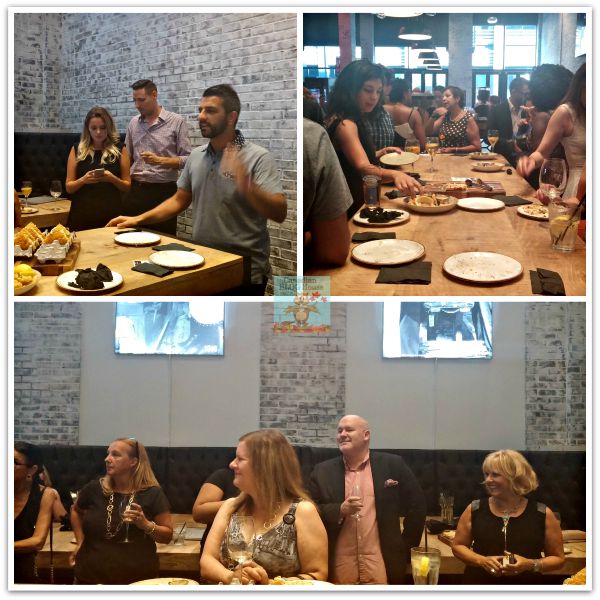 The words Chef Sergio Mattoscio had spoken earlier in the evening came flooding back to me. He said that Italians are always afraid there won't be enough food. Well, customers at Industria Italian Brasserie don't have to worry about having enough food to eat. Portion sizes are substantial (although not overwhelming). Our actual dinner last evening consisted of a Prosciutto e Rucola pizza (a generously-sized personal pizza), and a Hamburger Di Porchetta with fries. The latter was a personal favourite of mine. The toasted brioche bun paired so well with the pork belly and coleslaw topping. It was an entree I wouldn't normally have chosen from the menu, but was glad that I tried last night. This tasty combination of flavours was terrific. As for the fries, the "fry hound" in me loved the shoestring fries! I could only imagine how good these fries would be in a plate of gnocchi poutine – Chef Mattoscio's signature dish!
It's no surprise that dessert was one of my favourite parts of last night's culinary experience! Industria Italian Brasserie did not disappoint this dessert lover! My apologies if I make your mouth water with photos of the dessert pizza we had: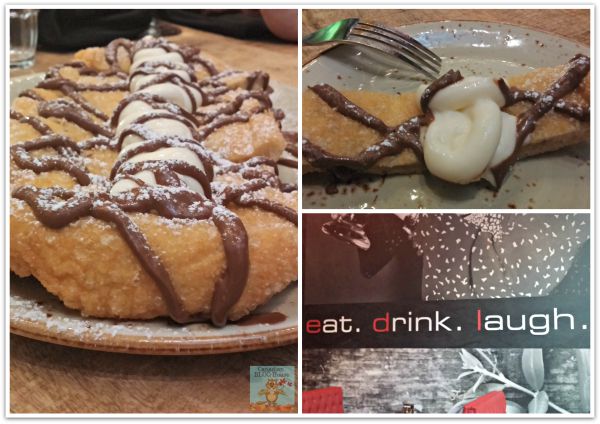 Industria Italian Brasseries celebrates Fat Thursdays each and every Thursday by offering customers "4 Market Fresh Dishes and 1 Drink" all for only $28! Each Fat Thursday, Chef Mattoscio chooses 4 themed dishes using market fresh ingredients, so you never know what tasty meals you will be served on Fat Thursdays.
I love the emphasis on market fresh…and the element of surprise!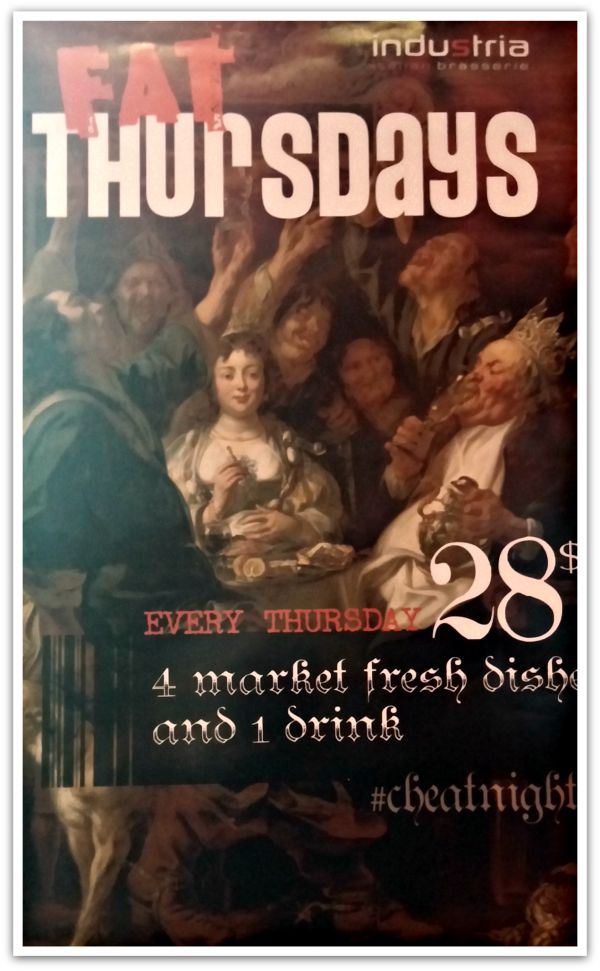 Industria Italian Brasserie is located on Marché Way, and is a very short walk from Lansdowne Park/TD Place. While this seems like the perfect location for Ottawa's newest Italian eatery given the close proximity to the thousands of Ottawans who will be visiting the area for many special events, I am left to wonder if the football and concert-going crowd will take the time to venture into the beautifully chic Industria Italian Brasserie before or after the game/show. Hopefully they will.
If they don't, they will be missing out on some of the best that Mama has to offer!
A huge thank you to the wonderful James & Daniel from Blackbook Lifestyle, Myriam Valcin, as well as the owners and staff of Industria Italian Brasserie for hosting such a great evening!