Christmas, toys, and kids, they just go together, don't they? On Christmas morning, kids can't wait to see what fun toys Santa left them under the tree, and parents can't wait to see the excitement on their kids' faces as the kids rip into all the colourful packages. One of my favourite places to shop for educational and fun toys for X-Man for Christmas is Mastermind Toys.
"It's a wrap! Canada's largest specialty toy retailer, Mastermind Toys, has put the finishing touches on its annual Holiday Gift Guide that dropped November 1st across Canada. Featuring over 400 of Mastermind's top toys this season, the 40-page Gift Guide is a valuable resource that helps shoppers pick the perfect present for every kind of kid on their list."
Mastermind Toys' 40-page Gift Guide is just the thing busy moms and dads can use to make their Christmas shopping a little easier. Personally, I love how they break down their gift guide into age groups and interests. For me that means not having to look through a whole section of something that I know X-Man has absolutely no interest in. The 2014 Mastermind Toys Gift Guide allows you to sit down and plan out your shopping from home – saving you a lot of precious holiday shopping time! Or, if you prefer to shop from the comfort of your own home, Mastermind Toys has a great deal on shipping right now: Free Shipping up to $15 to Canadian destinations on orders over $39 EXTENDED until December 14.
Over a year ago, Mastermind Toys sent X-Man a Kick Maxi Kick Scooter just in time for summer fun. X-Man adores that scooter. X-Man is a scooter fanatic. X-Man's slogan should probably be something like "Why walk when you can roll?!".  He can really scoot along on that thing, and has taken his Kick Maxi Kick Scooter on many adventures. So it was pretty much a no-brainer that we decided to choose to get X-Man this from the 2014 Mastermind Toys Holiday Gift Guide: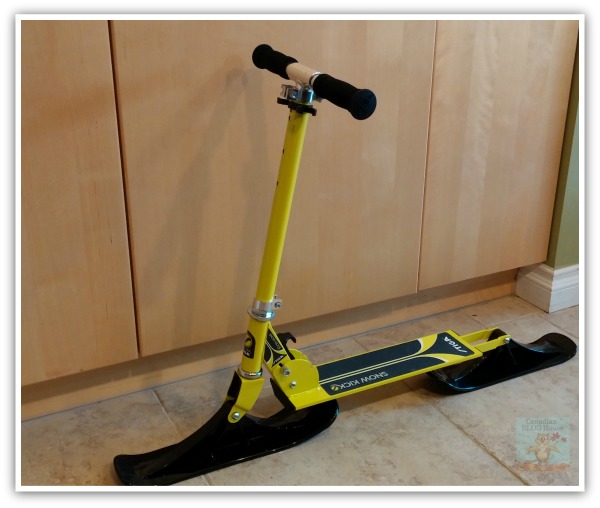 The Stiga Snow Kick is the PERFECT gift for the scooter fanatic!  For the kid that hates to put away their scooter when winter comes around, the Stiga Snow Kick is just the answer.
This Stiga Snow Kick is made for a Canadian winter!
Here a just a few things we like about the Stiga Snow Kick:
It's made from light weight steel/aluminum, making it easy for adults to handle, and easy for kids to use.
Maximum weight capacity is approximately 110lbs – this means the Stiga Snow Kick should last X-Man for a few years!
The Snow Kick folds up easily, making it great for storing away in a shed, garage, or basement.
You can adjust the Snow Kick to three different heights, so it can grow with your child.
The skis are made from a high-density polyethylene known for its intense strength.
It's colour – the lime colour makes this Snow Kick stand out in the snow – making it (and your child) more visible.
All hardware appears to be extremely durable and made from quality materials. This Snow Kick looks like it can stand up to hard use.
The no-slip handle grips and no-slip kick plate are great for little hands and feet, keeping them firmly where they belong – on the Snow Kick!
Easy to assemble!
The price. At only $59.99, this Stiga Snow Kick is a great gift for Santa to leave under the tree
So shhhhhh….don't tell X-Man but, looks like Santa will be leaving him this Stiga Snow Kick under the tree this Christmas.  While we have had some snow here in Ottawa already, we haven't had enough to be able to test out the Stiga Snow Kick yet, so we have decided to save this one for a great Christmas surprise. We know someone who is going to be VERY excited about this gift on Christmas morning!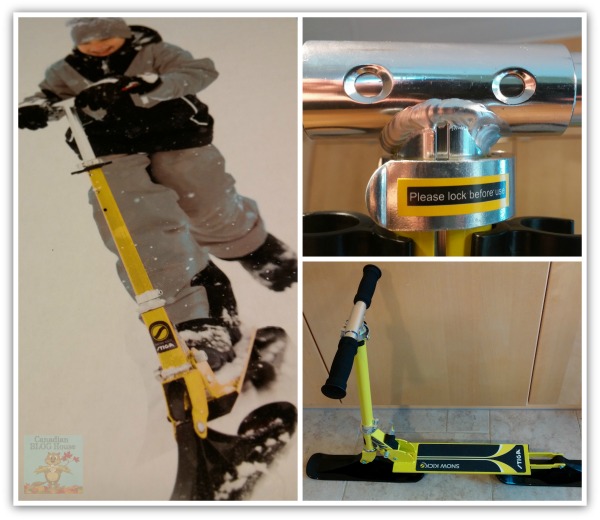 As many of you probably already know, Mastermind Toys is a Canadian owned and operated company that has been selling quality fun and educational toys for Canadian kids for over 30 years! From its humble beginnings in Toronto, Mastermind Toys has now expanded to 32 stores across Canada, with even more new stores still to come! I'm a big kid at heart, so I love to browse through my local Mastermind Toys store.  The minute I walk into one of their stores, I can't help but smile. The colours, the displays, the great selection of toys, and the excellent customer service all combine to make my Mastermind Toys shopping experiences great.  I also happen to love how they provide their customers with complimentary gift wrapping. What parent couldn't use a little help with their gift wrapping during the busy holiday season?
While I'm lucky enough to be able to live near a Mastermind Toys retail store, for those of you who do not, don't forget, shopping at Mastermind Toys online is quick, easy, and ALMOST as fun as shopping Mastermind Toys in person!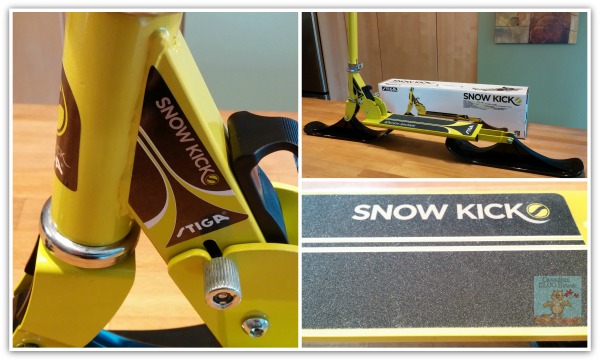 Be sure to stop by Mastermind Toys' Facebook page for all kinds of fun, promotions and gift ideas!
Our great friends at Mastermind Toys want to help one Canadian Blog House reader have an extra special Christmas this year!  One Canadian Blog House reader can WIN a $100 Mastermind Toys Gift Card to spend in-store or online on whatever toys your children desire! Imagine the FUN you could have picking out $100 worth of fabulous toys!
***GIVEAWAY OVER***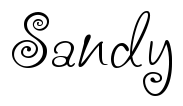 Disclosure:  Canadian Blog House was provided with the above product in exchange for this review.  All opinions are our own.