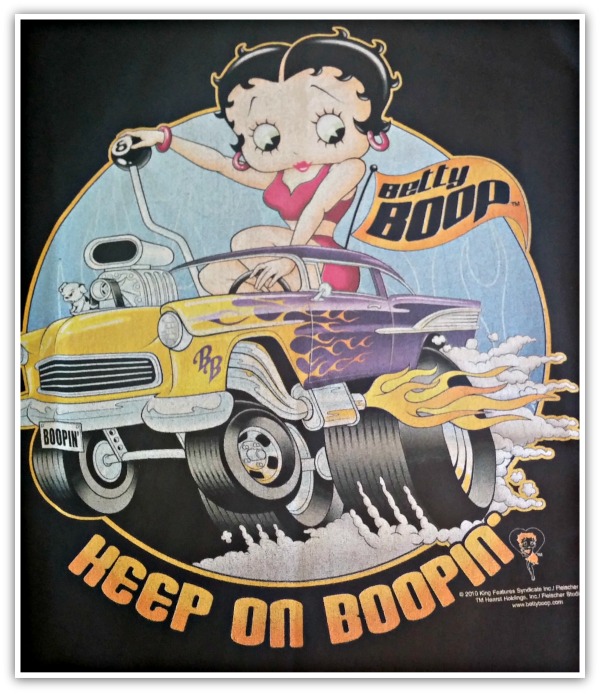 Betty Boop, that seductive, animated cartoon character, who started her career in animated short films in the 1930's, is still as popular today as ever – 80+ years later! Besides Disney's Mickey Mouse, I don't think you can find an animated icon with more staying power than the unforgettable Betty Boop.
Betty Boop first appeared in a cartoon called "Dizzy Dishes" in August of 1930. Many people today who recognize Betty Boop from her short hair, big eyes, red lips, and voluptuous body, probably don't know that she started out her animated life as a French Poodle with human-like qualities. As a poodle owner myself, I love this bit of Betty Boop trivia! Over time, Betty Boop's floppy poodle ears became hoop earrings, and her poodle hair morphed into a woman's bob cut. Now that's what I call a transformation!
Many of us grew up long after Betty Boop's initial success, but our mother's and grandmother's were probably big fans of Betty's during her heyday. My mother was a child during Betty Boop's early years, and I can remember her often quoting titles of Betty Boop cartoons, such as Minnie The Moocher. Anyone recognize that title?
Although I have never been a huge Betty Boop fan personally, I was very intrigued when I was presented with the opportunity to review some Betty Boop merchandise from BettyBoop.com. One look at this website and I dare you NOT to fall in love with at least a few of the items on there. It did not take me long to come across a couple of t-shirts I thought we would all like.
First up, matching t-shirts for X-Man and his dad: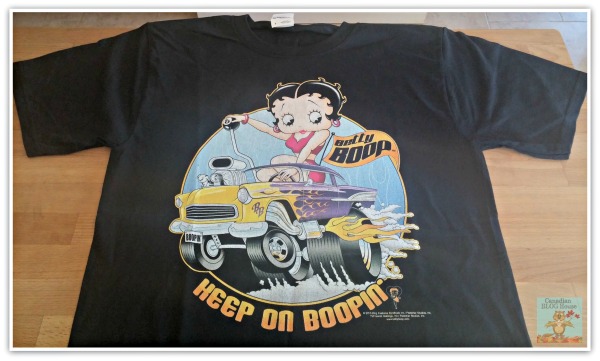 For the muscle car lover in your life, this t-shirt combines both a classic cartoon, and a classic car. Betty looks pretty cute riding in that purple and yellow beauty, doesn't she? This shirt is manly enough for your man, yet appealing to the ladies also! I think it's perfect…and so do the guys. One of the t-shirts mysteriously disappeared over the head of someone before I even had a chance to take a photo of it. Good thing I still had the other one!
What We Love About This T-Shirt:
Made from 100% quality cotton – you can feel the quality.
All seams are well-sewn, including a "double hem" at the bottom of the t-shirt.
The Betty Boop image is high-quality. Colours are vivid, and image looks fantastic – even close up! It does not appear that this graphic will fade easily. It is the best-looking decal I've ever seen on a t-shirt, bar none.
Sizing is accurate. The size of this t-shirt we ordered, in both a men's large and a small, fit perfectly.
Back of image (from the inside front of the t-shirt) is very soft on the skin. There is no thick, rough "iron-on" feel to this shirt.
What We Don't Love About This T-Shirt:
There is a slight "odor" from the graphic image on the t-shirt (normal for decals), however, it is an issue that will be easily remedied by a first wash.
For myself, I went a little more feminine, opting for this beauty: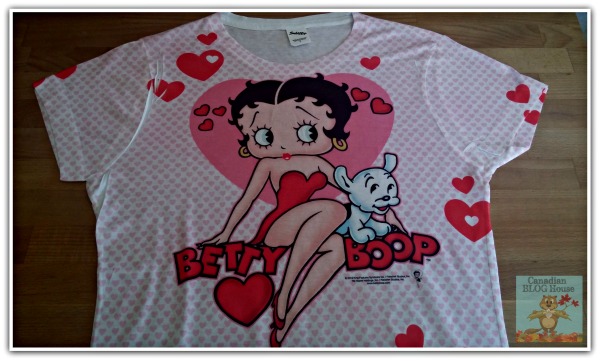 I believe this may be THE softest t-shirt I now own. It is unbelievably soft. This Betty Boop t-shirt is so soft, I almost can't stop touching it!
What We Love About This T-Shirt:
Did I mention this Betty Boop T-Shirt is soft? Oh yes. I did. In fact, it's so soft, I may have to order myself another t-shirt like this just because I love the softness that much. This t-shirt is uber comfy!
Beautiful graphics. Beautiful colours. Love how the graphic hearts continue onto the back of this t-shirt.
This t-shirt is extremely light-weight. Terrific for hot summer months.
Graphics are part of the t-shirt material (not transfer/iron-on). I love this because there is no risk of fading, as sometimes happens with decals/iron-ons.
Accurate sizing according to what I ordered.
What we Don't Love About This T-Shirt:
Nothing. Really, there is nothing we don't love about it. I tried to find something negative about this t-shirt, but I've got nothing.
We are thrilled with both the look and the quality of our Betty Boop t-shirts!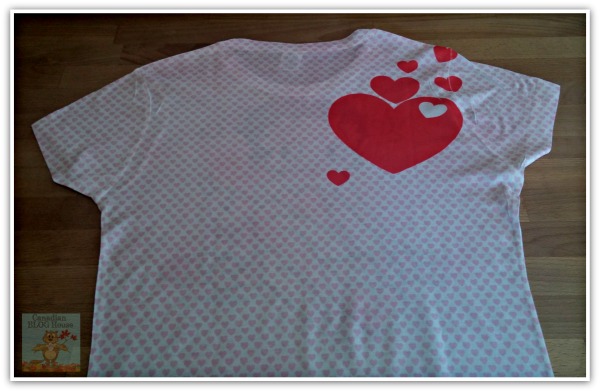 Back of my women's Betty Boop t-shirt
Not into Betty Boop t-shirts? No worries. BettyBoop.com has merchandise and memorabilia to keep every Betty Boop fan happy! Besides a great selection of t-shirts, you can find Betty Boop collectibles, art, jewelry, automotive, home and kitchen products, and many other Betty Boop items. The newly relaunched BettyBoop.com is a one-stop shop for the serious Betty Boop fan. Even the casual fan like me will enjoy the fun, whimsical t-shirts the website has available.
For all things Betty Boop, be sure to follow Betty Boop on Twitter, and show Betty Boop some love on Facebook!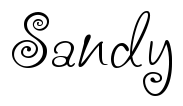 Disclosure: Canadian Blog House was provided with the above products in exchange for this review. All opinions are our own.