Getting ready for a vacation, or time away from home, when you are a dog owner, can be a very stressful thing. Most dog owners are very attached to their four-legged friends and worry about the health and happiness of their dogs when they have to leave them with someone else – especially in a place that their dog is not used to, like a kennel.
I have to admit, I am not a big fan of kennels. My feelings are based on the first time we left Bella and Guinness at a kennel for a couple of nights last year. While this kennel, and their service, was good (and likely a pretty typical kennel), we weren't thrilled when Guinness developed "kennel cough" after arriving home from the kennel, and both dogs came home pretty stressed out.
What did I learn from that experience? I learned that, despite having the vaccination for Bordetella (kennel cough), dogs can still pick up this virus from other dogs, especially in an environment such as a kennel. Bordetella has different strains so, just like the flu vaccine, the vaccination may not work on all strains.
I also learned my dogs don't do well in a room full of other barking dogs in caged kennels where they only get let outside a couple of times a day for very short periods.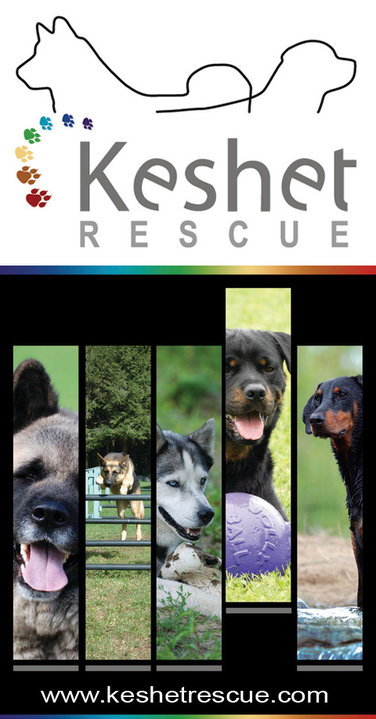 Recently I was faced with trying to find somewhere to place the dogs for the weekend while we attended the BConnected Conference here in Ottawa. I was dreading this task – until I was referred to Keshet Kennels on the outskirts of Ottawa.
"Owned and operated by Debbie Moffat, Keshet is the place for dogs of all breeds, owners, and enthusiasts. Our exceptional standards of care ensure that we stand out within the canine community.
Keshet is the Hebrew word for rainbow. To us, a rainbow signifies unity, a brighter future and a journey's end. We believe the symbolic representation of the word "keshet" applies to all aspects of our organization."
Keshet Kennels is more than just a place to take your dogs while you go on vacation. This kennel is also a "rescue kennel" specializing in large breed owner surrenders. While that in itself is special, what's even more impressive is that Keshet Kennels is NOT a registered charitable organization. The care of rescued dogs is funded by the owners, individual sponsors, and the kennel's revenue.
What We Love About Keshet Kennels:
The Grounds: Located on the outskirts of Ottawa, the Keshet Kennels property has huge fenced in grassy areas where your dogs can run free without the worry that they will run off. This was a terrific treat for Bella and Guinness as they don't usually have that much space to roam, plus, we didn't have to worry about them escaping. This definitely eased my mind.
Booking Process: It was super easy to book the dogs' stay at Keshet Kennels. Everything is done online. You simply fill out the online forms and you receive confirmation of your booking via email. So you can book your dog's travel plans the same way you book your own! Instructions are clear and easy to follow. To save you time when you drop your dogs off at Keshet Kennels, you can print the boarding agreement at home, fill it out, and bring it with you. Makes the whole drop off process much easier! The boarding agreement gives you a chance to list important details about your dog's diet, likes, dislikes, what personal items you will be bringing with them, and more. This booking process made me feel well-prepared to drop the girls off.
Drop-off Process: Dropping the dogs off at Keshet Kennels could not have been easier. Having the boarding agreement already prepared helped immensely. As soon as we arrived, a staff member was there to greet the dogs and take them right outside for a run in one of the fenced off areas. Talk about a great start to their stay!
It's All About The Dogs: Something that struck me was a comment a staff member made while we were checking the dogs in at Keshet Kennels. The staff member said "It's all about the dogs and THEIR needs and wants here at the kennel. If they enjoy running outside and playing with other dogs, they can stay outside as long as they want." As a dog owner who loves to let my dogs run free outside when I can, this was music to my ears. I would rather they have the chance to run and play with other dogs than to be stuck inside a kennel most of the day.
Then there was this email we received from the kennel during the girls' stay: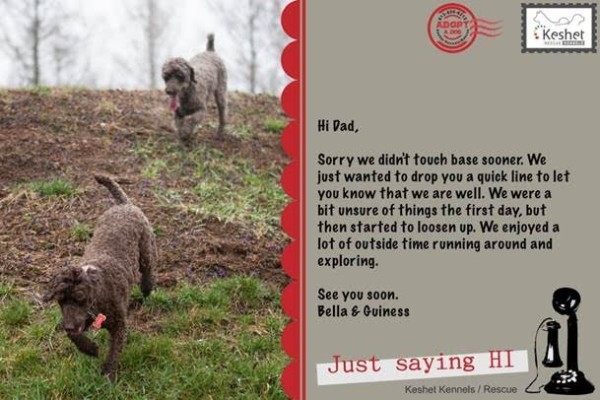 While I love the whole postcard, my eyes went right to the photo. Those look like happy dogs out playing in the grass, don't they? See Bella's tongue? That tongue only hangs out like that when she tired from a good walk or a good play session. It's this photo that tells me that the dogs were happy at Keshet Kennels.
And it got even better than that. Look what we received upon "check-out":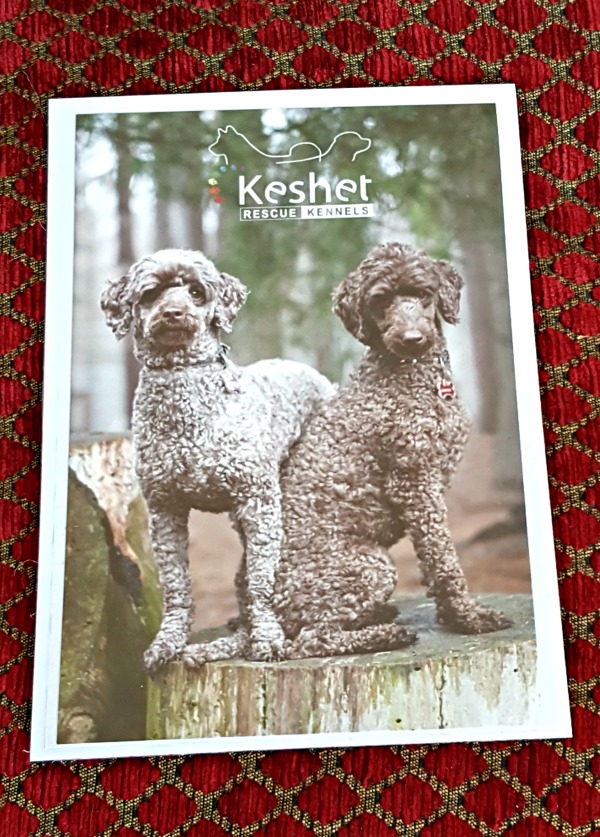 What a lovely added touch! I was thrilled to receive this photo from Keshet Kennels, as I'm sure any other dog owner would be.
I need to ask them the trick to getting my dogs to stay in a position like that, together, long enough to take such a great photo!
What did we not like about Keshet Kennels? The price. It cost $35 + HST per dog/per day to board Bella and Guinness at Keshet Kennels. I had hoped that by having two dogs boarded at the same time, in the same sleeping area, I would have been able to get a discount on the total cost of their stay, however, the price is per dog, with no discount.
In reality, the price is worth it. For all the things I mentioned above, and more. I left Keshet Kennels with a good feeling about leaving my dogs there for two days, and felt even better about having left my dogs there after they were back home. While they were super happy to see us, and we received a tremendous greeting, both dogs came home much less stressed than after their last visit to a kennel.
Also, a friend of mine, who had to board her dog while she was at the conference, said her dog sitter cost her $30/day US. So with that in mind, the cost at Keshet Kennels is comparable.
There is another reason the price is worth it. A portion of Keshet Kennels' revenue goes towards the care of rescued dogs at the kennel.
For more information, be sure to visit the Keshet Kennels website! If you are looking for other services such as daycare, dog training, and seminars, be sure to check out Keshet Kennels!
Where do you usually board your dogs when you go away? Have you had any bad experiences leaving your dog somewhere before?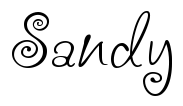 Disclosure: Canadian Blog House did not receive any compensation or special perks/discounts in exchange for this post. All opinions are our own. Although we recommend Keshet Kennels, we suggest you do your own research before leaving your dogs at Keshet Kennels to ensure this kennel is a good fit for your dog.