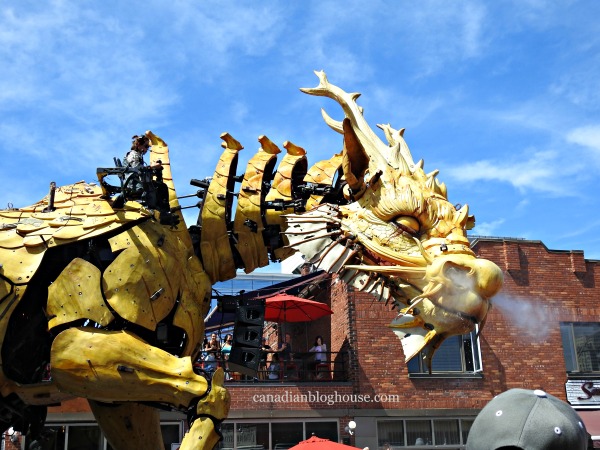 I never imagined myself ever spending a day hunting for two giant beasts on the streets of downtown Ottawa.
That's exactly what happened yesterday when France's La Machine walked into town.
Making their North American debut in Canada's capital, as part of Ottawa's 2017 celebrations, La Machine's Long Ma and Kumo thrilled crowds from morning until night.
To say that their first day roaming around downtown Ottawa was a "roaring" success, would be an understatement.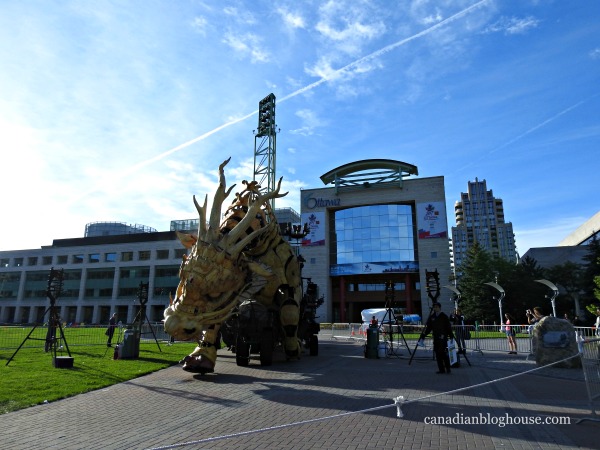 Crowds started to gather early Friday morning on the grounds of Ottawa's City Hall. Long Ma, a cosmic creature who is half-horse, half-dragon, was set to awaken at 10:00am.
I needed to be downtown early that morning anyway, so I reached City Hall at 7:40am. It didn't take long to realize that, if I wanted a front row view of this beast's awakening, I had better just wait right there for the next 2 1/2 hours.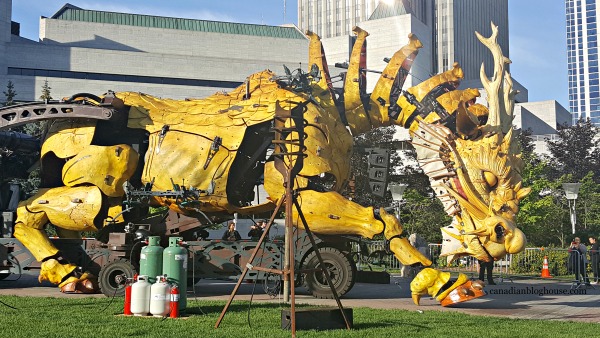 Surprisingly, time passed quickly, as there was so much going on around me to watch. After all, it takes a lot of work to wake up a giant dragon and get him moving!
A street theatre company of builders and creators of live productions, La Machine was formed in France in 1999.
There are more beasts in La Machine's collection, however, Long Ma and Kumo (constructed from metal, wood, mechanics and other materials) were selected to visit Ottawa for some very important reasons.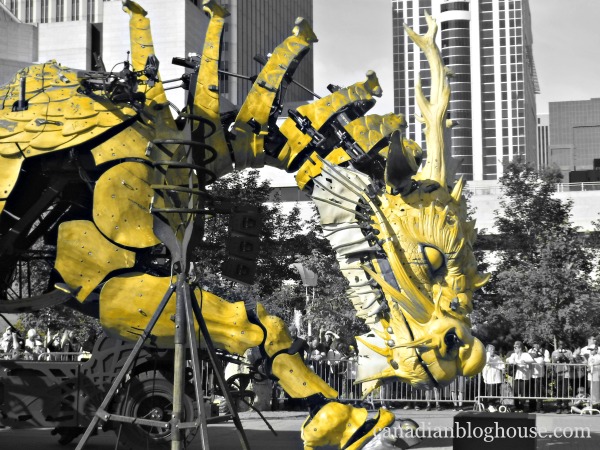 "The giant spider, Kumo, takes refuge in Ottawa, the mother-city of all spiders. Buried deep beneath the waves, the temple remains concealed. But the recent work undertaken by the city to build Ottawa's new transit line has disturbed Kumo, and she is forced to emerge from the ground. Her power depleted, the spider becomes vulnerable and loses control of the temple, which reappears in the city. Alerted by this apparition, Long Ma sets out on the route taken by Champlain several centuries earlier, with the intention of recovering his temple of travel, a shrine that he alone has the power to properly restore."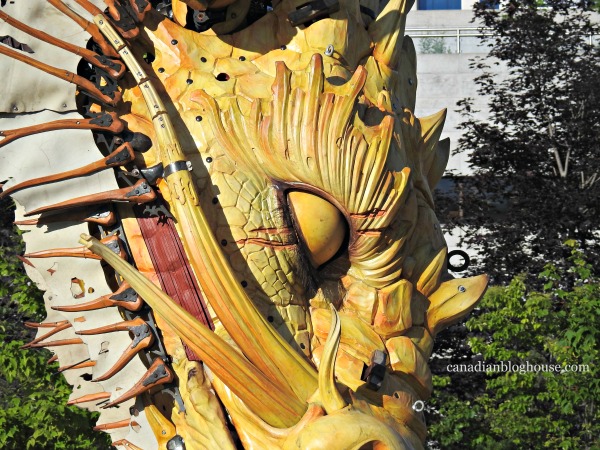 An aboriginal band performance featuring drums, singing, and dance, helped to awaken Long Ma.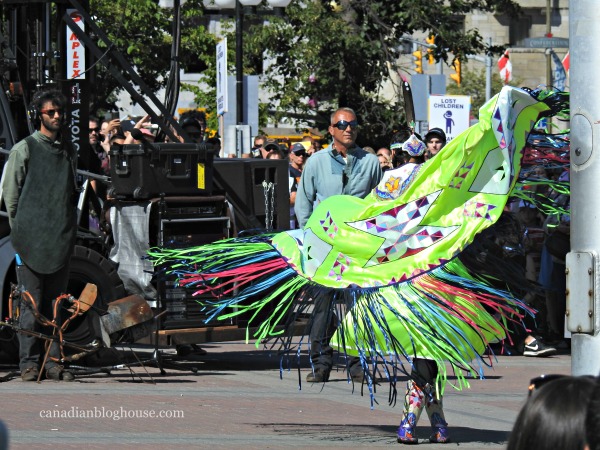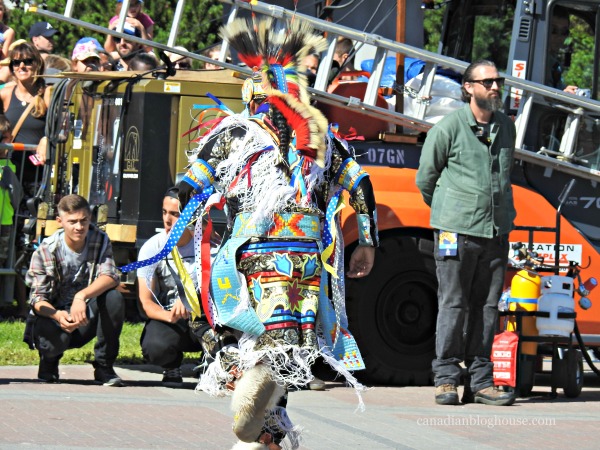 Soon Long Ma was off, departing City Hall, in search of his wings…and Kumo the spider.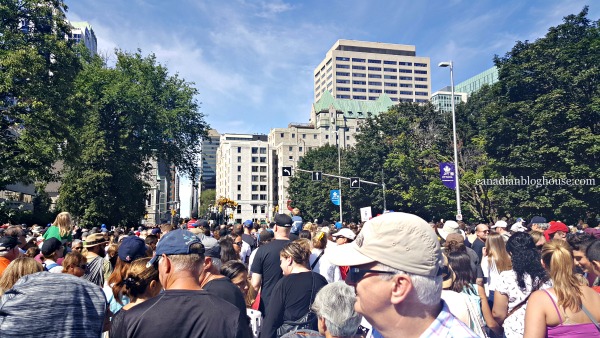 The massive crowd of onlookers at City Hall, including me, quickly followed along behind Long Ma. It didn't take long to lose him on Laurier Avenue! He was on a mission!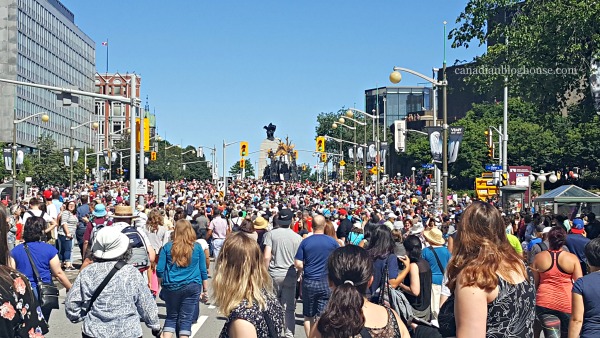 We quickly turned the corner onto Elgin Street, and here was the view. You can barely see Long Ma way up by the National War Memorial.
I took a much-need break at this point, knowing that Long Ma was headed down through Ottawa's Byward Market, in search of Kumo, who was resting over at Ottawa's National Art Gallery.
Feeling refreshed a couple of hours later, I headed back towards the Byward Market, in search of these fabulous beasts, and specifically Kumo.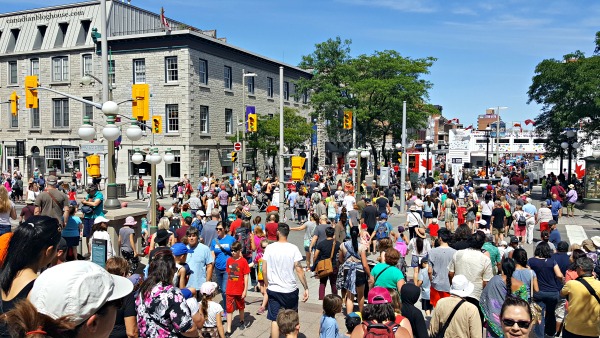 Long Ma was the first creature to be spotted by the crowd in the Byward Market. Despite his enormous size (12 metres high and weighing 45 tons), in the crowded market, he was difficult to find. Then I realized all I had to do was follow the moving crowd…and there he was!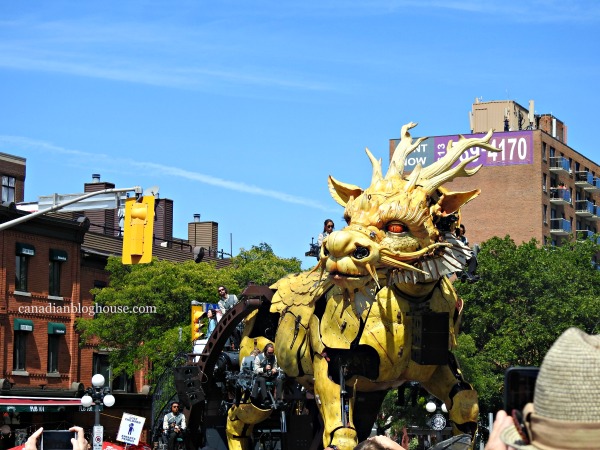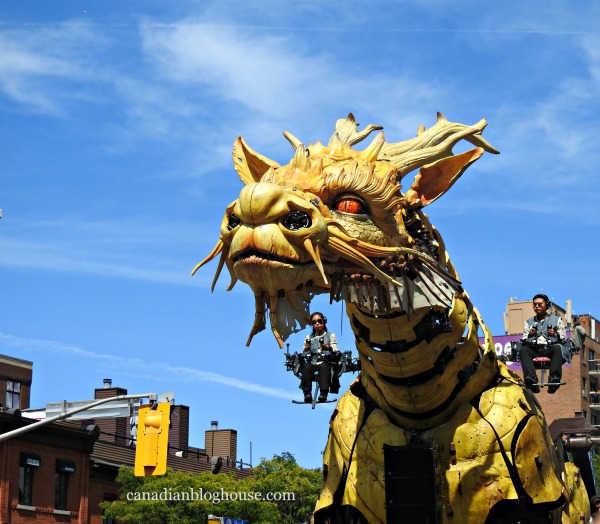 On this hot, sunny afternoon in Ottawa, Long Ma's blasts of steam were welcomed by the crowd, as the mist of water sprayed out from his nostrils, and onto the crowd below. It felt fabulous!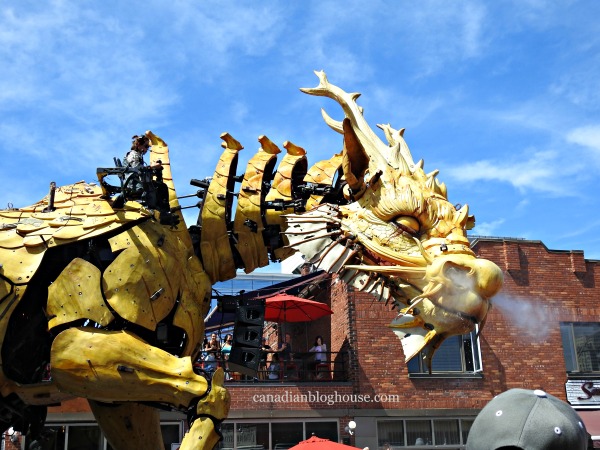 Kumo was a sneaky spider, despite her 5.7 metre height (she's 6 metres wide – up to 13 metres when in motion). The crowd I was with had trouble locating her…until she rounded this corner!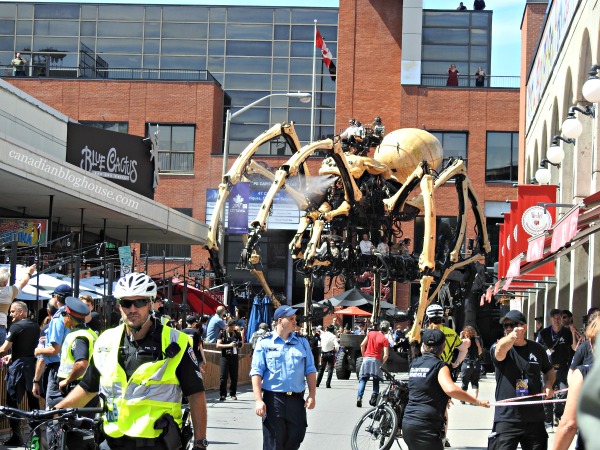 The arachnophobe in me felt a few shivers roll down my spine. Every step of her giant legs bringing her closer and closer to me.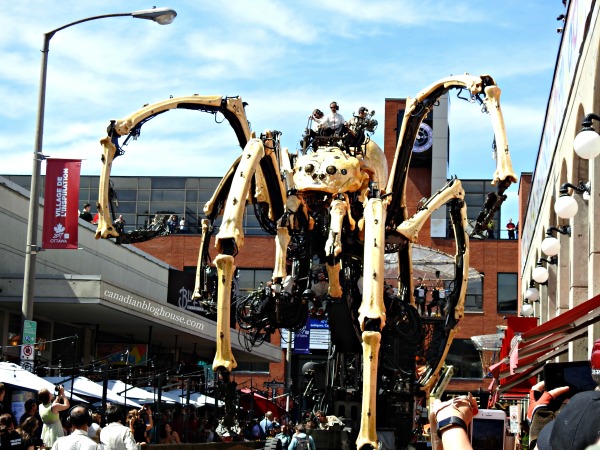 Just look at the details in her face! Yikes!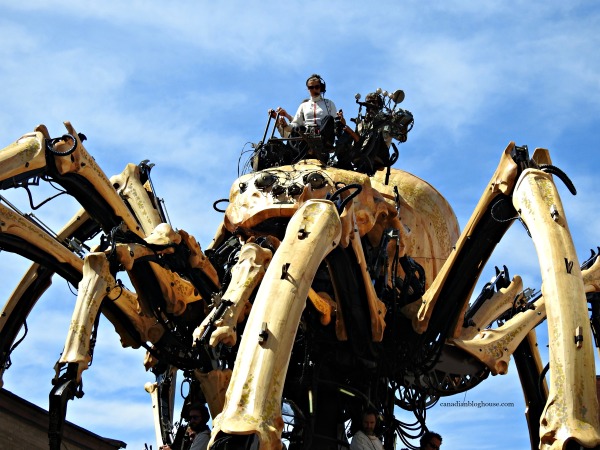 All those eyes! Creepy!
Despite my fear of spiders (especially giant ones!), it was truly fascinating to watch Kumo make her way through the narrow streets of the Byward Market.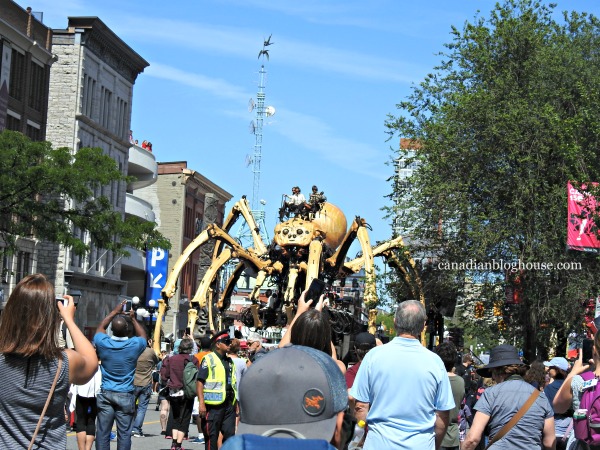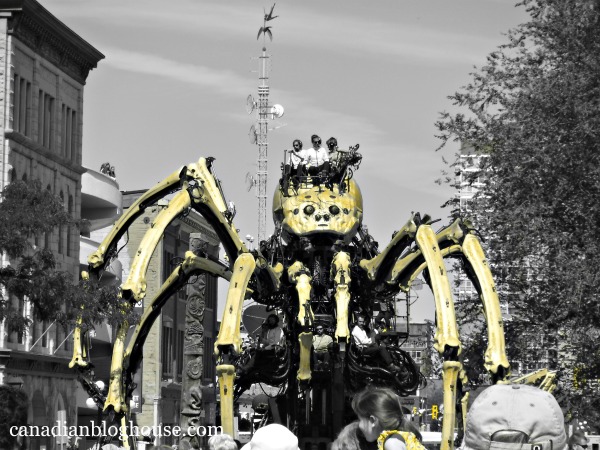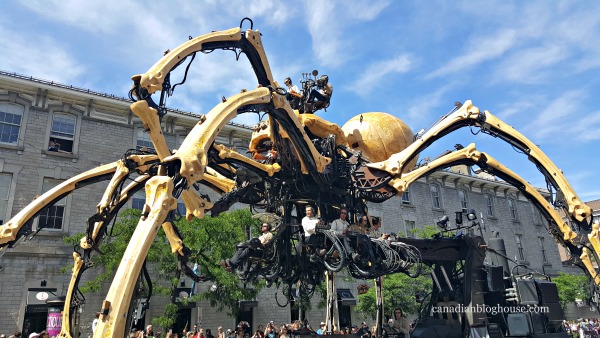 A full live orchestra followed Kumo through the streets of downtown Ottawa, featuring a cellist and harpist.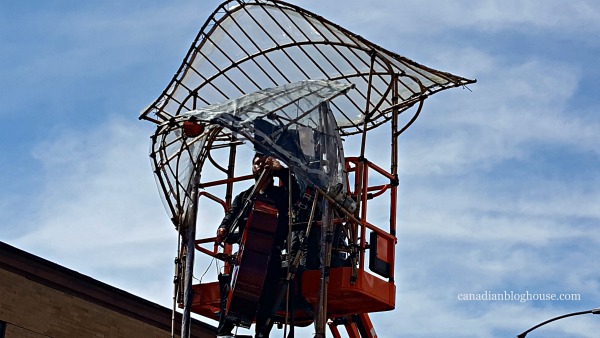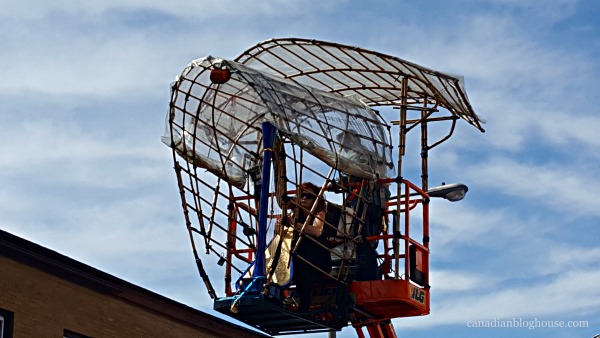 Kumo made it through the market with grace, making her way up Sussex Drive toward Rideau Street.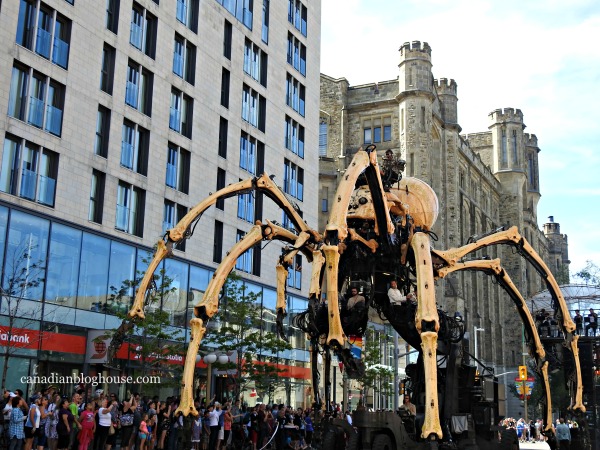 Oh oh! Looks like someone broke a street light earlier in the day! I wonder who it was? Kumo? Or Long Ma?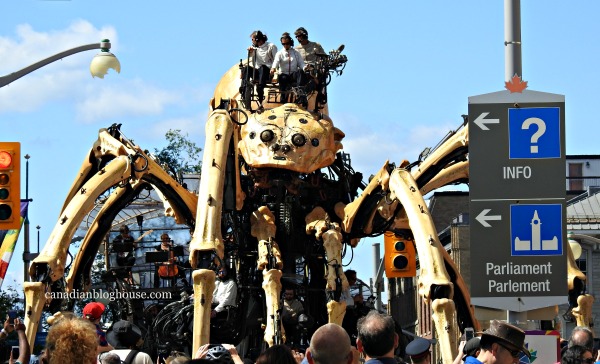 The crowd gasped as Kumo made her way up Sussex Drive. Apparently, she hit something with one of her legs, causing somewhat of a temporary dislocation. A tough spider, Kumo shook it off, and was back walking on it within seconds. A huge cheer roared from the crowd.
Besides helping to bring a unique and exciting twist to Ottawa 2017 celebrations, La Machine is hoping to help bring back a sense of wonder for people of all ages.
I think they succeeded. Certainly for this adult who's also a big kid at heart.
If you get the chance, don't miss La Machine. These magnificent beasts are here in Ottawa until July 30th. For more information on Long Ma's and Kumo's schedule, check out the Ottawa 2017 website!
Want more La Machine? Check out these videos!
Kumo!! #LaMachine #MyOttawa https://t.co/6zlUthSNLP

— Canadian Blog House (@CanBlogHouse) July 28, 2017
Long Ma! #LaMachine #MyOttawa https://t.co/UexmGEC0UD

— Canadian Blog House (@CanBlogHouse) July 28, 2017