Hands up! How many of you Canadians are Star Wars fans?  How many of you are Lego fans? Well, have I got a treat for you – something you can share with your little ones.  Twentieth Century Fox Home Entertainment has just released LEGO Star Wars: The Empire Strikes Out (now available on Blu-Ray or DVD).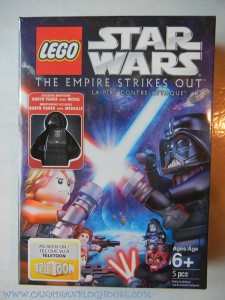 We sat down the other night to watch our new LEGO Star Wars Blu-Ray and enjoyed every minute of it.  Here's what to watch for:
Luke Skywalker                  
Luke has just destroyed the Death Star, but can he get away from his adoring fans in time to complete his next mission?
Darth Maul
Much to Vader's annoyance we see the return of Darth Maul, the painted warrior from The Phantom Menace.
Darth Vader
That's right people; he is here in LEGO form. The ultimate Sith warrior struggles to adapt when Darth Maul returns to steal his thunder.
A New Death Star
The Emperor decides to build a new Death Star after Luke destroys of the first one. But whom will he choose to oversee the construction?
That Scene with Luke and Vader
Oh yes! That scene is now in LEGO format, but will Vader be able to get those famous words out in time?
Emperor Palpatine
The Sith Lord is back and now has two Darths to look after, but which one is his favorite: Darth Vadar or Darth Maul?
Princess Leia
Princess of the republic, sister of Luke (though he doesn't know yet… does he?), and Hans' love interest is just as feisty in her new LEGO form.
The Millennium Falcon
The Millennium Falcon is here! If this doesn't excite you then maybe you need to be reminded, "It's the ship that made the Kessel run in less than twelve parsecs."
Chewbacca
Chewbacca may not be quite as hairy but he's here and as grumpy as ever. Luckily for C-3PO he's also lost none of his driving skills.
X-man was excited to watch the show.  He hasn't quite gotten into the whole Star Wars thing yet, however, he's a huge LEGO fan. Pair that with Dad's love of both Star Wars and LEGO, and I had two happy "boys" in the house waiting to watch this Blu-Ray.
I knew this show was a hit with X-man when he asked us to pause it while he ran to get something.  He didn't want to miss a moment of it.
We all found LEGO Star Wars: The Empire Strikes Out to be highly entertaining. While X-man enjoyed much of the silliness of some of the characters, us adults enjoyed the subtle (and not so subtle) humour found in the back ground of many of the scenes.  For example, keep your eyes peeled for all the funny sayings on "signs" and objects around the characters in various scenes.  They will make you chuckle.
Our favourite parts? There were many:
Leia's (LEGO) hair coming off

Spitting Frogs
LEGO arms breaking off and being put back on
LEGO characters being "shot" and LEGO falling to the ground
Construction of the Death Star from LEGO pieces, complete with the biggest LEGO instruction book you'll ever see
Be sure to check out LEGO Star Wars: The Empire Strikes Out for yourself! It will be a sure fire hit with the kids (and the big kids too!)