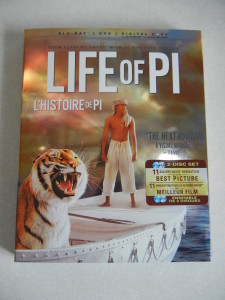 Ever since the Oscars, I had been waiting to see Life Of Pi (the winner of 4 Oscars).  I had read nothing but rave reviews about this movie.
My boyfriend and I sat down to watch the Blu-Ray version of Life of Pi this past weekend.  With the extended winter we are having, it seemed like the perfect time to cuddle up on the couch for a movie night.
Life of Pi is the story of "Pi" Patel, a boy who survives 227 days stranded on a boat with a tiger, named Richard Parker. Richard Parker comes from the family zoo owned by Pi's father.  The Japanese freighter carrying Pi and his family to Canada, is ship-wrecked in a fierce storm, leaving Pi & Richard Parker alone and adrift in the Pacific Ocean.
The movie starts off telling the story of how the main character came to be known as "Pi".  I loved this humourous little story, and it provided a touch of silliness to this "fantasy adventure".
I had read much about the visuals in this movie, and I would have to say, I found them astounding.  I was left wishing I had been able to view Life of Pi in 3D. In 1080p HD, Life of Pi was a feast for hungry eyes from start to finish. I loved the opening scene at the Patel family zoo.  The zoo was full of life with every imaginable animal.  Each animal crossed the screen in vivid colour and incredible detail – SO life-like!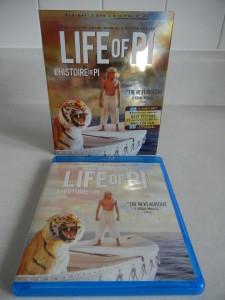 Throughout Life of Pi, I had trouble believing that the tiger, Richard Parker, was not real.  Richard  Parker is in fact a "86 percent" computer generated feline (a real tiger was used in very limited ways).  Every movement, ever whisker, every expression, and every growl was so realistic.  Speaking of realistic, the stormy water scenes at sea were so well done, they actually made me dizzy at times.
I found the story of Life Of Pi very engaging from start to finish.  Though to me, parts of the middle of Life Of Pi seemed to drag on a bit too long for my liking, it did not matter.  The spectacular visuals kept me glued to my screen during those times.
I was truly surprised by the relationship between Pi and Richard Parker. I had been expecting some unrealistic, tender "man and beast" bond to develop between the two.  You know – the kind that leaves you feeling all warm and fuzzy.  That was not the case.  Instead, Pi & Richard Parker developed a relationship built on respect, boundaries, and a helping hand (or paw!) when needed for survival.
Without giving anything away, I have to say I was surprised at the ending of Life Of Pi – specifically the parting of Pi and Richard Parker.  Again, I was expecting something completely different.  That's just me and my love of warm and fuzzy happy endings.  Pi and Richard Parker's story ends well, just not the way I had imagined.  Will it surprise you too?
Check out Life Of Pi on Blu-Ray or DVD – it's available at your local retailers now.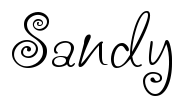 Disclaimer:  I received the product mentioned courtesy of 20th Century Fox Home Entertainment for the purpose of this review.  The opinions expressed are my own.