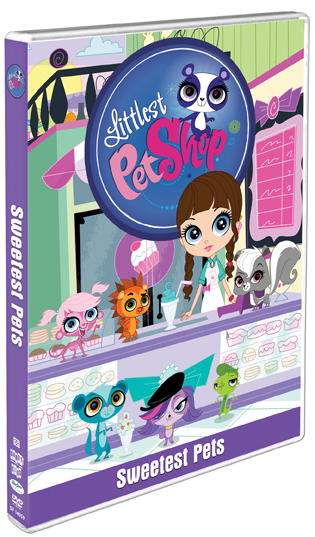 I'm a sucker for cute pets, great animation, beautiful colours, and catchy little tunes, especially when it comes to kids' entertainment.  Littlest Pet Shop – Sweetest Pets is full of all of these things.  Just out on DVD, Littlest Pet Shop is a fun and enjoyable DVD for your little ones.
"When Blythe Baxter moved into the city with her father, she never expected to move into the apartment above the Littlest Pet Shop. But an even bigger surprise awaited her. Blythe can talk to the pets…and they can talk back! On June 4, 2013,  Shout! Factory Kids, in collaboration with Hasbro Studios, will release Littlest Pet Shop: Sweetest Pets on DVD. Join Blythe as she embarks on five more wild adventures with her newest friends: Pepper, the hilarious skunk; Sunil, the magical mongoose; Penny, the adorable panda; Russell, the highly organized hedgehog; Zoe, the diva Spaniel; and, of course, Minka, the artistic monkey!"
While I ended up watching this one on my own (7-year-old X-man rolled his eyeballs when I suggested we watch this together – guess he is growing up!), I can definitely understand why younger girls and boys would love this DVD.  The pets are full of great personalities – I especially love Pepper the Skunk and Russell the Hedgehog. The stories are cute, the pets are cute and the songs are cute. Definitely a movie to be enjoyed alongside your little ones!  Check out this clip to see for yourself:
"Littlest Pet Shop: Sweetest Pets delivers captivating entertainment the whole family can enjoy and contains a brand new bonus coloring sheet. Featuring all-new original music by Daytime Emmy® Award nominee Daniel Ingram and the vocal talent of Ashleigh Ball, Tabitha St. Germain, Nicole Oliver and Peter New."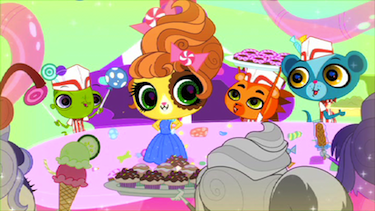 Episodes Include:
Topped with Buttercream
Trading Places
Sweet (Truck) Ride
What's in the Batter?
Bakers and Fakers
Bonus Features:
Coloring Sheet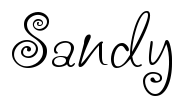 Disclosure:  Canadian Blog House received a copy of this DVD in exchange for a review.  No other compensation was received.  All opinions are my own.