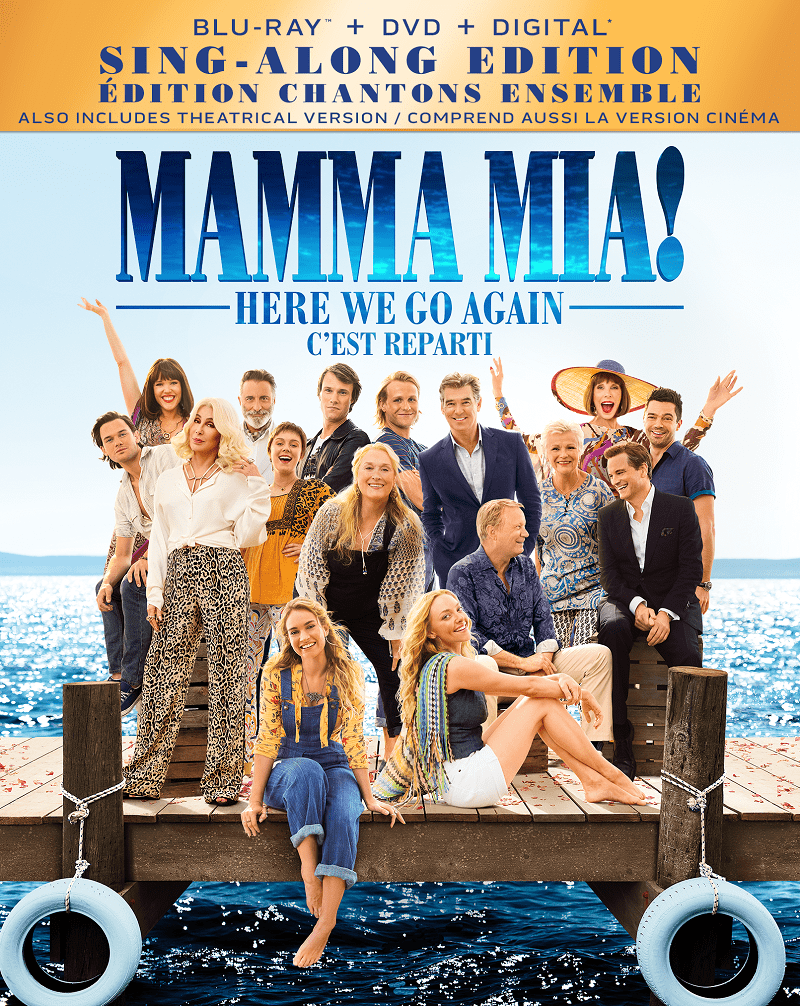 Mamma Mia! Here We Go Again With Another Musical Romantic Comedy!
Wondering what to get family or friends this Christmas? If they love a great musical romantic comedy, then Mamma Mia! Here We Go Again should be at the top of your holiday shopping list!
Universal Pictures Home Entertainment's Mamma Mia: Here We Go Again is available now on digital, 4K Ultra HD, Blu-ray, and DVD! 
Get ready to sing and dance, laugh and love all over again!
"Join the celebration, sing and dance, and discover how it all began! Ten years after Mamma Mia! The Movie premiered, you're invited back to the magical Greek island of Kalokairi in an all-new musical sequel based on the songs of ABBA. Sophie (Amanda Seyfried) is now pregnant, and like her mother Donna (Meryl Streep), she'll need to take risks. The film's original cast returns, with new additions including Lily James as a young Donna, Andy Garcia and Oscar® winner Cher."
My 1970's childhood was filled with the sounds of ABBA, thanks to my mother.  She was a huge fan of this Swedish supergroup. Mum instilled in me a love for all of their catchy songs – songs that I still love to this day!
Dancing Queens
One of my favourite memories I have is the time Mum and I went to see Mamma Mia! the musical, at Ottawa's National Arts Centre. It was a magical performance, and we were both singing along to all the songs from start to finish. We were dancing queens that day!
When Mamma Mia!, the first musical romantic comedy in this series, was released in 2008, you bet I had to see it right away. And I loved every minute of that heart-warming, toe-tapping movie.
So when we were offered a copy of Mamma Mia! Here We Go Again, I couldn't wait to get my hands on this sequel!
There are so many great ABBA songs featured in this musical romantic comedy! For diehard ABBA fans, some of you may also be surprised at some of the lesser-known songs featured in the sequel:
When I Kissed The Teacher
I Wonder (Departure)
One Of Us
Waterloo
Why Did It Have To Be Me?
I Have A Dream
Kisses Of Fire
Andante, Andante
The Name Of The Game
Knowing Me, Knowing You
Angel Eyes
Mamma Mia
Dancing Queen
I've Been Waiting For You
Fernando
My Love, My Life
Super Trouper
The Day Before You Came
Mamma Mia! Here We Go Again is a fun, light-hearted, and engaging movie that ABBA fans will enjoy over and over again. The charming cast is extremely likable in this delightful movie. They will make you feel like you want to get up and celebrate with the whole gang.
And I know you'll want to get up on your feet and move to the music!
This verse from ABBA's song, Mamma Mia, says it best. I have missed the enjoyment of a great musical romantic comedy…and I know I won't be able to resist watching this movie for years to come!
Mamma mia, here I go again
My my, how can I resist you?
Mamma mia, does it show again
My my, just how much I've missed you?
The Winner Takes It All
Are you a huge ABBA fan too?
I've got great news for you!
The folks at ThinkJam are offering up 1 Blu-ray Combo Pack of Mamma Mia! Here We Go Again to one lucky Canadian Blog House reader!
Here's how you can enter for your chance to be the winner that takes it all!