Our family loves anything maple.  My name for Maple Syrup around our household is "Liquid Gold". It is so darn expensive, and we tend to go through it like water.
We love this time of year since, here in the National Capital Region, we live so close to many Sugar Bushes.  Spring is here (I think!) and the sap is flowing from the maple trees (or so I've heard).  It's the perfect time of year for making one of our family favourite recipes – Maple Garlic Roasted Chicken & Potatoes.  The mix of the sweet maple syrup and the savoury garlic is mouth-watering.  The smell of your kitchen while cooking this? Spectacular!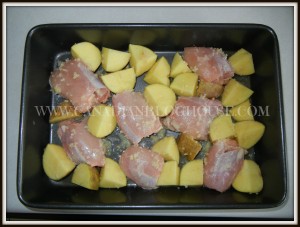 6-8 Boneless Skinless Chicken Thighs
6 Medium Yellow or Red Potatoes Cut In 1 Inch Wedges
6 Teaspoons of Minced Garlic
1/4 Cup Melted Butter
1 Teaspoon Of Salt – Divided
1/4 Cup Maple Syrup (Medium)
Place chicken and potatoes in 9×13 Roasting Pan (I have a President's Choice Roasting Pan – commercial grade – and I LOVE it! Highly recommend!).  Spread minced garlic over the chicken and potatoes, then drizzle with melted butter.  Sprinkle 3/4 teaspoon of salt over chicken and potatoes.  Toss to coat.  Bake, uncovered for 40 minutes at 400 degrees fahrenheit.
Mix the maple syrup and remaining salt (1/4 teaspoon) together and drizzle over chicken and potatoes.  Spoon the pan juices over chicken and potatoes.  Bake 20 minutes longer, uncovered.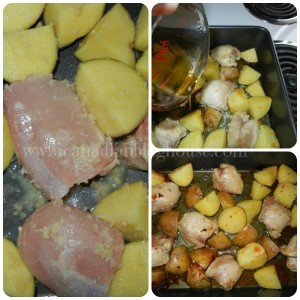 This recipe feeds 3-4 people (depending on your appetite!).  If I need to feed more I simply repeat this recipe using a second 9×13 pan.
Bon Appetit!