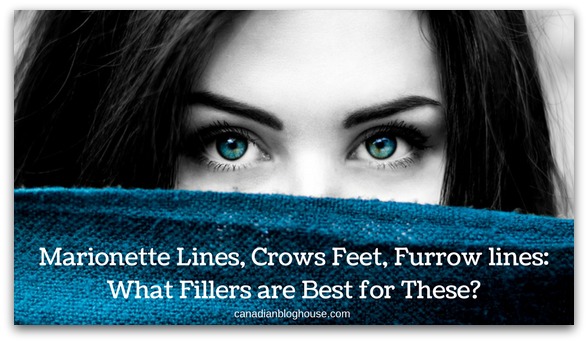 Canadian Blog House received compensation from Denver Cosmetic Surgeon, Dr. Stephen Weber, to bring you this post about dermal fillers. As always, we recommend you talk to your own doctor before undertaking any medical procedure, to ensure it is right for you and your health. 
Marionette lines, crows feet, furrow lines: What fillers are best for these problem areas?
People who are unhappy with furrows, crows' feet, and marionette lines have several options to reduce, soften or even remove them. One of those options is dermal fillers. Dermal fillers not only improve these wrinkles but, are minimally invasive and safe. Dermal fillers are outpatient procedures, and the patient can leave the office of their dermatologist or aesthetician right after the treatment is over.
Why Do Wrinkles Form?
Wrinkles are the price humans pay for being able to make facial expressions. This is because the skin of the face, unlike skin everywhere else on the body, is interspersed with muscle. This allows people to frown, smile, wrinkle their brow, purse their lips and laugh. When a person is young and their skin is at their most elastic, it snaps back into place after these facial movements. But after a while, the skin, especially the second layer called the dermis, starts to lose its ability to snap back. Eventually, wrinkles, lines, and furrows are permanent. Taking care of the skin can delay this for a bit, but smoking and exposure to the sun accelerates it.
Wrinkle Terms
Marionette Lines
These are lines that run down from the corners of a person's mouth. They were given the name because they resemble the lines around the mouth of a marionette. They can make even the most cheerful person look disgruntled.
Crow's Feet
Crow's feet are wrinkles around the eyes that happen when a person smiles or laughs, so they are also called laugh lines. They resemble the impression of a crow's feet in the snow. Some people don't mind them, because they believe these lines make them seem cheerful and approachable, unlike marionette lines. Others would like to be rid of them.
Glabellar Lines
These are vertical wrinkles that appear between the person's eyebrows and extend a bit into their forehead. They are also called frown lines because they appear when a person frowns. When they're permanent, they can make a person seem cranky and older than they really are.
Forehead Wrinkles
These are also called worry lines, and they happen when a person constantly wrinkles their forehead when they are anxious or stressed.
Which Dermal Fillers Are Best
Most dermal fillers can be used in most areas of the face and neck, but some are better in some areas than others. Indeed, the FDA may have approved a dermal filler for a specific type of wrinkle, even though it is regularly used for other types.
Collagen
Collagen is a natural protein found in the body that not only helps skin remain supple but helps to build bone, tendons, and ligaments. A more diluted form of collagen is used to reduce the look of crow's feet, while a thicker version deals with frown lines and marionette lines, which are found in thicker skin.
Collagen is collected from the skin of either human cadavers or cattle. Though it is purified, a person needs to undergo a skin test before they are injected with this dermal filler. The test takes about a month, and if all is well, the patient's aesthetician injects them with the best type of collagen for their problem. Depending on the condition of the patient's skin, the improvements can last as little as two or three months or as long as eighteen months.
Hyaluronic Acid
This is also a natural material found in the body. It draws and locks in moisture that keeps skin elastic and hydrated. The hyaluronic gel used as a dermal filler is synthetic, so the patient does not have to be tested to determine whether or not they're allergic. It is used for deeper lines such as frown lines and marionette lines
Calcium Hydroxylapatite
This dermal filler is also a natural product. Made of phosphate and calcium, it is present in the teeth and bones. It is injected into the deep layers of the skin as microscopic spheres that the body breaks down and absorbs. Because of this, it is excellent for marionette lines and deep lines that stretch from the corners of the nostrils to the corners of the mouth called nasolabial folds.
PMMA
Polymethyl-methacrylate, or PMMA, is made of a suspension of millions of microspheres in bovine collagen. It is considered a permanent filler, while the others discussed are temporary. It is often chosen by people who have had temporary fillers and now want something more long-lasting. Since it is partially made of collagen, this dermal filler requires a patient to have an allergy test before it's used. It is an excellent choice to soften the look of nasolabial folds.
If you want to correct frown lines, marionette lines, crow's feet and other wrinkles, don't hesitate to set up a consultation with Dr. Stephen Weber, who is a Denver cosmetic surgeon specializing in dermal fillers. He is a Diplomat of the American Board of Facial Plastic & Reconstructive Surgery, the American Board of Otolaryngology and Head & Neck Surgery and the American College of Surgeons. Call (303) 792-2224.