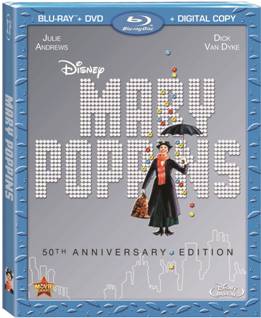 Supercalifragilisticexpialidocious!! Disney is all set to release the 50th Anniversary edition of their beloved classic film, Mary Poppins, December 10th on Blu-Ray!  Wow! Is Mary Poppins really that old? I find that so hard to believe.
Although Mary Poppins came along before I did, I still remember being mesmerized by Mary and her magical umbrella when I was a little girl.  My parents had the record (with Julie Andrews and Dick Van Dyck on the cover) and it was full of songs that I just loved.  Who can forget "Supercalifragilisticexpialidocious ", "Chim Chim Cher-ee", "A Spoonful Of Sugar" and "Let's Go Fly A Kite"?  I bet you've got one of those catchy tunes stuck in your head now!
"Practically perfect in every way, Mary Poppins flies out of the windy London skies and into the home of two mischievous children.  With the help of a carefree chimney sweep named Bert (Dick Van Dyke), the spirited nanny turns every chore into a game and every day into a "Jolly Holiday"." 
It has literally been about 40 years since I last watched Mary Poppins, so I was thrilled to receive the Mary Poppins 50th Anniversary Edition Blu-Ray from Disney.  The movie brought back so many wonderful memories for me. Watching Mary Poppins,  I felt like I was transported back to that simpler place in time.
With its live action and animated sequences, Mary Poppins 50th Anniversary Edition has been updated with an all-new digital restoration.  This restoration brings a whole new life to Mary Poppins.  Sharper images and brighter colours make this version of Mary Poppins even more appealing to watch than the original.  I especially enjoyed the live action/animated sequence of Dick Van Dyck (Bert) tap dancing with the penguins.  The scene can't help but make you smile!
A true Disney classic, Mary Poppins was the winner of 5 Academy Awards in 1964, including Best Actress (Julie Andrews) and Best Song (Chim Chim Cher-ee).

Mary Poppins 50th Anniversary Trailer on Disney Video
On the heels of the 50th Anniversary edition of Mary Poppins comes "Saving Mr. Banks", a brand new Disney movie starring Tom Hanks and Emma Thompson, set to be released to theatres on December 20, 2013.  Saving Mr. Banks tells the story of how "Mary Poppins" made it to the big screen. Stay tuned for my review.  I'll be going to see Saving Mr. Banks later this week.  I can't wait!
Mary Poppins is one of those timeless Disney family favourites that will be enjoyed for generations to come.  It still brings a smile to my face, and it will delight your little ones just as much as it did us when we were children.  Be sure to pick up a copy of Mary Poppins 50th Anniversary edition now, and enjoy it with the whole family this Christmas!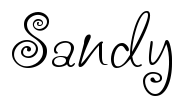 Disclosure:  Canadian Blog House received this movie in exchange for a review.  All opinions are my own.