A visit to Montreal, Quebec, has been on my Canadian bucket list for a long, long time. After all, I have had so many people tell me over the years that I really MUST spend some quality time in Montreal.
Sure, I've driven through Montreal several times, stayed overnight once, and even spent 3/4 of a day there on school trip way back when. None of this was long enough to really be able to take in all the sights, enjoy the city, and get a real feel for what Montreal is all about.
So when I discovered that my favourite boy band from the 80's, Duran Duran, would be stopping at the Bell Centre during their "Paper Gods" tour, I knew I had to go. This was my chance to see my fave teenage band AND finally get the opportunity to spend some quality time in Montreal.
With the assistance of the wonderful folks at Tourism Montreal, we were able to enjoy a two night stay at the fabulous Le Centre Sheraton Montreal Hotel in downtown Montreal.
Here's the view we encountered when we walked into our room:
I've had great views from many hotel rooms over the years, however, this one rates as one of the best. We had a vantage point of downtown Montreal, and Mount Royal, from which we could have spent hours watching the bustling city below us.
This view was mesmerizing!
Our room itself was on the Sheraton Club Floor (available as an upgrade when booking your room).
"A Sheraton Club stay is more than a room. It's an elevated travel experience, filled with exclusive benefits and special touches. With extra amenities designed for your convenience, it's easy to stay productive on-the-go. Make the most out of every stay at Sheraton Club."
There are many benefits that come with booking on the Club Level:
SHERATON CLUB GUESTS RECEIVE:
Keyed access to a private Club lounge
Private meeting space to gather with colleagues or just relax
Guest rooms on a separate executive floor
Stunning views from Club lounge and guest room
EXCLUSIVE AMENITIES IN THE SHERATON CLUB:
Daily breakfast
All-day snacks and beverages
Evening hors d'oeuvres
Starbucks® Coffee
Free WiFi
Business center services
SHERATON CLUB MANAGERS ARE AVAILABLE EXCLUSIVELY TO CLUB AND VIP GUESTS.
Common requests include:
Arranging early check-in
Room preferences
Dining and event reservations
Airport and local transportation
Printing and technical support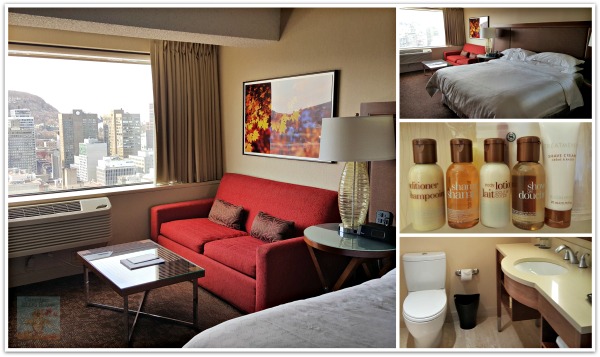 As you can see, we had a great sitting area (with that stunning view!), a super-comfy king-sized bed, and a lovely bathroom with quality toiletries.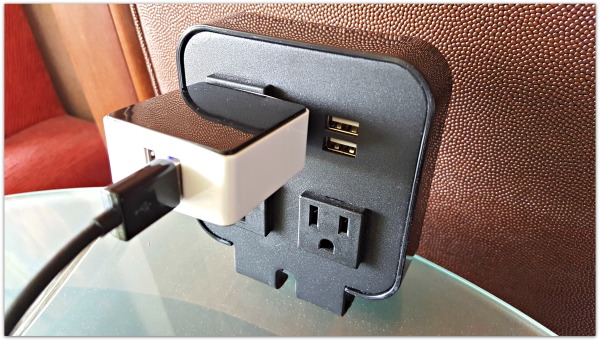 I don't usually take photos of charging stations, but then again, it's not often that I find something like this in a hotel room! We loved this handy addition to our room. This is something that would make anyone who spends a lot of time using their gadgets, very happy.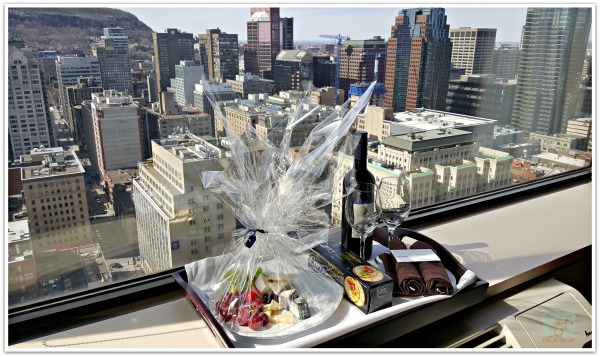 We weren't in our room more than about 15 minutes when suddenly this mouth-watering surprise arrived at our door.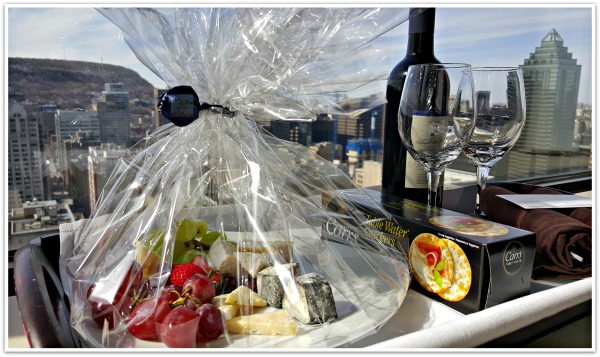 A beautiful bottle of red wine, a scrumptious selection of cheeses, crackers, and fresh fruit! This treat could not have been more welcomed, and better timed, after our drive from Ottawa. It was a lovely added touch that got our stay in Montreal off to a wonderful start!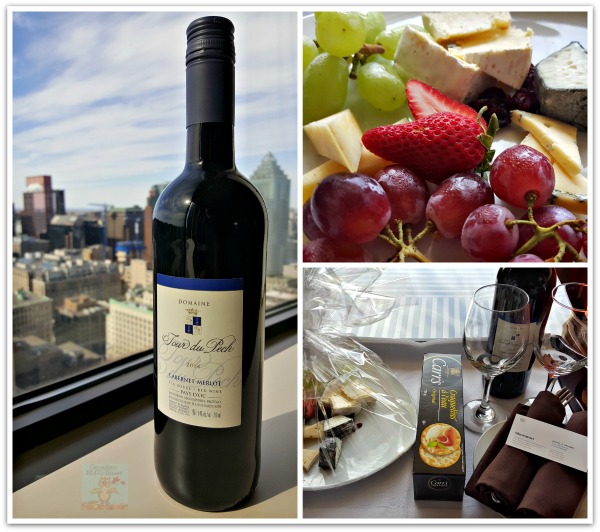 After some relaxation in our room that afternoon (because the bed was just that comfy, because I couldn't take my eyes off that view, and because of a little help from the red wine!), we headed up a couple of floors above us to the 34th floor Sheraton Club Lounge.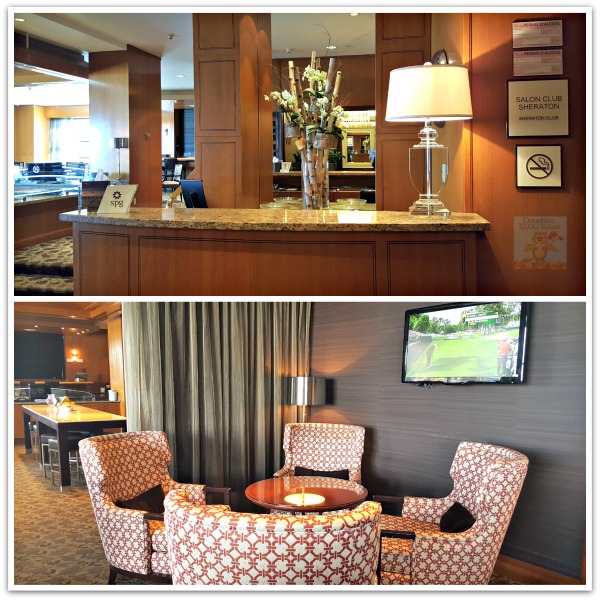 I cannot vouch for other Sheraton Club Lounges, but the one at the Le Centre Sheraton Montreal Hotel is magnificent. Beautifully furnished, decorated, and S P A C I O U S, this lounge is a great place for travelers to unwind.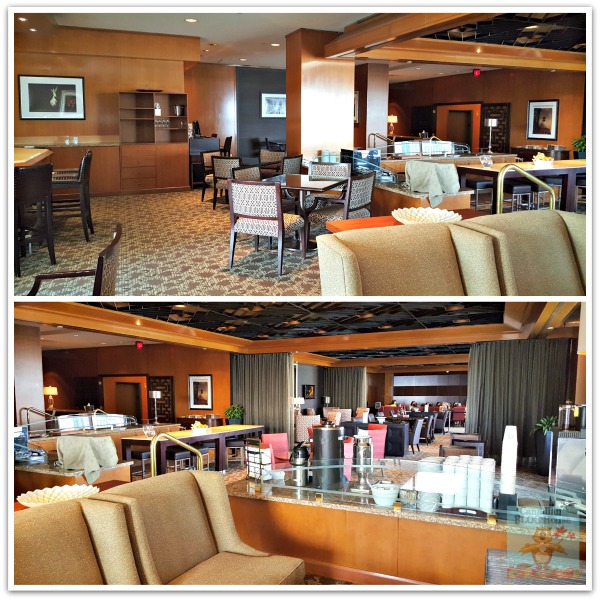 Couples can find a nice little nook to relax in, while larger groups have plenty of room to pull up a seat and visit together.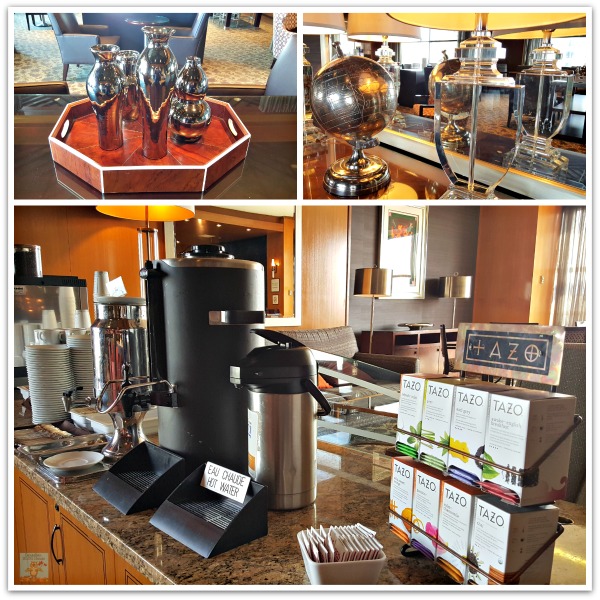 Club guests have access to all-day snacks and beverages, including this fabulous tea and coffee counter, filled with Tazo Tea and Starbucks Coffee.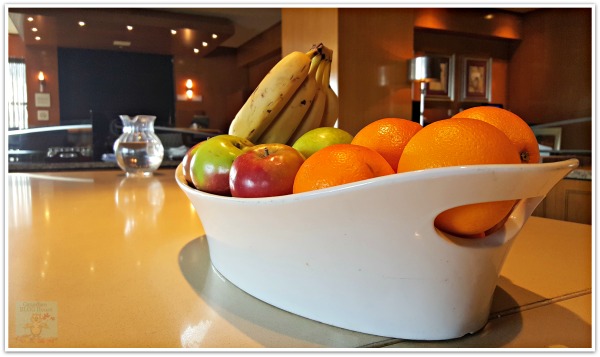 As a Sheraton Club guest you also receive access to a daily breakfast and evening hors d'oeuvres. The buffet breakfast offers a vast array of breakfast items – both hot and cold. We had the chance to experience two breakfasts in the Sheraton Club Lounge and both were fantastic. Food was hot, fresh, and there was plenty for all guests.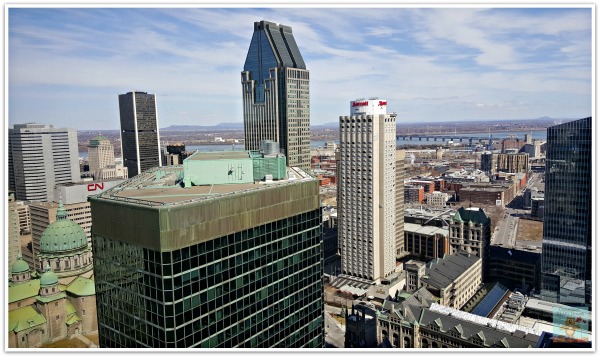 Imagine after a long day of touring around Montreal being able to come up to the Sheraton Club Lounge in the later afternoon, grab yourself some delicious hors d'oeuvres, sit down and enjoy this view (facing south this time towards the St. Lawrence River). That's exactly what we did.
Spending time in the Sheraton Club Lounge is an experience in itself!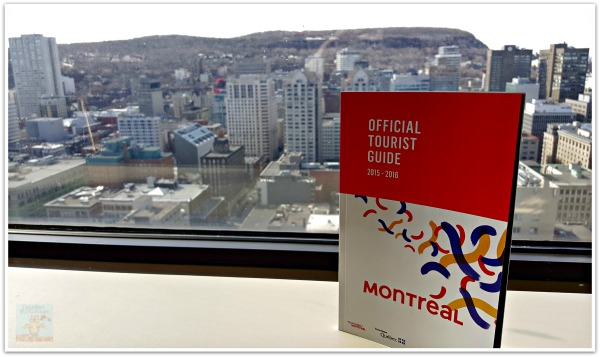 Given our planned activities for our short time in Montreal, we did not get to enjoy some of the amenities found at Le Centre Sheraton Montreal Hotel, like their great fitness centre, or their indoor pool. We've put those on our list for our next visit to this hotel – because we will be back.
One thing we loved about Le Centre Sheraton Montreal Hotel was the location. This hotel is centrally located within close walking distance to the trendy shopping district along St. Catherine Street, as well as numerous pubs and restaurants in the downtown core. There is even a beautiful park nearby for your enjoyment – a treed oasis in the heart of Montreal. Quite frankly, you will probably find that there is no need to take your car out once you have parked it at the hotel. We walked everywhere during our stay.
Attending a Montreal Canadiens game, or a concert like we did? Le Centre Sheraton Montreal Hotel tops our list of places to stay near the Bell Centre. The hotel is literally a 5 minute walk to the arena. We loved how close we were to the Bell Centre., and the fact that, while everyone else got stuck in traffic after the concert ended, we simply strolled out of the arena and were back at the hotel in no time. It could not have been easier than that!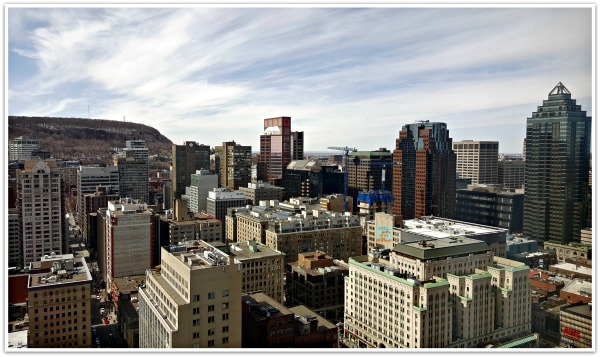 Le Centre Sheraton Montreal Hotel is a pet-friendly hotel (dogs up to 40lbs) which warrants an extra thumbs up from me. On this trip, however, we were looking for some time away from the little beasts (otherwise known as Bella and Guinness), so we did not test out the pet-friendly policy on this trip. Maybe next time!
Want to know what we got up to during our short stay in Montreal? Stay tuned! I'll be sharing more on our time in Montreal in an upcoming blog post!
Have you ever spent time in Montreal? What's your favourite thing to do in this great Canadian city?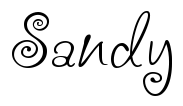 Disclosure: Canadian Blog House received assistance from the great folks at Montreal Tourism who helped facilitate our stay in Montreal. All opinions are our own.