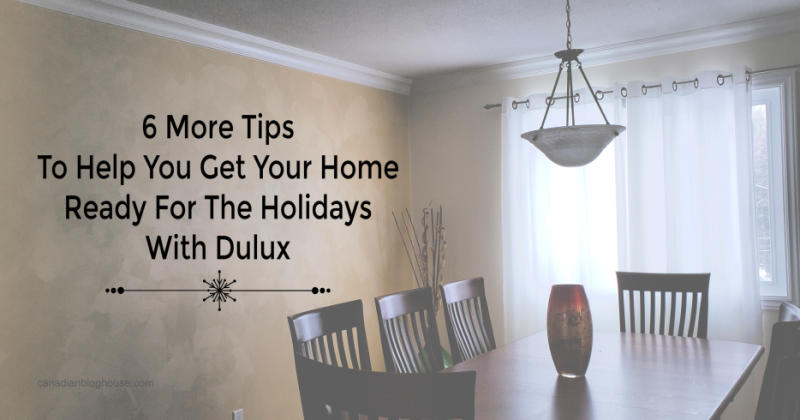 Canadian Blog House recently partnered with Dulux Canada to bring you this DIY painting project and to provide you with more tips to help you get your home ready for the holidays. All opinions are our own.
With the holiday season already upon us, we've got six more tips to help you with any last-minute DIY painting project you may be working on.
If you been following along here on the blog and on our Instagram Stories, we've been repainting our living room/dining room, thanks to Dulux Canada.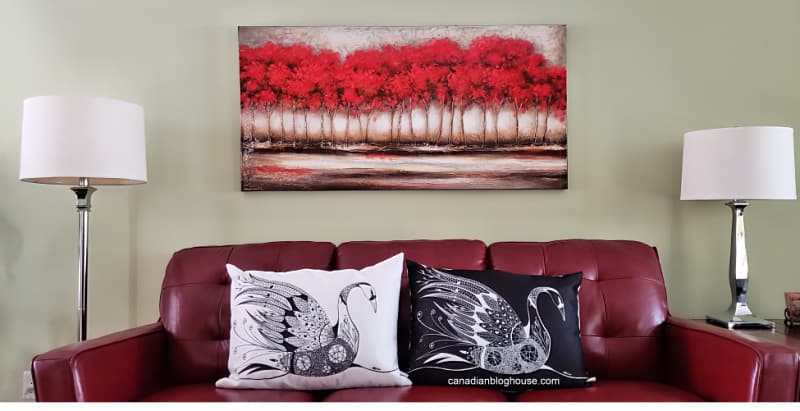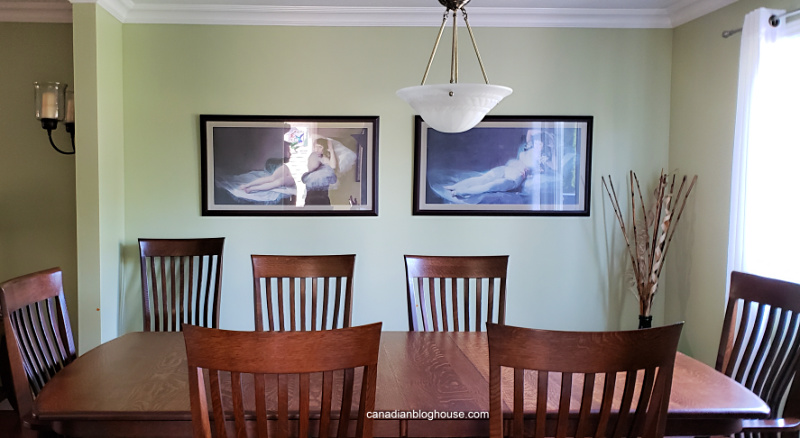 While we still have some work to do, we've wrapped up our Dulux Canada DIY painting project until the new year.
We managed to get everything completed except for the final two coats of the Venetian Silk on the living room accent wall. 
Come January, we will be finishing up the accent wall, adding some paintings and photos, and sprucing things up with some new decor items.
We hope we've inspired you think about adding a fresh coat of Dulux Canada paint to some rooms in your own home…and maybe be so bold as to give the Venetian Silk a try too!
6 More Tips To Help You Get Your Home Ready For The Holidays With Dulux
Coat It
Be sure to let your Dulux paint fully dry before deciding if you need another coat. The number of coats of paint you will need will depend upon various factors, including the colour of paint you are trying to cover.
In our case, we were covering up a rather dark green paint, so we actually ended up requiring 3 coats of the Diamond Colour Base Dulux paint in order to cover up any trace of the previous green paint.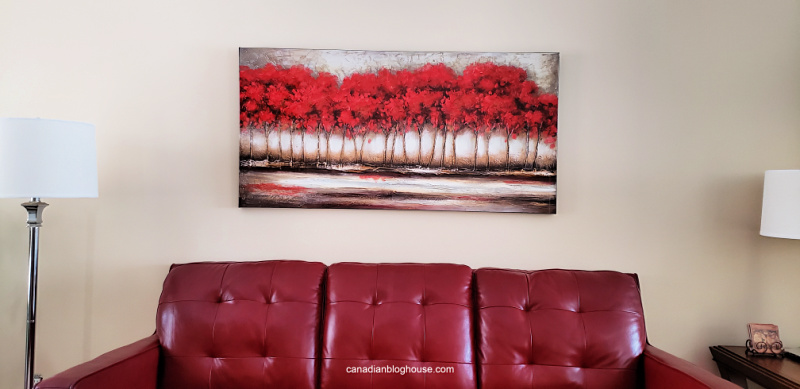 For these walls, the change was so drastic from green to Spice Ivory we were afraid, after the first coat, that the white was going to be too stark. We were wrong. After applying the third coat of paint, we were in love with the colour. It wasn't anything like we had thought it would be. It turned out to be a much warmer, more creamy yellow colour.
Dulux Canada recommends 2 coats of the Venetian Silk. After my partner completed the first coat we were certain that is all we would need – until it dried. Then it became apparent that he would need to apply a second coat.
This second coat made all the difference. We went from being unsure if we liked the effect of this accent wall, to loving it.
The lighting in our room is terrible for getting a good photo of the Venetian Silk (Cream and Sugar) but…here's the finished look…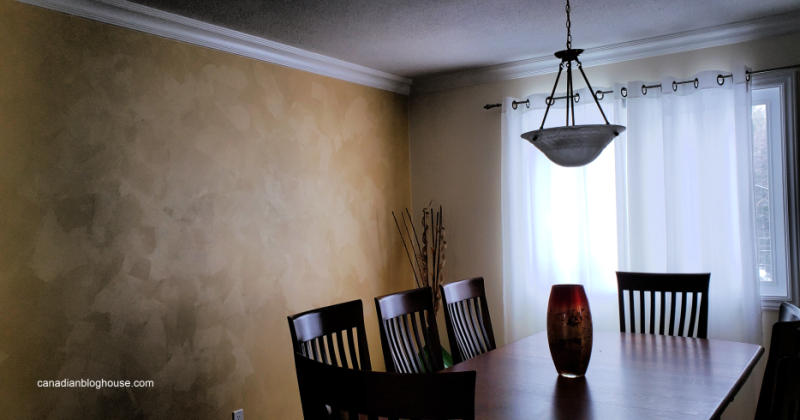 Practice Makes Perfect
Working with Venetian Silk, or any other Dulux effect finishe paint, takes practice.
With the Venetian Silk, you must use a trowel to apply the finish. It's best to practice your troweling skills on a piece of scrap wood or cardboard before attempting to work on your wall. My partner did not do this as he has used textured paints before, however, we highly recommend practicing first!
Don't Be Afraid Of Change
My partner has always disliked the colour of the walls in our living room and dining room – green. He has been itching to paint the walls for awhile now.
I had been stalling on repainting, partly because I really dislike the whole painting process, and partly because I was afraid that I would not like the new colour we chose.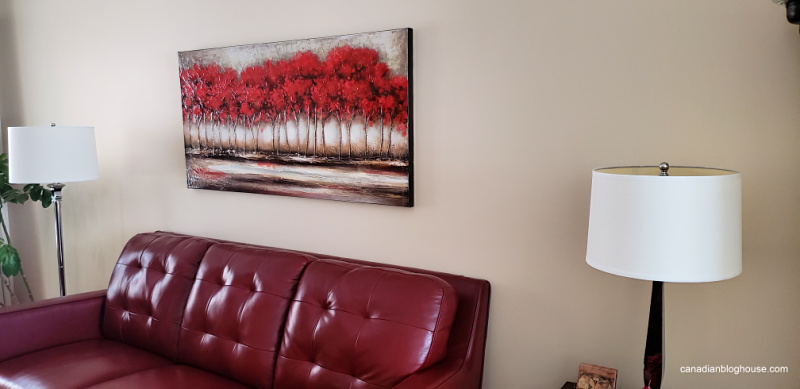 Guess what? I love the new look of our living room/dining room so much, I feel silly for having waited so long to make a change. Plus, our new paint colours make the rooms look much larger.
My partner was right all along. The previous colour was quite horrible. Shhhh…don't tell him I said he was right though 😉 .
Choose Dulux Paints
You don't need to be an expert to paint your own walls but, you can enlist the help of a Dulux paint expert to help you make the right choices for your skill level, and your home.
Our painting process was long and drawn out over a couple of months but, that's just us. Due to busy schedules, unexpected travel, and health issues, our painting project took us far longer than anticipated. Life simply got in the way.
Once we could actually focus our efforts on painting, we had the majority of our DIY painting project completed over one weekend. Applying the 2 coats of Venetian Silk only took my partner an hour and a half (with a few hours drying time in between each coat).
Rock 'n Pole
It came a little late for us but, we got a great tip from the folks at Dulux Canada that we thought we should share.
"One thing that DIY painters always forget, or simply do not know about, is using a roller cage attached to a high-quality extension pole. This makes painting a wall a complete breeze."
While we did use an extension pole for painting our ceiling, we didn't think to use the extension pole for painting the walls. Instead we used a regular roller cage…and climbed a step ladder to reach the top of the walls. Next time we would give the extension pole a go!
Sensor Your Choices
With SO many colour palettes and options out there, it can be difficult to choose paint colours for the rooms in your house.
Let Dulux Canada help!
The Dulux Colour Sensor device "(powered by Nix and controlled via the companion app for iOS and Android) is a real-life, colour eyedropper tool that takes the guesswork out of selecting matching paint colours."
What inspires you? A fabric in your home? A piece of furniture you own? Something in a photo you've taken? A picture in a magazine?
Whatever it is, with the Dulux Colour Sensor, "touch the sensor to any surface or material and instantly view an accurate paint match from the Dulux colour system."
While we didn't require the use of the Dulux Colour Sensor for our painting project (since we were working with the Venetian Silk), we would most certainly use the sensor when helping us choose a colour scheme for other rooms in the house.
Love the look of Venetian Silk? For a limited time, Dulux Venetian Silk and Dulux Liquid Metal finishes are on sale! ***
*Special sale price cannot be combined with any other discount, offer or promotion. See store associate for more details. At participating locations only.
Do you have more tips that you'd love to share with us? Comment below! We'd love to hear them!