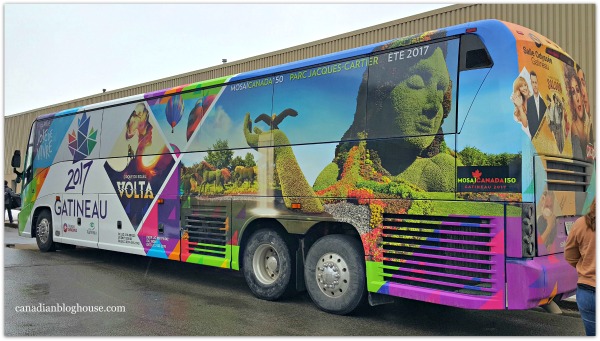 Outaouais Tourism invited Canadian Blog House to join them on this media trip to Montreal to experience the preparations for MosaïCanada 150. All opinions are our own. 
My recent day trip to Montreal for a behind-the-scenes tour of the upcoming MosaïCanada 150, set to take place in Gatineau's Jacques Cartier Park this summer in honour of Canada's 150th birthday, had me experiencing yet another one of my #50FirstsAt50.
Why? My fabulous "ride" for that day was Outaouais Tourism's brand new tour bus, painted in a mosaic of spectacular colours, highlighting all the great events happening for Gatineau 2017, including MosaïCanada 150.
And…we were the first passengers to travel in it! I had never traveled in such a decked-out bus before!
What is MosaïCanada 150 you ask? It's a colourful experience blending "Mosaiculture", with Canada's 150th birthday celebrations.
From the MosaïCanada 150 website:
"Mosaiculture" is a magical word referring to both the accomplished art of glass mosaic and the sophisticated origins of artistic horticulture. In fact, contemporary mosaiculture traces its roots back to the Renaissance, a glorious epoch of grand royal gardens. Today, it has evolved into an art of unprecedented forms.
Mosaiculture is the most spectacular of all the horticultural techniques. Now considered an art in its own right, it is the successful blend of several disciplines: sculpture, whose principles apply to its structures; painting, reflected in its palette; and horticulture, expressed through its use of the ever-changing medium of living plants. Mosaiculture also echoes the spirit of our times through its application of eco-friendly methods and techniques."
The Magic Of MosaïCanada 150 Comes To Gatineau 2017
MosaïCanada 150 will be featured at Gatineau's Jacques-Cartier Park from July 1-October 15th. This horticultural exhibition will be FREE to attend. Over 500,000 visitors are expected to visit MosaïCanada 150 during its time in Gatineau.
Our day in Montreal began with a press conference unveiling the work and contributions to MosaïCanada 150 from Canada's First Nations.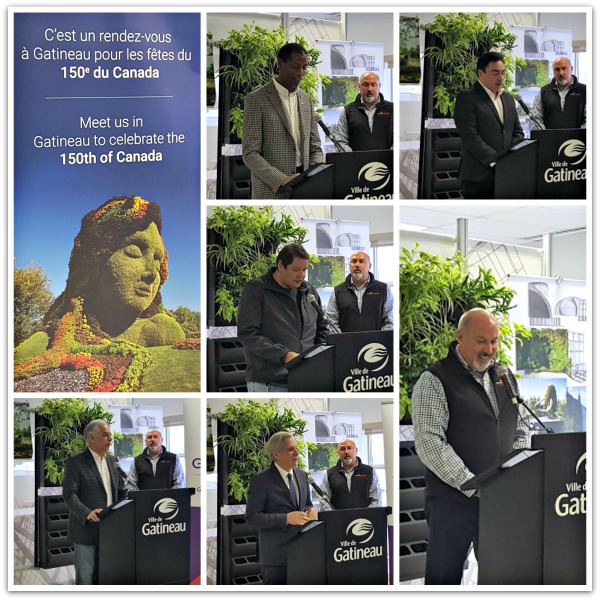 Several dignitaries were present, many of whom spoke, including Ghislain Picard, Regional Chief, Assembly of the First Nations of Quebec and Labrador, and Verna Polson, Grand Chief of the Algonquin Anishinabe Nation.
After the press conference, we began our tour with a visit to the workshop where the metal structures for the MosaïCanada 150 sculptures are being constructed.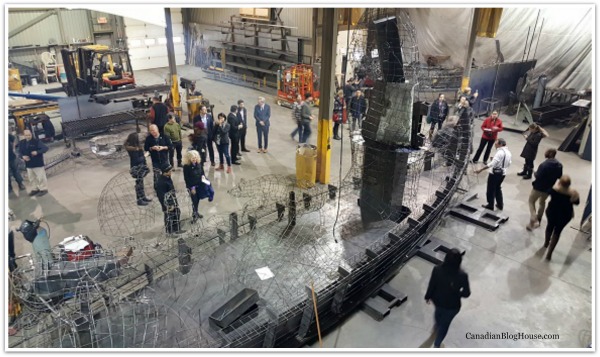 This vast warehouse stores metal structures in various states of assembly. The largest, and most eye-catching structure on the warehouse floor was this canoe.
Made for the "canoe family" that will ride the completed horticultural behemoth, this canoe will also be adorned with various Canadian wildlife including a Canadian beaver, and a mink: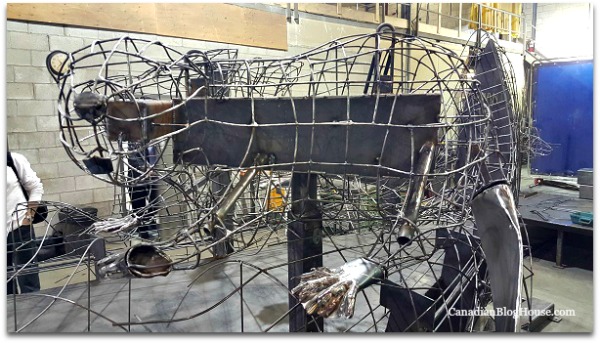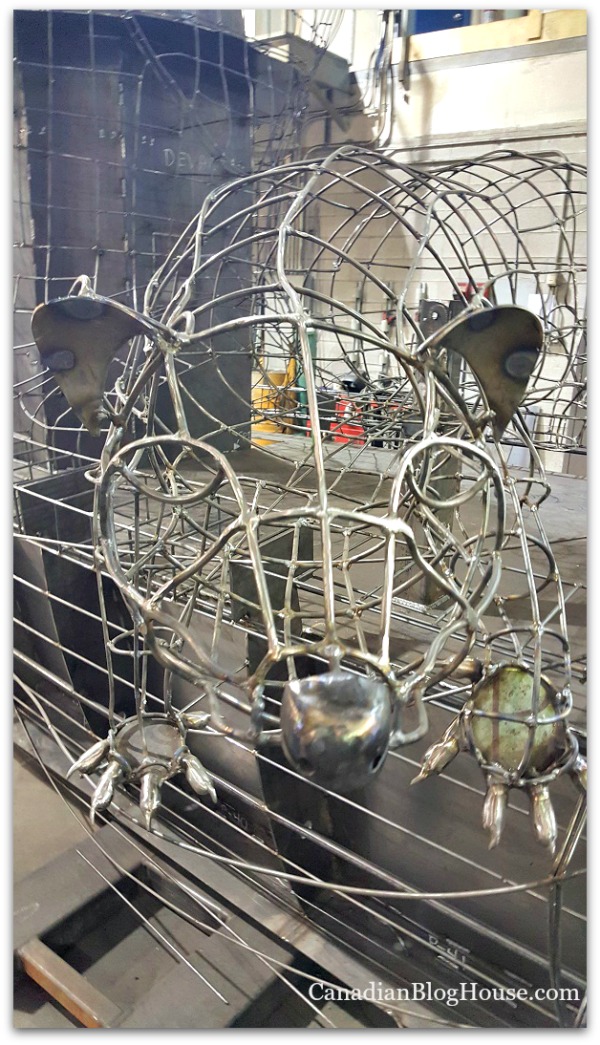 Just to give you a better perspective of the size of the Canadian canoe being built, my friend Lian and I stood beside it for a photo. It is huge! And just wait until it comes to life when it is filled with plants. It will be beautiful!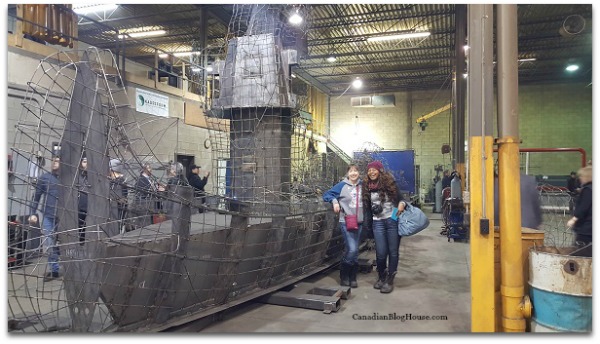 Here we found a smaller canoe being constructed. As you can see from this photo, each structure featured an attached artist's design so that you could get a sense of what the finished structure would look like. It's not as easy as you may think to figure out what some metal structures are going to be as a finished sculpture!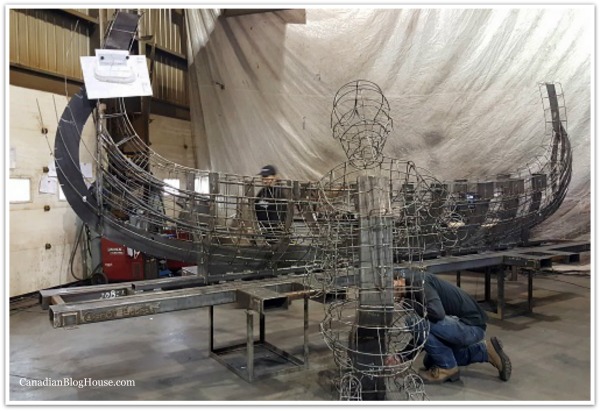 This massive chair (it's much larger than it looks in the photo!), is being made in honour of celebrated Canadian pianist Glenn Gould, to be featured alongside a grand piano. The gargoyle head and (goose?) bill we found, will eventually adorn one of the many MosaïCanada 150 sculptures.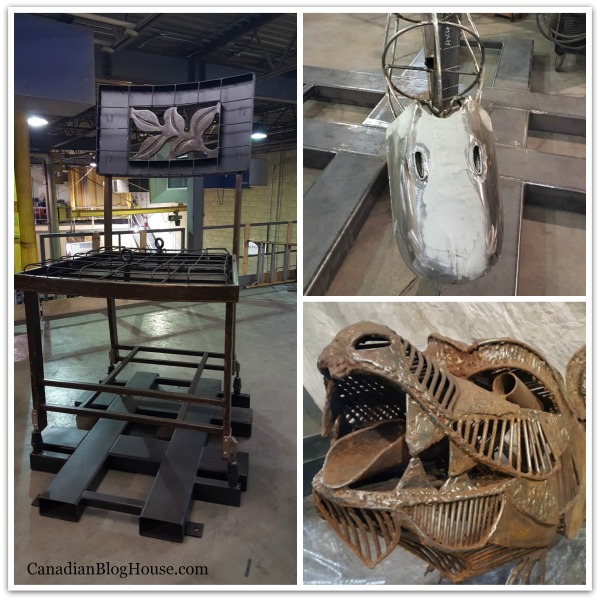 We learned some fascinating facts from Francois Gravel, our on-site guide, while touring the Kadriform International warehouse:
There will be 40-45 different structures being built at this warehouse for MosaïCanada 150.
Work on the sculptures started in August 2016, with the first being Anne of Green Gables.
The Anne of Green Gables structure will feature Anne sitting and awaiting a train.
Each structure built is actually made of 2 structures – one inside and one outside. This helps to minimize the amount of soil required for each structure.
All structures are constructed on a base, which also acts as a pallet for transportation of the structures.
The individual squares, which you can see in many of my photos, are no more than 6 inches wide, as this helps to support growing plants on the structures.
Depending upon the plants used on a given structure, there could be a new plant installed for every square inch, or 4-5 plants for every square foot.
Structures are designed to "come apart". Many structures are made in 4-5 separate pieces, depending upon the full size of the structure. Large structures cannot be shipped in one piece so the must be made to come apart for ease of transportation.
There will be 40-45 sculptures (x 4-5 pieces each) being shipped from Montreal to Gatineau, to be set up for display for MosaïCanada 150 at Jacques-Cartier Park.
Some of the sculptures for MosaïCanada 150 will be arriving from other parts of the world.
Specially chosen gardeners, from Gatineau, were sent to Montreal to learn how to take care of these massive sculptures once they arrive in the Outaouais region.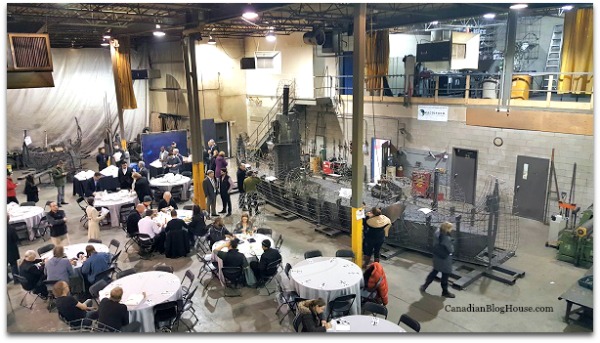 For lunch we dined at tables set up on the warehouse floor, allowing us time to mingle and chat with our fellow attendees, as well as some of the great folks who are responsible for building these spectacular structures at Kadriform.
Next, we were back on the Outatouais Tourism bus heading to Laval, for a tour of the MosaïCanada 150 greenhouses, where all the plants for the structures are being grown.
To say that this part of the tour was fascinating, is an understatement.
This is, literally, where MosaïCanada 150 comes to life!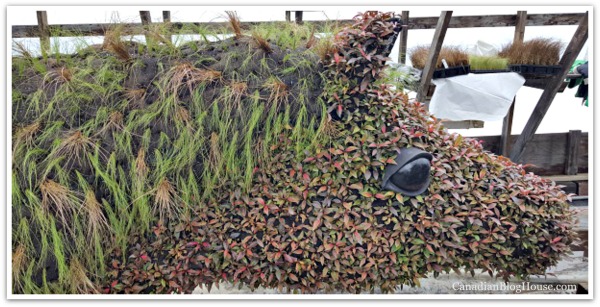 Horses play a big part in MosaïCanada 150, and the finished horse sculptures will no doubt be stunning. With long wheat grass for their manes, and beautiful plants forming the bodies of the horses, these creatures are truly a work of art!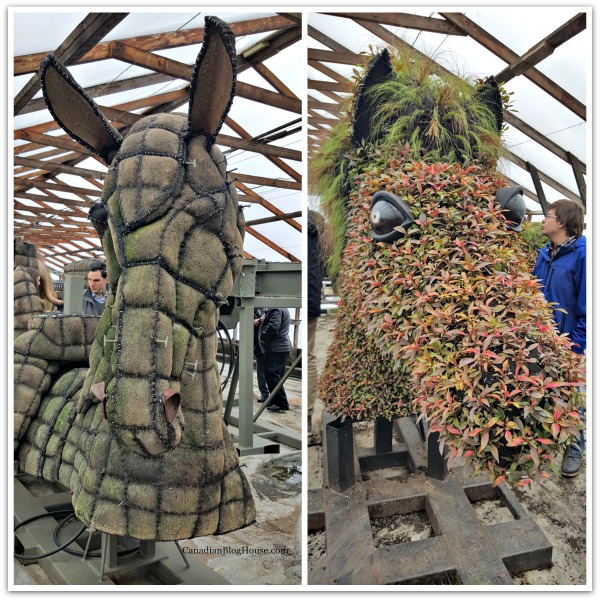 All sculptures are at various stages of completion. It was interesting to see the difference between a covered horse in the "raw" form, next to a horse whose facade had been adorned in plant life.
Although the horse on the left is stuffed with soil, and covered with material, you can still see where the "squares" of the metal structure are, underneath the stitching.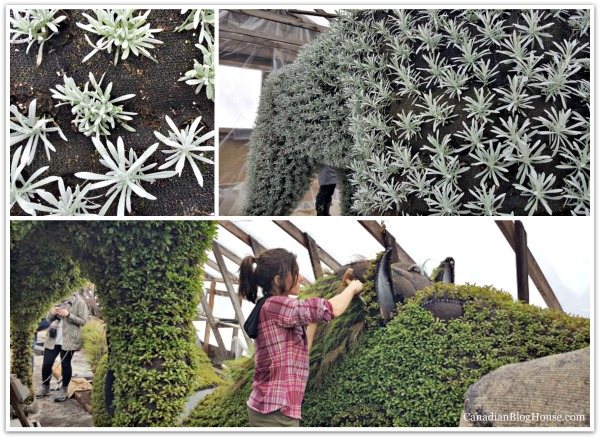 We got to witness an artist working on one of the sculptures – inserting wheat grasses:
You will notice that I focused in on those adorable puffins! There were my favourite sculptures from our visit to the greenhouses.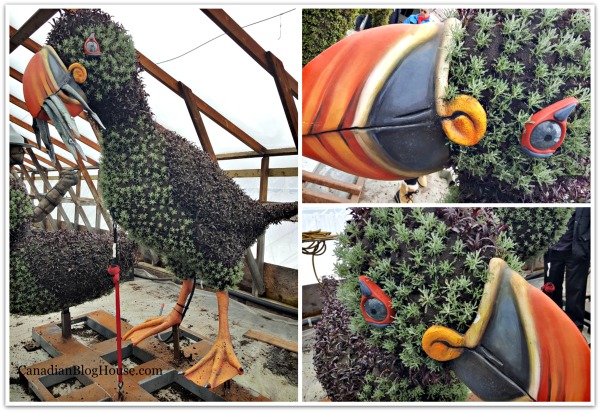 This fox was another beauty I fell in love with: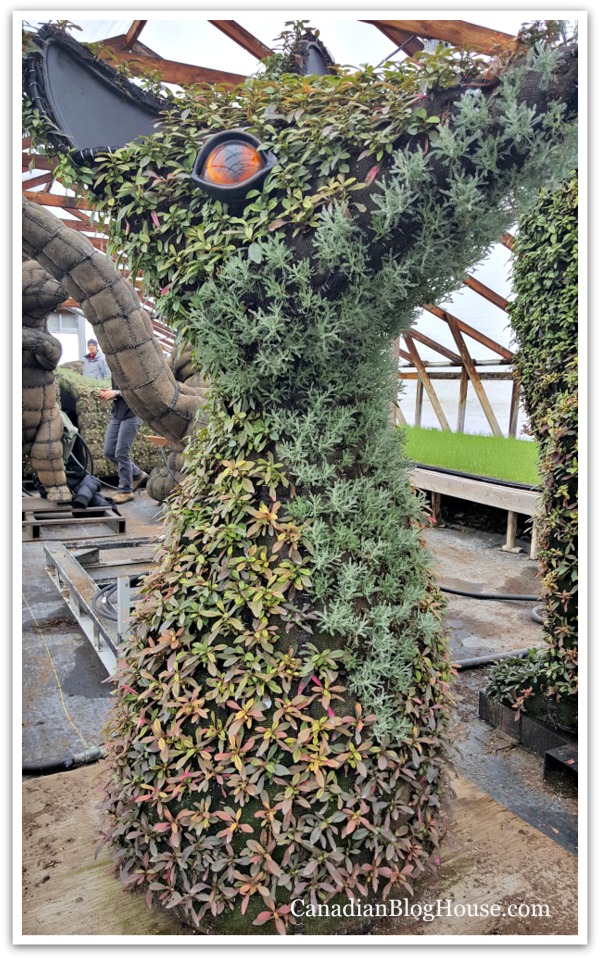 This muskox also stole my heart. He is spectacular!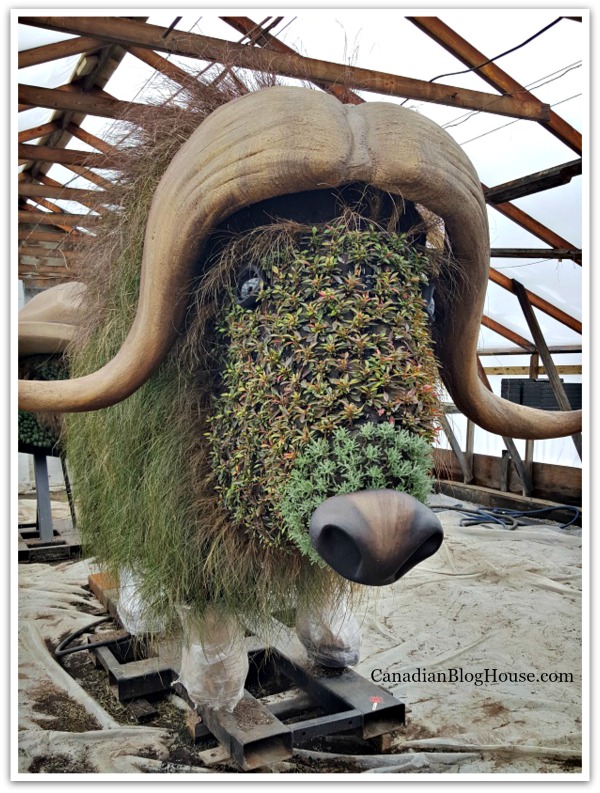 It was here at the MosaïCanada 150 greenhouses that we learned some more fascinating facts.
Fascinating Facts About MosaïCanada 150
Approximately 3 million plants are planted one-by-one into the sculptures.
The larger plants will be installed on-site later in Gatineau.
Each province and territory has a sculpture representing them, including this Mountie representing Saskatchewan.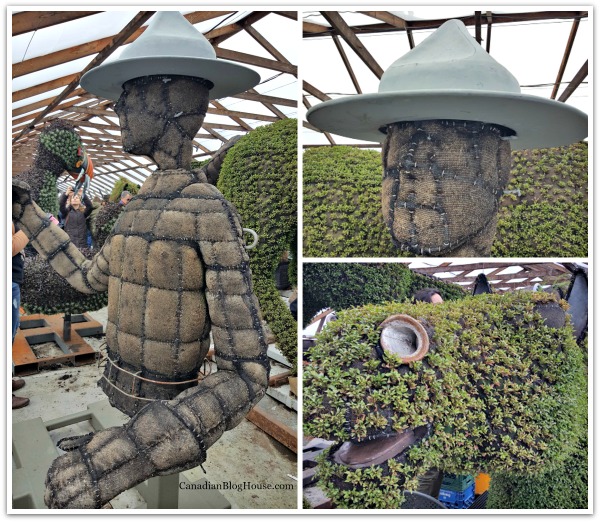 My favourites, the puffins, represent Newfoundland and Labrador.
All provinces and territories are given the option to keep the sculpture that represents their region. Provincial and territorial representatives are provided with training on how to care for the sculptures.
A crane will be used for assembly of the structures in Jacques-Cartier Park.
It took 20 artist drawings of sculpture "Mother Earth" before the design was finally approved.
One of the sculptures that will be on exhibit in Gatineau this summer is a train – measuring in at an astounding 225 feet in length! This train represents the first train that traveled east to west in Canada.
Guided tours of MosaïCanada 150 will be available to the public.
Where possible, plants that are native to a region, or known to be used by the First Nations' people, are used. These plants include cedar, sage, birch and wheat grass.
Plates installed next to each sculpture at MosaïCanada 150 will explain the significance of the sculpture.
A book, outlining the MosaïCanada 150 event and sculptures will be available for purchase by visitors.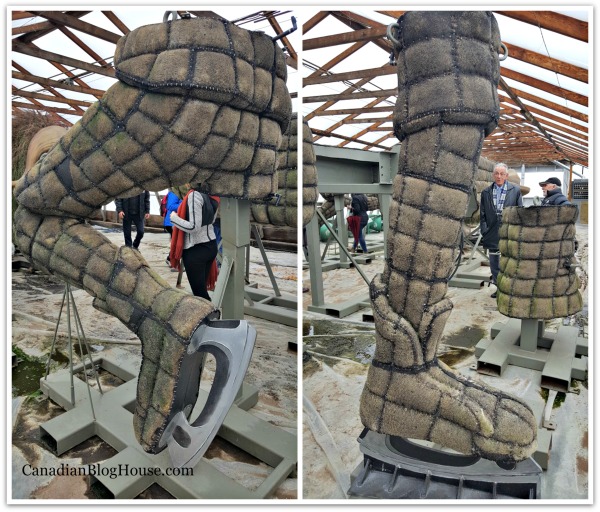 Here's a view of another sculpture that is ready for the installation of the plants to begin. As you can see from the photo with the gentleman in behind the leg, this is going to be one TALL person on skates by the time the other half of the body is added!
Then there is the skate. Just look at the detail the artists put into the parts of the sculptures that will not be covered in plants!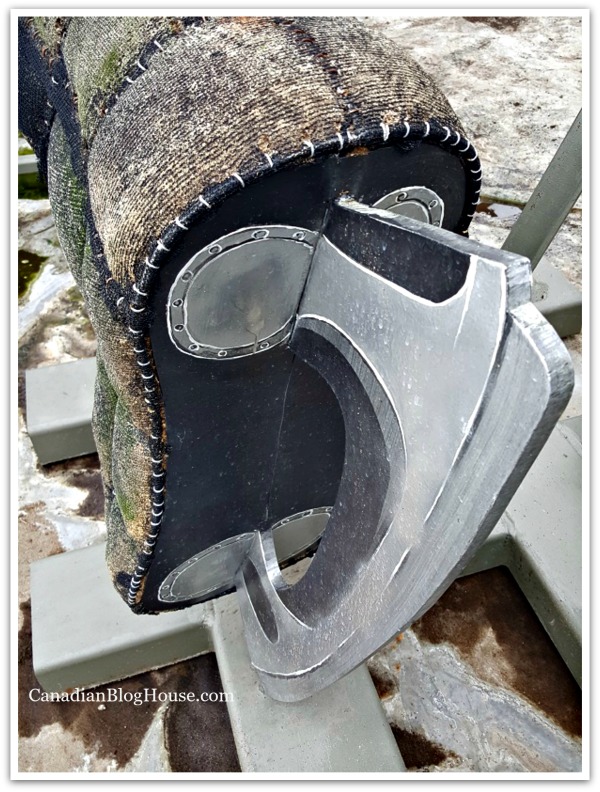 MosaïCanada 150 will also feature a beautiful Inukshuk, that will tower over the crowd at a height of 30 feet!
Another Canadian icon that will be featured this summer at MosaïCanada 150 is Anne of Green Gables.
Anne doesn't look so great before getting her "makeover" but, I have a feeling she will end up looking phenomenal when we all see her this summer in Jacques-Cartier Park!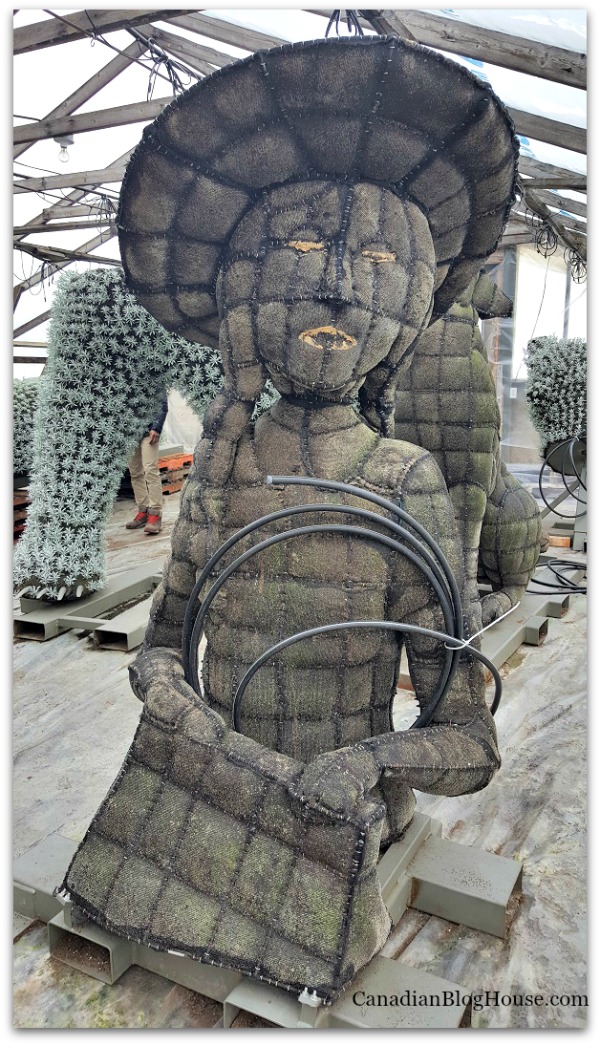 For more information, visit the MosaïCanada 150 website.
Want to know more about all the great things happening in the Outaouais region for Gatineau 2017? Visit the Outaouais Tourism website for all your #Outaouaisfun!
Will you be visiting MosaïCanada 150 this summer?