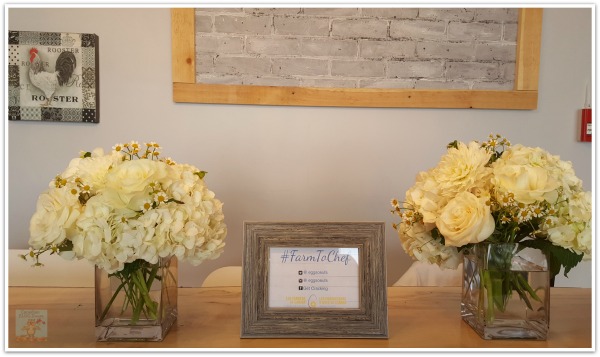 I often accept invites to events around Ottawa partly as a means to experience something new, something different, and often, something wonderfully unexpected.
My evening at Meat Press – Creative Charcuterie and Sandwich Shop, in Ottawa's trendy Hintonburg area, was one of those unexpected delights – an unforgettable evening of "eggs-quisite" appetizers brought to us by Egg Farmers of Canada and Chef Marysol Foucault of Chez Edgar in Gatineau, Quebec.
Arriving at the nondescript Meat Press building on Armstrong Street, I remarked to my friend Emily from Best of This Life, and the one who graciously invited me to attend this event with her, that on any other day, I could have easily walked by this establishment and not realized the treasures it held inside.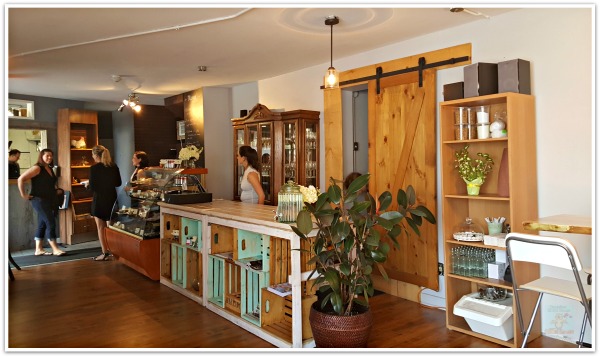 A warm and comfortable atmosphere greeted us. I almost felt like I was in a friend's home.
Offering some tantalizing menu options such as Savory Smoked Ham, Duck Terrine, Ibérico Chorizo, and Charcuterie and Cheese, Meat Press is a neighbourhood eatery well deserving of some attention.
Celebrating Canada's local food movement, Egg Farmers of Canada brought local chefs and foodies – and of course, farm-fresh Canadian eggs – together for the evening in Vancouver, Toronto, Montreal, Halifax, and here at Meat Press in Ottawa.
From west coast smoked salmon fritters, to Cape Breton snow crab and egg salad bites, #FarmToChef guests across Canada tasted a variety of culinary creations from leading Canadian chefs, who added their own spin on egg hor d'oeuvres.
Our #FarmToChef culinary experience here in Ottawa, began with this delicacy: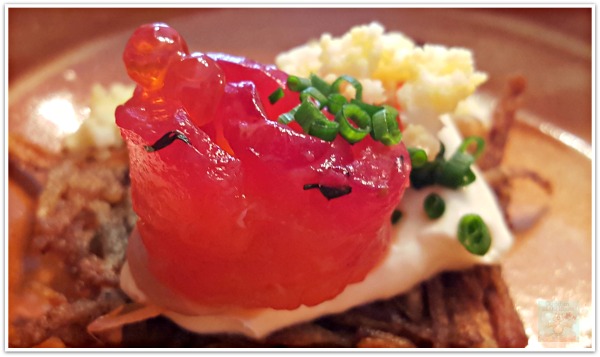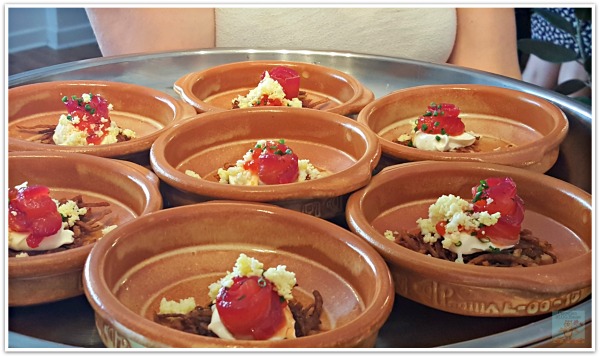 One bite of this trout, Chef Marysol Foucault's take on a recipe created by Chef Lynn Crawford, shattered all my assumptions of what this evening was going to be.
My mouth was so in love with this first appetizer, I could hardly wait to see what else was in store for us during our #FarmToChef evening at Meat Press.
Next up was a creation by Gatineau's Chef Marysol Foucault: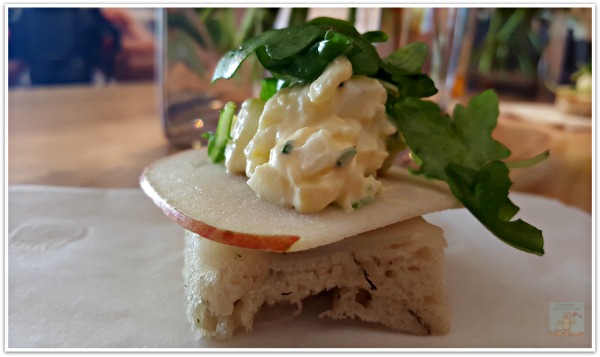 This was simply mouth-watering. You can actually find the recipe for Chef Foucault's Dill Bread with Egg Salad and Apple Bites on the Egg Farmers of Canada website.
Another highlight of the evening was this Smoked Egg Yolk on Herbed Yogurt and Fried Eggplant, an incredibly tasty creation by Chef Marysol Foucault: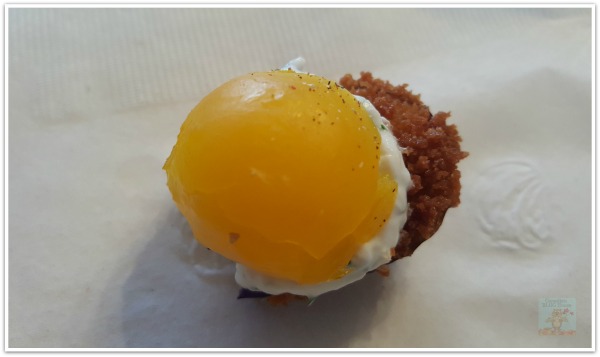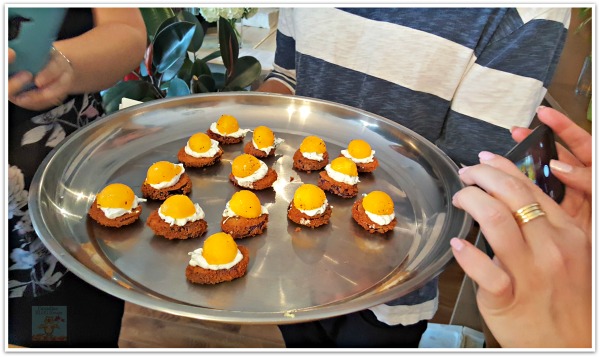 Credit can be given to the brilliant Canadian chefs like Chef Marysol Foucault, for creating these divine recipes, however, our feast of egg-ceptional appetizers was made by Meat Press Chef Étienne Cuerrier and his team.
Chef Cuerrier and his team were working their magic behind the scenes, presenting us with another sight to behold: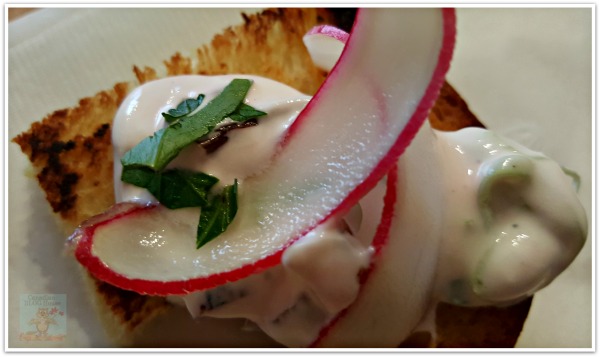 This Egg Bread with Grilled Swiss Chard, Sour Cream, and Radish was spectacular. I could have easily eaten a complete supper of this appetizer. It's a tough choice but, I'd have to say, this was my favourite appetizer of the evening.
Of course, this next appetizer ranked right up there too. Who doesn't love a combination that features, mushrooms, onions and eggs? Definitely one of my favourite combos.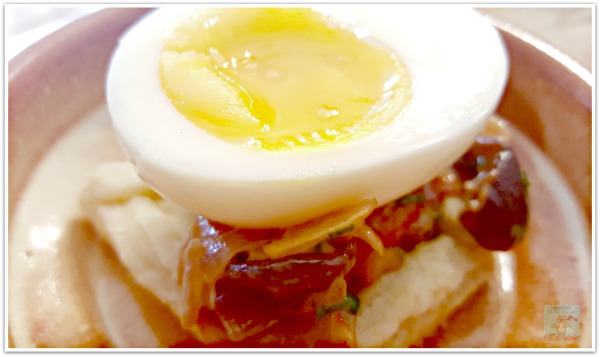 I always knew eggs were so versatile, however, my evening at the #FarmToChef event with Chef Foucault and Egg Farmers of Canada, took eggs to whole new level! Now…if only I could convince Chef Foucault to come to my home to make me some of these tasty egg appetizers every day – I'd be in egg heaven!
The ONLY thing better than a farm-fresh egg appetizer that evening were these doughnuts created by Chef Trevor Bird of Fable Kitchen in Vancouver: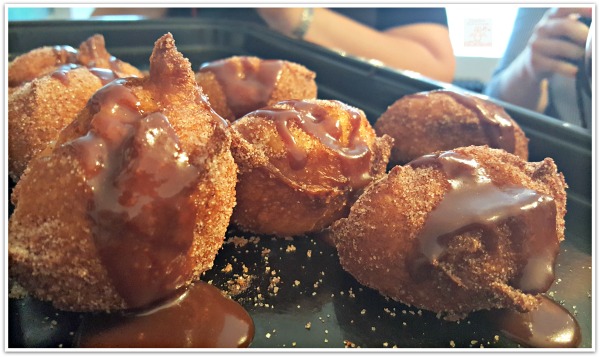 Served warm, these churros were unbelievably fresh, and simply melted in my mouth. I would never dare attempt to make these myself. My hips could not take the vast quantities I would eat! And yes…I snuck two of these that night. Shhhhh!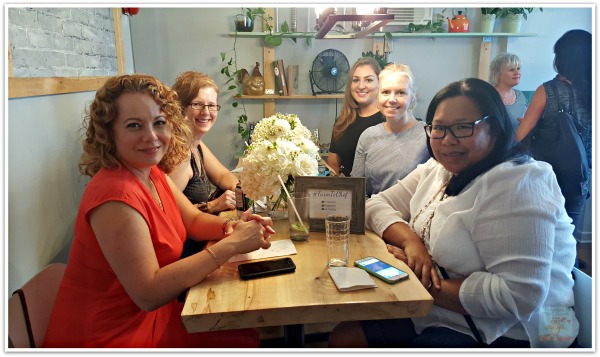 A fabulous evening at Meat Press was topped off by the fact that I got to spend time with some wonderful friends: Emily from Best of This Life, Hélène from La Cuisine d'Hélène, Julie from Try Small Things, Judy from Ottawa Foodie Girlz, Brigitte from The Food Tease, and Paula Roy, Food Editor of Ottawa At Home and blogger at Constantly Cooking.
A big thank you to Egg Farmers of Canada, Chef Marysol Foucault, and Chef Cuerrier and his team at Meat Press for a fabulous #FarmToChef evening!
Love local, farm-fresh food? Stay tuned to the blog. Coming up in October I will be taking you on another Farm and Food Care Ontario tour!