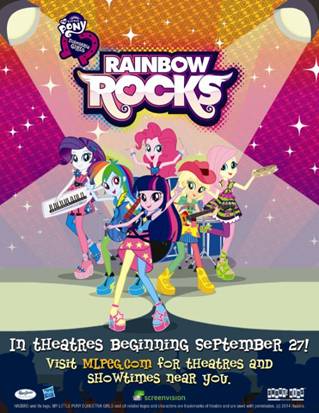 The latest My Little Pony movie hits theatres September 27th, and to celebrate, Canadian Blog House is giving away a pair of tickets to see My Little Pony Equestria Girls: Rainbow Rocks at both the Cineplex Odeon South Keys cinemas AND at the Cineplex Odeon Barrhaven Cinemas on Sunday October 5, 2014.
MY LITTLE PONY EQUESTRIA GIRLS: RAINBOW ROCKS finds Canterlot High (CHS) hosting a musical showcase, and Rainbow Dash, Applejack, Pinkie Pie, Rarity, and Fluttershy are going to be performing with their new band, The Rainbooms. But when The Dazzlings, a new girl group, arrive at CHS and convince everyone to turn the friendly showcase into a Battle of the Bands, tensions mount between the competing musical acts. A now-reformed Sunset Shimmer realizes that the Dazzlings may not be ordinary girls and are after something far more sinister than just being named Best Band at Canterlot High. The Rainbooms call on Princess Twilight to restore harmony to their world to help them perform a musical counter-spell so that they can win a battle that now determines the fate of the entire school!
On the tail of a wildly successful run of MY LITTLE PONY EQUESTRIA GIRLS the movie in 2013, Screenvision has teamed up with Hasbro Studios and Shout! Factory to bring the full-length feature MY LITTLE PONY EQUESTRIA GIRLS: RAINBOW ROCKS to more than 400 cinemas across the U.S. and Canada beginning

September 27

. Information on listings and links to book tickets can be found at http://www.cineplex.com/Movie/my-little-pony-equestria-girls-rainbow-rocks.
So here's your chance to WIN 2 passes to take the biggest My Little Pony fan in your life to see My Little Pony Equestria Girls: Rainbow Rocks In Ottawa on Sunday October 5th!
Please be sure to read giveaway rules in the Rafflecopter form and full giveaway rules posted here.

Disclosure:  Canadian Blog House did not receive compensation for this post.  All opinions are our own.