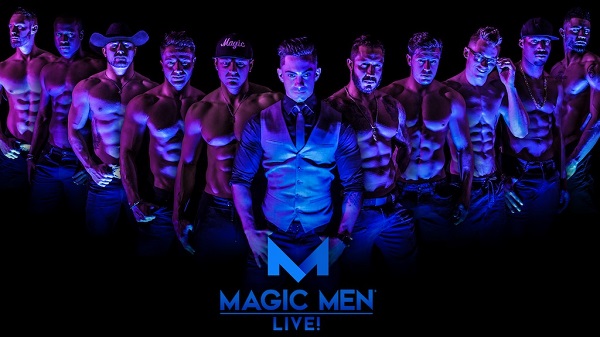 Canadian Blog House received media passes in exchange for this interview with Myles Hass and the promotion of Magic Men Live! All opinions are our own.
Myles Hass says it best…viewer discretion is advised.
It may still be spring here in Canada but, things are about to get HOT!
Myles Hass and Magic Men Live! will be heating up the stage in select Ontario cities over the next week, and they want to see you there, ladies!
And don't worry West Coast ladies…they'll be announcing dates for you soon!
From what I've read, if you are looking for the ultimate fun ladies' night out with your girlfriends, you won't want to miss their very first Canadian tour!
Magic Men Live! "is the first live stage production to bring the combined phenomena of Magic Mike, Fifty Shades of Grey and other female-focused erotic entertainment to life. Now in its fifth year and finishing a year of performing over 140 shows and performing to over 100,000 people, Magic Men Live! is bringing Canadian audiences a show that promises to be is bigger, better and hotter than ever."
Magic Men Live! "invites ladies to let loose in an empowering, fun-filled environment and embark on an unforgettable night out. With thrilling choreography, visual story lines, state of the art design elements and themed acts, Magic Men Live! entertains audiences by bringing fantasies to reality. With an exciting and innovative cabaret-style show filled with comedy, theatrics, sexy dance moves, and audience participation, Magic Men Live! has sold out shows around the United States."
I recently had the chance to interview Myles Hass, and let me tell you, he was a great sport! He answered every one of my 20 questions with grace, and a terrific sense of humour.
Want to know what a Magic Men Live! show is really like, how it all started, and which audience members the Magic Men really have to watch out for at their shows (hint: keep a tight hold on grandma if you bring her to the show!)?
Myles Hass has all the answers for us!
And his favourite quote? It's such a great one that…it may just be my new favourite!
Here's Myles…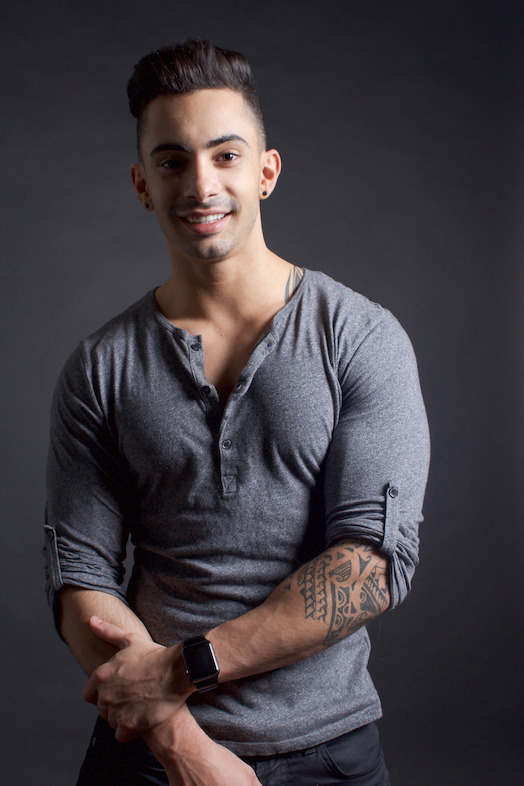 20 Questions With Myles Hass Of Magic Men
---
Tell us a bit about your background and how you launched with Magic Men.
I started in the industry in 2007, by becoming an office manager for my uncle who owned an adult party entertainment agency that's been around since 1989. In 2010 I branched off on my own and began the journey in starting what is now the production you see today.
We need to settle this one straight away…who came first, Magic Mike or Magic Men?
Haha, I appreciate the question! Not to take anything away from the movie but as I mentioned, we began this in 2010 and the movie didn't come out until 2012. We started out very small and local so there wasn't much awareness in the beginning. And we didn't start touring regionally and nationally until 2015, so it's understandable for people to think that we somehow got the idea from the movie. But the truth is, the concept has been around for decades and several of us in the show have been doing this before it ever became a pop-culture phenomenon. Needless to say, we're happy that the movie was successful and helped bring more interest to what we do.
Tell us what ladies can expect to see when they come to one of your shows.
A little bit of everything! Our show has soo many different elements to it. Theatrics, gymnastics, acting, singing, dancing, CROWD INTERACTION and incredible stage acts that are sure to appeal to a wide variety of tastes. It's like a hybrid between a male revue show and a concert experience. It's very high energy and HANDS ON, so be ready!
What are the physical requirements for a job with Magic Men? Do men have to be a certain height, weight…*cough*…size? What about dance skills? Personality?
Hahaha! Physical appearance is obviously a factor but, it takes more than just that to be a part of this team. Having a passion for entertaining is very important to us. We want our audience to know that our top priority is making their night a memorable one, so we're leaving it all out there for them night after night. Personality is another important thing. NO EGOS! Everyone has to understand that what we're doing is not about us individually, it's about the fans and giving them the night out they deserve. Our group is very good about putting self-interest aside for the sake of making our fans smile.
How big is your Magic Men entourage? How many people do you need to help you bring Magic Men on the road?
It takes a lot of people to put together our show and keep it on the road! We currently have 25 people on our team, between performers, production and management. And we're still growing.
What is the most challenging thing about taking the Magic Men show on the road?
Touring in general is challenging. Especially when you do everything on your own. You need a great team with a lot of patience and persistence to make it happen.
Do you enjoy the travel involved with touring with Magic Men? What cities have you enjoyed visiting the most?
I love the traveling. It is one of the best parts of what we do! We haven't been in Canada long but, the press day we did in Toronto has already made it one of my favorite cities!
I've got to ask the mom question. Have your moms come to see your show?
Some of them, yes! Haha. Mine hasn't yet but, I plan on bringing her one day soon.
What is the craziest thing a fan has done at your show? Any memorable experiences?
A grandma came on stage and straddled me in the middle of the show one time! She seemed so sweet and innocent but, once she got on stage, she flipped a switch! Needless to say, the audience went absolutely crazy!
What city has the best audience? Does one stand out in particular?
That's tough to say. We've had a lot of great audiences. As long as everyone's enjoying themselves and having fun, then we love it. The one that stands out the most though has to be Denver, Colorado. That is where we broke the record for biggest ladies night event with over 5,000 people in attendance!
Canadians have a reputation for being nice and polite. Are you looking forward to seeing how the Canadian audiences differ?
I've heard! We love that but we're hoping that we can get them to let loose and get a little crazy with us!
For the ladies wondering where they should sit at one of your shows  – right up front, or right at the back near an exit – how "interactive" are your shows for the ladies down in front?
The closer seats definitely get a bit more interaction but there's honestly not a bad seat in the house. We dedicate several parts of the show to crowd interaction with everyone! There's one part where there are literally Magic Men scattered throughout the whole room!
Do you get any seniors coming to your shows? I could definitely see someone like internet sensation Baddie Winkle coming to one of your shows. How old is your oldest fan? Any idea?
We get our fair share of seniors! They are fun to interact with. The audience always loves when we bring a grandma on stage. We've had someone as old as 80 years + come to our show! She told us, "When she goes, she's going with a smile!"
Is it difficult, in the entertainment industry, to get people to take you, and the other Magic Men, seriously after they find out what you do?
A lot of people understandably have a misconceived notion of what we do exactly, at first. But once people actually see the show, their minds change completely. No one ever expects for a show of this kind to be produced in the way we do it.
Let's face it, ladies go to a show like Magic Men and it's "ok" for us to ogle the guys (etc), but the same can't really be said for men ogling women at a similar show. Do you think there a double-standard in this industry?
We can't deny that there's a double standard, but the kind of entertainment we're giving is completely different from what you would see at a strip club and there's a different mindset when men and women come to these kinds of shows. Women come to laugh, scream and just have fun with their lady friends. It's a lot like a concert.
How different is your stage persona from the real-life Myles Hass? What would you like people to know about you as a person?
People are usually very surprised to find out that I'm a very chill and laid-back person in real life. On stage my energy level is turned up to 11. I love getting a crowd going, making them laugh and just watching them have fun, so I do everything I can to break the ice and get people to come out of their shells. Off stage, I'm kicking back and relaxing as much as possible. Usually spending my time working on new things for the show.
What is your favourite quote?
"How are you going to tell me that the sky's the limit when there's footprints on the moon?" For some reason that quote is the first that comes to mind because I love always striving for the next level no matter how far we've made it. I think that mentality has helped us get to where we are now, and is going to help us continue to grow and turn into a bigger and better experience for fans.
You should know that my city of Ottawa has a reputation for being a little on the "boring" side. I happen to disagree with that thought but, have you ever met an audience you couldn't excite?
There's always a bit of shyness in the beginning of a show. Most people have never been to a show like ours so they may be nervous because they don't know what to expect. But sure enough, once we get the show rolling everyone starts to loosen up and come out of their shells. They always end up on their feet screaming, singing and dancing by the end of the night. That's what I love to see.
Our Prime Minister, Justin Trudeau, has been known to take off his shirt for an audience before. Do you think that Justin has what it takes to make it on stage with Magic Men?
Absolutely! He's got the IT factor. Haha! In another life he probably would really love being a part of what we do and I think the audience would love him!
As a blogger, I'm all about social media of course! Are all Magic Men into social media? Where can fans follow you?
We LOVE social media and LOVE interacting with our fans! We're on Snapchat, Facebook, Instagram and Twitter! We can be followed @MagicMenLive on all platforms!
Viewer discretion is advised! 😉
---
Thanks so much, Myles, for such a fun interview and being so willing to answer all my 20 questions! I loved getting to know more about you, and the rest of the Magic Men!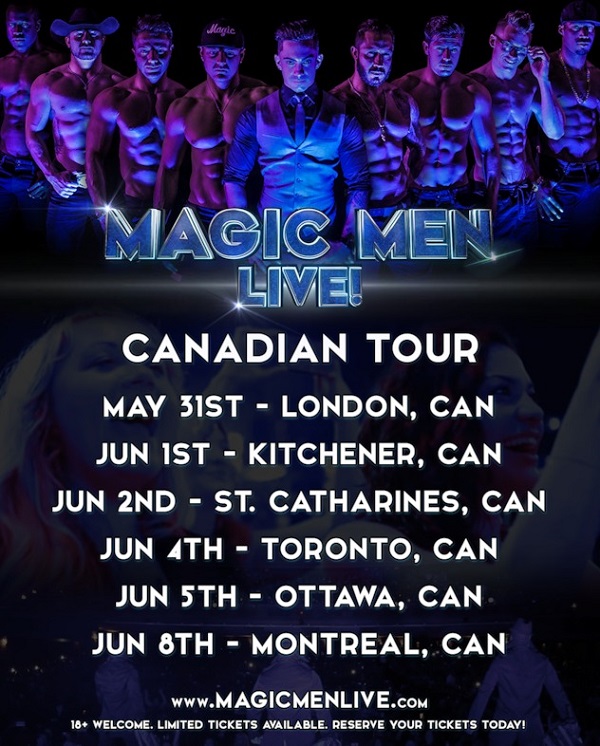 Want to check out Myles Hass and a Magic Men Live! show for yourself? Get your Magic Men Live! tickets here!