The following is a hilarious guest post by my friend, Michelle, who captains the social media ship over at Great Canadian Rebates.  Thanks, Michelle, for making me laugh…and for making me feel so much better about my own crafting skills!
~~~~~~~~~~~~~~~~~~~~~~~~~~~~~~~~~~~~~~~~~~~~~~~~~~~~~~~~~~~~~~~~~~~~~~~~~~~~~~~~~~~~~~~~~~~~~
Being in charge of the social media for a company is a very cool job! My favorite part is the connections I get to make with people.  Sandy with @CanBlogHouse is a great example. We've been chatting here and there for the past year, and recently we decided to swap blog posts (Thank you Sandy!).
It's amazing how much pressure one can suddenly feel about a blog topic when it is being posted on another site. ACK! But I did think of a fun topic, an Edible DIY Christmas Centre Piece.
This was the inspiration, found on Pinterest: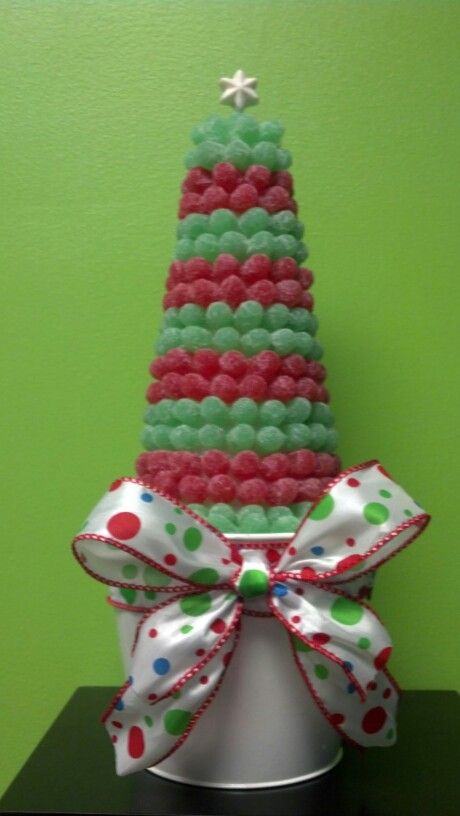 Image Courtesy of Pinterest
Step One:  Pack kids in car and make trip to Walmart to collect material needed. Foam tree-shaped cone, candy, and toothpicks.  Push buggy up and down the aisles searching for 3 items. Still pushing. Make third visit back to craft aisle because really that is the only possible aisle a foam cone shape could be. There it is, bottom shelf shoved right to the rear. Then ask yourself, who's brilliant idea was it to bring 2 children when a trip to the candy aisle is required? Look for green gum drops. Calmly remove 4th bag of candy from child's grasp. Can't find gum drops, no problem, any green soft candy will work. Not so calmly remove 9th bag of candy from child's tighter grasp. How can they NOT have green candy!?!?! Grab the first bag of red candy within reach, rip 12th bag of candy from child's Herculeran grasp. Get out of Walmart now!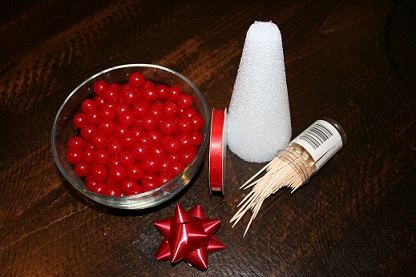 Image courtesy of Michelle, Great Canadian Rebates
Step Two: Sit at table with materials required. With scissors snip toothpicks into 2 smaller pieces. Duck as they fling across the room. Forget about the scissors and just break the toothpicks in 2 jagged uneven pieces, nobody is going to see them anyway. Pierce candy with toothpick. OOPS, a hard-shelled candy was probably not the best choice for this project. Too bad, I'm on a deadline, pierce pierce pierce!!! Affix pierced candy in a nice straight line around the top of the cone. Stand back and admire how adorable it looks.
Step Three: Simply add candy row by neat little row. Around row 4 start to realize that the project looks little cherry tomatoes in a drunken line up. Too bad, I'm on a deadline, and the children are circling like vultures as they eye the bowl of candy. Must hurry up! OUCH….splinter. At this point start to regret the project choice, instead wishing for the one that was a bottle of wine taped with individually wrapped chocolates. At least when THAT project fails, you can drink the evidence away.
Step Four: By row 7 try to ignore the fact that there are no longer rows. Stab the final piece of candy in with cramped fingers and stand back to admire. Turn it a little to the left. Now to the right.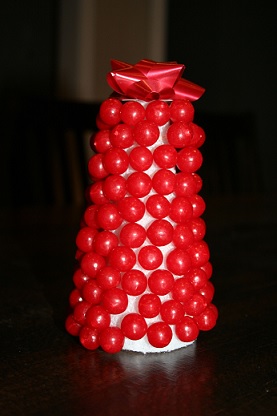 Image courtesy of Michelle, Great Canadian Rebates
Come to the realization that the final result might be better suited for a "Nailed It! Pinterest Fail" blog. Let out a big sigh and think of a way to "pretty it up".
This could work, the flicker of the candle off of the hard candy shell disguises the cracks caused by frantic piercing action.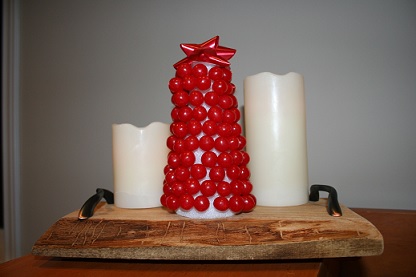 Image Courtesy of Michelle, Great Canadian Rebates
This is definitely better! Camouflage the entire project in a sea of red, stick it on the corner of the buffet in dining room, turn off the lights, and leave.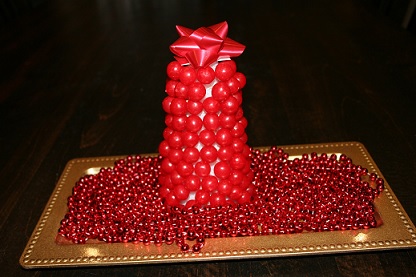 Image courtesy of Michelle, Great Canadian Rebates
Now that a few hours have passed, and the cramping in my fingers has subsided enough for me to type, I can giggle at the whole thing. I've also come to the important realization, that as much as I love being frugal and saving money on everything including Christmas décor, sometimes, just sometimes, it is better to order online for next day delivery!
Was your last Pinterest project a success or a "Nailed It! Pinterest Fail"?
Disclosure:  Canadian Blog House did not receive compensation for this post.  All opinions are that of the guest blogger.