Most families have recipes in their cupboard that have been handed down from generation to generation. You know…that special family breakfast recipe that grandma made every Christmas, or your favourite childhood dessert recipe that your mother still makes for you now. Our family has plenty of recipes like that.
One such family recipe of ours is "Nana's Homemade Mayonnaise".  According to my mum, it was my Nana who introduced her to this family-favourite recipe when mum married dad, and to this day, my mum is still enjoying Nana's Homemade Mayonnaise on every sandwich she eats. In fact, my mum loves Nana's Homemade Mayonnaise so much that she even carries around her own little bottle of it when away from home.
Yep. Really. She loves it THAT much.
Maybe not as much as she loves ketchup, but close.
Now that my parents live in a retirement home, mum no longer has access to her old appliances, like her mixmaster, so I've taken over the task of making Nana's Homemade Mayonnaise for her when she runs out.
A couple of weeks ago I received an urgent call from mum. Emergency! She was almost out of Nana's Homemade Mayonnaise! I assured her I would get some made that week and bring it to her. I got off the phone and went looking for the recipe.
Horrors. I had lost the hand-written recipe card for Nana's Homemade Mayonnaise!
I searched high and low, but that recipe card was nowhere to be found. I started to dig through one of mum's old recipes boxes that she has had for 60+ years hoping to find the recipe card filed in the wrong place.
I never did find it…but I did find this: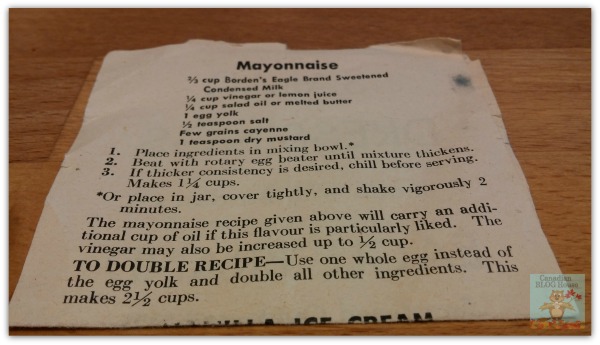 I was astonished. I had just discovered that Nana's Homemade Mayonnaise was in fact NOT Nana's recipe at all – it was Borden's! Yes Borden's – the dairy people!
A quick read down the recipe list confirmed that this old, yellowed piece of paper contained the same recipe that was written on Nana's recipe card that I had lost.
I had just unearthed a secret that would shake my family to its core. Well not really but…it certainly gave us all some good laughs!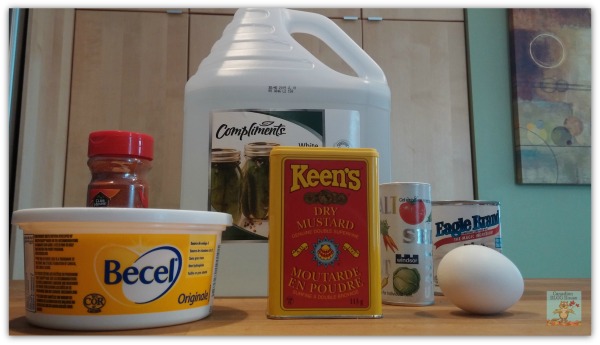 And so I present to you, the newly crowned homemade mayonnaise recipe:
"Nana Borden's Mayonnaise"
 2/3 cup Borden's Eagle Brand Sweetened Condensed Milk

1/4 cup vinegar or lemon juice (your choice)

1/3 cup salad oil or melted butter (your choice)

1 egg yolk

1/2 teaspoon salt

a few grains cayenne pepper

1 teaspoon dry mustard
Beat in mixer until desired thickness.  Chill before serving. Keep refrigerated. Makes 1 1/4 cups.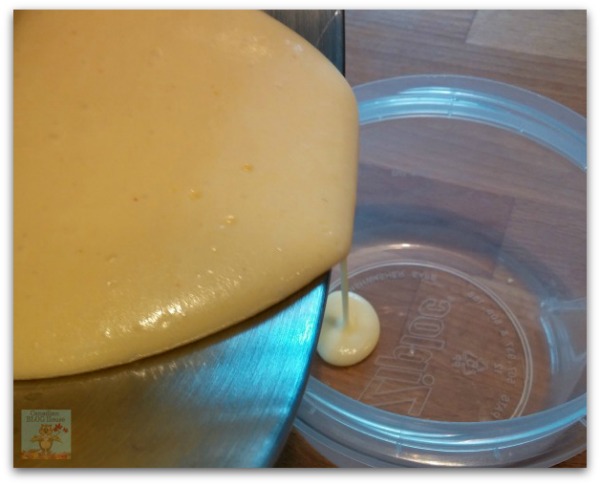 ** We do in fact tweak this recipe a bit to make it "our own". My mum always adds in an equal amount of Hellman's mayonnaise, essentially doubling the recipe and giving the mayonnaise its own unique flavour.
May you enjoy Nana Borden's Homemade Mayonnaise as much as my mum does!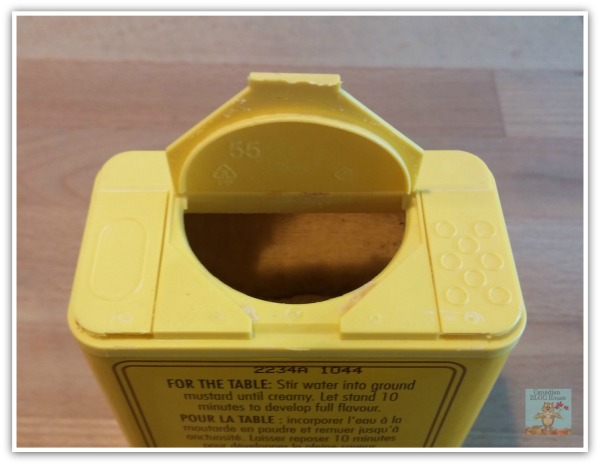 A quick kudos to the folks at Keen's Dry Mustard. Thank's for packaging your product in such an innovative container, making level teaspoon measurements a breeze!