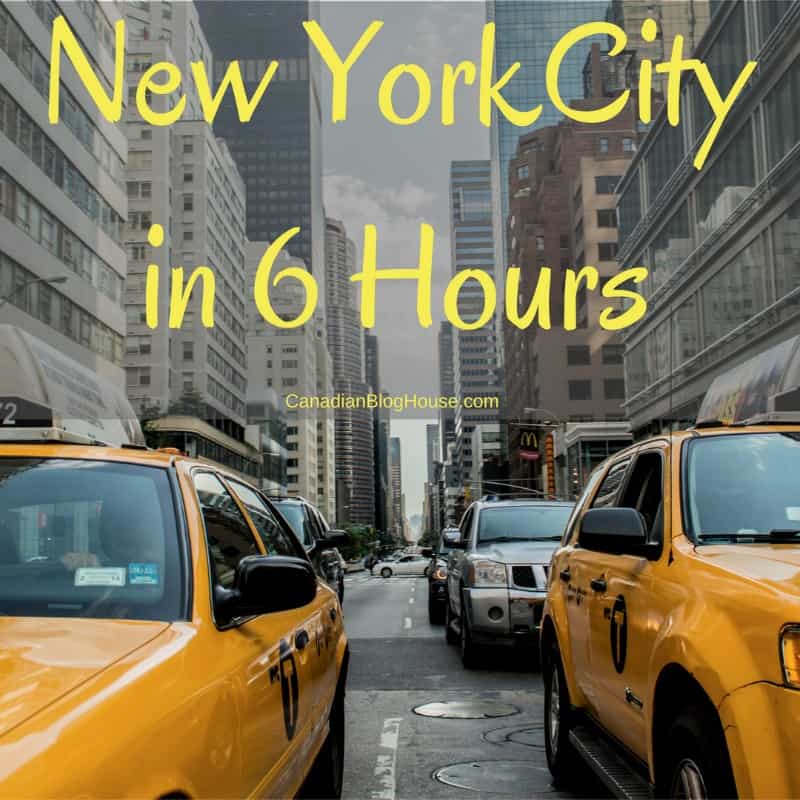 New York City in 6 hours? You bet!
As the saying goes – been there, done that!
And you can too! I'll show you how.
Visiting New York City on a layover, in town for a business meeting, or enjoying a day trip to the Big Apple? Whatever your reason, you can do New York City in 6 hours too!
Day or night, the possibilities are endless in this city that never sleeps!
This summer, we had the chance to visit with my wonderful nephew, and his equally wonderful partner. They were in town visiting from New York City.
We got reminiscing about the time, 8 years ago, that I flew to New York City to visit my nephew. Thanks to my nephew's help, and some quick footwork, we managed to see a whole lot of Manhattan, in just 6 hours.
So Many Things To Do In New York City
A delayed flight caused me to arrive an hour late at JFK Airport (around 3pm). My nephew met me at the airport and we quickly hopped aboard the New York City subway to make our way over to his apartment in Brooklyn.
This was my first time riding a New York subway train – a whole experience in itself! I was happy to have my nephew with me as my personal tour guide and navigator. I quickly discovered the subway is a great way to help someone visit several attractions in New York City in 6 hours.
Because there's no time to waste when you've only got 6 hours to see New York City! Right?!
After a quick stop at my nephew's apartment, we hopped back on the subway and headed to mid-town Manhattan.
THIS was the New York City I wanted to see!
Grab your hikers, running shoes, or any other pair of comfy shoes you own, and let's go!
New York City In 6 Hours
Times Square
You can't visit New York City in 6 hours without taking the time to check out the iconic "crossroads of the world" –  Times Square. Browse the shops, catch some live entertainment, or do like we did, grab a bite to eat at one of several great restaurants in the Times Square area.
We chose Ruby Tuesday and had a delicious meal before heading out into the middle of all the Time Square action for an obligatory photo amongst the bright lights of this big city!
Time you will need: 1 1/2 hours should give you time for a bite to eat and some photo ops.
Central Park
Another must-see area of New York City is Central Park, a 20 minute walk from Times Square.
At this 843 acre park, in central Manhattan, you may take a 1-2 hour self-guided tour to see several of the park's gardens, scenic routes, statues, buildings, fountains, and more!
Time you will need: 1-2 hours depending on how much you wish to see of the park.
9/11 Memorial & Museum
The 9/11 Memorial & Museum is a place in which every visitor to New York City should spend some time.
"Through commemoration, exhibitions and educational programs, The National September 11 Memorial & Museum, remembers and honors the 2,983 people killed in the horrific attacks of September 11, 2001, and February 26, 1993…"
The best way to reach the 9/11 Memorial & Museum, is by subway, or via a 10-minute (approx.) taxi ride from Times Square.
Time You Will Need: While you could spend the better part of a day at this location, you can see a lot in under 2 hours.
Rockefeller Center /Top of the Rock
The Rockefeller Center is a New York City landmark, in the heart of midtown Manhattan. It is located just a short 15-minute walk from Times Square.
Here you will find shops, restaurants, NBC studios, a great gift shop, and the Top of the Rock Observation Deck with sweeping views of the spectacular New York City skyline.
We did make it to the Rockefeller Center but, we never made it to the Top of the Rock as it was dark when we visited. This New York City attraction is definitely on my bucket list for next time!
Time You Will Need: 1 hour
Empire State Building
Located in the centre of mid-town Manhattan, the world-famous Empire State Building provides visitors with incredible 360-degree views of New York City.
From 102 stories up, you will be immersed in an experience you won't soon forget.
While the observation deck is a must-see, you'll find plenty of great shops, restaurants, and exhibits to peak your interest while visiting the Empire State Building.
Time You Will Need: 1-2 hours
Hornblower Sightseeing Cruises
Something I would have LOVED to have been able to do while in New York City is hop aboard a Hornblower Sightseeing Cruise.
To be able to view the iconic New York City skyline from the water is another bucket list item for me!
There are several cruises to choose from but, if you are limited for time, one of their one-hour cruises is a great option.
For a one-hour Hornblower Sightseeing Cruise, your best bet is to travel to Pier 15 via taxi.
Time You Will Need: 1 hour (onboard the boat)
There are so many more New York City attractions left for us to explore! We are already planning to head back to New York City sometime in the next year.
My nephew gave us a great tip this summer. He suggested we grab a New York City CityPASS next time we visit to help us save money on any New York CityPASS attractions we may want to visit. My nephew knows me well…and knows how much I like to save money! Ha!
You can't visit all of these New York City attractions in 6 hours. However, you can certainly experience your bucket list items, and make the most of your time in this world-class city.
Do you have any suggestions on what you would see and do in New York City in 6 hours? Share your ideas! We'd love to hear them!