Wherever I may go, my mobile phone always goes with me.  I can't even remember the days before I had my own mobile phone, and goodness knows what I ever did without it! My mobile phone is my lifeline to family and friends when I'm away from home. It's my entertainment when I'm sitting for an hour waiting for a doctor's appointment, and it's my travel guide when I'm traveling to unfamiliar places. As that familiar slogan goes…I "don't leave home without it".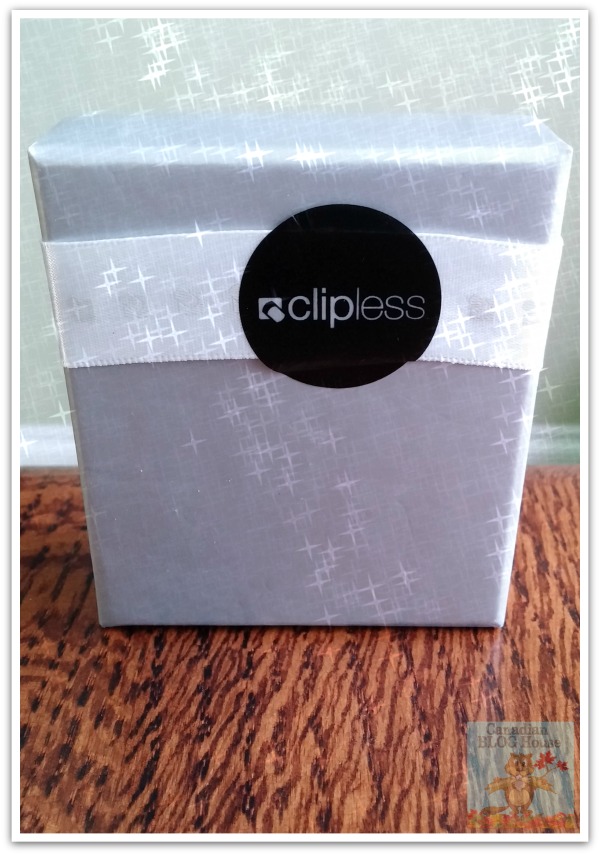 Enter this new little super handy device called Clipless.  This brilliant product, sent to me by the makers of Clipless, is one of those products that you never realized you had a need for…until you have one.  Then it becomes like the mobile phone itself – how did I ever live without my Clipless?
"Clipless is a unique and innovative mounting system that allows you to secure phones and tablets to a variety of surfaces, from clothes to walls."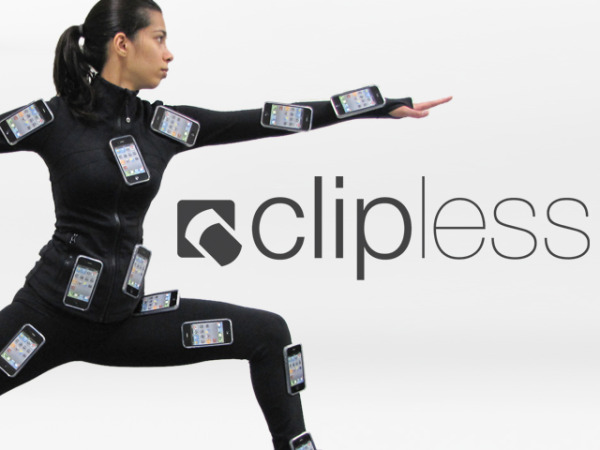 Most of the time, finding a place to store my phone when I'm out isn't too difficult for me as I tend to bring a purse most places I go, and I always try to make sure I have room for my mobile phone in my purse.  In fact, I wasn't even sure I had a need for the Clipless device…until I really stopped to think about it.
Then I realized…I sure do need a Clipless!
What about all the places I go where I don't want to bring a purse, but still want to have my phone with me, such as:
going out for a walk in the neighbourhood or a hike in the woods
going to an event, like an outdoor summer music festival
popping over to a friend's house
doing housework around the house and wanting my phone within easy reach
exercising at the gym like the woman in the photo below (well..this one is on my "to-do" list, lol)
Sure, sometimes I am wearing pockets when doing these activities, but often I am not – especially during the hot summer months.  Clipless is perfect for those times when I want my phone close but have nowhere to store it.  Now I can store it ON ME!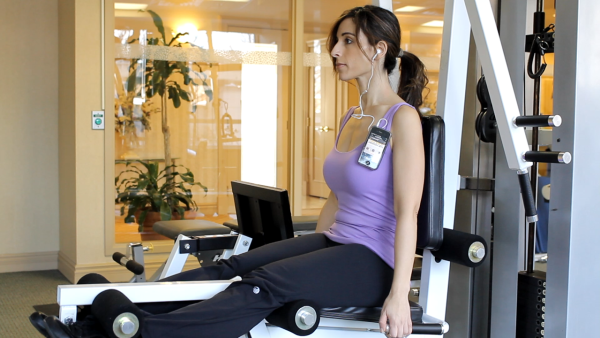 The Clipless device for fabric is super easy to use.  Very detailed instructions (including great photos) come with the device.  If you are still having problems following these instructions, they even have a great instructional video that can help:
I must admit, before trying out my own Clipless device for fabric and attaching it to my own clothing, I was skeptical.  How well would the Clipless actually hold my phone onto my clothing.  I mean, a mobile phone is not a cheap item.  The last thing I would want is for my phone to go crashing to the ground while using my Clipless. Turns out my worries were unfounded. Clipless held my mobile phone…and it held it tight.  I tried it out on a medium-weight sweater, a cotton/poly t-shirt, a light fall jacket, and some yoga pants. The Clipless held my mobile phone snuggly on all these articles of clothing.  I also tried it on one of my "flimsier" blouses. This wasn't as successful a test.  While the Clipless device and my phone remained attached to the fabric, the fabric was too thin to be able to give any support to my phone due to its weight.  If you are going to use the Clipless to attach your phone to your body, my advice is to wear a sturdier fabric (ie not polyester or silk blouses).  Do be careful, however, to make sure that the fabric is not too thick. This could cause your Clipless to detach easily. Clipless is designed to work with a single layer of fabric. Best to test connection strength prior to use.
Keep in mind you need to take a good look at your phone before you attach the connector to the phone.  For me, I have a LG G2 phone, and because of the camera lens and buttons on the back of my phone, I could not place the Clipless connector at the top of my phone – I had to place mine at the bottom.  All this means is that my phone clips upside down, which is no big deal.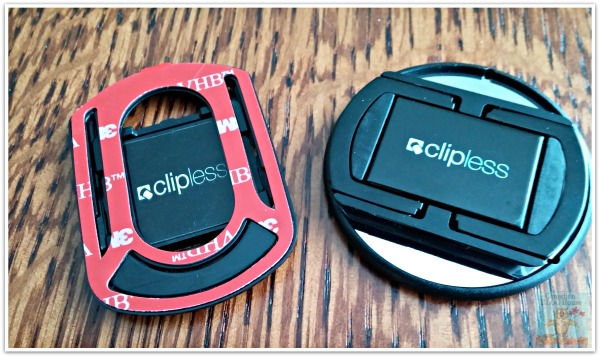 We were sent both the Clipless Clothing Package and the Clipless Surface Package for the purpose of this review. I had more of an immediate need for the Clipless Clothing Package, so that is the one I reviewed.
The Clipless surface device works very much the same way as the Clipless for fabric, however, with the Clipless surface device, you can not only clip your mobile phone to a household surface, you can also clip a tablet to it as well.  Just think of all the great uses you could have for this device around the house, like this one: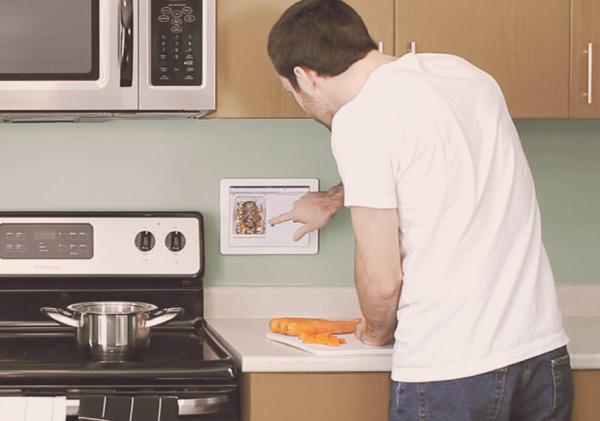 Or even this one: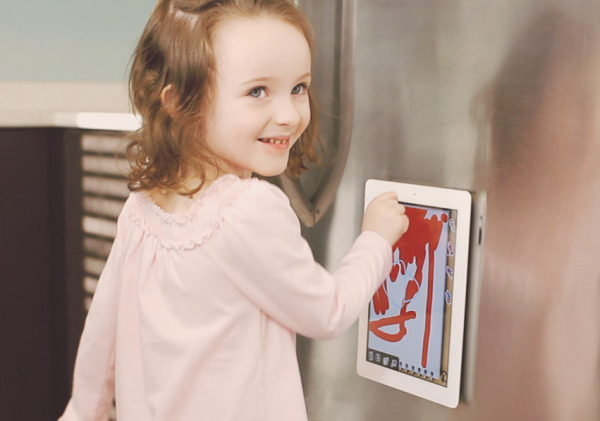 So many great ways to use the Clipless surface device!  In fact there are so many options, I haven't yet decided where I want to put mine, so for now, it's still in the package.  I'm starting to think the kitchen might just be a great location for it – an easy and convenient place to find recipes at the touch of a button on my tablet!
As with any product, successful use of the product depends on proper use by the user.  Be sure to follow instructions (Clipless provides you with great instructions both in the packaging and online) and keep these things in mind:
Be sure to use the Alcohol Prep Pad to clean all surfaces before applying the connector or mount.
Wait a minimum of one hour between attaching the connector to your phone and first use of your Clipless device.  Same goes for the Clipless mount used to hold phones and tablets on surfaces such as walls.  This allows the 3M strips to properly adhere to the surface.
Clipless recommends you continue to use a standard phone case to help protect your phone.  While Clipless can hold the weight of a 12 lb sledge-hammer, even a strong hold can be broken if your phone and the Clipless unit become snagged on something – causing your phone to drop to the ground. If you use a phone case now, continue to use one with the Clipless device.
The Clipless connector will not adhere to squishy, silicone cases.  The Clipless secures best to hard plastic cases, synthetic leather, aluminum, and TPU. Determine what type of case you have before attempting to attach your Clipless connector.
Follow instructions carefully for both the Clipless for fabric and the Clipless for surfaces.  This is a no-brainer. Instructions are given for a reason.  Following instructions give users the best possible outcome and avoids potential problems.
Please note that the Clipless for fabric should NOT be worn with certain implanted medical devices such as pacemakers, insulin pumps, etc.  If you have an implanted medical device, please check with your doctor before using the Clipless device.
A Clipless device will not affect your mobile phone signal or the battery life of your battery.  The Clipless patent pending technology is shielded to protect against incidental contact with magnetically sensitive materials.
With the Clipless device for surfaces, be careful where you choose to install your mount.  You need to make sure that there are no obstructions around that could prevent your phone or tablet from sliding off in any direction.
Keep in mind that the 3M adhesive will damage painted surfaces upon removal.  Best to use the Clipless surface kit on glass, mirror, tile, metal, wood and plastic surfaces.
Check out the Clipless website for more information on their product line up, and be sure to check for your mobile phone and tablet's compatibility with Clipless mounting systems.
The great folks at Clipless want you to experience their Clipless Clothing Package for yourself!  That's right! Here's how you can enter for your chance to WIN a Clipless Clothing Package (ARV $35):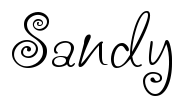 Disclosure:  Canadian Blog House received the above mentioned products in exchanged for this review.  All opinions are our own.