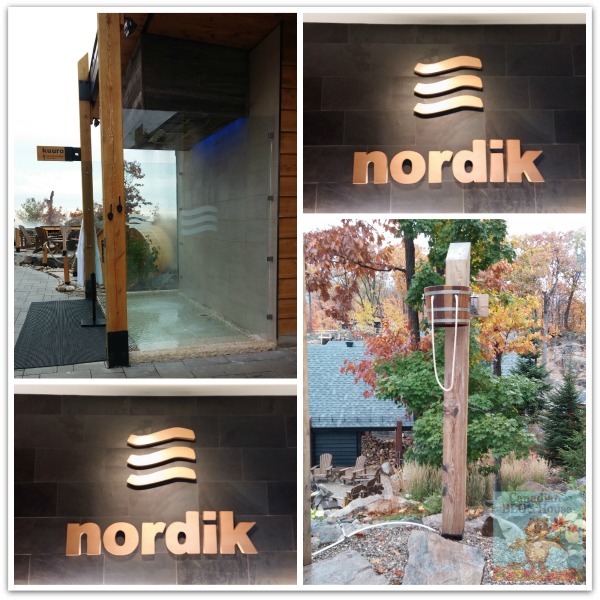 Some things in life literally take your breath away.
Nordik Spa-Nature is one of those things.
Located in the quaint town of Chelsea, Quebec, this world-famous spa is a destination I wish I had known about long ago. When I think back to my previous spa experiences over the years, none can compare to the spa day my sister-in-law and I recently experienced at Nordik Spa-Nature.
From their website:
"Located at the entrance of Gatineau Park, only 10 minutes from downtown Ottawa, Nordik Spa-Nature is the largest spa in North America. Take the time to unwind and reenergize and take advantage of our unique installations: 7 outdoor baths, 8 unique saunas, infinity pool, restaurant and lounge. Treat yourself to a massage, a body treatment or our new Källa treatment, the second salt-water floating pool in the world!"
Designated Innovator Of The Year – 2013 Ottawa Tourism Awards, and Best Nordic Spa In Canada – 2013 Spa Awards, this award-winning spa was also listed in WHERE Magazine as one of the 9 Greatest Tourist Attractions In Canada (2012).
Those are pretty lofty titles, but titles that, in our opinion,  Nordik Spa-Nature still lives up to in 2015. From the minute you set foot onto the immense and beautiful grounds of Nordik Spa-Nature, it's clear that your spa experience is about to awaken all your senses – starting with your eyes.
Trekking up the stone steps at the front of Nordik Spa-Nature, we were greeted with beautifully landscaped views, and the warm, inviting smell of the outdoor fire gently crackling in the cold fall air, as we made our way to the front door. You simply could not hand-pick a more scenic and tranquil location for a spa.  The beautiful Gatineau Provincial Park is an idyllic setting for Nordik Spa-Nature.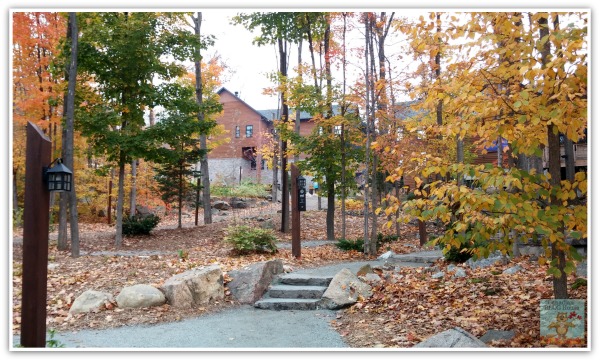 Despite the line up of guests waiting to enter the spa that fall morning, our check-in at Nordik Spa-Nature was quick and easy.  Nordik Spa-Nature is visited by hundreds of thousands of visitors per year, so even on a cold fall day like the day we visited, the spa was bustling with clientele.
It was immediately apparent to us that we were on to something special with our visit to Nordik Spa-Nature just by the conversations we heard all around us – spoken by repeat visitors to the spa. When customers are returning for a subsequent visit, you know you're about to experience something good!
Everything about Nordik Spa-Nature oozes tranquility and relaxation. From the serene setting of the spa, the warm indoor air of the spa facilities, the ambient lighting in key areas like the changing rooms and lounges, to the impeccably maintained grounds and facilities, the attention to detail surrounds you everywhere during your visit.
A spa experience at Nordik Spa-Nature begins in the well-equipped change rooms, where you will find everything from abundant washroom facilities, to private changing stalls, and open bench seating areas. There are plenty of well-situated lockers, and they are provided FREE to visitors of the spa. Bonus: a simple swipe of your special wristband lets you into your locker. No having to hang on to a key! You'll also find such useful amenities as hair dryers, curling irons, and even Q-tips!
Although Nordik Spa-Nature is immense, we found it very easy to find our way around the spa thanks to the great signage placed in key areas. Need assistance with anything? You will find plenty of staff wandering the grounds of Nordik Spa-Nature, ready to assist you, or answer your questions.  Staff at the spa did not know we were visiting for a review the day we were there. This is the way I prefer it as this helps to give me a sense of what a destination's "real" customer service experience is like.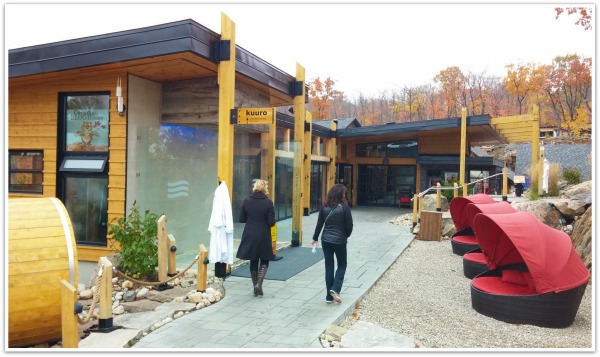 Nordik Spa-Nature's customer service experience did not disappoint.  Customer service from all staff we dealt with was delivered in a casual and unassuming way.  All staff were helpful and incredibly friendly.  There is no doubt that a great client experience is something that Nordik Spa-Nature aims to deliver. Clearly, customer satisfaction is important to them.  Staff satisfaction is also important to Nordik Spa-Nature – as evidenced by all the friendly, smiling staff we encountered during our visit.
One of my favourite views that greeted us at Nordik Spa-Nature was this one – overlooking the Borea section of the spa: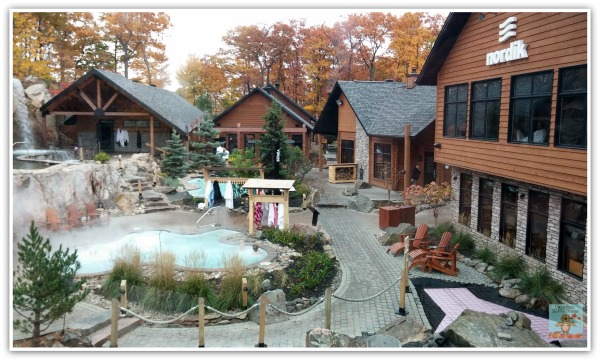 One look at this Nordic oasis and you can't help but want to step outside, slip into one of those pools, and surround yourself with such beauty. This photo illustrates just a small section of the impeccably landscaped gardens, cobbled pathways, comfy lounge chairs and lounging beds (with hoods), and adult swings that line the grounds of the spa.  You'll even find some lush rooftop gardens on sauna rooftops!
On the cold, damp day we visited Nordik Spa-Nature, I must admit, we were a little unsure about how much we would enjoy our outdoor spa experience in that type of weather.  We needn't have worried. Nordik Spa-Nature is truly a spa for all seasons! With the abundance of hot tubs and warm outdoor pools, and a fantastic selection of saunas to enjoy (the eucalyptus and orange essential oils were our favourites!), you won't be cold for long. As well, a number of outdoor heaters allow you to continue your spa experience and enjoy the outdoors – no matter the weather.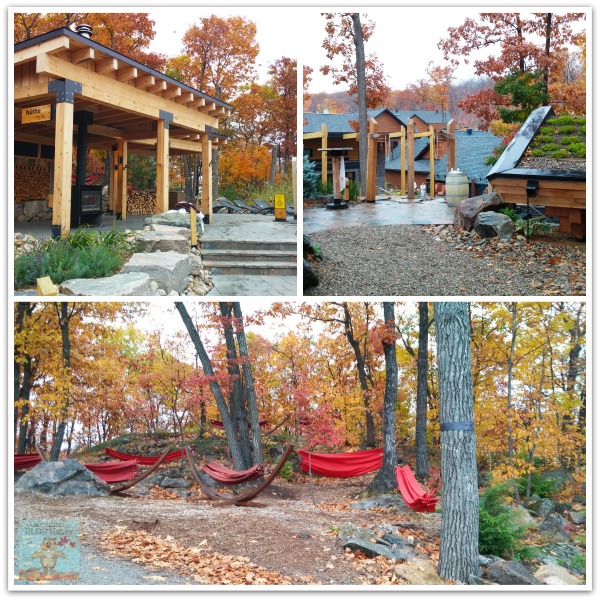 You will notice that my photos do not show many people in them. This was done on purpose. First of all, not many visitors to the spa would appreciate their bathing-suited bodies being splashed for all to see on a blog. Secondly, cameras are not normally permitted around the outdoor spa grounds, so I had to get special permission to take these shots. The great folks at Nordik Spa-Nature were kind enough to let me do this – they knew that you would want a special "behind the scenes" look at their facilities!
There are 3 distinct types of areas in which to experience Nordik Spa-Nature: Silent, Quiet, and Social.  When spending time in these various areas (which are rather self-explanatory) visitors are asked to respect the rules posted. We felt this is an excellent idea. It ensures that, even on busy days like it was when we visited, it never becomes too crowded or loud, and maintains a consistent "zen" experience for everyone.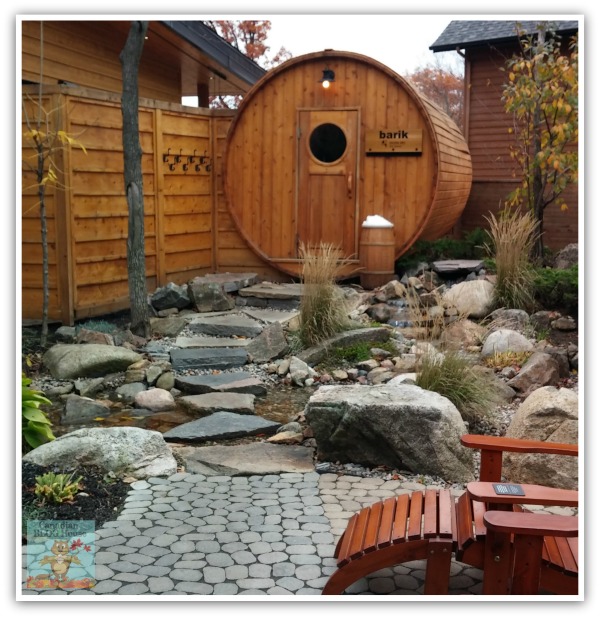 The sheer number of pools, hot tubs, baths, and saunas at Nordik Spa-Nature is amazing. I have never been surrounded by so many fabulous options at any spa I have ever visited before.
Our game plan the day we visited was to experience everything once and then, if time permitted, revisit our favourites later in the day.  We managed to accomplish what we set out to do…with a few minor changes to that game plan. I'm not a polar bear, so there was no way you were getting me to plunge into this Kylma pool! Intentionally kept at a very cold temperature, the Kylma pool is not for the faint of heart during the colder seasons!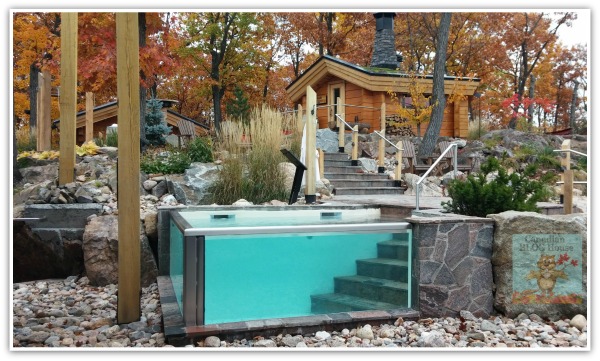 There were two special experiences that stood out to me during our time at Nordik Spa-Nature. This was the first one: The Infinity Pool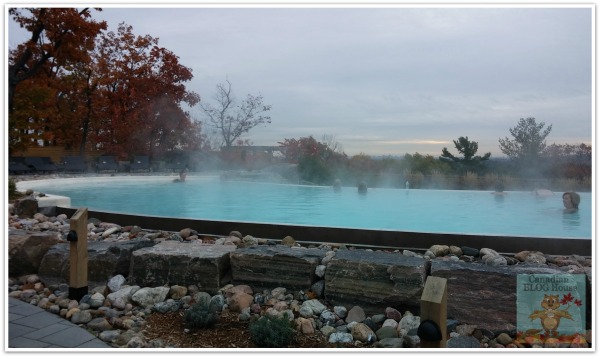 Located in the appropriately named Panorama section of the spa, this magnificent heated pool looks out over sweeping views of Gatineau Provincial Park, with a glimpse of the Ottawa skyline in the distance, making this one of my favourite panoramic views in the Outaouais region. Enjoying this truly captivating experience, we could have easily stayed here for most of our day.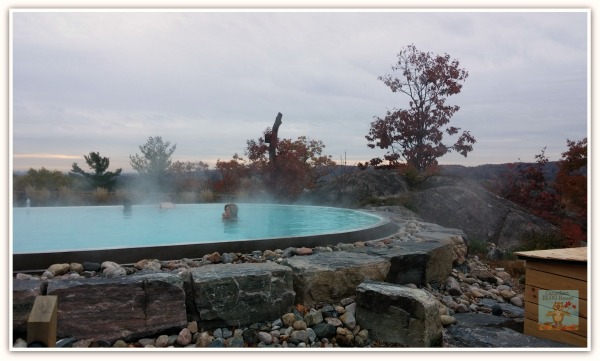 Both my sister-in-law and I agreed on this. Our ultimate favourite Nordik Spa-Nature experience was the Källa Treatment – Salt-Water Floating Pool.  If you have never experienced what it is like to float in a pool like this, and you likely haven't unless you have visited Nordik Spa-Nature or the Dead Sea, the Källa Treatment is NOT to be missed. This pool is only the second of its kind in the world, and we are extremely lucky to have it here in the National Capital Region!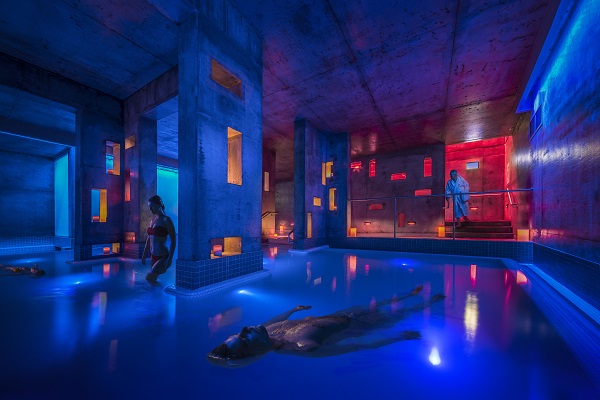 Image Used With Permission And Courtesy Of Nordik Spa-Nature
Immerse yourself in this large salt water pool dug 5 meters deep into the rock and filled with water saturated to 12% of Epsom salt.
I've never felt more relaxed than I did floating in the salt-water pool. It was outstanding. You can lie right back in the water, relax and float. The water will do all the work for you. It will hold you up – I promise! I may have even dozed off for a few minutes while floating and listening to the soft and relaxing underwater music. You can only hear this music once you are fully relaxed in the water, with your head back, and your ears under the water.
Peaceful. Relaxing. Rejuvenating.
Of course, all this relaxing at the spa builds up an appetite! Well, it did for us! Nordik Spa-Nature has a great menu to satisfy spa-bellies.  Don't go looking for any fried food feasts at the spa though, as you won't find that type of fare there. Food is an experience unto itself at Nordik Spa-Nature – something to be savoured and enjoyed. Delicious, healthy and nutritious menu items that will please the palate, and keep tummies relaxed and comfortable, are available to guests in their restaurant. Reasonable pricing, in a very chic yet laid-back atmosphere make Resto the place to relax, unwind and reenergize.  While at Resto, we enjoyed sharing a platter of exquisite fruits and cheeses, and of course, a glass of house wine to wash everything down! A perfect meal that left us feeling ready to get back to enjoying more of what the spa had to offer.
We both finished off our day at Nordik Spa-Nature with one of my favourite services provided there – a massage. It was a great way to end our time at Nordik Spa-Nature!
We had been warned – a day at Nordik Spa-Nature and we will go home feeling tired and ready for a good sleep. We thought they were joking. How exhausting could a day at a spa be? We will leave that for you to find out for yourself!
If you plan on visiting Nordik Spa-Nature, be sure to check out their website before you visit to help you maximize your spa experience. Towels are provided, but be sure to bring your bathing suit and a robe (robes can also be rented at the spa).
Now for the exciting part! The great folks at Nordik Spa-Nature wish to give one lucky Canadian Blog House reader the chance to experience Nordik Spa-Nature for themselves!! They are generously offering up a terrific prize – you could WIN a Nordik Spa-Nature prize package that gives you the same spa experience we had:
A Thermal Experience For 2
A Kalla Treatment For 2
Bathrobes For 2
Total value of this fabulous prize package is $250!!
A huge thank you to all staff at Nordik Spa-Nature for a fantastic day at the spa that we won't soon forget!! A special thank you to my wonderful sister-in-law, Ms. L, for keeping me company there, and for providing me great feedback for this review!
Here's how you can enter for your chance to WIN your own Nordik Spa-Nature experience (please be sure to read all official rules ~ transportation and other expenses incurred are not covered).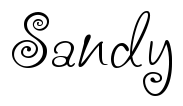 Disclosure: Nordik Spa-Nature provided us with a complimentary visit to their location. All opinions are our own.