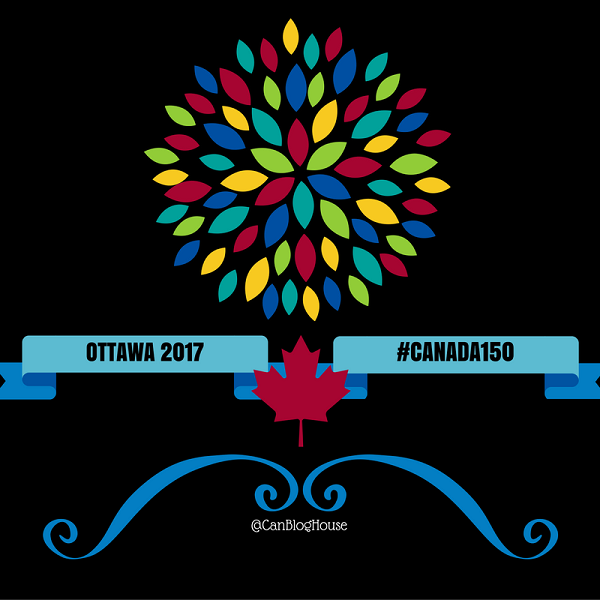 Canada's 150th birthday year is almost upon us!
Are you ready to celebrate?
Here in Ottawa, things are ramping up with all kinds of exciting events planned to celebrate #Canada150.
Of course, Canada's Capital is starting off 2017 with a bang on New Year's Eve, with a huge family friendly celebration on Parliament Hill that will include some extra-special surprises!
These New Years' Eve celebrations are just the start of a great year to come!
Just look at the list of all the fabulous things happening in Ottawa in 2017:
Red Bull Crashed Ice
Stanley Cup Tribute
JUNO Awards
Inspiration Village
Kontinuum
C-150 Party
Interprovincial Picnic On The Bridge
Sky Lounge
La Machine
Yowttawa
Magnificence of Chaudière Falls
105th Grey Cup & Festival
Canadian Videogame Awards
Ignite 150
Ottawa Welcomes The World
Agri 150
[bctt tweet="OH CANADA! It's our 150th Birthday in 2017! From #FarAndWide WE are #CANADIAN! " username="CanBlogHouse"]
I'm feeling pretty lucky to be living in Canada's Capital at such an exciting time in Canada's history. I can't wait to watch the next year unfold, and hopefully take part in many of the celebrations!
That's why I recently created a post that highlights where you can find Canada 150 information for all the great events and initiatives happening right across Canada in 2017.
No matter the problems we may have here in Canada, we live in one of the best countries in the world. We are lucky to live here, and to be able to call ourselves Canadians.
So, wherever you may live in Canada, make sure you get out to celebrate! There's no better time than in 2017!
If you haven't checked it out yet, you really need to look at all the fab Ottawa 2017 merchandise available from ROOTS Canada (the official clothing sponsor of Ottawa 2017). If you've ever owned some ROOTS clothing you will know that the quality is second to none. At least that is our experience. I love their clothing!
I also love the Ottawa 2017 logo. The colours just pop!
So I couldn't resist. I decided to spend my birthday money from my dad and get myself one of these beauties: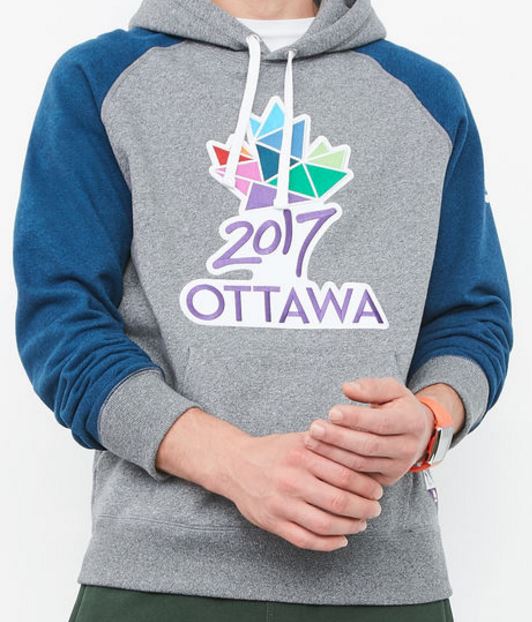 If you are wondering, yes, I did in fact order the men's sweatshirt for myself. I just happen to like the blue version more, so I ordered mine in a man's small – and it fits me perfectly.
AND… just today, I went back to check on the merchandise and see that they now have a gorgeous Ottawa 2017 ROOTS jacket and Banff bag. I may have to talk to Santa about those!!
I love the Ottawa 2017 merchandise so much that, I just have to share a little of my Ottawa pride with you!
[bctt tweet="Have you seen the #Ottawa2017 ROOTS collection? Celebrate #Canada150 in style! " username="CanBlogHouse"]
To say thanks to you, our wonderful readers, in appreciation of all your support of this blog, we are going to bring a little bit of Ottawa 2017 to one lucky winner here at Canadian Blog House!
We want to help you kick off 2017 in a fun way!
You could WIN a Ottawa 2017 ROOTS Prize Pack!
One lucky winner will WIN their choice of:
ONE Men's OR ONE Women's #Ottawa2017 ROOTS Ottawa 2017 T-Shirt in your choice of size:
MEN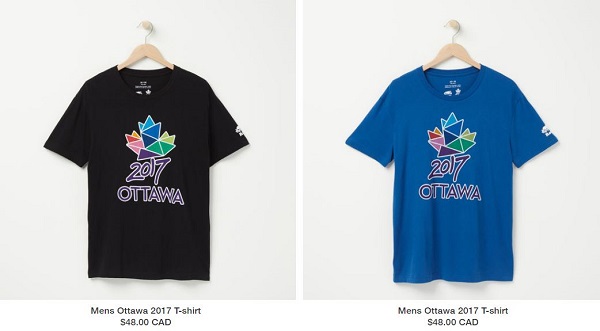 WOMEN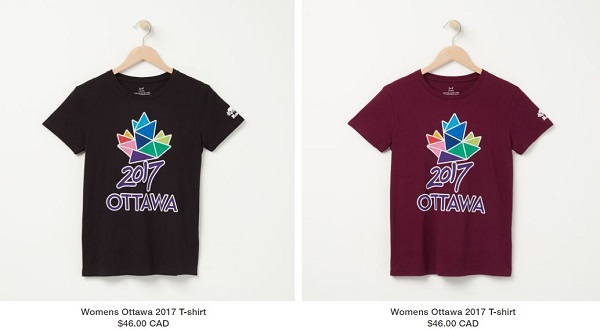 PLUS:
Your Choice of ONE Ottawa 2017 Pom Pom Toque OR ONE Ottawa 2017 Baseball Cap in your choice of colour: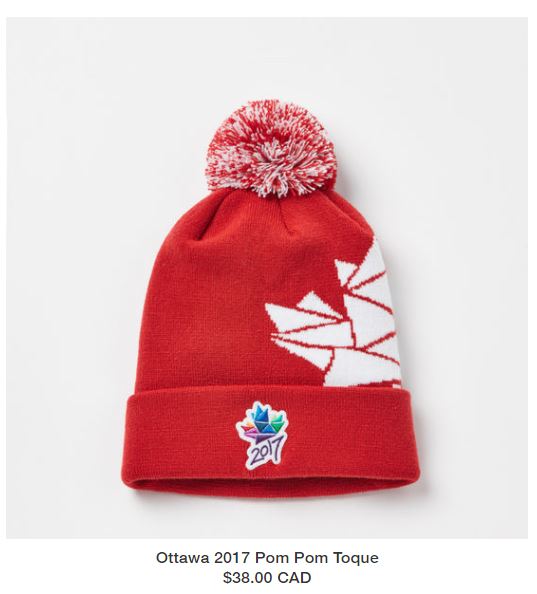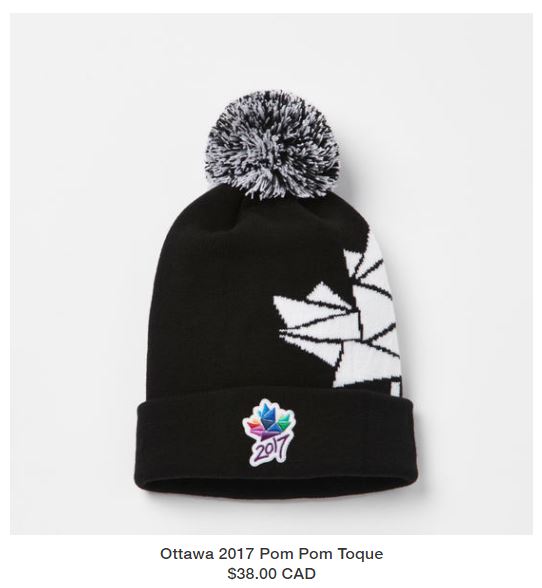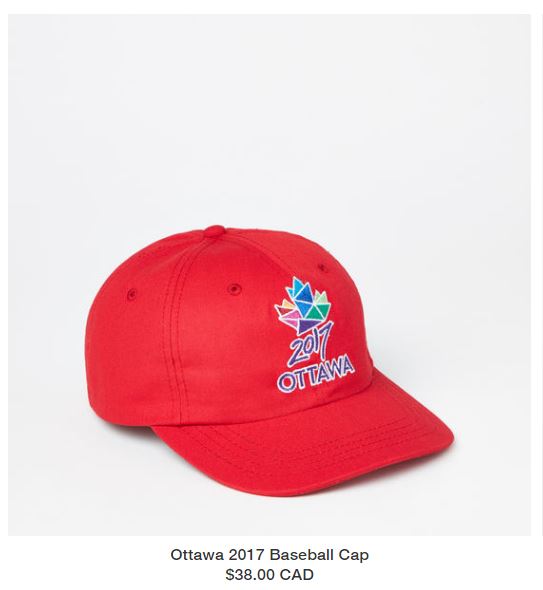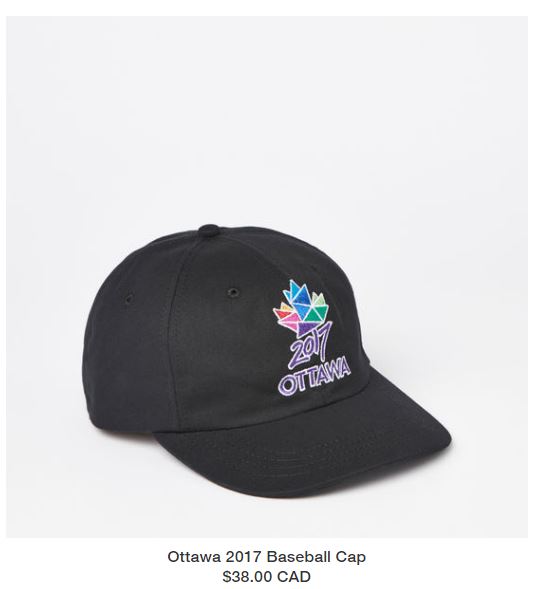 AND THAT'S NOT ALL!!
This prize pack also includes one official Ottawa 2017 Window Decal (Large) and one Car Decal: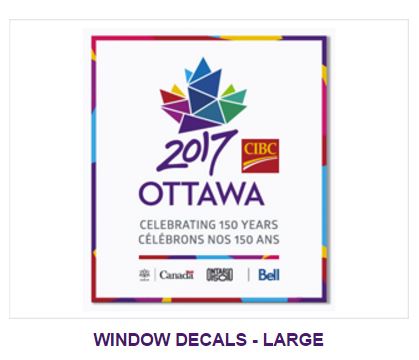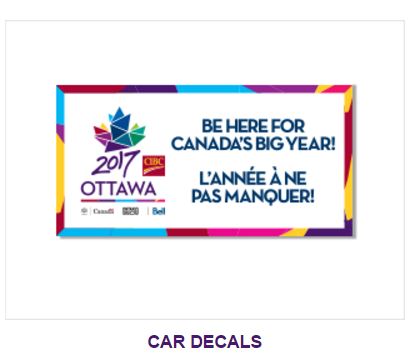 Total value of this prize pack is $98.36 (based on selection of men's t-shirt).
So that's ONE Ottawa 2017 T-Shirt of your choice, ONE Ottawa 2017 Baseball Cap OR Toque of your choice, plus one large Ottawa 2017 Window Decal and one Car Decal, that one of you is going to WIN! 
Wishing you all happy holidays and be sure to check your emails on January 1st, 2017 to see if you are the lucky winner!!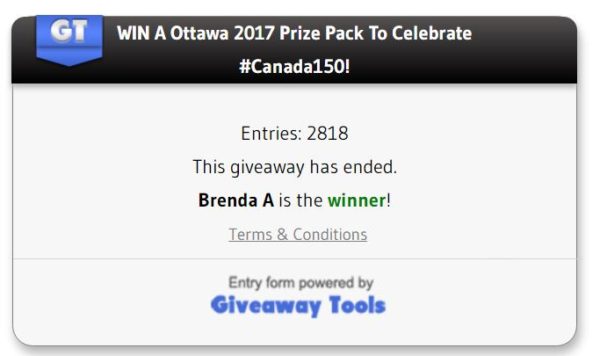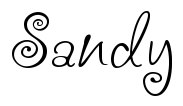 Disclosure: This post is not sponsored. We are simply sharing our excitement about Canada 150 and Ottawa 2017 celebrations, and our love of ROOTS clothing. All opinions are our own.