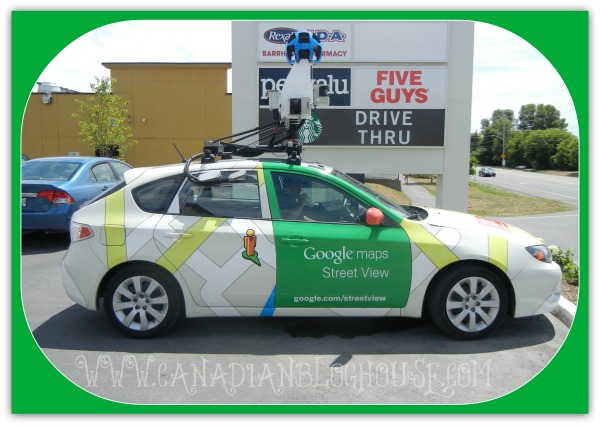 The Google Maps Street View Car Visited Ottawa – Summer 2012
Following up on my "What Is A Blogger" post from yesterday, one of the things Bloggers check daily is their website analytics.  Website analytics help Bloggers to understand things like:
how many people are visiting our website

how many of those people are new visitors vs. repeat visitors

how long they stay on our website

how many pages they view while visting our website

how people found  our website
My fave stat? That would be the one that tells me how people found Canadian Blog House.
There are lots of ways that people can find a website.  Maybe you heard about it from a friend or family member.  Maybe you read about it in a magazine or newspaper.  Maybe you clicked on an advertisement on a website that led you to another website.
If you are like me, you often use
G

o

o

g

l

e

to find what you are looking for.  Sometimes when you "Google it", you are led right to the information/website you are looking for.  Other times Google will lead you to some unexpected place where you find a website you didn't even know existed.
Looking at my Canadian Blog House analytics lately, I've seen some pretty funny/weird things people have Googled to find Canadian Blog House.  Here are my favourites:

10. Shoppers Drug Mart Milk Delivery Service (WHAT?? Shoppers Drug Mart has a milk delivery service? Sign me up!)
9. Poisonous Rocks Minerals (um…are there really such things? lol)
8. Are Those Pants That Fold Over Your Waist Really Suppose To Help You Lose Weight? (looking for Zaggora Hot Pants I guess?)
7. Double Smoked Screech (Wowee! Never heard of "double smoked" screech…but it sure sounds good! Hope the visitor wasn't disappointed when they clicked on Canadian Blog House, lol)
6. Canada Myrtle Beach Celebration (um…I know a lot of Canadians visit Myrtle Beach but, what has this got to do with Canadian Blog House? lol)
5. Pictures Of Life Clothing For Men (does anyone want to explain what "life clothing" for men is?)
4. The Trews Gym Playlist (Hey…I like The Trews so this one is pretty cool!)
3. How To Do A Collage Of A Curled Up Snake (this leads me to question…who actually makes collages of such a thing? lol)
2. Zaggora Makes My Ass Hot (Sorry for using a naughty word but…really? Someone Googled THAT and found me? hehehe)
And my Number 1 favourite Google Search so far?…
1. Why Still Company Don't Find More Customers Of Biodegradable Computers? (I don't know the answer…but I want one of those  "biodegradable computers" LOL)

Disclosure:  Canadian Blog House did not receive compensation for this post.  All opinions are my own.