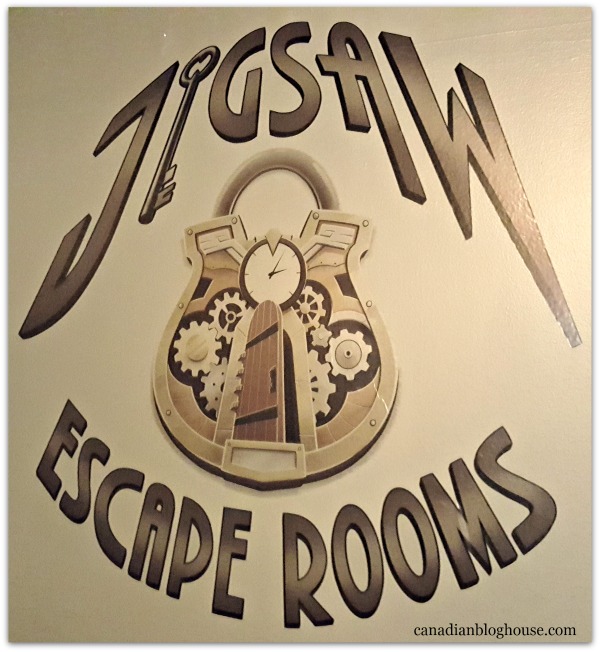 Canadian Blog House was invited by Jigsaw Escape Rooms to experience their escape room and to bring you this review of our attempted diamond heist, and escape with the jewels. All opinions are our own. 
Always up for a new experience, I recently joined two blogging friends for a very entertaining, and challenging, Friday evening at Jigsaw Escape Rooms, in Ottawa's historic Byward Market.
It was all fun and games as we plotted what we thought would be an easy escape that evening.
We were thoroughly convinced that our blogger crime syndicate was no match for anything that Jigsaw Escape Rooms could throw at us.
HA!
Attempting to execute something I never envisioned myself being a part of – a diamond heist – we quickly realized, this was going to be a monumental task.
Escape From Ottawa's Jigsaw Escape Rooms
For those not familiar with escape rooms, the first documented escape room was housed in Kyoto, Japan. Essentially, to put it in basic terms, escape rooms originated from computer games.
Very much like a role-playing video game, a visit to an escape room is interactive and immersive experience, and one in which you need the skills, and cognitive abilities, of every member of your escape team.
Or in our case, our blogger crime syndicate!
The keyword here is team. That's because you really need a good team by your side if you want any chance of being able to successfully escape.
Imagine yourself in the middle of a life-sized, mind-boggling puzzle, where you need to piece everything together in order to escape.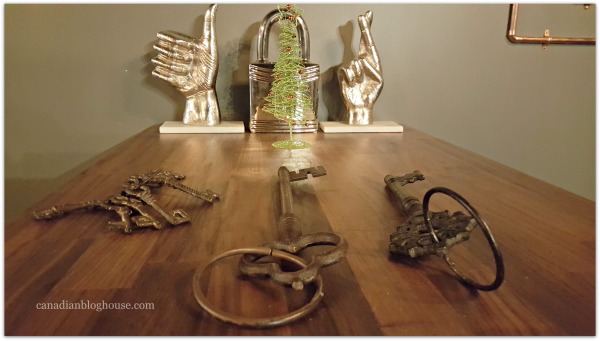 A PUZZLING DILEMMA
After a quick run-down of the rules, we were stoked and ready to begin "The Heist".
Here's what we were up against:
"You are part of an elite crime syndicate responsible for many high-end robberies. Your last job net over $10,000,000 in diamonds. Everything went to plan, until one of your associates double crossed you and took the score for himself. After gathering intel, you have now found the location of his safe house. Break in and take him for everything he's got! It's time to get even. Make it out before he returns and takes you out for good!"
$10,000 in diamonds?
We were on it, we were all over it!
Our blogger crime syndicate would successfully locate the diamonds – and escape this "least-escaped-from" room in 45 minutes or less! Just look at the confidence we had…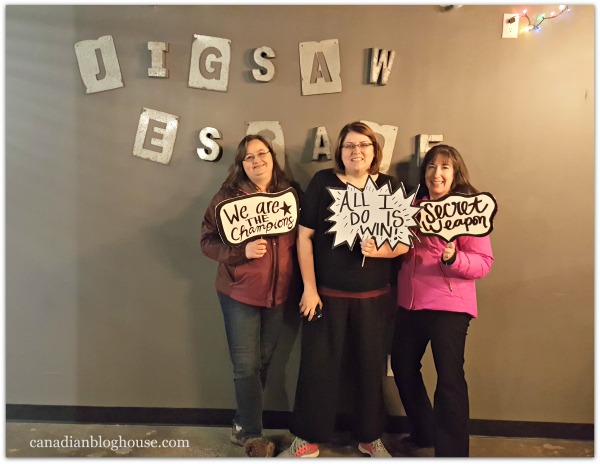 We were ready to tackle this challenge with our VAS-T sleuthing skills (Vanessa, Ann, Sandy).
Escape rooms generally centre around a room filled with every day items and gadgets. Each thing may hold a clue, or be a distinct piece of the puzzle – that eventually leads to your escape.
"The Heist" was exactly this.
The Heist
With 45 minutes on the clock, we set out to find those sparkling diamonds. We were escorted into a very "nondescript" room, and given some very minimal information as our host exited the room and closed the door behind her.
BOOM!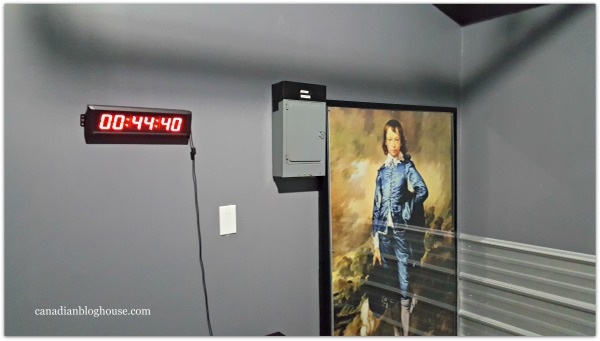 We were alone and trapped in this room.
Well…not really.
[bctt tweet="Jigsaw Escape Rooms will leave you feeling trapped – in a good way!" username="CanBlogHouse"]
It is against Canadian health and safety regulations to actually lock people in an escape room. The claustrophobe in me could not have been happier to hear this news. This meant, in a moment of unexplainable panic, my exit strategy was just steps away.
Of course, there was no panic, and no need for an exit strategy. In fact, as soon as the clock began counting down, all three of us became intensely focused on finding our clues, solving the mystery, and escaping with the diamonds.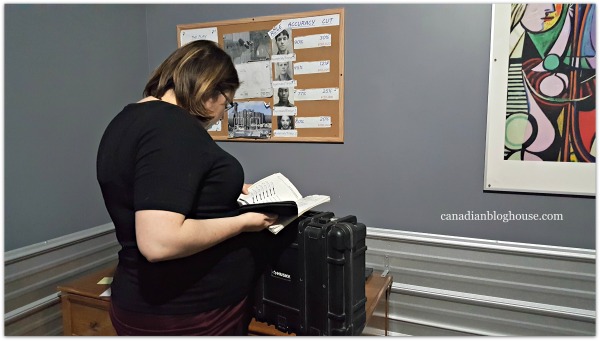 The Power Of Teamwork
You quickly find out how important teamwork is from inside an escape room. Everyone has different talents and skills and, trust me, you will rely on every one of them.
Each of us managed to unravel mysteries, decipher clues, or solve conundrums. It took a real team effort to pull off our heist.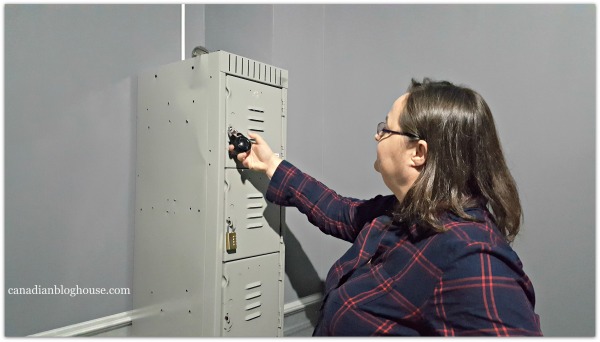 It's this exact *thing" that makes an escape room experience perfect for a team building experience.
Jigsaw Escape Rooms can host anywhere from 2-7 people at one time. Keep in mind that, if you are a party of 2, you may get placed with others to form a larger group.
A Jigsaw Escape Rooms experience is perfect for:
family and friends
puzzlers and gamers
tourists and visitors
office and group get-togethers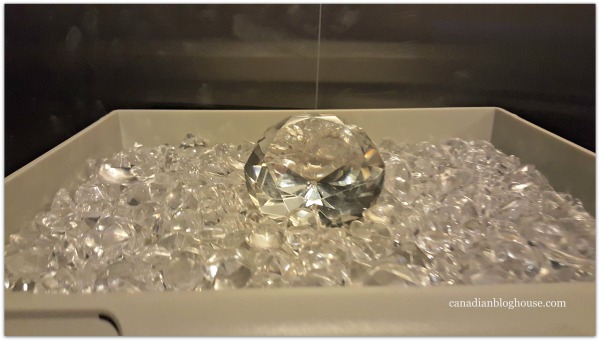 The key to a successful escape from an escape room? An open mind.
Be aware – anything and everything around you could be a clue that provides the next piece of the puzzle. Have fun and get creative with your thinking. Straight logic may not always help you.
Lastly, visitors should come prepared to be baffled. We used up 3 clues and our full 45 minutes, and still hadn't found the diamonds. Lucky for us, there was no one waiting to experience this escape room right after, so we were given an extra 15 minutes to search. It was all we needed to find the beautiful stash of diamonds.
Thank goodness we escaped because, I really didn't want to end up in the same place I did earlier this year in Orillia – behind bars!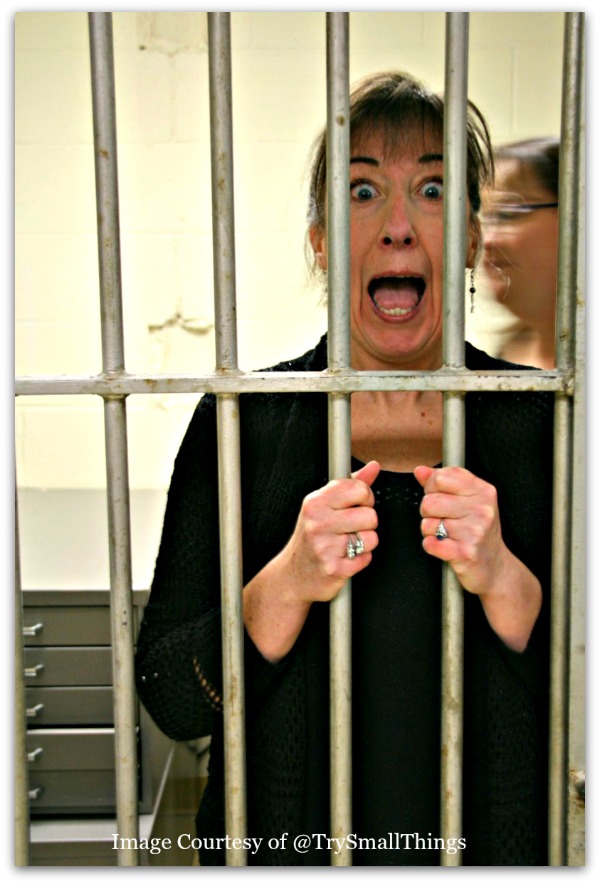 Jigsaw Escape Rooms
In addition to "The Heist", Jigsaw Escape Rooms is home to 4 other escape rooms (with more planned to open) :
The Cabin
CSI: The Study
The Castle
The Byward Market Butcher
If you've never taken part in a great escape like this, you don't know what you are missing.
Coming soon to Jigsaw Escape Rooms – a Virtual Reality Arcade! "Immerse yourself in video games and other experiences in a virtual world." Enjoy gaming solo or with a friend!
For more information, or to book your own escape, please visit Ottawa's Jigsaw Escape Rooms.
Want to read more about our night of escape? Check out Vanessa's hilarious account of our diamond heist!