I admit it.  I'm a bag hoarder.  I have SO many reusable bags, handbags and purses, I could probably open my own store.  Many of these bags I have received from various local stores, and from online giveaways. I'm like a woman who can never have enough shoes, except… I can never have enough bags.
So when my lovely friend, Olfa, over at
Canadian

website 

Our

Family

World

.com offered to send me one of her brand new Sling Bags to review, of course I jumped at the chance to try one out!
For those of you who love contesting, you are probably quite familiar with
Our

Family

World

. Olfa runs many great contests and giveaways on her website.  Did you also know that

Our

Family

World

is a fantastic online resource for parents looking for information on such topics as money matters, recipes, kids health and so much more?

Our

Family

World

is a one-stop shop for all things family.
Speaking of shops, Olfa recently opened her very own
Our

Family

World

online store!  Take a peek in the store and you will see a selection of great looking Sling Bags.  They've got a Sling Bag Knapsack, A Mini Cooler Sling Bag, Kids Sling Bags, and more.
Olfa allowed me to choose my favourite Sling Bag to review, so I chose the Racer Urban Sling Bag.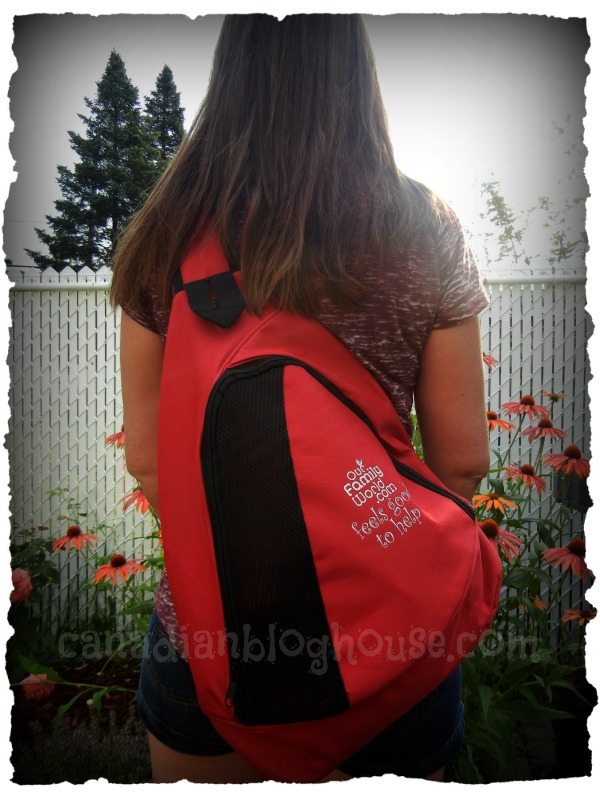 "Our Racer Urban Sling bag backpack is generously sized to fit snacks, drinks, spare clothing, a beach towel and more. This sling backpack is also perfect for back-to-school, especially for younger children who don't have to carry a ton of books with them. Did you know that a 60-pound child should carry no more than 5 pounds on his back? Our Racer Urban sling backpacks are roomy enough for the essentials, yet not so large that kids are tempted to carry more than they should!"
There are so many great features about the Racer Urban Sling Bag that I love.  It was the rich red colour of the bag that attracted my eye, but it's the quality and great features of the bag that make it my new "day-tripping" bag.
Here's what I love best about my Racer Urban Sling Bag:
The size. My sling bag smaller than a knapsack, but it is the perfect size for carrying all kinds of "essentials". For example, on a recent outing to the waterfront, I was able to carry my wallet (which is large and stuffed full of loyalty cards, lol), my makeup bag, a bottle of sunscreen, my camera in a camera case, plus an afternoon supply of snacks and bottled water.  Even with all of these items, there was plenty of room left to fit more items if required. 

After packing all my goodies into my Sling Bag, I was grateful to discover how comfortable my Sling Bag is to wear.  With a padded, adjustable shoulder strap, and padded lining on the back of the Sling Bag, I was comfortable carrying the bag all afternoon.

The zippered inside pocket is perfect for securing the little things you don't want to risk losing.  I kept my change and my car keys in this pocket.

The dual front zippers, and wide front opening are key features for me.  Not only do they help to provide easy access to my supplies, they help make packing the bag a breeze.

The material.  Made from 600D Polyester with mesh trim, this bag can withstand the punishment it gets from being dropped to the ground, flung around shoulder, and stretched to capacity when you want to stuff that little extra something in the bag. The Sling Bag even has a water resistant lining for those moments when you get caught in a sudden rain shower. 

Did I mention the samples? That's right…FREE samples! Each

Our

Family

World

Sling Bag comes with family-friendly samples. In my bag I received 4 sample packages of Iron Kids Gummies Vitamins, which includes 4 x $2 off coupons for any Iron Kids Vitamins.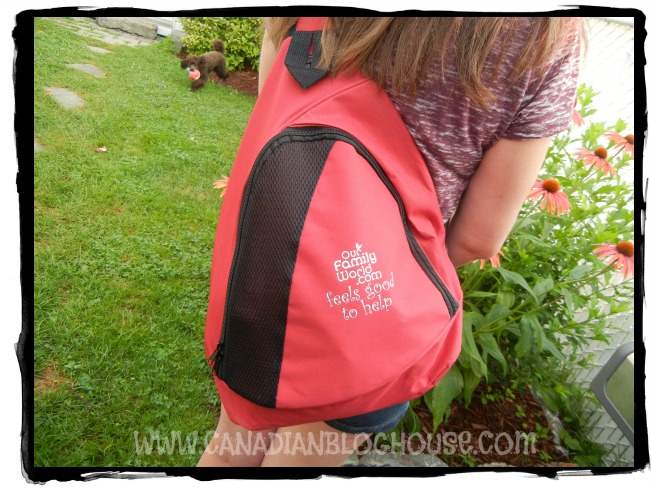 Did you notice the "Feels Good To Help" slogan on my
Our

Family

World

Sling Bag?

Our

Family

World

prides itself on giving back to families in need.  Families helping families. When you purchase any Sling Bag from

Our

Family

World

, they donate $2 to a foundation that helps children in need.  I love a company that gives back to the community!
Yay! Our friends at
Our

Family

World

are generously offering one lucky Canadian Blog House member a chance to WIN their choice of Sling Bags (an $18 value).
***While it won't get you an entry into the giveaway (Facebook rules), we sure would LOVE it if you would LIKE us on Facebook!
By the way…did you see who photo bombed one of my pictures? lol
Here's how you can enter to WIN:

Disclosure:  Canadian Blog House received this Sling Bag in exchange for a review.  All opinions are my own.