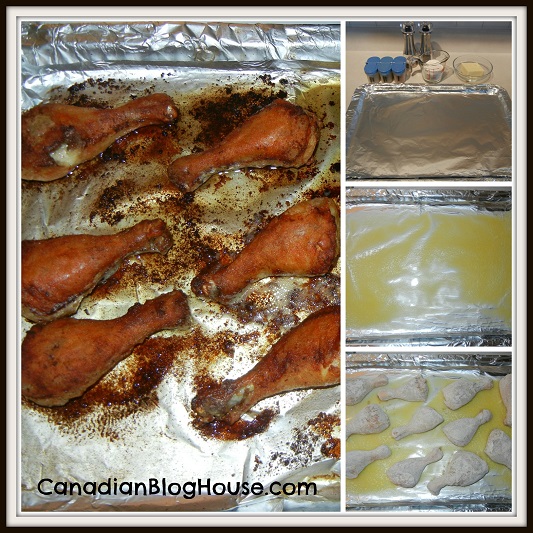 I was craving some fried chicken a few weeks ago, but wasn't in the mood for take-out, so I decided to jump online and see if I could find myself a delicious fried chicken recipe.  If you Google fried chicken, you will get an incredible array of recipes of all kinds for this family favourite.  I didn't want to actually have to fry the chicken in a pan – I wanted to fry it in the oven.  It was Joshua Trent's Oven Fried Chicken Drumstick recipe that eventually caught my eye.  A quick peek at the ingredients and the instructions, and I knew this was a recipe I had to try.  I happened to have all the ingredients on hand, and it looked like I could handle this recipe without messing it up! A very important concept when you are looking to feed your tired and hungry family at the end of their busy day.
This Oven Fried Chicken Drumstick recipe is SO easy, and let me tell you, SO delicious.  This is a recipe that immediately became a family favourite.  X-man is a "fussy" eater, so I'm never sure of the "ewwww factor" rating when it comes to his taste buds and any new dishes I try out.  Luckily, this recipe scored a "10 sticky fingers up" rating.  X-man loves it and tells me so – every time I serve it now.  Me?  I have to say I love this recipe just as much as any of my favourite "take-out" chicken drumsticks.  The drumsticks turn out nice and crispy on the outside (mmm..my fave part!), and nice and juicy on the inside.  If you and your family are fans of fried chicken…you'll love this recipe.
The other great thing about these Oven Fried Chicken Drumsticks? Easy clean up! Because you line your cookie sheet with heavy duty tin foil, all you have to do after dinner is toss the foil and put your cookie sheet back in the cupboard.  I have adapted Joshua's recipe just a bit.  I only use 12 drumsticks, and I use 1/2 cup of melted butter for 12 drumsticks. You can compare my version with his recipe here JOSHUA TRENT'S OVEN FRIED CHICKEN DRUMSTICKS.
~ JOSHUA TRENT'S OVEN FRIED CHICKEN DRUMSTICKS ~
12 chicken drumsticks

½ cup all-purpose flour

3 teaspoons salt

1 teaspoon ground pepper

2 teaspoons paprika

1 teaspoon curry powder

2 teaspoons poultry seasoning (or 1 tsp sage, 1 tsp thyme)

½ cup butter
Heat oven to 450°F.
In a food storage bag, combine flour, salt, pepper, paprika, curry powder, and poultry seasoning. Shake to mix.
Line 1 cookie sheet with heavy duty foil. Melt 1/2 cup of butter in microwave and spread melted butter out over foil-covered cookie sheet.
Coat chicken with seasoned flour mixture, shaking about 3 legs at a time in the bag. Place chicken on cookie sheet in the melted butter.
Bake, uncovered, for 30 minutes. Turn over and bake 15 to 20 minutes longer, or until tender and nicely browned.
ENJOY!!