We've been looking for things to do to keep X-man busy during his summer vacation.  Lucky for us, the National Capital Region is full of all kinds of great places to take kids to keep them happy and entertained.  Parc Omega is one such attraction.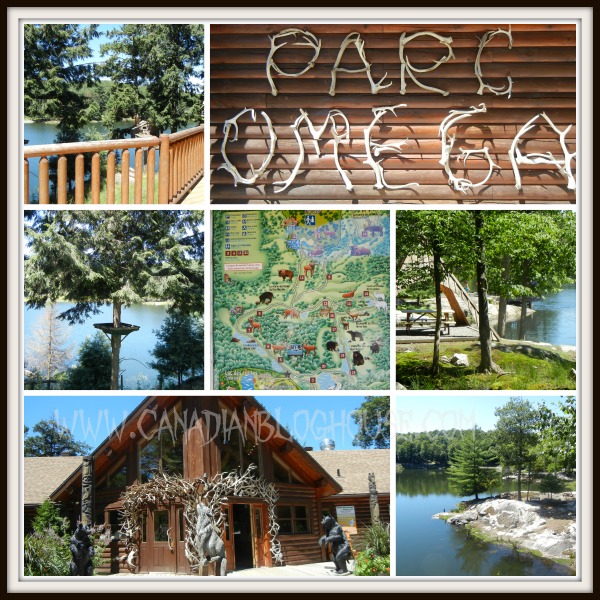 Located about an hour northeast of Ottawa, near Montebello, Quebec, Parc Omega is an outdoor "safari" park set in the gorgeous surroundings of Notre-Dame-de-Bonsecours, Quebec.  The rolling hills, small lakes, forests, rocky outcrops, and great walking paths make for a beautiful outdoor oasis for animals and humans alike.
Being the big animal lover that I am, I've always been fascinated by attractions like Parc Omega.  I love getting up close and personal with animals, especially animals like the ones who reside at Parc Omega.  During our visit to the park we were able to get close enough to feed Elk, Deer, Caribou, Reindeer, and Alpine Ibex.  We were also able to get close to the Wild Boars, including what looked like a family of mom, dad, and five cute little piglets. All of the animals I've mentioned are extremely tame, and used to being around humans.  Always wary of how zoos treat the animals in their care, and how they house them, we were extremely happy to see that the animals at Parc Omega live in such beautiful, natural surroundings, free to roam over many acres of land.  All animals we saw looked healthy, happy and well fed.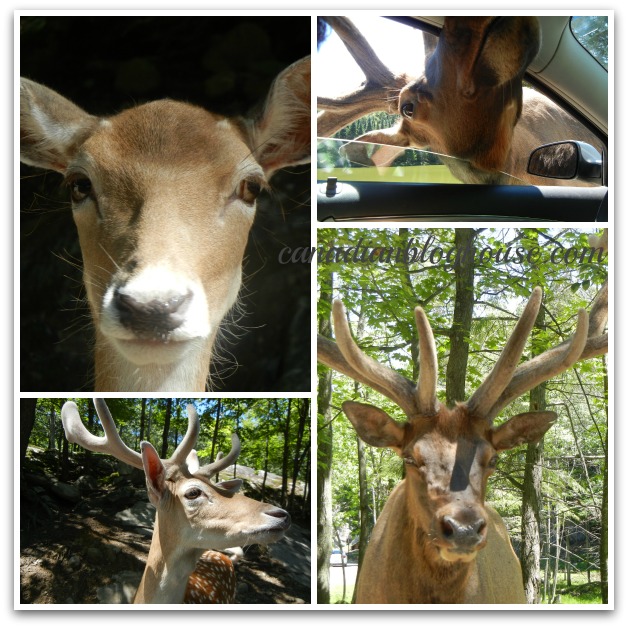 Parc Omega – Montebello, Quebec
As you begin your drive around the park (which takes approximately 1 hour) you immediately come upon numerous animals just waiting for the delicious carrots that visitors are allowed to feed to them (you can purchase bags of carrots at the Park House Gift Shop at the park entrance for $2.50).  It's a pretty funny sight to see all these big creatures just standing everywhere in the road and sticking their heads into people's cars.  We had great fun feeding the animals who ventured over to our car and popped their head inside looking for a carrot treat.  Surprisingly all these animals were extremely gentle when taking the carrots from our hands.  The biggest thing we had to worry about was getting slobbered on.  We brought an old towel to use for just such an emergency, lol.  Although you are supposed to keep your car windows halfway up, I couldn't resist lowering mine at times to let some of those big heads right into the car.  Whispering into your ear has a whole new meaning when it comes to having one of these gentle giants breathe on you.  Another surprise…most humans have worse breath than these animals.  In fact, their breath has no smell at all!
At Parc Omega you are allowed to feed all the animals who come up to your car, with the exception of the Wild Boars and Bison.  As mentioned, you can purchase bags of carrots at the Park House Gift Shop, however, our suggestion would be to bring your own bags of carrots from home – much cheaper!
As we made our way around the car path, we came upon many great animals who make Parc Omega their home.  Some of our favourites were the Black Bears, Coyotes, Bison and Arctic Wolves, all of whom were on display for visitors…from behind wire fences (with the exception of the Bison).  During our visit to Parc Omega we also got to see Canada Geese, Painted Turtles, Great Blue Herons, Red Squirrels, Foxes and Trout.  I'm sure there were many other creatures that we missed simply because the park is loaded with places for animals to hide and burrow, and the natural surroundings provide many animals with great camouflage.
You could easily spend a full day at Parc Omega.  We only spent about 4 hours at the park so we missed a few attractions including the Cabane a Sucre (Sugar Shack), The Old Farm, the Boardwalk and the Birds of Prey show.  Hiking trails are abundant at Parc Omega, but we only managed to hike one of them.  We enjoyed a relaxing hike around Trouts Lake.  This hike around the lake took us about 20 minutes, and was a much enjoyed opportunity to get out of the car and stretch our legs.  The scenery around the lake is beautiful and includes a great picnic area for those that bring their own food.  Speaking of food, we brought snacks but planned on eating lunch at the Park House restaurant near the park entrance.  While the outdoor deck where we ate is beautiful (overlooking a lake), we found our food to be over-priced ($25 for 2 hot dogs, one order of fries, one order of poutine and 3 drinks), and not terribly tasty.  We decided that if we visit Parc Omega again we would definitely bring our own picnic lunch. Besides, the picnic grounds are so lovely, it's a perfect place to relax and enjoy your own food outdoors.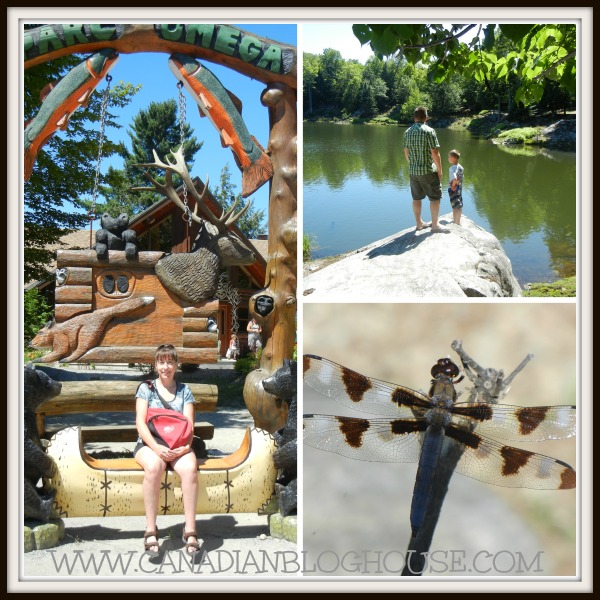 The great thing about Parc Omega is that is is open 365 days of the year.  So you can visit the park during all four seasons, and likely see different animals each time.  You can find opening hours and rates here.  You can pay with cash, debit or credit cards at the admission gate, restaurant and gift shop.  Be sure to leave your pets (dogs) at home.  While we would have loved to have brought Bella, Parc Omega does not allow pets in the park.  This is certainly understandable once you see for yourself what it is like inside Parc Omega.
Our last piece of advice.  Parc Omega is full of "hands on" experiences.  So, just like mom always told you, be sure to wash your hands before you eat!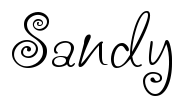 Disclosure:  Canadian Blog House did not receive compensation for this review.  All opinions are my own.