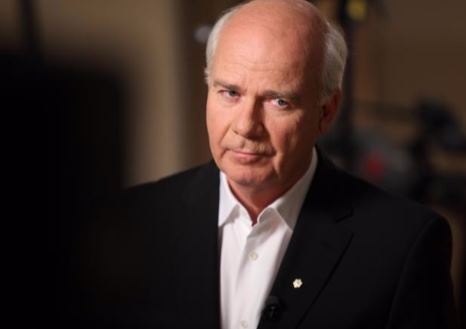 Canadian Blog House received passes to see Peter Mansbridge: Live Coast to Coast in exchange for this interview. All opinions are our own.
Peter Mansbridge is full of stories.
This October, the former anchor of CBC's, The National, is embarking on a cross-Canada tour, aptly named Peter Mansbridge: Live Coast to Coast – The Stories Behind The Stories.
This uniquely Canadian experience will feature Peter sharing some of the fascinating, untold stories of his career. Peter will take Canadians on a journey spanning several decades, making audiences think, laugh, and look at the news in a whole new way.
I was recently asked if I would be interested in interviewing Peter for his upcoming tour.
When you get asked if you would like to interview one of the world's best interviewers – the man who sat at the helm of CBC's top news desk for 30 years – the only answer there is to that question is YES!
You say yes…and then spend the next week trying to get a grip on your nerves, telling yourself not to get all wound up about the fact that you just said yes to interviewing a journalistic legend.
Gulp!
Most of us know Peter as a journalist and news anchor, whose voice, and calm on-air demeanor, guided Canadians through many tragedies, and uncertain times, over the last 30 years.
Peter Mansbridge never got ruffled by anything…or so it seemed.
As you'll hear in my interview with Peter, he disagrees. Peter says he did in fact get ruffled at times – inside. He just didn't show it.
You'll find out about this, and so much more, in my interview with Peter, including:
how he got his start in broadcasting (this may surprise you!)
who he interviewed for his first interview
the world leader who was his toughest interview
who he thinks is the quintessential Canadian
why he never left Canada to pursue a career in the US
his advice for the folks taking over the anchor desk at The National
Peter also answered questions from my readers, and shared a "fun fact" about himself.
The best part?
At the end of our chat, Peter graciously agreed to indulge me by fulfilling my biggest request.
What was my request? Scroll down to listen to my interview to find out!
Peter Mansbridge: Live Coast to Coast – The Stories Behind The Stories
Don't miss Peter Mansbridge's cross-Canada tour, Peter Mansbridge: Live Coast to Coast – The Stories Behind The Stories, coming to a city near you! Tickets are on sale now!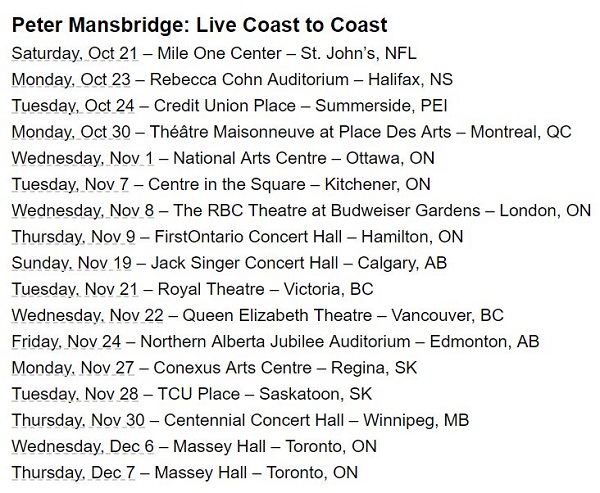 And for all of you who are missing Peter at the anchor desk these days, I've got some exciting news!
***EDIT***Please note that, due to unforeseen circumstances, Peter's Coast-to-Coast tour has been POSTPONED until the new year!!
Once new tour dates are set, Canadian Blog House will draw a winner for this giveaway from all entries received between September 22, 2017 and 1:00AM October 6, 2017 (expiry date). 
Live Nation, the concert tour promoter, is offering one lucky Canadian Blog House winner the opportunity to win two tickets to see Peter on tour.
***Please note. This prize is for a pair of tickets (value $120.00 – 2 tickets @ $59.50 each) only. Transportation to the show, and all other expenses incurred to attend the show, are the responsibility of the winner.
Here's how you can enter for your chance to WIN:
A huge thank you to Peter Mansbridge for taking time out of his busy schedule to call me not once…but twice, so I could finish my interview with him.
Peter Mansbridge is a class act! 
Enjoy our chat!
INTERVIEW WITH PETER MANSBRIDGE: PART 1
INTERVIEW WITH PETER MANSBRIDGE: PART 2