Disclosure:  The following post is all about my cousin's husband, Peter McPhee.  You see, he's a great writer and a fantastic artist.  I like his work…a lot.
Peter McPhee – The Author
You may have already heard of him if you are from Winnipeg or Calgary.  Peter McPhee spent sixteen years as an editor and film critic for the Winnipeg Sun before following my cousin, Sue, to the Calgary area.  Peter has written many plays that have been produced at Winnipeg's Prairie Theatre and Calgary's Alberta Theatre Projects.  He has authored several books for young adults.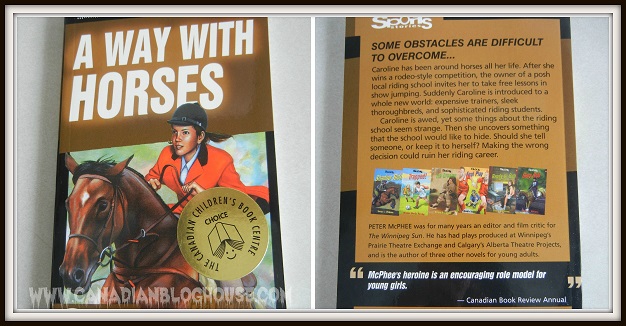 A Way With Horses – 

For young girls who love horses, this book follows Caroline's rise through the ranks of show jumping – and all that comes with immersing herself in this sport.  Caroline is a great roll model for young girls.  Any horse-crazy young girl would love this book.  Peter's humour comes through in his writing, and he does a great job of making us want to cheer on Caroline.

Runner – Peter delves into the "underbelly" of his adopted city in this book, featuring the heart-wrenching story of a brother who tries desperately to rescue his 14-year-old sister from the seedy streets of Calgary.  Runner is full of suspense and provides readers with another view of the city better known for its world-famous stampede.  This is a book that young readers won't want to put down until they reach the last page.  Warning: there is no happy ending to this story (I like books that don't always end "happy").  In 2006, controversy struck Runner when a Medicine Hat, Alberta school pulled this novel from library shelves due to similarities with the real-life murder of a family by a young girl and her boyfriend.
Out Of Time – While this novel was published in 2003, its story line is no less relevant today.  Perhaps it is even more relevant.  Out Of Time is a fast-paced story about a group of friends who make a suicide pact.  After one teen is found dead, it is a race against time to prevent another tragedy.  This is another page-turner that will keep young readers interested right to the last page.
Every Move – Although first published in 2004, Every Move touches on two very current topics, bullying and stalking.  Full of suspense, this novel focuses on Emily, a teenager who comes to the rescue of a complete stranger, only to later find herself the victim of stalking…by the very same stranger she helped.
New Blood – Another novel by Peter that is truly relevant in today's teenage world.  New Blood follows Callum, a teenager from Glasgow, Scotland who moves to Winnipeg

with his family to escape the violent bullying he experiences in Glasgow.  Sadly for Callum, even a move to a brand new country cannot help him escape confrontation and violence.  While the topic may be harsh, Peter writes more about Callum's feelings that details of the violence and humiliation.  This book is loosely based on Peter's real life.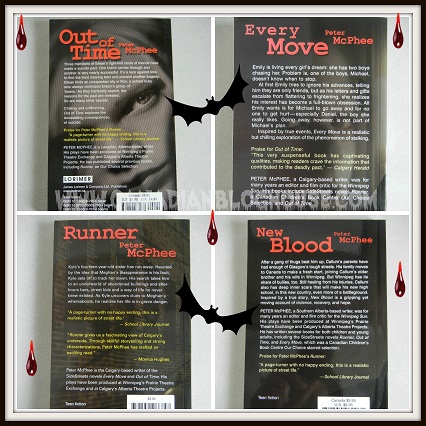 Four out of five of Peter McPhee's novels have been awarded the Canadian Children's Book Centre Our Choice Selection Award.  You can purchase all of Peter's novels from Lorimer.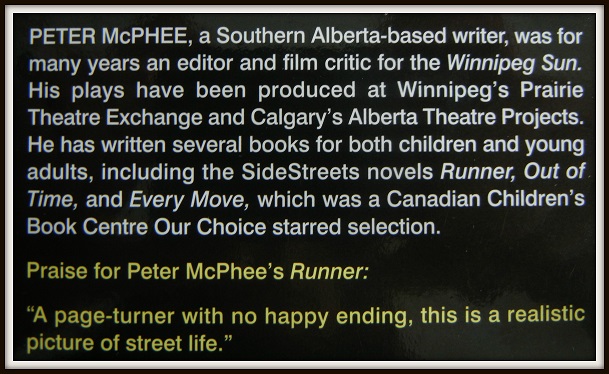 Peter McPhee – The Artist
When I set out to write this blog about Peter and his work, I was focused on his writing and novels, since that is what I knew Peter as – a writer.  Even though he is my cousin's hubby, I really don't know much about the real Peter McPhee. So, as I love to do to people, I Googled him.  To my surprise, I found out he is also a fantastic artist.  When I saw the merchandise he has available for sale on Zazzle.com and Cafepress.com, I was amazed.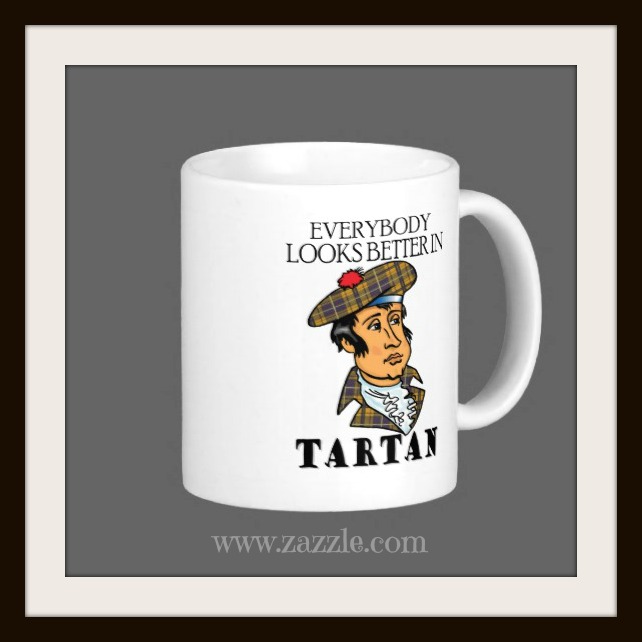 Have we got any laddies or lassies in the House?  Be sure to check out Peter's great collection of Scottish gear.  Born in Glasgow, Scotland, Peter is a true "Scotsman" himself.  At this time, you can find Peter's "Oor Jim" collection ("Oor is the Scots word for our, and Jimmy is about the most common name in Scotland") on Cafe Press and Zazzle.  Peter is working on moving his collections over to his new site "oorjim.com", currently under construction.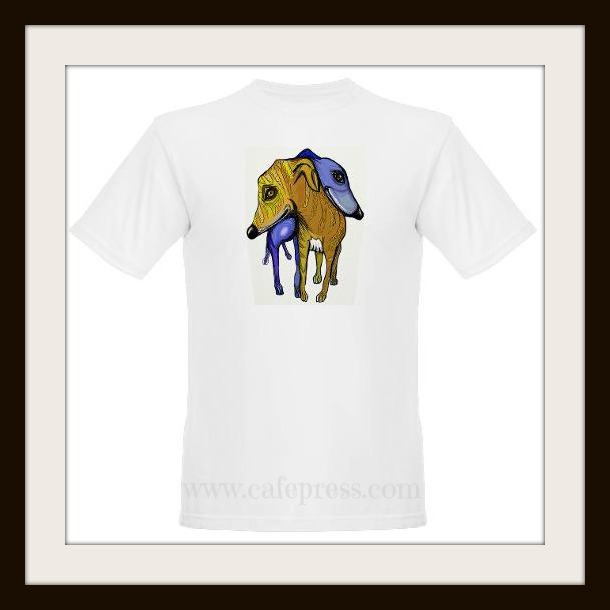 Being a dog lover myself, I especially adore Peter's "Greyhound" artwork.  Peter and his wife Sue are long-time Greyhound owners.  In fact, they have often been involved in working to locate "forever homes" for retired Greyhound dogs.  Peter sent me this "Roo The Day" t-shirt that features his Greyhound artwork.  I love it!  Did you know that Greyhounds "roo"? That's right, Greyhounds sing.  This "singing bark" is called "rooing".  Here's the image from the front of my t-shirt: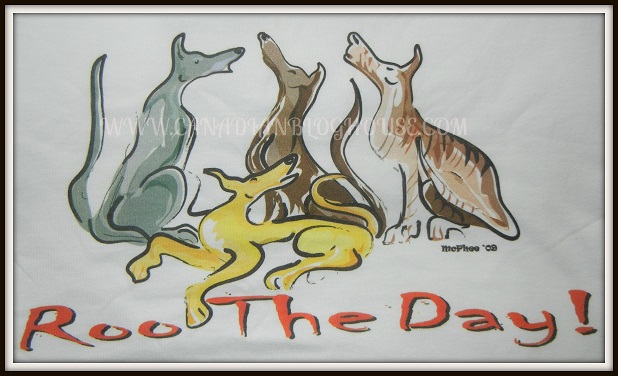 Despite the "dark" storylines of many of Peter's books, those who know Peter McPhee know that he is a man with a fantastically wicked sense of humour.  Following his timeline on Facebook has provided me with many moments of laughter.  I never know what hilarious cartoon or photo Peter is going to post next.  Not to mention the self-deprecating photos he posts of himself.
Please be sure to check out Peter's merchandise at CafePress and Zazzle.  I have personally ordered merchandise from both websites and was satisfied with all of my purchases.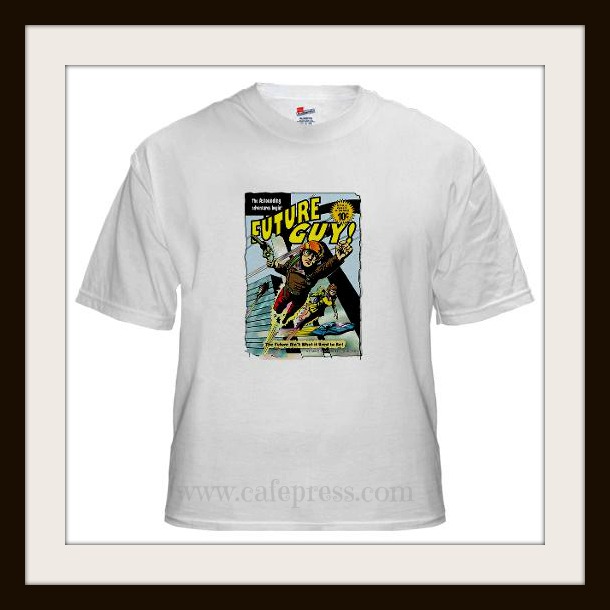 For one lucky Canadian Blog House member, Peter is offering up a chance to win a T-Shirt (size Large) featuring Future Guy – a superhero from his latest "unpublished" graphic novel.  The winner will also get their choice of one of Peter's young adult novels. Here's how you can enter to win: