I've been a long-time fan of Diane Najm and her PhotoPad Facebook scrapbooking app. Diane has just developed a new PhotoPad product that is for individuals and businesses to brand their photo stories and photo blogs in a social visual hub – their own community.
The new Photopad is a "Social Media Marketing tool for Businesses to publish and share their events and activities in a 'magazine style' platform of their photo stories."
Your Story. Your Design.
Diane recently asked me to review this new PhotoPad site. After a quick peek, I knew I could have a little fun making my own PhotoPad! I love the look of PhotoPad for business, and the more I looked into this site, the more I realized I could do with it.
Anyone who reads my blog or follows Canadian Blog House on social media knows how much I love my dogs. So, it was only natural for me to create a "test" PhotoPad slide filled with photos of Bella and Guinness. Besides, they are much more photogenic than me!
So I began by opening a PhotoPad account starting at the home page, and entering all my profile information. Love the "magazine" style look of all the different "pads"!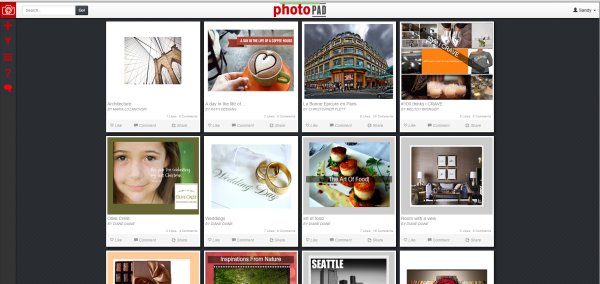 Next, I began to create my own pad. I chose a category for my pads – Animals. The categories help to keep all the pads organized and make it easy to find pads under specific categories of interest. I created a title, a description, and gave my pad keywords like "dogs" and "family pets". Keywords help users to find my pad.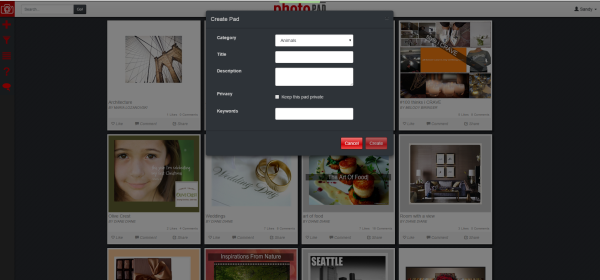 Here is how my first pad looked before I started to create my "dog" pad. As you can see, there are a number of menus on the left and right of the pad. These provide you with all the options available to you to create your own fabulous pad! My first choice was to select my layout. This option provides users with numerous layout templates, giving you the choice of number of photos, and how you want them arranged in your pad.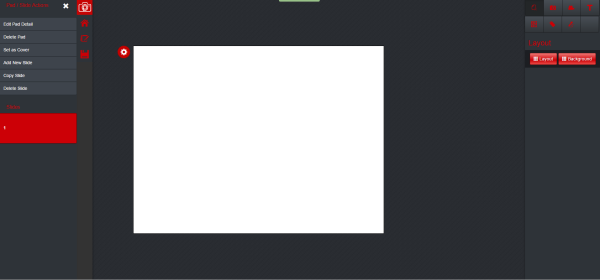 I had 4 photos of my dogs that I wished to use, so I chose this layout, and uploaded my photos directly from my laptop. You can see from the menu that I could have added colour to my background, however, I decided to wait until I had finished with my photos. First I wanted to edit my photos.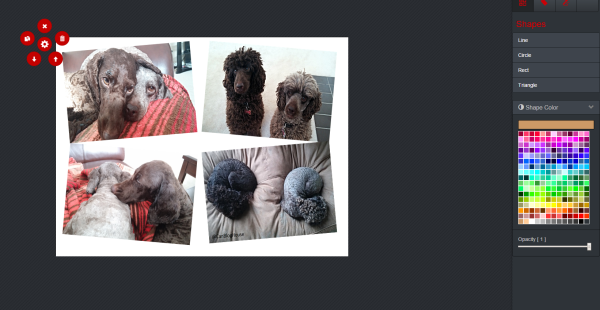 Editing your photos in PhotoPad can be quite time-consuming. Why? Simply because there are lots of fun options to choose from! From sticker overlays, to resizing, cropping, adding text, and so much more, there are endless possibilities for making your great photos even better. I stuck to just a couple of basic enhancements. I used the High Definition feature for my photos and added some text.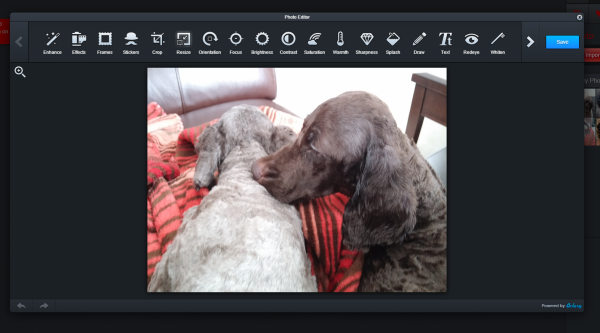 Before I added text though, I added a circle overlay so I had somewhere to place my text. PhotoPad allows you to select from different shaped overlays, styles of fonts, and their sizes (etc.).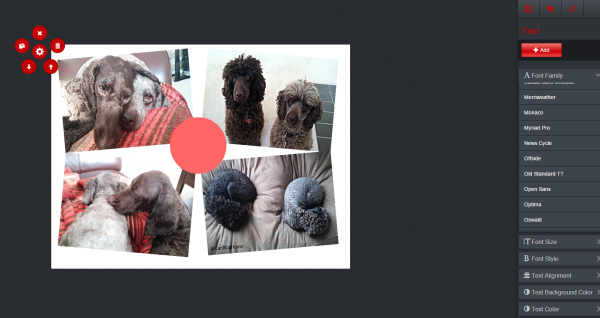 It was at this point I decided on what colour I would like for my background, so I went back to that section and selection "background" and chose my colour, then added my text.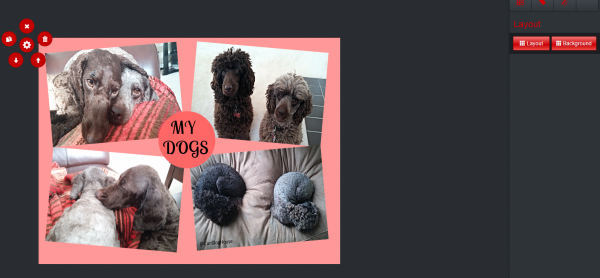 Once I had finished my pad of photos, I did a little exploring to see what I could do next. I found out that users can comment on the pads, as well as like, follow, and favourite.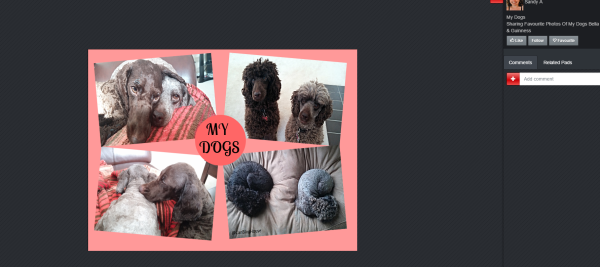 I found out I could even share them easily across some of my social media channels like Twitter and Facebook, and could even embed them in my blog posts:
While I stuck to a "personal" photopad design, there are so many ways you can use PhotoPad in your business/website applications. So many possibilities! I only made one page for my PhotoPad demonstration, however, it's super easy to add more pages to your PhotoPad. So if you have a selection of photos/images you wish to gather together in one place to share with your clients, family, or friends, why not do it with PhotoPad!
Be sure to stop by PhotoPad's new Facebook page and give them a like so you can be kept up-to-date on PhotoPad for business!
Diane Najm of PhotoPad wants YOU to have a little fun with her new PhotoPad site! Diane is giving away a $50 Amazon.com Gift Card to one lucky Canadian Blog House reader!
Here's how you can enter for your chance to WIN: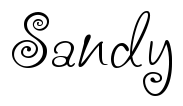 Disclosure: Canadian Blog House was compensated for this post. All opinions are our own.