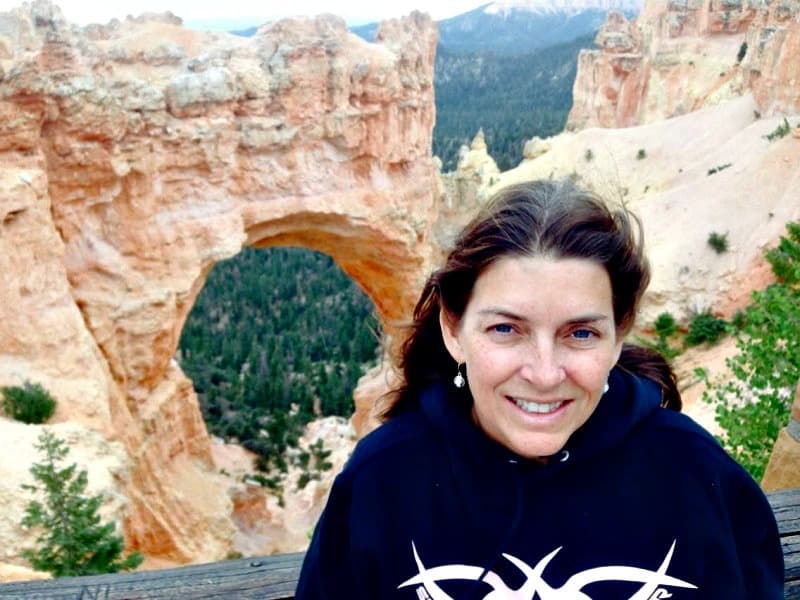 Canadian Blog House was provided with a copy of Laura Fahrenthold's new book, The Pink Steering Wheel Chronicles, which is now our favourite summer road trip book. All opinions are our own.
My introduction to New York journalist Laura Fahrenthold's new book, The Pink Steering Wheel Chronicles, went something like this:
"I spread my husband's ashes 31K miles around Canada & the US with our kids and a stray dog in an RV".
Actually, it went exactly like that.
This was the title of the email that Laura sent to me a few months ago.
I must admit, it was an attention-getting title!
And so began an online friendship with one of the loveliest people I have ever met.
I was immediately drawn to Laura for a number of reasons, not the least of which is the fact that she loves Canada.
I was also very intrigued by her story.
Laura is my kind of woman – a woman who decided to deal with her grief in a wonderfully unique way by taking herself, her girls, their dog, and her husband's ashes, on one last ultimate family road trip.
An experience of a lifetime. Literally.
I wanted to know more about Laura, her late husband Mark, her family, and her incredible RV road trip.
Here's what she told me!
The Pink Steering Wheel Chronicles: An Interview With Journalist Laura Fahrenthold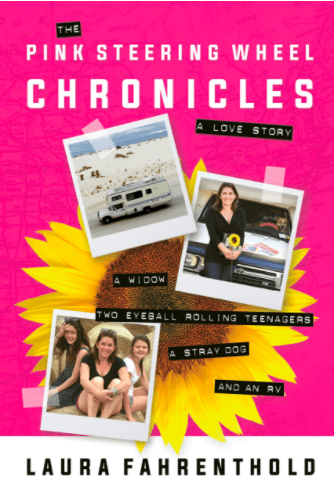 You are an author, a journalist, and a content editor at Woman's World Magazine. Tell us more about yourself and your background.
Early on, I got a lucky break landing a job as a crime/police beat reporter for the New York Daily News. From there, I went into features editing at Woman's World magazine, where we have 1.6 million weekly readers throughout the US and Canada.
I have interviewed more than 60,000 women over my 21-year career there, with a seven-year break in service to work as a press secretary for the City of Yonkers, NY. I'm a news kind of gal. 
What made you decide to take this special pink steering wheel road trip? Did you have some sort of an "A-Ha!" moment?
After my husband had a fatal heart attack at home on Thanksgiving eve, I wanted to get our young daughters off the shrink's couch and into the great outdoors for what I came to call, "Campfire Therapy." So I planned a tent camping trip out west, even though I had never done that alone before, but how hard could it be, right? 
We brought Mark's ashes with us, of course. (I didn't want to leave him home alone.) One night while taking him to an outhouse to protect me from the boogeyman, I tripped and he, well his ashes, went flying. That's when I realized he wanted out of his box! And we slowly began to sprinkle him. 
A few weeks later, I saw an RV for sale and just knew right then and there HaRVey was ours! I got a bank loan for $4,200, gave the tent away, and we were off! I never intended to sprinkle Mark for 31,152 miles over the course of four years, but that's what we did. We gave him the best mini funerals possible!  
And in turn, our daughters and I learned how to rely on ourselves in all kinds of situations, from hiking and riding horses to tidal bore rafting in the Bay of Fundy, and rock climbing at Les Palissades Charlevoix in Quebec. Gazing at the stars can do wonders for the soul— just not with teenagers in a tent for extended periods of time! 
He had fire, he had guts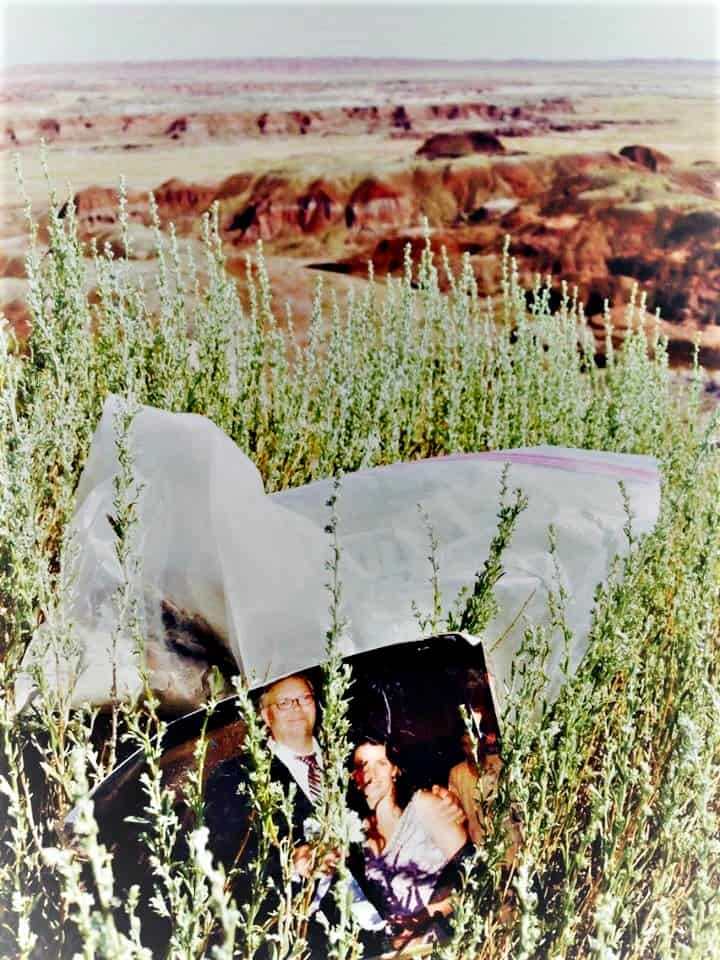 Can you share with us a little bit about your late-husband, Mark Pittman, so we can get to know him a little? What made your husband special?
Professionally, like his colleague Ryan Chittum said, Mark Pittman had fire; he had guts. He was six feet four, and self-assured. Not smug; he was simply fearless. He believed that his purpose as a journalist was to bring difficult truths to light. He was known as the "moral force" of the newsroom. He was fair and balanced, not the obnoxious stressed out type. There was no "thin line" between wrong and right with him. People trusted him with their truths, both in the glass skyscrapers and at the gas pump. The guy was a magnet. 
He carried with him a Midwestern union-worker's son's I ain't "impressed" attitude toward his Wall Street beat as a financial journalist for Bloomberg News. That's one reason why he got the stories that broke vital information and changed the public conversation during the financial crisis where he sued the Federal Reserve to open their books to reveal $3 trillion in taxpayers' dollars going toward bailing out failing banks. The case was being fought in the Supreme Court, only he died before he won. 
Personally, if he said it, he meant it. And if he made a promise, he kept it. He was a total man. That's what I loved most about him. Put it this way, when he went to the grocery store, he didn't just bring home a bag of carrots. He'd bring home a 5-pound bag of carrots.  
What would Mark have thought of this RV road trip?
He would say, "Oh Lucy!" in reference to actress Lucille Ball from "I Love Lucy." He always called me Lucy. 
Ironically, after Googling him, I've just realized your husband died on my birthday. 
Oh God, I'm sorry, but at least I know why I felt so further drawn to you and your Canadian blog. And I'm glad you're still alive! I was a little worried when I turned his age, 52, and think I held my breath for an entire year! 
Mark was an award-winning reporter who won several awards for his work, including for his stories in which he predicted the US banking system's collapse as a result of the subprime mortgage crisis. You must have been so proud of the work that Mark did. What would Mark be most proud of you for, if he could see you now?
I think he'd be really impressed that we learned how to use his tools to renovate our "new" 90-year-old house.
The Long Goodbye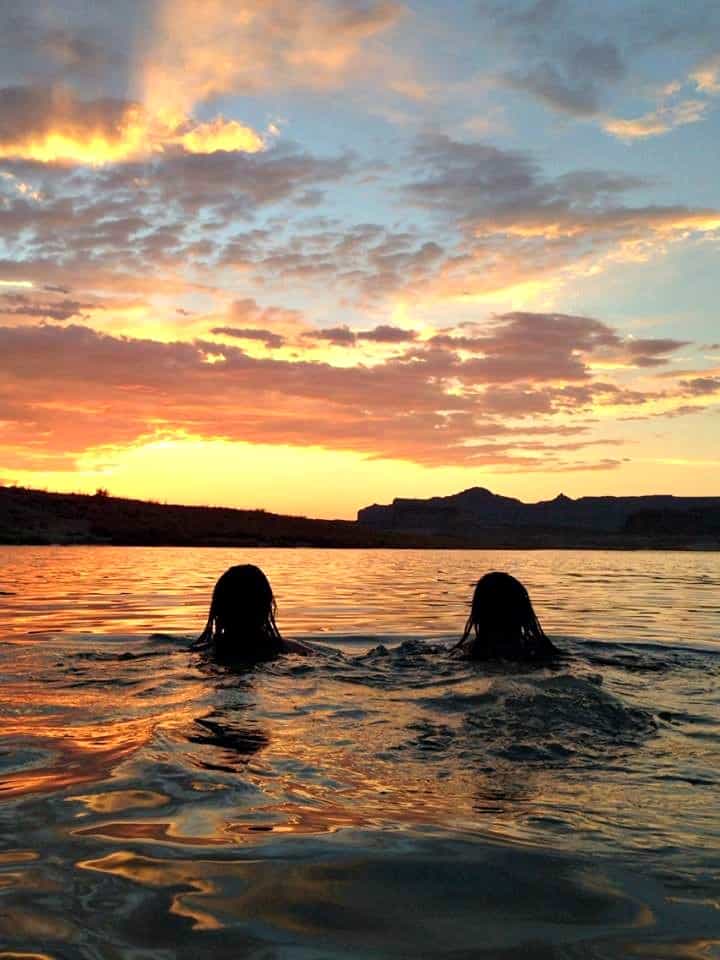 Many women in your situation (grieving the loss of their beloved husband) could never imagine hitting the road in an RV, with two kids and a dog, and venturing to places they've never been before. How did you muster up the strength to make this incredible journey, after losing your husband?
I always joked that the pink steering wheel became my spiritual GPS. It was driving me rather than me driving it. It lead us to our ultimate destination where we sprinkled him in a creek bed behind his boyhood home in Kansas and in an important field of sunflowers. Once home for good, I discovered something that explained everything— what was driving me. People will have to read the book to find out. No spoilers! 
Did you ever have times on the road where you felt that maybe this was a mistake, that maybe you just couldn't carry on with this pink steering wheel road trip?
I mean how can you ever really say goodbye, right? So yes, a lot of the time. I thought, "Why are you so driven to do this? There must be something wrong with you. Most people say goodbye at a funeral and suffer its aftermath as their last memory."
What is your most favourite memory of your road trip?
We spent a few weeks at a friend's family farm in Cape Breton where we milked goats, bailed hay and baked pies. The sunrise to sunset honesty of hard, rewarding work will always be a part of our family's fabric. 
What was the worst thing you experienced during your road trip?
Oh my God. Let me count thy ways. Blown tires. A breakdown. Getting lost when the GPS had no service. Running out of gas before making it to the gas station on a blistering Texas backroad. Accidentally throwing him out in a McDonald's dumpster. The list goes on… 
Lessons Learned
What was the most important lesson you learned from your pink steering wheel road trips?
I learned that people really are intrinsically kind and good. We grieved in the arms of America and Canada.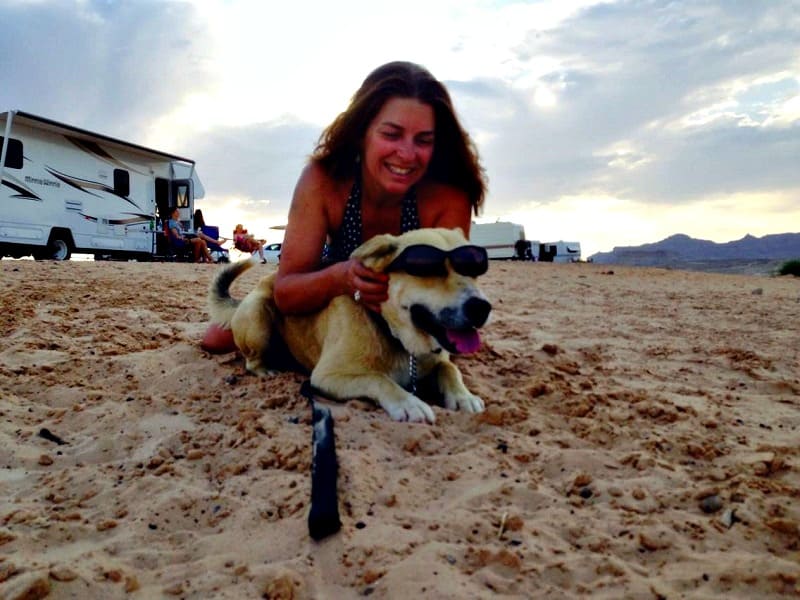 What were some of the biggest challenges you faced having your kids – and the stray dog you picked up on an Indian Reservation– with you on this trip?
Making room for everyone to have their own, clean spaces. Organization for sure! 
A Great Canadian Road Trip
Of course, I love how you included many stops in Canada on your pink steering wheel road trip! Was this your first time visiting Canada? What cities/towns did you visit, and which ones did you enjoy the most?
I'd been to Canada before when my mother suffered her own broken heart (through divorce) and took my brother, sister and me to PEI in an RV! We retraced a lot of her trip. If you really want to know, here's where we went (and loved!) 
CANADA
NEW BRUNSWICK
St John:  Mark's with the nuns now at the Cathedral of the Immaculate Conception, because God knows, it would take an immaculate conception for me to ever want another man again.
Fundy National Park: Each day 160 billion tons of seawater flows in and out of the Bay of Fundy during one tide cycle – that's more than the combined flow of the world's freshwater rivers! This we had to see and sprinkle!
NOVA SCOTIA
Digby: HaRVey and the gang took a ferry boat ride here and then it was off to do a little world-class, upriver tidal bore rafting on the Shubenacadie River, which was terrifying, by-the-way.
Next we drove to Pictou Terminal, and took a ferry to Prince Edward Island.
PRINCE EDWARD ISLAND
Charlottetown: We stayed in a parking lot, being the classy family that we are! Saw the musical "Anne of Green Gables". We walked down Victoria Row and I was in ahh of all the eateries and pubs.
North Cape Coastal Drive and then to Cavendish Beach: The contrast of colors just took my breath away. It was so much more beautiful than I remembered. Red sand, cliffs, boardwalks, ocean, and beach! Mark's happy in the dunes.
Green Gables: Visited the farm. Lucy Montgomery, the author, drew romantic inspiration from the house, as well as the surrounding area, including the "Haunted Woods," "Lovers Lane" and "Balsam Hollow." Montgomery's wake was held onsite and so was Mark's sprinkling.
Prince Edward Island National Park: I really enjoyed our day walking through the park. Great sand dunes, marshlands, trees… you name it, we walked through it. That place is absolutely amazing! Very peaceful! One of the best places for Mark to visit on the Island!
CAPE BRETON
We drove the Cabot Trail for three days. It's one of the most famous drives in Canada. A scenic roadway with lots of overlooks, cultural heritage sites, whale watching and hiking trails. Mark's at the Alexander Graham Bell National Historic Site in Baddeck (Mark can you hear me now); Ingonish to the Keltic Lodge resort (great beer!); Cape Breton Highlands National Park and Belle Cote, a picturesque fishing village located at the mouth of the Margaree River where it flows into the Gulf of St Lawrence– and now Mark does too. Chéticamp, famous for its hooked rugs and fiddle music; then it was off to Pleasant Bay to go whale watching.
Took a ferry back to St. John and then off to…
NEW BRUNSWICK
Fredericton: The 1800s is alive and well here at King's Landing for some good old-fashioned butter making and log splitting.
Hartland: Home of the world's longest covered bridge at 1,282 feet (391 m) long. It crosses the Saint John River from Hartland to Somerville.  Then off to Grand Falls (French: Grand-Sault) where, you guessed it, there's a famous waterfall. Sorry, Edmunston. We drove straight through you!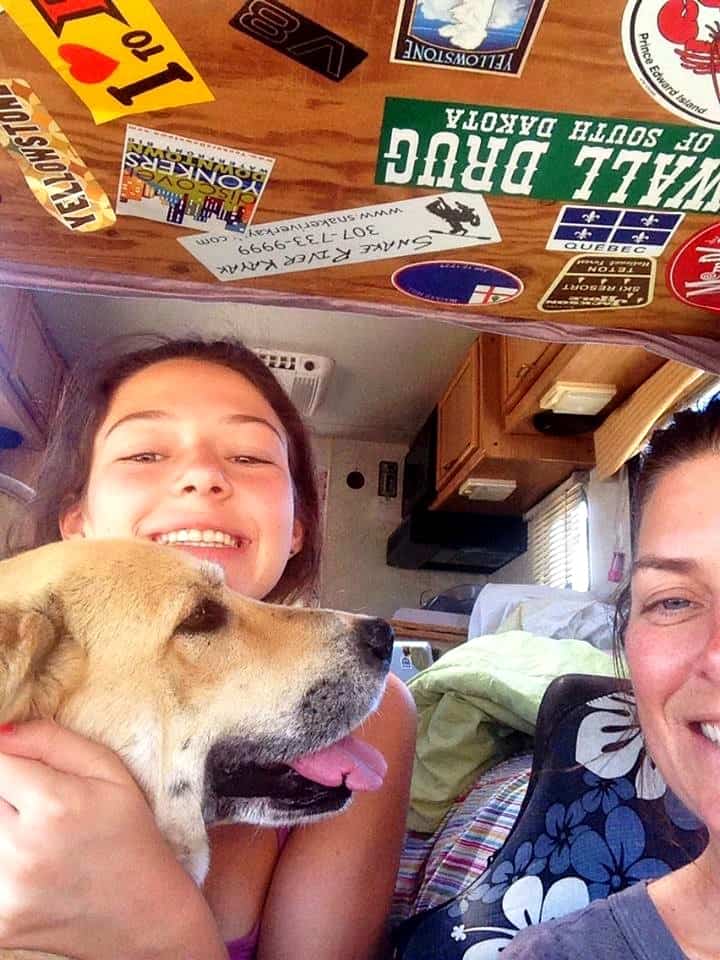 QUEBEC
Saguenay:
Took a ferry boat at The Rivière-du-Loup to Bas-Saint-Laurent where we took a sightseeing boat around the islands that dot the coastline and the whales that frequent the Saguenay—St. Lawrence Marine Park. Mark's with the seabird colonies!
Next, we were off to The Parc national du Bic, the Baie de l'Isle-Verte National Wildlife Area and the Société d'écologie de la batture du Kamouraska Marine Park. We were promised staggering views at every turn through Charlevoix. Oui, Oui! Oh wait, was that a caribou? Say hello to Mark!
Then there was the famous Le Massif ski hill, which boasts the highest vertical drop east of the Canadian Rockies, and has a popular lodge right on the river! Mark loved to ski! From Saint-Siméon, we headed off to do some whale watching at the marine park. Sprinkle, Sprinkle!
We won't talk about ROCK CLIMBING at Parc D'Adventure En Montagne, Les Palissades, much less do it ever again! That's a promise.
Along the St. Lawrence Route (Route du Fleuve), which connects Baie-Saint-Paul to La Malbaie and offers much to admire, hop the ferry to Isle-aux-Coudres. Take a bike trip around the island, visit 19th-century watermills and windmills, and admire the coast laid out before you.
Manicouagan:
From the Saguenay Fjord to the mouth of the Gulf of St. Lawrence at Pointe-des-Monts, Manicouagan is one of five regions that make up Maritime Québec along the legendary St. Lawrence River. The coast is lined with one beach after another, interspersed with rocky cliffs. We were too tired to hike, and it was summer so, no snowmobiling. We just drove through and enjoyed the scenery while the girls sang to the Beluga whales. "Baby beluga in the deep blue sea, swim so wild, swim so free…"
One great thing about the region is its hydroelectric facilities like the Daniel Johnson Dam. We found it just for Mark.
Quebec City:
Chez Ashton in Quebec City is the local's favorite poutine spot. Poutine is a french fry dish that you've got to try. So did Mark!
Terrasse Dufferin has an incredible terrace that overlooks the Saint-Lawrence River.
Mark also visited Quebec's National Assembly; the Hotel du Parlement.
The Parc de la Chute-Montmorency is one of the coolest spots to visit in Quebec City, with waterfalls that tower 83 meters high.
But enough sprinkling, I mean sightseeing. It was off to Grande Allee for restaurants, sidewalk cafes, a hopping nightlife and plenty of breathtaking architecture, gardens, and fountains.
Mark got "civilized" at the  Musée de la Civilisation.
We parked in a perfect spot right in the city. The Old Port of Quebec (near the marina), provides spaces for RVs. Let me tell you, it was a bargain at $35 per day. This is TMI but, Nell puked on my head there after eating salmon the first night. Saw Cirque de Soleil. So did Mark.
Montreal:
Botanical Gardens: This 190-acre collection of gardens and greenhouses. He's in the landscape here now.
Insectarium: So cool! The girls love insects! Only Mark was allergic to bees so I didn't sprinkle him here.
Notre-Dame Basilica: One of the most renowned and dramatic examples of Gothic Revival architecture in the world.
Old Montreal (Vieux-Montreal): lots of shops: This historic district is the oldest area in the city of Montreal, and some of its buildings date back to the 17th century. Tourists flock to Old Montreal to see such places as Bonsecours Market, and well preserved colonial mansions like Chateau Ramezay. So did Mark!
Parc du Mont-Royal: Sprinkled Mark in an open green lawn area.
Montreal Canadiens Hall of Fame: Even though he was not a hockey fan, I liked the idea of Mark being at a hall of fame right in the doorway so people tracked him in on their shoes.
Saint Joseph's Oratory of Mount Royal: The largest church in Canada, St. Joseph's Oratory. I just liked the word oratory so sprinkled him here.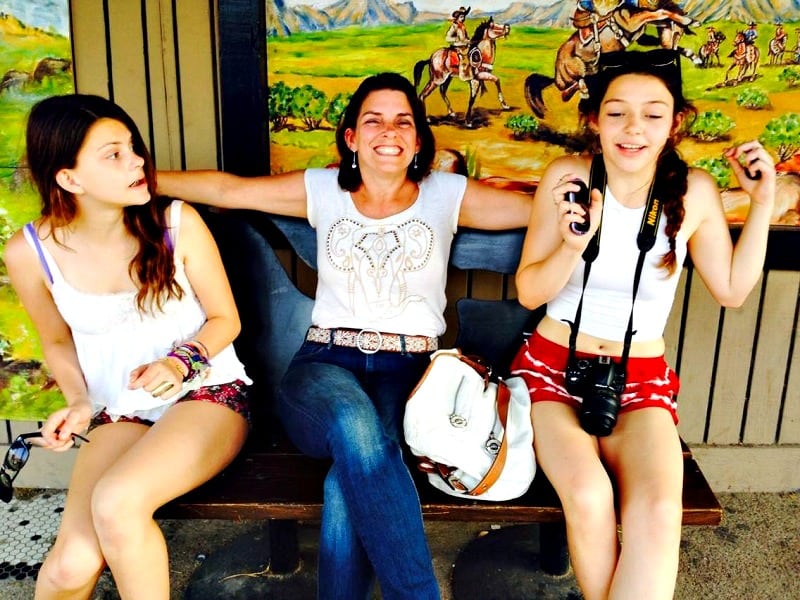 ONTARIO
Ottawa:
We drove three hours out of our way to go here because my Mom took us here when we were on her RV trip.
The centerpiece of Ottawa's downtown landscape, Parliament Hill, is the political and cultural heart of the city. The Parliament Buildings sit atop the Hill, the gorgeous Gothic-style structures overlooking the Ottawa River. Sprinkles abound!
Thousand Islands Bridge:                                                                                                                 
Cleared customs with Mark hiding in a towel.
Thousand Islands Park:
Beautiful.
Thousand Islands Skydeck:
Every place with a view must have an observation tower, right? Even the relatively undeveloped Thousand Islands have a candy-cane-looking deck hovering high in the sky.
Take the elevator up 400 feet and on a good day, you'll get a 25-mile view over the St. Lawrence River. Three decks (one of them is enclosed) let you take in the scattered islands sitting in the river. Of course, it's on the Canadian side, so bring your passport.
Boldt Castle:
We couldn't have left without sprinkling him at Boldt Castle, located on Heart Island
Canada, Road Trips Songs And The Release Of The Pink Steering Wheel Chronicles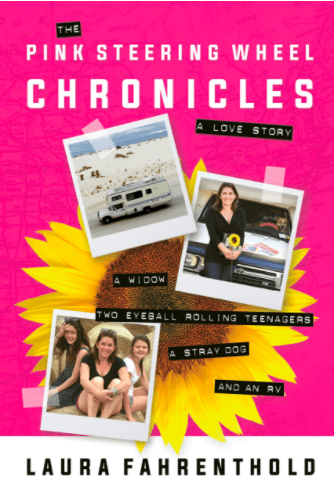 Why did you decide to include Canada as part of your very special road trip?
I had not necessarily planned on venturing to Canada, but I am so glad we did. We are going back this summer in HaRVey. Not to sprinkle. To revisit places we loved. 
Many of us love to listen to some of our favourite songs while driving. Did you have a favourite pink steering wheel road trip song list? If so, what was on that list?
We woke up every morning to me playing "We Are The Champions" by Queen. It was our road rally song! 
"We are the champions, my friends
And we'll keep on fighting 'til the end
We are the champions
We are the champions
No time for losers
'Cause we are the champions of the world
I love learning "fun facts" about people. Can you share one "fun fact" about Laura Fahrenthold that very few people know?
I'm not that interesting. 
(Ha! We respectfully disagree with this answer)
What's next for Laura Fahrenthold?
That's the beauty of living. You never know what's around the corner. I aim for life, love and the pursuit of happiness.
Your new book, "The Pink Steering Wheel Chronicles" is due to be released in June 2018. How can my readers get their hands on a copy once it is released, and where can they find Laura Fahrenthold online?
THE PINK STEERING WHEEL CHRONICLES is distributed by Penguin Random House and is available everywhere books are sold. I love supporting local bookstores, but it is also easily found online. 
You can find me online at laurafahrenthold.com and follow me on Twitter, Facebook and Instagram.
---
***Laura's book is a perfect book to take with you when you head out on your own great Canadian road trip this summer! When you buy your copy…check out page 5 of the book. Just sayin'.
You can order online or find The Pink Steering Wheel Chronicles at Chapters/Indigo stores across Canada.
Have you ever done a road trip like this by yourself (with or without kids)? How did it go? Tell us your story in the comments below!