Behind the scenes of Canadian Blog House is a great father and son team, my partner and X-Man, who are the inspiration for many of my posts. Not only do they assist with product and travel reviews, they provide great feedback. I call my partner my "idea man", as he is full of great ideas. In addition to all the behind-the-scenes work my partner does on the blog, I regularly seek out his advice on all things blog related.
With things here at Canadian Blog House getting busier, my partner recently suggested he start writing some posts for the blog. Posts with a male reader in mind. I thought that was a terrific idea! I told you he was my "idea man"!
---
REMOTE CONTROLS: A GREAT FATHER AND SON ACTIVITY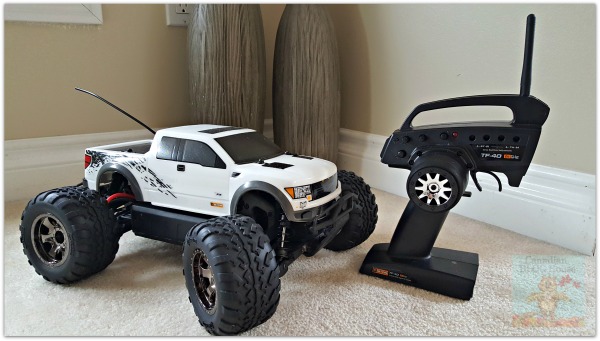 Often when we think about father and son activities, we think of bicycling, hiking, and perhaps some sports.
Have you ever thought of remote controls as an activity?
My son and I have been enjoying this activity for years now, and think that other fathers and sons would enjoy it as well.  Frequently, we play in front of the house or go to the park close by. We also enjoy walking in the woods with the remote control trucks. My son refers to these walks as an adventure. He thoroughly enjoys making his remote control crawl over logs, through creeks, mud, and leaves.
So how do you start in this great hobby? If you are serious about making this a hobby to share with your son, I don't recommend that you purchase a toy remote control. They just don't have the power, or ability, to be used in a constant manner. They're fine indoors, but they lack the power, and durability, for outdoor use.
Instead, try a hobby-grade remote control vehicle. These can be purchased online, or at your local hobby shop. I recommend purchasing one of the more popular brands such as Traxxas, HPI or Losi, however, there are many other quality remote controls available. I also recommend looking through your local hobby shop and making note of the parts availability for the remotes. Although hobby-grade remote controls far exceed the quality and durability of the toy level remotes, breakdowns do occur, especially if you run into something. Don't forget, these vehicles have the ability to reach high speeds and, being made of plastic, can be damaged. The good news is that most of the parts are available for repairs at a reasonable cost!
I recommend electric vehicles for beginners.  Don't forget, you will need to purchase a battery charger, as well as extra batteries. The average runtime with your standard batteries is roughly 15 minutes. Upgrades are available that allow you to run your vehicle in excess of 45 minutes.
Hobby-grade remote control vehicles require some care and maintenance, so before putting them away, always make sure to unplug your battery.  As well, make sure to dry any water, and remove any mud or dust.
Many of the new hobby-grade remote control vehicles are waterproof, however, I don't recommend that you fully submerge them. Driving your hobby-grade remote control through puddles is okay, but again, make sure your remote control is dry before putting it away.
To the best of my knowledge, the majority of hobby-grade remote controls come with a tool pack that allows you to take apart the remote control for regular maintenance.
My son and I really enjoy spending time together, and I think that this simple activity is a great way to make this happen. It's relatively easy to charge the batteries,  pack up the remote controls, and head out for your adventure!
Disclosure: Canadian Blog House did not receive compensation for this post. All opinions are our own.