Canadian Blog House partnered with Saniflo Canada to help provide you with suggestions on how you can update your cottage living this summer with Saniflo plumbing options. All opinions are our own.
If you are anxiously awaiting the start of cottage season, and the chance to open up the family cottage, it's time to consider what you need to do to update your cottage living this summer.
It's always fun to spruce up the family cottage with new furniture and decor items.
And while it may not be as fun and exciting as upgrading your cottage decor, your cottage plumbing should be the number one item on your reno list when updating your cottage living space.
One of the more challenging issues facing cottage owners is choosing the best plumbing options for the cottage. Making sure you install quality plumbing products can be the difference between enjoying a fun and relaxing summer by the lake, or spending too much time indoors dealing with annoying – and expensive – plumbing problems.
Out-dated plumbing could result in clogged toilets, septic tank backup, and low water pressure. These are just a few of the plumbing issues cottage owners may face.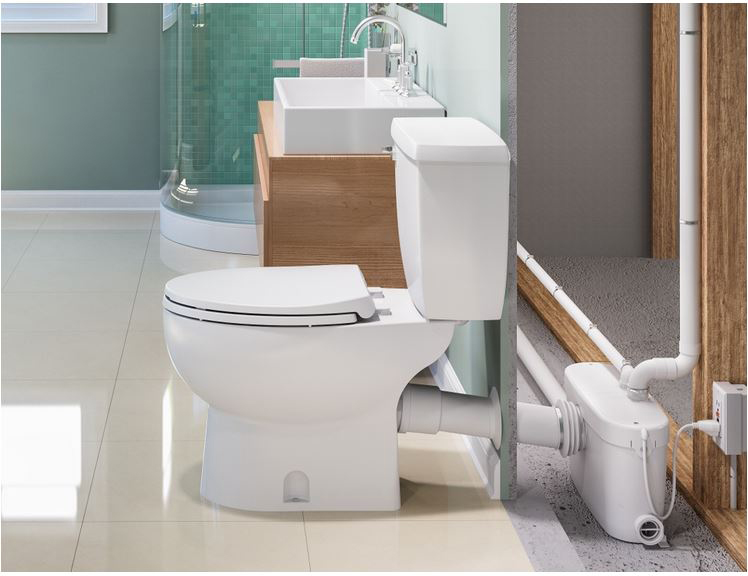 The terrain your cottage sits on can affect the type of plumbing installations you may benefit from. Having a cottage built on rock, something very common in Canada, will limit your building options and your ability to dig down to install new plumbing.
Address these issues before they become a big problem by considering these helpful Saniflo Canada plumbing solutions…
5 Ways Saniflo Canada Can Help You Update Your Cottage Living
Whether you're looking to renovate a bathroom, kitchen, laundry, or outdoor space, Saniflo macerating systems and drain water pumps offer low-cost, easy to install solutions for cottage owners.
What is a macerator? It's a system that uses a fast-rotating stainless-steel blade to break down materials such as human waste, toilet paper, and other debris that gets flushed.
Saniflo macerating systems can be installed behind the toilet or within a wall with minimal construction. Drain pumps can easily be hidden within a cabinet or vanity. In both cases, there is no need to break the floor to run plumbing pipes, which saves time, money and labour.
Saniaccess3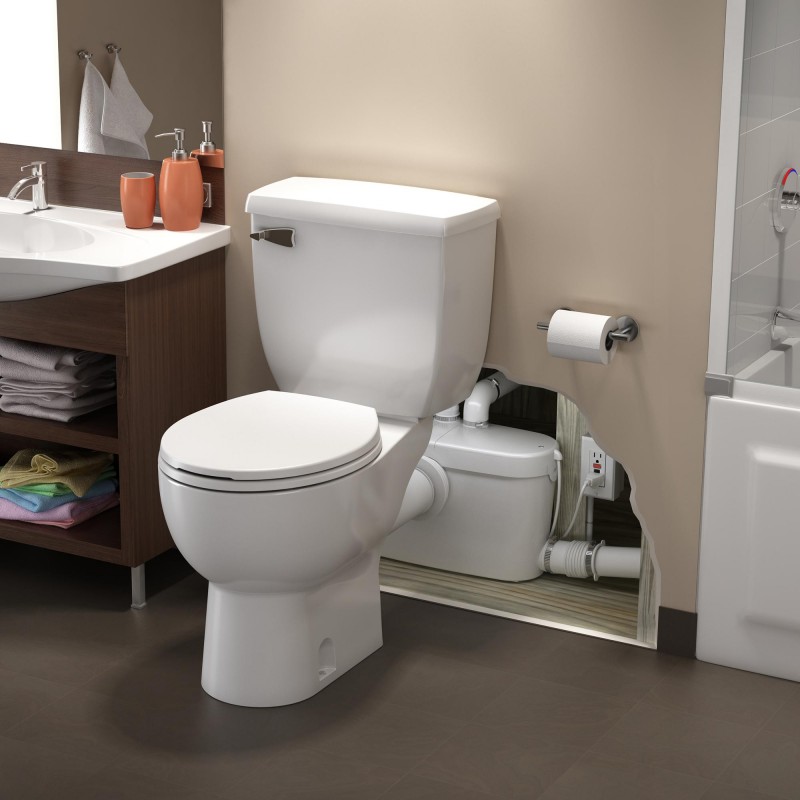 The Saniaccess3 is the "most advanced macerator in the world with dual accessibility" for easy maintenance. The Saniaccess3 is good for heavy use applications and requires low maintenance and no need to break the floor to install.
Used to install a complete bathroom where no below-floor drainage exists, the Saniaccess 3 macerator has a ½ HP pump capable of pumping wastewater up to 15 feet vertically and 150 feet away from a soil stack. It can handle multiple connections at once including a toilet, sink, shower, and more.
Sanicompact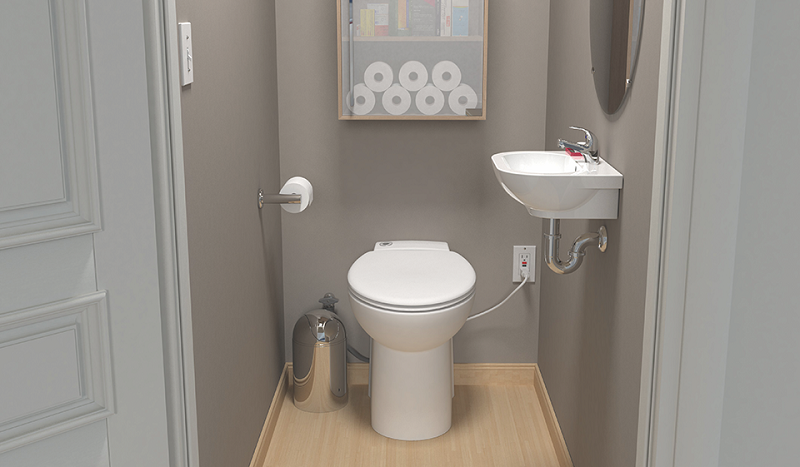 "The Sanicompact is a self-contained dual-flush toilet system used to install a half-bathroom up to 9 feet below the sewer line, or even up to 120 feet away from a soil stack."
The Sanicompact is a combination of a vitreous china toilet bowl and macerator/pump built into one compact unit."
This modern, tankless option from Saniflo Canada is perfect for bathrooms!
The Sanicompact is designed with three applications in mind:
for rooms with limited space such as powder rooms and closet conversions
as a toilet that uses a minimum amount of water
as a toilet for use with people that have physical limitations
Important features of the Sanicompact include:
no need for a gravity flow tank (thanks to the flushing action and macerating pump cycle)
a dual flush capability allows for the use of less water than a regular toilet, but with the same efficiency
will discharge grey water from a sink via a hose connection in the back of the toilet
can be installed on top of any finished floor surface, eliminating the need to open up the floor to install pipes
Sanibest Pro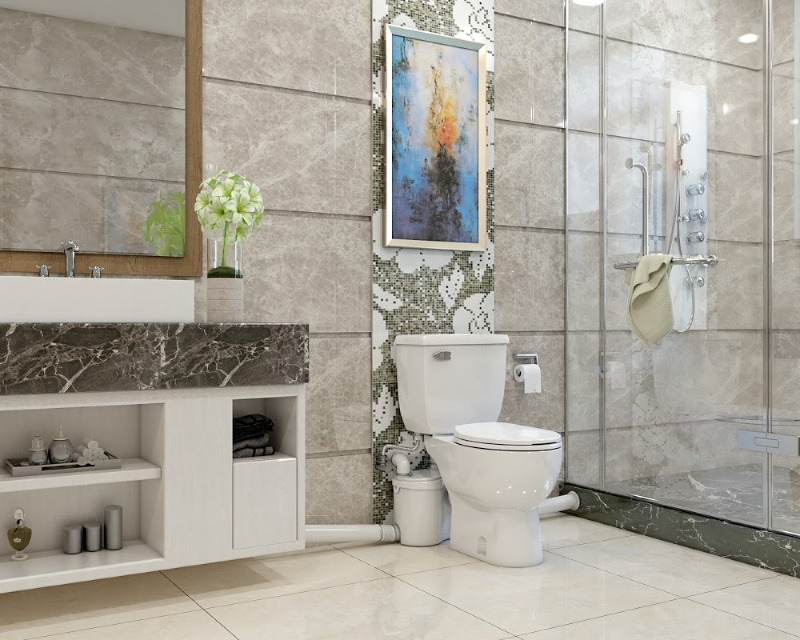 "The Sanibest Pro is a 1 HP pump system used to install a complete bathroom up to 25 feet below the sewer line, or even up to 150 feet away from a soil stack. It incorporates a grinder system which is ideal for uncontrolled environments in both residential and commercial applications (ie. rental unit, offices, warehouses, etc.).
The Sanibest Pro is designed to handle sanitary products that may have been flushed down the toilet; such may consist of condoms, sanitary napkins, q-tips, dental floss, etc."
For cottage or cabin rental properties, the Sanibest Pro is an excellent option when you have little control over what guests may flush down the toilet or rinse down the sink (although it is never recommended to flush such items).
Saniswift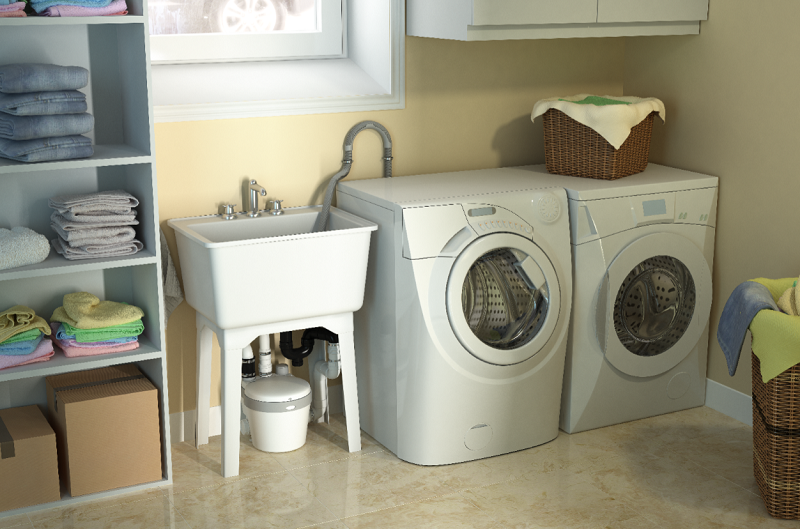 The Saniswift is an "easy solution for a remote laundry room installation or for any grey water application."
The Saniswift is perfect for the laundry room at the cottage as it "can be installed on top of any finished floor surface without having to dig down below the concrete floor."
All you need to install the Saniswift is an electrical outlet, connection to a water supply, and some basic tools!
The Saniswift is also ideal for anyone looking to move their laundry room from the basement to the main floor of their house – or even up to the second floor!
Sanivite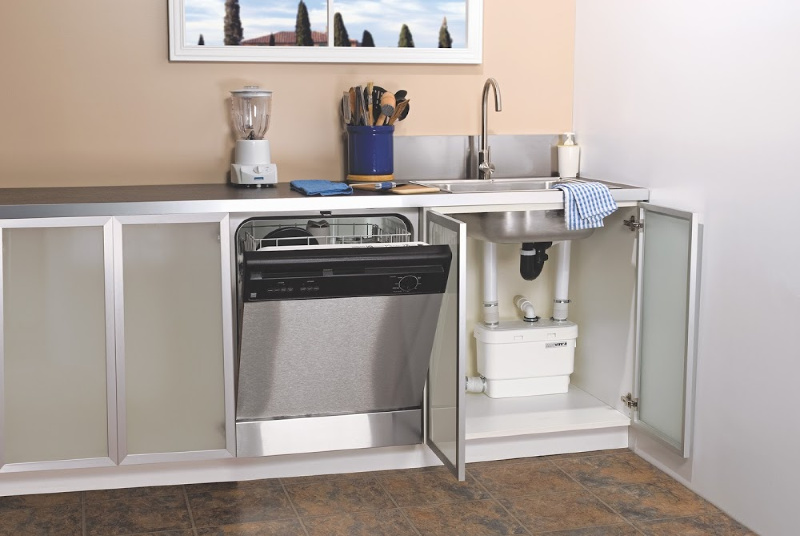 Small enough to fit comfortably inside a kitchen cabinet or vanity, yet powerful enough to handle the toughest applications meant for drain pipes, such as hot water and grease, the Sanivite is perfect for cottage kitchens and laundry rooms. It can even handle the wastewater from a whirlpool!
To learn more about the wide range of product solutions for home and cottage renovations, please visit the Saniflo Canada website.
What renovations are you planning for your cottage this summer? Tell us about them in the comments below!