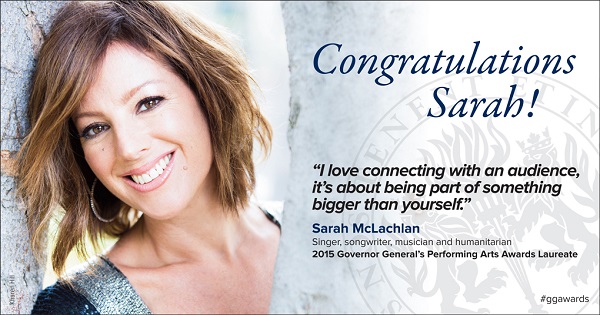 On May 30th, an exciting black tie event will be descending upon Ottawa at the National Arts Centre! This year, the 2015 Governor General's Performing Arts Awards will be highlighting the accomplishments of seven amazing Canadians, and Canadian Blog House wants YOU to be a part of this magical night on the red carpet!
"The Governor General's Performing Arts Awards are Canada's highest honour in the performing arts.  Every year artists are recognized for the lifetime contribution to Canada's cultural life with the Lifetime Artistic Achievement Award. The recipient of the National Arts Centre award is recognized for extraordinary achievement in the past performance year. The Ramon John Hnatyshyn Award is given to a volunteer who has given their time and/or money in the service of the arts."
Being honoured at this year's #ggawards:
Composer, conductor and artistic director
Film and stage director, visual artist and screenwriter
Actress and director
Singer, songwriter, musician and humanitarian
Twitter: @SarahMcLachlan Instagram: @officialsarahmclachlan facebook.com/sarahmclachlan
Actor, director, producer and arts advocate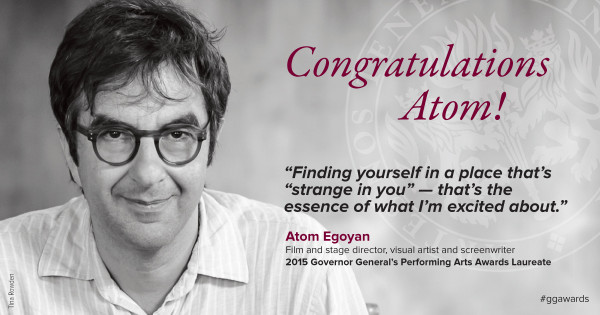 As two of the most recognized recipients of the 2015 Governor General's Performing Arts Awards, I've highlighted Sarah and Atom. To help you get to know the other 2015 #ggawards recipients a little better, here is a great set of fun facts about all the recipients – just because you know how much I love fun facts!
Fun Facts About The 2015 GGPAA Laureates 
Walter Boudreau
Walter Boudreau says one of his greatest works is Le Concerto de l'asile, The Insane Asylum Concerto, a piece about the life of author Claude Gauvreau.
Walter Boudreau says he couldn't imagine doing anything else. "Being an astronaut would be boring. I just want to be teleported so I could go to other galaxies."
In February this year, Mr. Boudreau conducted the piece Atlantide by Michel-Georges Brégent at @SMCQ_qc_ca, a piece that was previously said to be "unplayable live" http://festivalmnm.ca/mnm/en/2015/prog/concert/32657/
Atom Egoyan
Egoyan's Armenian painter parents met in Cairo, he was born there. "They soon realized that they couldn't make a living at that, so it morphed into a furniture and design store; they were the first people to bring in modern Scandinavian design furniture from Denmark."
Mr. Egoyan's sister Eve is a concert pianist.
Egoyan has been directing plays since his early teens.
Mr. Egoyan attended Trinity College in Toronto not to study film but for international relations.
Egoyan's next film is Remember with Christopher Plummer.
The world premiere of his film Exotica in 1994 was at Cannes and was nominated for the Palme d'or.
Egoyan co-wrote songs for Gord Downie's 2001 solo album Coke Machine Glow.
If you hear piano in Mr. Egoyan's films, it's often his sister Eve and he's often playing the guitar or lute in his films.
Diana Leblanc
Born in Montreal, Leblanc is perfectly bilingual and switched from French to English in her second year at the National Theatre School.
Leblanc joined the National Theatre School in its first year.
Diana Leblanc's first directing job was at the National Theatre School with GGPAA laureate John Murrell's Waiting for the Parade.
Diana was on the GGPAA Foundation board of directors for many years.
Sarah McLachlan
Sarah was signed to Vancouver-based indie label Nettwerk Records at the age of 19.
When Nettwerk first approached her, Sarah was in a band called The October Game.
Following high school, Ms. McLachlan spent a year studying jewellery design at the Nova Scotia College of Art and Design.
Designed as an all-female counterpart to conventional male-dominated rock tours, the Lilith Fair concert tour (presented annually 1997–99) featured Ms. McLachlan as headliner at all shows along with a rotating cast of support acts, including Tracy Chapman, Suzanne Vega, Sheryl Crow, Emmylou Harris, Fiona Apple, the Indigo Girls and Shawn Colvin in the first year. Over its three-year history, Lilith Fair brought together more than 2 million people, raised more than $7 million for women's charities in Canada, and helped launch the careers of numerous women singer-songwriters.
Sarah was inspired to give back and start the Sarah McLachlan Foundation after a trip to Thailand and Cambodia with World Vision in 1991.
The Sarah McLachlan School of Music has evolved from an after-school program (opened in 2003) to a standalone school with over 500 kids in the program.
The Sarah McLachlan School of Music provides free music education to at-risk and underserved kids in grades 4 through 12 who otherwise wouldn't necessarily have that opportunity.
Sarah McLachlan has honorary degrees from the University of Alberta and Simon Fraser University.
Nominated for 13 Grammys, won 3; Nominated for 26 Junos, won 9
H. Thomson
Remember those who fought and died in World War One with R. H. Thomson, producer of The World Remembers. http://www.theworldremembers.org/about-twr
The Lost Boys, a play Thomson wrote, directed and performed in, was based on his own family story of his five great-uncles who went to war, four of whom died during World War One.
You might recognize Mr. Thomson from his role as Jasper Dale on Road to Avonlea.
Mr. Thomson has played many real-life characters on stage including Sir Wilfred Laurier and Glenn Gould.
Michael Koerner
The Koerner Foundation financed Koerner Hall at the Royal of Music in Toronto. For opening night of Koerner Hall (September 25, 2009) Mr. Koerner commissioned a piece by GGPAA laureate R. Murray Schafer called Spirits of the House. Laureate Anton Kuerti also performed that night.
Michael M. Koerner is a collector of 18th Century keyboard instruments such as clavichords. His favourite instrument to play is an 18th– Century French harpsichord.
Jean-Marc Vallée
A few of Jean-Marc's notable films include C.R.A.Z.Y. (2005), The Young Victoria (2009), Café de Flore (2011), Dallas Buyers Club (2013) and Wild (2014).
He's inspired by Neil Young and Leonard Cohen. There's a Cohen song (Suzanne) in Wild. Cohen lives in his neighbourhood.
In the last three years, JM Vallée has made 3 films – Dallas Buyers Club, Wild and Demolition (2015).
AND THE WINNER IS…
So now that you know a little more about this year's #ggawards recipients, here is your chance to WIN A fabulous night out in Ottawa, at the National Arts Centre, for you and a guest! You could be celebrating the night away with these accomplished Canadians!
Here's what you could WIN:
How fabulous does that sound? To me it sounds like a night to remember!
***Please note…this event requires you to wear black tie/cocktail or long dress attire. This is a fancy affair! Please make sure you can dress accordingly if you enter for a chance to win. Also, this giveaway covers only the event and the stated inclusions. All travel expenses to the National Arts Centre, and any other expenses incurred, are the responsibility of the winner. Please be sure to read full rules and regulations contained in the giveaway linky AND Canadian Blog House Rules and Regulations contained here. Sorry, no Quebec residents.
Last but not least – bring me back some photos! While NOT a requirement, I sure would love to see some shots from your fun night!
**The 2015 GGPAA Gala will take place at the National Arts Centre in Ottawa on May 30. Tickets start at $75 and can be purchased at ggpaa.ca/ or at nac-cna.ca/ggawards.
Here's how you can enter for your chance to WIN: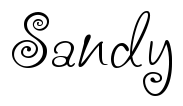 Disclosure:  Canadian Blog House was not compensated for this post. All opinions are our own.