Sears and I…we go WAY back. Way back to the 1970's that is. Back when my mum first took me to Sears (then known as Simpson-Sears) for back to school fashions the week before I started my first day of kindergarten.
Even in the early 1970's, as it still is today, Sears was THE place to shop for back to school fashions for kids. Styles may have changed since then (thank goodness!), but some things remain the same.  Sears still carries a great variety of top quality brands, at reasonable prices, and in styles that kids will love.
Back to school shopping at Sears remained a tradition for my mum and I every August during my school years. Mum loved Sears for the quality clothing and selection, and I loved Sears for the styles.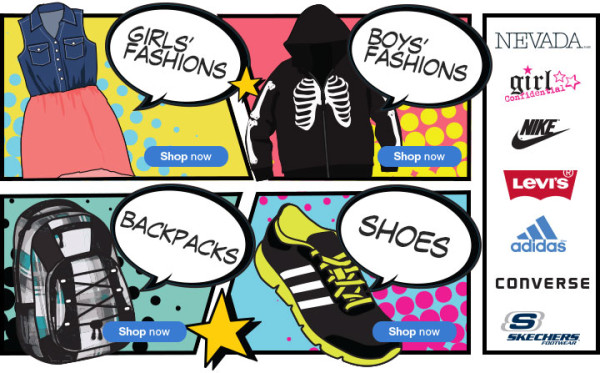 Sears is a great place for parents to shop for all their kids back to school fashion needs.  Whether it's denim, sportswear, backpacks and lunch bags, or one of the many required pairs of shoes (indoor/outdoor/at home – you know the drill!), Sears has got kids covered in stylish fashions from head to toe that will #RockTheHalls.
We are on the verge of something bigger when it comes to outfitting X-Man for back to school this year.  While he is only 8 years old, he has already started to assert himself with his clothing choices.  Shorts have to fall below the knees and sleeves must touch the hands – even when arms are extended outwards.  Clothing must be soft – nothing rough or scratchy please!
X-Man is all about comfort.  While many boys his age have been running around for years in denim, X-Man is not a fan of denim.  For X-Man, track pants are where it's at.  Pair those track pant options with some soft and comfy t-shirts or long-sleeved shirts with funky logos and graphics, and our back to school shopping is pretty easy. Sears has some great choices to keep X-Man happy, like this great collection of stylish hoodies (a fall staple!), a cool dirt bike long-sleeved tee, and most importantly, some super comfy track pants: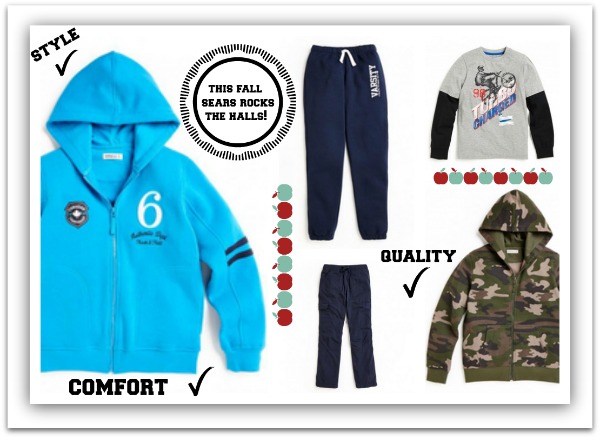 Like all kids, X-Man can be rather hard on his clothing.  That's why I also love the Sears KidVantage Lifetime Wear Out Warranty.  Just another reason to love Sears for back to school shopping!
Whatever your kid's style is, Sears will help them #RockTheHalls this fall…and make back to school shopping so much easier for mom and dad! Plus…you just might get lucky! Sears Canada (The Kids Room) has been rolling out their Surprises and Delights promotion all across Canada this August, in-store and online.  Maybe you will be the next Sears shopper to be surprised and delighted like these Canadian Sears shoppers were:
Can you imagine how you would feel if you pulled out your Sears card to purchase your back to school fashions at Sears and were told to put your card away – Sears is paying your bill today!
Me? I would be ecstatic! I'd call that a WIN-WIN situation. Free back to school purchases and… don't tell anyone but…I would probably HAVE to slip into the women's denim department and scoop myself up a pair of my fave Nevada jeans with the money we saved.  Of course I'd also HAVE to stop by the dress department since I adore the selection of great dresses at Sears. This would definitely be my kind of back to school shopping!!
Be sure to stop by the Sears Canada Facebook page during the month of August, give them a like, and you just may find yourself the winner of your very own $100 Sears Gift Card to spend on your back to school purchases.
While back to school shopping is all about our kids and what they want and need, it's a great time to have a conversation with our little ones about the importance of thinking of others, and giving back to those who are less fortunate.
Did you know?
"Sears Canada have been a proud supporter for over 40 years of Boys and Girls Club across Canada (BGCC), Canada's leading provider of quality after school programs that support the healthy physical, educational, social and mental development of Canadian children and youth.  Sears shares Boys and Girls Clubs of Canada's philosophy that providing all Canadian children and youth with access to opportunity is essential to helping them achieve their full potential and create a better future. To help out with this year's back-to-school season, Sears Canada and Converse will be providing the GBCC with $10,000 worth of BTS Apparel!"
What a super way to give back to the community by supporting the Boys and Girls Club of Canada!
Why not think about giving back to your community? Growing kids, and shopping for back to school, make this a great time to think about donating all the gently used clothing and footwear that your kids may have but no longer wear. Why not let them help you sort and prepare some donations to take to your local charity shop.  It will help those less fortunate in your community, and provide your kids with some valuable lessons.
Because I know that my Canadian Blog House readers love a great giveaway, I'm super excited to be able to offer you this giveaway from Sears Canada!!
One lucky Canadian Blog House reader will win a $100 Sears Gift Card!
GET READY TO #ROCKTHEHALLS THIS FALL, CANADA!!
PLEASE NOTE: You may enter to win across multiple blogs, but can only win on one. You must be at least 18 years of age, and live in Canada (excluding QC). Winner will receive their prize 4-6 weeks after the end of the giveaway. ***Because of the quick turnaround time on this giveaway, you will only have 24 hours to respond to me if you win, otherwise I will draw another winner.***
Here's how you can enter to WIN:

"Disclosure: I am part of the Sears Back to School Blogger Campaign with Mom Central Canada and I receive special perks as part of my affiliation with this group. The opinions on this blog are my own."