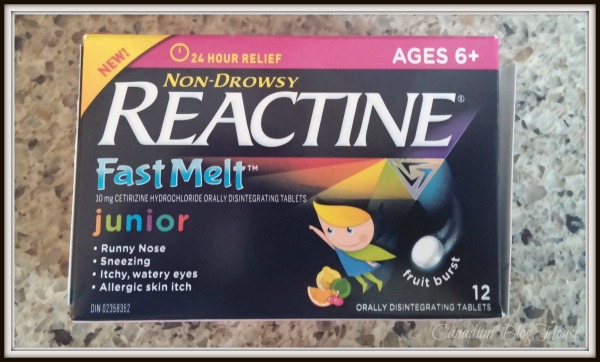 Seasonal allergies are nothing to sneeze at.  Many Canadians are plagued by seasonal allergies every spring and fall. Triggered by the pollens and moulds that invade eyes, nasal passages, throats and lungs, at best, seasonal allergies can make life miserable for sufferers, at worst, they can have a very negative effect on the quality of life for sufferers.
My best friend from childhood grew up suffering every year from seasonal allergies. To this day, she still does. During prime ragweed season in August, if you did not know my friend, you would swear she was infected with a terrible cold.  From itchy, watery, red eyes, to constant sneezing and blowing her nose, my friend spends a good part of later summer and early fall suffering miserably from seasonal allergies.  To her credit, she never complains about it. She has suffered so long with seasonal allergies that, to her, it's a normal part of her life. The reality of seasonal allergies is that those that suffer from them usually suffer for life.
Many of my family members and friends suffer from various kinds of allergies. My mother suffered horribly from ragweed allergies when she was a child (lucky for her she is one of the rarities – she no longer suffers from this allergy).  My brother suffers from dozens of allergies, and it's due to the long list of allergy sufferers that surround me that the decision to get poodles as family pets was a no-brainer.
The person I know that suffers the worst from allergies is my boyfriend's son.  Along with other more serious allergies, X-Man suffers from seasonal allergies, and allergies to some animals, like dogs.  With these allergies he suffers from typical symptoms, red, itchy, watery (and sometimes swollen) eyes, sneezing and stuffiness, and he will often break out in itchy hives over his body—making him pretty miserable.
X-Man is a pretty tough kid and he doesn't let allergies stop him.  Unfortunately, for many Canadian kids, seasonal allergies can prevent them from doing the activities they love most: playing in the playground, participating in sports activities, and just spending time outdoors with friends.  Seasonal allergies can make life miserable for kids during spring, summer and fall, when kids should really be outside enjoying themselves.
If you are a parent of a child who suffers from seasonal allergies, you may be happy to know that there is a product on pharmacy shelves in Canada that can help your little one manage their seasonal allergies, and get back to what they really should be doing – being a kid!
REACTINE® FAST MELTTM Junior Tablets start to work on allergy symptoms fast and provide relief for up to 24 hours
Kid-friendly Fruit Burst flavor
Non-Drowsy REACTINE® FAST MELTTM Junior Tablets can be taken for fast and effective relief of seasonal allergy (i.e. outdoor) symptoms, including:
   Itchy, red, watery eyes
   Hives
   Allergic skin reactions
   Sneezing, running, itchy nose
Due to X-Man's seasonal allergies, we always have to travel "prepared" with liquid antihistamine to handle an allergic reaction. In fact, this bottle of liquid antihistamine is a necessity that must travel with X-Man at all times for any extended period of time away from home.  You never know when allergies will strike.
With REACTINE® FAST MELTTM Junior Dissolving Tablets [www.reactine.ca] we no longer have to worry about hauling around a big, cumbersome bottle of antihistamine for X-Man. REACTINE® FAST MELTTM Junior Dissolving Tablets come in individually sealed blister packs, giving each disintegrating tablet its own sealed pocket.  That means we can easily be prepared for any potential seasonal allergy attack while away from home, by slipping just one REACTINE® FAST MELTTM Junior Dissolving Tablet into a purse, wallet or pocket. So quick, so easy, and so convenient.
REACTINE® FAST MELTTM Junior Dissolving Tablets come in packages of 12 or 24 and each tablet provides relief for up to 24 hours!  Combine this long-lasting effect with the fact that these tablets will not make children drowsy, and you've got a product that parents can feel comfortable about giving to their kids who suffer from allergies. Kids will like REACTINE® FAST MELTTM Junior Dissolving Tablets because, well, what kid wouldn't love a fruity tasting tablet that will literally melt in their mouth?
Thanks to the harsh and extended winter we Canadians have lived through this year, in most locations, spring allergies have not yet bloomed.  For us, this means we have not had a chance to test our REACTINE® FAST MELTTM Junior Dissolving Tablets on X-Man yet.  So, I wanted to see for myself if they lived up to their name: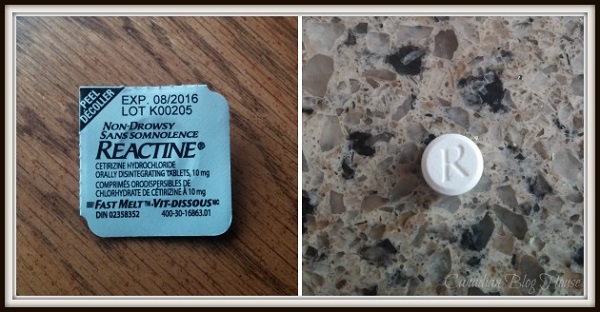 I placed the REACTINE® FAST MELTTM Junior Tablet on a plate.  Next I dribbled a few drops of lukewarm water on the tablet.  Here is what happened as I watched the tablet melt: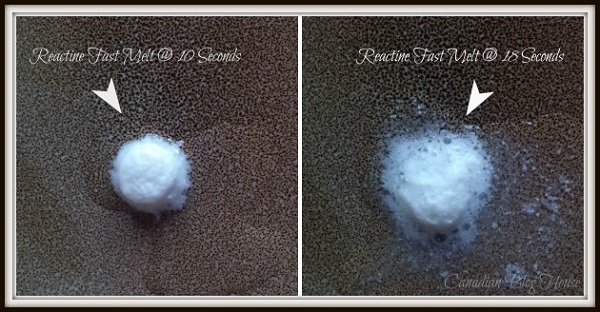 Keep in mind that this test did not involve the crazy antics of a child's mouth and tongue.  I'm certain this tablet would have melted even faster if inside a mouth. Within 25 seconds there was nothing but a white liquid left on the plate.
While we aren't looking forward to spring allergy season, when the allergies hit, we are looking forward to trying our REACTINE® FAST MELTTM Junior Tablets out on X-Man.
X-Man and I had a recent conversation about swallowing pills when he saw me take one for a headache. He cringed when he saw me swallow the pill whole.  I could relate.  When I was a kid, if I had to take a pill, I would do anything to avoid having to swallow it whole.  That meant opening up a capsule, or crushing a pill, and mixing the awful tasting powder with something sweet, like chocolate sauce. No matter how I tried to cover up the powder, it always tasted horrid.  Oh how I would have loved my pills to melt and taste just like REACTINE® FAST MELTTM Junior Dissolving Tablets!
And yes, I absolutely DID dip my finger into the REACTINE® FAST MELTTM Junior Dissolving Tablet on my plate! You knew I just had to. My thoughts? I have no doubt, this is one medication you will never have trouble getting your kids to take!
***Please keep in mind, I am not a medical professional.  I urge you to speak with your doctor or pharmacist first, before trying REACTINE® FAST MELTTM Junior Tablets out on your child, to be sure the product is right for them.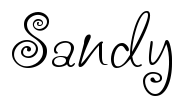 This post was generously sponsored by the makers of REACTINE®, but the opinions and images are my own. For more information, visit reactine.ca.