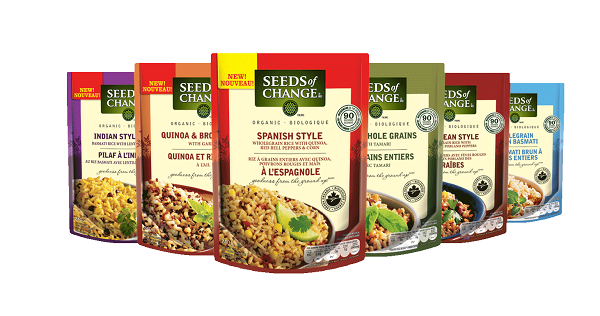 Canadians love to spend their summer vacations at the cottage. There's no better place to beat the heat while enjoying many great outdoor water activities.
After a full day of fresh air and exercise, hunger always sets in. Trying to feed our families a healthy meal that includes grains and veggies, without having to spend hours in the cottage kitchen, can be a daunting task.
Cooking meat outside on the BBQ is terrific but, the rest of the meal often requires turning on the oven, something we try to limit to avoid heating up the kitchen more than it already is from a hot summer's day.
We recently spent some time at my sister's home where many of our family members had gathered to enjoy a visit with my nephew and his wife and kids from Texas, and my nephew from New York City.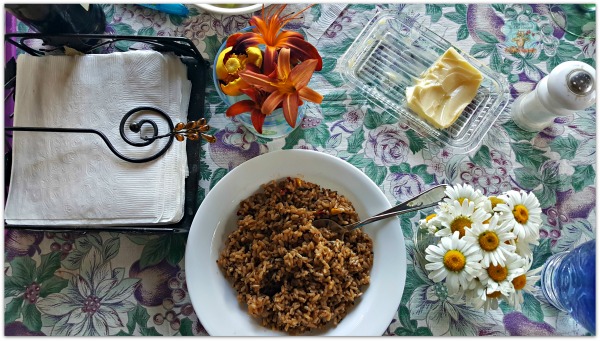 Dinner time is always a great time for our family to come together at the large table in my sister's kitchen.
This visit was no exception.
With a terrific view of the lake, great conversations about what we did that day, and a little rhubarb wine homemade by friends, our final night's dinner at the cottage was a bit hit.
We had BBQ'd chicken breasts, corn on the cob, a delicious tex-mex dip my sister had made…and Seeds of Change® Spanish Style Rice.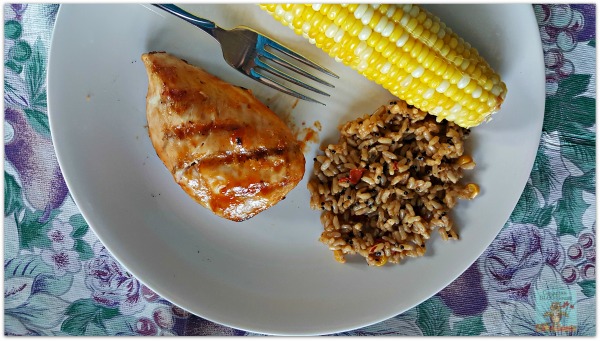 A little bit about Seeds of Change® :
Seeds of Change® is a certified organic rice and ancient grain brand that you can heat up in the microwave or on the stovetop in just minutes.
The quality of food we put in our bodies is important to us, but no matter how dedicated we are to finding organic foods, many of us are strapped for time.
Seeds of Change® offers the trust of an organic product, combined with the ease of simple-to-prepare instructions.
Seeds of Change® is the only Certified Organic, ready-to-heat rice and grain brand available in Canada.
[bctt tweet="Goodness From The Ground Up! ~ Seeds of Change® " username="CanBlogHouse"]
I was in charge of preparing our Seeds of Change® Spanish Style Rice for our dinner that evening.
My part of dinner prep was a breeze!
5 minutes is all it took me to prepare the Seeds of Change® Spanish Style Wholegrain Rice with Quinoa, Red Bell Peppers & Corn.
5 minutes!
Had I chosen the other cooking option – placing the pouch directly into the microwave – it would have taken me only 90 seconds to get the rice ready for dinner!
Who knew ready-to-heat products could be organic, healthy, and tasty!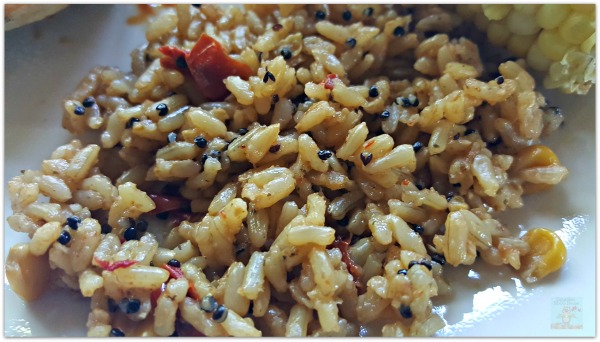 One of the first things that my family all commented on was the great texture of the rice. This Spanish Style rice is full of red peppers and corn…and quinoa…something I had never tried until now!
Everyone agreed the rice was tasty. Some of us thought it was just right, some of us thought it could use a dash of their favourite seasoning, and my nephew and his wife from Texas thought it was great but needed to be "spicier" – they are used to a much spicier Spanish style rice in Texas.
Everyone loves different food flavours, right? That's why it's so great that Seeds of Change® offers up 6 different varieties of their rice and grains. Truly something for everyone!
[bctt tweet="Enjoy making & indulging in organic, delicious & convenient food? Try Seeds of Change® !" username="CanBlogHouse"]
All of us agreed that the Seeds of Change® Spanish Style Rice was a great healthy side dish perfect for the cottage. The ease of preparation of this side dish amazed everyone.
The package of Seeds of Change® Spanish Style Rice provided enough rice for all 7 adults to try.
Make that 8…I saw my brother-in-law sneaking an extra helping at the end!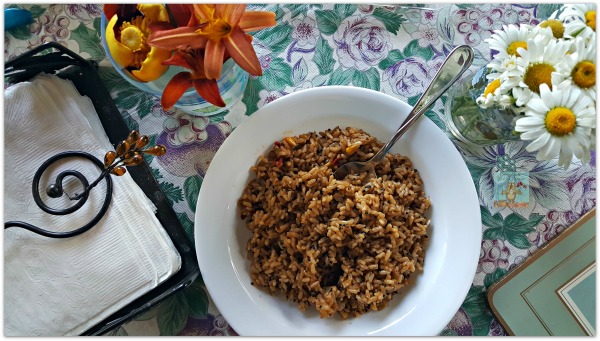 This summer, Canadians have a chance win a GRAND PRIZE trip to Prince Edward County, Ontario to enjoy a once in a lifetime meal of original recipes from world-renowned Chef Jamie Kennedy made with local, seasonal produce and Seeds of Change®.
Join me for a special dinner event with #SeedsofChangeCA. Enter to win at https://t.co/dqTvzgBxxq pic.twitter.com/7FIPNRIDQ3

— Jamie Kennedy (@ChefJKennedy) July 29, 2016
There will be five grand prizes that include travel for two to Prince Edward County from anywhere in Canada, two nights' stay in nearby Toronto, and $1,000.000 CAD spending money.
The contest begins on July 12, 2016 and ends on August 14, 2016
To enter, head to your local major grocery retailer and purchase Seeds of Change®, and then enter online with the code on the package at www.SeedsofChange.ca
So be sure to hurry and enter before August 14th! That's an amazing prize that 5 of you could WIN! If you've never been to Prince Edward County, and you win this prize, you are in for a real treat! Prince Edward County is one of my very favourite places to visit!
[bctt tweet="Seeds of Change® – great tasting, easy to prepare food – good for our bodies & for the world!" username="CanBlogHouse"]
Something else I love about Seeds of Change® is that they recently launched their Seeds of Change® Grant Program in Canada, which contributes 1% of sales to community gardens across the country:
Seeds of Change® contributes 1% of sales toward sustainable farming agriculture worldwide.
In Canada, Seeds of Change® worked with local partner Evergreen to identify 12 community gardens from coast to coast who need grant money to get their garden started and keep them going all season long.
With one garden in every province, Seeds of Change® is helping Canadians get access to local, organic food from coast to coast.
The Seeds of Change® Canada Facebook page is a great resource for Canadians who are interested in growing or cooking with organic ingredients. Be sure to check it out!
Have you tried any Seeds of Change® products yet? What's your favourite? Tell me what one I need to try next!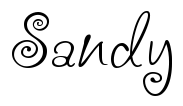 Disclosure: This is a sponsored post for SheSpeaks/SeedsofChangeCA. Canadian Blog House was provided with the above product and compensation in exchange for this post. All opinions are our own.