I am a member of the Collective Bias Social Fabric Community.  This content has been compensated as part of a social shopper insights study for Collective Bias Cbias# SocialFabric# All opinions are my own.

I've had a long-time love affair with Shoppers Drug Mart.  Ever since I first signed up for an Optimum Rewards card back in 2006 I have been shopping there on a weekly basis.  I eagerly await the weekly Shoppers Drug Mart flyer and the moment I can sit down and peruse the items featured in the latest sale.
This week's trip to Shoppers Drug Mart focused on picking up a few sale items that, while I wasn't in desperate need for them, I just could not pass them up.  Shoppers Drug Mart had some pretty awesome deals this week that were right up my alley!  Top of my list? Hand soaps and coffee cream.  I know – weird combo.  Both were on sale for a GREAT price, especially the cream @ $1.99.  I'm now wishing that I had stocked up on it!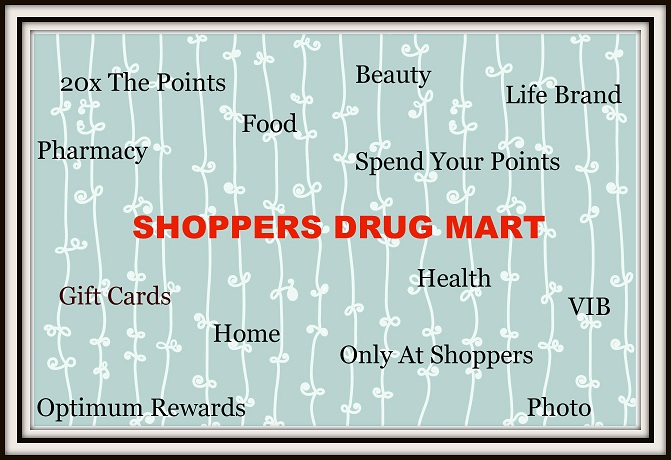 So what do I love about Shoppers Drug Mart? Um….everything!  Really.  I'll break it down for you:
OPTIMUM REWARDS PROGRAM – As far as I am concerned, this is one of the best loyalty programs in Canada.  I think many would agree with me.  Not only can you earn generous rewards on your regular purchases every day, but every week they offer specific products with bonus Optimum points.  Looking to buy a Shoppers Drug Mart Gift Card for family and friends?  You can even earn Optimum Rewards on your purchase of their Shoppers Drug Mart Gift Cards.  How great is that?  Don't even get me started on their "Spend Your Points" promotions.  Last year I had accumulated the maximum amount of points allowed – just before the "Spend Your Points" promotion.  I ended up walking away with $200 in free – yes FREE! – groceries which included a $25 bonus amount.  I was SO happy that day I was doing my own little happy dance as I left the store.

LIFE BRAND PRODUCTS – Have you ever tried Shoppers Drug Mart Life Brand products? They are great!  You essentially get the same product that is found in the "national brand" box – for a fraction of the price.  Go ahead…check the labels…you'll see.  Me? I've used Life Brand vitamins, antibiotic salve, ibuprofen and gravol, to name a few.  I have been very satisfied with all Life Brand products I have used. Oh yes…guess what? If you try a Life Brand product and don't like it, return it to Shoppers Drug Mart.  They have a money-back guarantee on Life Brand products!

PHARMACY – Shoppers Drug Mart pharmacy is my home for any needed prescriptions.  I LOVE the services they offer such as medication reviews and their Automated Prescription Refill Service.  I recently got my parents set up at their local Shoppers Drug Mart pharmacy as I discovered they have a fantastic prescription service for seniors.  They offer Blister Packs and free delivery of prescriptions!  These services have been invaluable for my parents who require help keeping track of all their medications and who cannot get to their pharmacy easily themselves.
POST OFFICE – My local Shoppers Drug Mart has a Canada Post outlet located within the store.  I love having the post office included there, as I am often mailing out something or other.  I can pick up any needed stamps (including collector's editions), envelopes, boxes and Income Tax forms (at this time of year).  

HOME HEALTH CARE – This division of Shoppers Drug Mart is usually located in it's own retail space, separate from Shoppers Drug Mart itself.  It is worth noting, however, that you'll find a fantastic selection of health aids and products to make life easier for seniors and those with disabilities.  When it came time for my mum to purchase a scooter to help her get around, my parents looked no further than Shoppers Drug Mart Home Heath Care for their needs.  

VIB PROGRAM – LOVE this program!  Here, new parents (or those welcoming a new baby into the family) can sign up for a FREE sample pack and coupons worth over $150.  I joined a couple of years ago – it's terrific!

AMPLE FREE PARKING – My local Shoppers Drug Mart (and most others I know of) has a large parking lot.  Even the Shoppers Drug Mart that is right downtown on one of our main streets in my city has free parking in a large lot.  I often wonder how many non-customers they have to chase out of there thanks to the scarcity of free downtown parking!

OPEN LATE – My Shoppers Drug Mart is open until 10PM.  Quite frankly, I find that amazing.  I can't tell you how many times I've realized I'm out of something important later in the evening and had to make a quick run over to Shoppers Drug Mart.  If you've got a sick child and need medication at night, their late hours can be such a welcome relief.

WEBSITE – Since I don't always seem to receive a paper copy of their flyer, I tend to visit the Shoppers Drug Mart website on a regular basis.  The Shoppers Drug Mart website is user-friendly, easy to navigate and FULL of great information, promotions and contests.  Be sure to check it out!

My shopping trip to Shoppers Drug Mart this week was no different than any other typical shop for me.  I always start in the cosmetics/beauty products section and wind my way up and down each aisle until I reach the food section.  You see, I love to take a look at each aisle when I go there.  I have discovered that there are often many more great deals to find that are NOT included in the weekly flyer.  Here's an example of what I found this week.  Check out this great "clearance" section (photo on the left):

 I must also point out that I LOVE my Shoppers Drug Mart's trial size section (seen in middle photo above).  I counted over 40 little bins full of all kinds of great products.  Great selection!
Since I am a "coupon fanatic", one of the reasons I like to walk the aisles of my Shoppers Drug Mart is because they often put up pads of various coupons in many of their sections.  During this shopping trip, I came home with a small stockpile of coupons that I will use during one of my next shops.
Shoppers Drug Mart stores are full of great signage, clearly marked aisles, and all prices listed on the shelves.  Here are are two signs that stood out to me in the parking lot of my Shoppers Drug Mart. Notice they were having one of their Seniors' promotions that day.  Thank goodness I got there early enough before most of the seniors had converged on my Shoppers Drug Mart store.  I've been there before on a seniors promotion day and, let me tell you, it was crazy busy!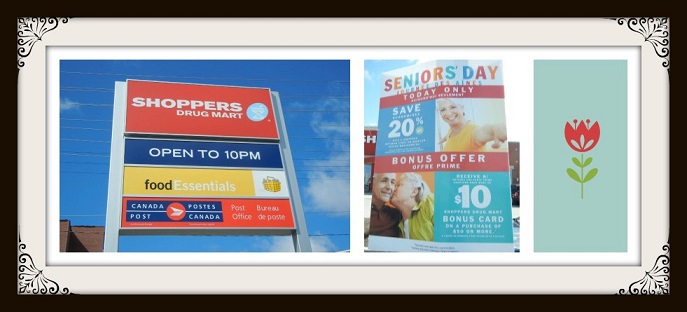 One section that caught my eye during my shop this week was the summer "seasonal" section.  I'm ready for summer (aren't we all!), so I was happy to see summer merchandise being displayed. I just love all the colours on the shelf.  The display looked all neat, tidy and organized, and very appealing to my eyes.  Another section that caught my attention was the "Connecting You" section.  Perhaps it's my love of technology, gadgets and ongoing need for batteries and computer supplies, that made me zone in on that sign.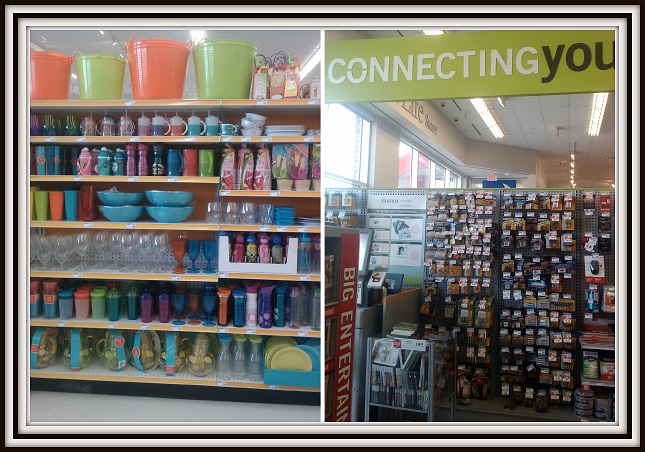 Whatever you do, don't forget to grab milk while you are shopping at Shoppers Drug Mart.  They always have the lowest milk prices for 3 bags of 2% milk in my area (this week I got my milk for $3.99!).  It's my go-to place for the endless supply of milk I have to buy!

You can see for your self all the great things I picked up for just under $25! Be sure to come and check out my Shoppers Drug Mart Google+ Album for more great photos.
 What about you, House Mates? Do you shop at Shoppers Drug Mart? Do you collect Optimum Rewards? What do you like best about shopping at your local Shoppers Drug Mart? Let me know!