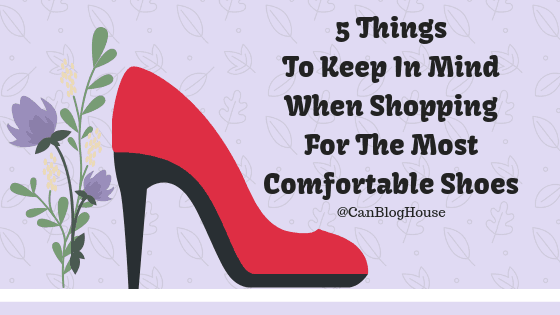 When my mum used to take me shoe shopping as a child, her first priority was making sure to buy me the most comfortable shoes available.
For me, it was all about buying the prettiest pair of patent leather shoes.
Like most moms, my mum was smart. She knew I should be wearing shoes that properly supported my high arches, and kept my feet comfortable all day.
If those pretty patent leather shoes didn't "fit the bill", they stayed on the store shelf.
No Accounting For Comfort
Things got bad for my feet when I became old enough to make my own shoe choices. There was no accounting for comfort during my teenage years. It was all about "the look"…and nothing about proper fit and comfort.
Who remember jelly shoes? My feet will never forget them!
What about walking in 30 below temperatures in "man-made material" shoes that lost all their pliability at extreme temperatures? You bet I did this…and I had the blisters to prove it!
Warm, comfy boots? No sir! I wouldn't be caught dead in a pair of those!
Childhood memories aside, there's obviously a very practical purpose to footwear, and since it has a lot to do with comfort and protection, buying shoes clearly merits special attention.
Step Up Your Game
As fun as going shoe shopping may be, having a checklist at hand will spare you the frustration of spending a lot of time and money on items that will just end up wreaking havoc on your feet, or stored 'in a box somewhere', when you get home.
Here are a few things that you should always keep in mind when you are shopping for a new pair of shoes:
5 Things To Keep In Mind When Shopping For The Most Comfortable Shoes
Know Your Arch Type
Are you a high, flat or normal arch? Figure it out before you take out your credit card; this is particularly important for athletic shoes.
Shop For The Right Size
If you can't walk properly, don't buy them. If they feel even the slightest bit uncomfortable, don't buy them. It's that simple. Uncomfortable shoes become even more uncomfortable the longer you wear them. Also, pay extra attention to sizing when buying online.
Mind Your Budget
I'm probably stating the obvious here but, buying shoes represents the very definition of an impulse buy. Stay strong and stay within your budget! You are better to purchase one quality pair of shoes in a neutral colour, than to buy 3 cheaper pairs that are uncomfortable for your feet.
Protect Your Feet As You Age
Just like the rest of our body, our feet change as we age. We lose collagen in the pads of our feet, and we become more prone to corns, calluses, and crooked toes. All of these conditions can affect how shoes fit us. You may find you need more padding in your shoes then you once did, to help keep your feet comfortable.
Stand Tall…But Not Too Tall
When it comes to shoes, there's nothing wrong with adding a little height – just don't overdo it. Not only can stiletto heels be uncomfortable for your feet, they can actually be bad for you. When shopping for heels, opt for a wider, shorter heel, one that gives your foot some extra support. Just a little heel can go a long way to complimenting your look without compromising your comfort.
If The Shoe Fits…
We tend to ask a lot from our shoes (and for good reason too!), which means it's not always simple to find the right-fit provider. Some of my go-to Canadian shoe retailers, like Walking on a Cloud, don't shy away from the challenge and have put together an impressive collection of my favourite brands able to address any need and style preference one could think of.
If your shoe selection criteria include both 'dressy' and 'casual', then I would consider Clarks shoes. I love Clarks, and have owned several pairs of their dress shoes myself.
No matter if you're shopping for yourself, your partner or your whole family, you'll have a full range of products to choose from. There's a special craft to these shoes, one that makes them feel timeless and elegant, while still balancing modern influences.
The wide array of designs, natural materials, and smooth finishing touches make them suitable for the workplace, classy formal events or casual activities (like city hopping or spending a little time at the lake). If you need footwear that you can count on when the cold weather hits, or you need to keep your feet cool during hot periods, Clarks has you covered – and it won't cost you an arm and a leg either.
If hiking, going on winter sports excursions, running, or (all sorts of) active work is part of your daily routine, you could consider Merrell shoes. For those looking for protection for their feet, but comfort and a bit of style are also important, Merrell may be the brand for you.
Merrell shoes are designed to cater for the specific needs of both men and women, while at the same time incorporating technologies such as Aeroblock – for waterproofing, OptiWarm – for thermal isolation, Vibram – (in the soles) to ensure greater comfort and grip for slip resistance.
Their products take their core motto 'Shoes for Sports, Comfort and More' from statement to fact, from the very first step. Merrell shoes are one of my favourite options for outdoor shoes.
What things do you keep in mind when shopping for comfortable shoes? Tell us!