I'm generally a happy person.  I smile (and laugh) a lot.  I've got the laugh lines on my face to prove it!  So I'm smiling a big smile right now because today, October 3rd, is World Smile Day.  That's right, it's a day to celebrate smiling around the world.
World Smile Day began in 1999 when Harvey Ball, the artist who created the yellow smiley face back in 1963, designated the first Friday in October, World Smile Day. Harvey's thought was that we should have at least one day each year devoted to smiles and acts of kindness.  Harvey sounds like my kind of guy!  Sadly, Harvey has since passed away, but he has left us all with a great legacy – World Smile Day!
So what makes you smile? A hug from your child? A surprise gift from a loved one? A get-together with your favourite friend? For kids, some of their biggest smiles come from the delight in getting their hands on some of their favourite candy or chocolates.  For X-Man, unwrapping a Kinder Egg Surprise brings on one of his biggest smiles.  I still haven't been able to figure out what it is about Kinder Surprise eggs that makes X-Man the happiest, eating the chocolate egg, or the excitement of discovering what surprise is hidden in the little yellow capsule.
Ever since X-Man was a very young child, his dad has kept a special ceramic pot where, every once in awhile, he would hide a special treat for X-Man to find.  No matter how many times X-Man finds a single Kinder Surprise Egg in his pot, you'll always see a big Kinder smile on his face as he unwraps his treat.  Now, many afternoons when X-Man comes home from school, he immediately runs to that special pot, lifting the lid and hoping to find another surprise – a Kinder Surprise!
Kinder Surprise Eggs make us smile for a different reason – the fact that Kinder Surprise Eggs are peanut-free. For any parents of a child with severe nut allergies like X-Man, trust me, this is a big thing.
Kinder Canada has another surprise in store for their young fans that is sure to produce lots of #KinderSmiles. They have just released two new sets of limited-edition Kinder Surprise toys; Transformers and Disney Fairies.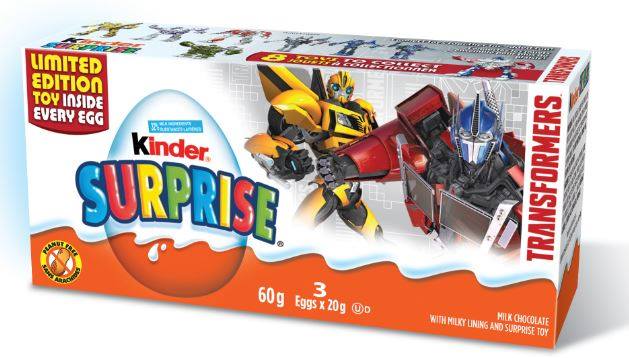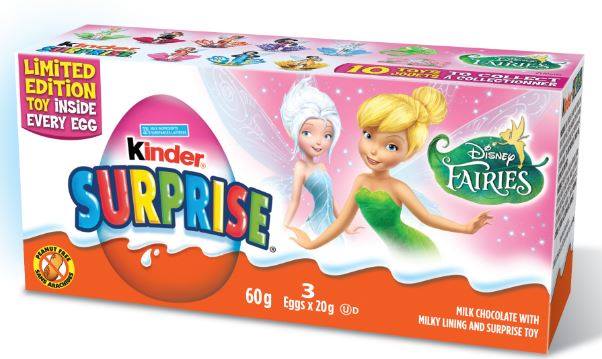 I bet you just smiled when you looked at these images…because you know your kids are going to love these Kinder Surprises!  Officially released in mid-September, you should be starting to see these limited-edition Kinder Surprise eggs on store shelves near you.  I haven't been able to get my hands on one of these yet but, rumour has it, they have now been spotted on some store shelves.
There are 8 Transformers toys and 10 Disney Fairies toys to collect! What's really cool is that the 8 Transformers toys can be connected together to create a larger toy.  Looks like we'll be eating a lot of Kinder Surprise Eggs over the next while.  I just know X-Man is going to want to collect all 8 of those Transformers toys!
It was just a few short weeks ago that we were in Toronto to unwrap our smiles at the unveiling of the brand new #KinderSmiles photo booth at the Toronto Eaton Centre.  Did you know that you can still unwrap your own #KinderSmiles on the Kinder Canada Facebook page? Be sure to check out the Kinder Canada Smile Booth and have fun like we did creating your very own Photo Strip that you can share with family and friends!
It was at this #KinderSmiles event that we learned that Kinder Canada would be at the Canadian National Exhibition in Toronto on August 30th trying to break a Guinness World Record for the most people unwrapping candy simultaneously.  And break the record they did! A total of 817 smiling Kinder Canada fans were on hand to unwrap a Kinder Surprise egg that day.
Unfortunately, we were not able to make it back to Toronto to be a part of this record-breaking event, however, Guinness happily tweeted her best "KinderSmiles" congratulatory message:
Woo hoo! Guinness congratulates @KinderCanada on their @GWR achievement today at the @LetsGoToTheEX #KinderSmiles pic.twitter.com/RY8hI61BC8

— Canadian Blog House (@CanBlogHouse) August 30, 2014
This may come as a surprise to all of you but…Halloween is just around the corner! Yes that's right, that day to celebrate all things spooky, scary and candylicious will soon be upon us!  Have you thought about what treats you are giving out to the kids this Halloween?  While we will be giving out regular candy and chocolate bars to kids in the neighbourhood that we don't know, we plan on having a special treat in store for X-Man and his best friend, D.  Shhh…don't tell them but, they will be getting their own little treat bag stocked with some fun Halloween themed goodies from the dollar store…and of course…some Kinder Surprise Eggs!!  Now that's what I call a real Halloween treat!  I have a feeling we will be seeing a couple of #KinderSmiles that night!
Don't forget to visit the Kinder Canada Facebook page to visit the Smile Booth and share your own #KinderSmiles with friends and family, and be sure to enter the great weekly Kinder Canada contests while you are there!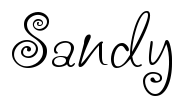 Disclosure: Canadian Blog House receives special perks for being part of the Kinder Canada #Kindermom program.  All opinions are our own.